CIA War On Trump - Leaks Fake MI6 Intelligence to Fake News Broadcast Media
Politics
/
Intelligence Agencies
Jan 12, 2017 - 06:38 AM GMT

President Donald Trump at his first press conference let rip into the mainstream press (CNN in particular) as he reacted to the CIA's leaking of another MI6 dodgy dossier to the mainstream press, calling it all 'Fake News', fake intelligence by something that could have come out of Nazi Germany. Yes that's right the President Elect of the United States effectively likened the CIA to being like something out of Nazi Germany, pumping out propaganda in only the agencies own self interests which has been the reality for the duration of the spy agencies existence, it's just that to date not even a senior US politician let alone the President himself has ever spoken so candidly of the true nature of the beast that has held an iron grip over the United States, that has subverted democracy for decades by means of time tested tools for destroying lives of anyone who got in the unelected agencies way.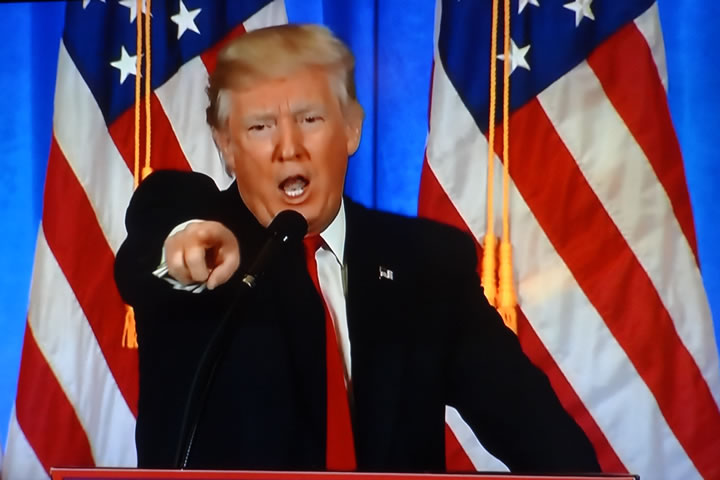 Key highlights from President Trumps press conference as he reacted to the NAZI Gestapo intelligence agencies leak of the MI6 dodgy dossier alluding to a Russia holding trump cards over President Trump, of compromising personal and financial information, including supposed video tapes of Donald with prostitutes in a hotel room in Moscow are:
"I think it's a disgrace. And I say that, and I say that. And as something that Nazi Germany would have done — and they do."

"It's all fake news. It's phony stuff. It did not happen. And it was gotten by opponents of ours, as you know because you reported it and so did many of the other people. It was a group of opponents they got together — sick people — and they put that crap together," Trump said. "So I will tell you that not within the meeting, but outside the meeting, somebody released it. It should never have been — number one, should never have even entered paper. But it should never have been released. But I read what has been released, and I think it's a disgrace. I think it's an absolute disgrace."

"Well, if Putin likes Donald Trump, I consider that an asset, not a liability. Because we have a horrible relationship with Russia. Russia can help us fight ISIS."
"As far as BuzzFeed, which is a failing pile of garbage, writing it, I think they're going to suffer the consequences."
CNN - "Your organization is terrible… You are fake news."
"Does anyone really believe that story? I'm also very much of a germaphobe, by the way. Believe me."
So whilst the worlds mainstream media may literally be pissing themselves at the loss of prestige as their fake news reality is exposed, as the likes of CNN are clearly shown to be little more than pawns to be used by the CIA and NSA, propaganda arms of the intelligence apparatus that seeks to surveil all and engage in proxy wars across the globe for power and profit. So whilst Obama weeps at his goodbye show, the CIA plots to further seize control over the levers of power, for even if Donald Trump is a con man the point is that the american electorate ELECTED the con man into office, whilst no one ever elected the CIA thugs who seek power over nations.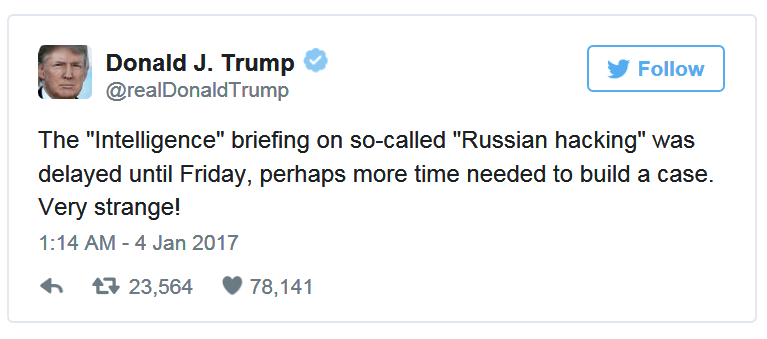 However, for the CIA it was a clear sign of desperation for their leaked report had more holes than a mega-slice of swiss cheese! Which as my recent article pointed out confirms that Trump has far more to worry about then Fake Intelligence, in fact it is highly probable that given the CIA's propaganda war on Trump that the intelligence agency has real plans to assassinate President Trump, the first such assassination of a sitting US President in 60 years, since JFK was eliminated by the unelected dark government agency.
04 Jan 2017 - CIA Planning Rogue President Donald Trump Assassination? Elites "Manchurian Candidate" Plan B
So how Could the CIA's PLAN B go down?
We'll the CIA In 1963 was a mere juvenile with lots of crude tools at its disposal such as sniper rifles. Still even at that time it was creative enough to formulate a plan for which it has remained able maintain a cover up that persists to this very day despite much speculation and fragments of leaked evidence that suggests that the CIA engaged the mafia to assassinate John F Kennedy for his resistance towards pushing the US into War with Vietnam that would turn out to be a hugely costly and bloody and highly enriching war for the establishment elite.
Today's CIA is far more technologically and pharmacologically advanced than it was in 1963, so expect the covert agency to be planning a covert assassination of Donald Trump by pharmacological means i.e. slipping something untraceable into his food that would bring Mr BrExit's Presidency to an abrupt 'natural' end.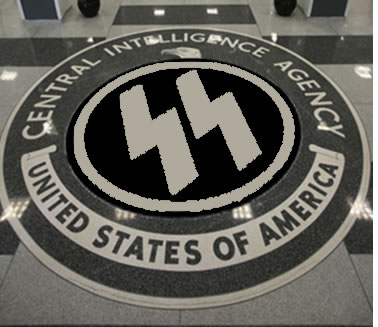 The timeline for this is unpredictable for it depends on how far Trump deviates from the establishment elites agenda whilst in office. If he works mostly in the elites interests, which looks increasingly probable, given the likes of who he has been appointing to White house posts then he could make to at least to the half way mark of his 4 year Presidency. Therefore to stick my neck out the most probable timing for and end to the Trump Presidency is between June 2019 and December 2019.
'I'm a smart person. I don't need to be told the same thing every single day' - Donald Trump rejecting CIA daily briefings / brainwashing
"These are the same people that said Saddam Hussain had weapons of mass destruction." - Donald Trump's response to the CIA's allegations about Russian hacking.
Clearly Donald Trump is fully aware of the CIA being professional liars and does not want to be subjected to their propaganda. Not the CIA nor the rest of the US intelligence apparatus comprising more than 50 secret police vested interest agencies spying on every aspect of the lives of ordinary americans. Therefore I don't see how the CIA given the tools at its disposal will not implement as Plan B of sorts given their loss of power, which is what the likes of the CIA fear the most, losing power.
A reminder of exactly what the intelligence agencies crime syndicate tends to get upto as back in 2013 Edward Snowden blew wide open the degree to which the NSA surveils everything and everyone, they tried to defend themselves by stating that they only collect meta-data rather than content which has remained the blanket propaganda response since to the NSA's full spectrum surveillance programs such as PRISM were exposed.
Firstly, they LIED, it's obvious the NSA not only collected meta-data but everything, even back in 2013 for it is quite straightforward for US intelligence agencies to bypass any badly worded Congressional limits to just collating meta-data rather than content as well, which is to use a third party and so in comes Britain's GCHQ, where just one of its surveillance programs TEMPORA involves the UK directly tapping ALL communications across ALL of the 300 or so fibre optic cables that pass through the UK. This content is in totality then made available to the NSA and in fact all US intelligence agencies and virtually all US intelligence contractors (commercial operations) and thereby the NSA subverts Congressional limits by recording meta-data whilst at the same time having full total access to CONTENT as well via GCHQ and other nation agencies such as Canada and Australia.
For more on how the US intelligence agencies such as the NSA subvert the US constitution then see the following excerpt from my 2013 article -
08 Jun 2013 - Internet is Intelligence Agencies Virtual PRISM for Total State Surveillance And Control
The PRISM system for the all prevailing global phone calls and internet access super surveillance state should not come as any surprise to most readers as new technologies are ALWAYS subverted by the state to spy on its citizens, and so citizens of the world have been given a glimpse into the current state of the surveillance state following leaks of the US operation PRISM which concerns ALL of your private phone calls, transactions, communications, accesses and interactions with virtually all of the major communications and web services from tek giants such as Verizon, AT&T, Google, Microsoft, Amazon, AOL, Yahoo and even Apple, who gave us the anti big brother sales propaganda against IBM near 30 years ago (1984), only now to be revealed that Apple too is part and parcel of the state security apparatus.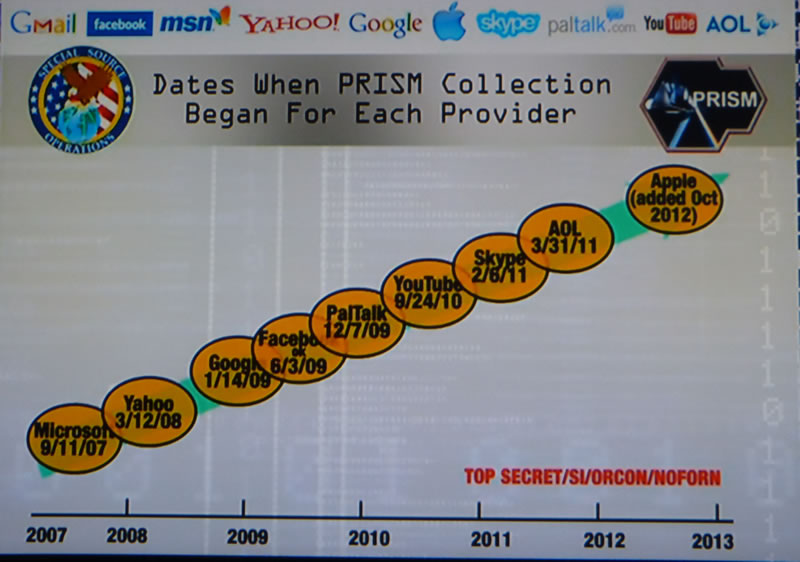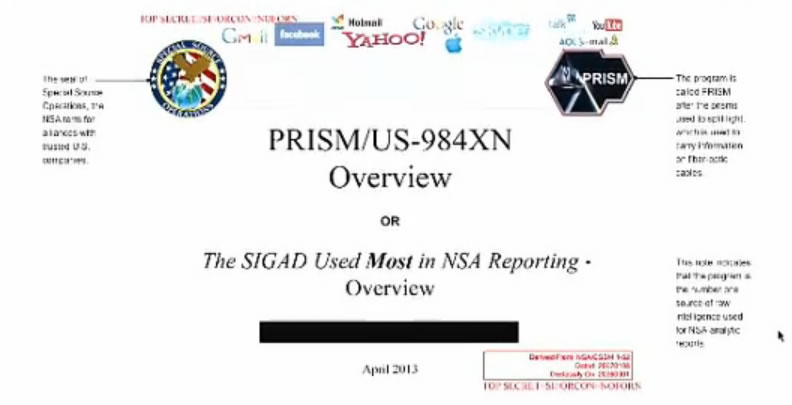 It is increasingly becoming apparent that one of the primary reasons why the internet remains mostly FREE is because it is an excellent tool for not only spying on all aspects of ordinary citizens activities but also on their thought processes which is ultimately what intelligence agencies desire, to control the thought processes of individuals which they aim to seek through conditioning via tools such as the mainstream media, pseudo democracies and state education with further triggers reinforced through individual interactions with state agencies.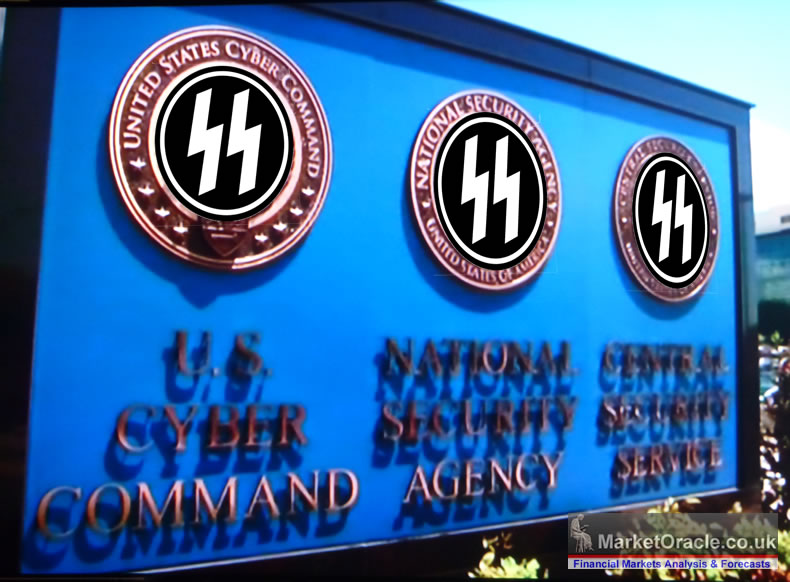 The world wide web truly is a web spun by intelligence agencies to capture every aspect of ordinary peoples lives that they seem to share with one another regardless of the consequences to individuals for instance with dictatorships as was the case between documented dealings between MI5 and Gaddaffi and Mubarak's brutal secret police agencies resulting in torture and untold number of deaths.
Meanwhile the CIA and most of the worlds intelligence agencies operate thousands of secret Gulag prisons containing many tens of thousands of political prisoners that the likes of past dictators such as Stalin would be proud of.
Trump's US election win amounts to a pressing of the RESET button on that which has passed for at least the past 40 years. Which demands a reappraisal of virtually everything to ascertain not just the impact of Trump but the trend reversal / rebellion underway amongst Western populations against the ruling elites that will impact on the mega-trend drivers of financial market trends for many years if not decades to come. In this respect my Trump Reset video series seeks to detail the key mega-trend geopolitical consequences of the Trump Reset, of why the US under a Trump Presidency is trending towards an inevitable war with China, economic, cyber and even outright military conflict, something that is deemed to be impossible by most today.
1. Delirium - Why Trump Won the Election
With the 1st video in this series, in the immediate aftermath of the US election explained why Trump won:
2. The Putin Doctrine
President Trump appears to be following the Putin doctrine, one of there being no difference between that which is truth and that which is fiction: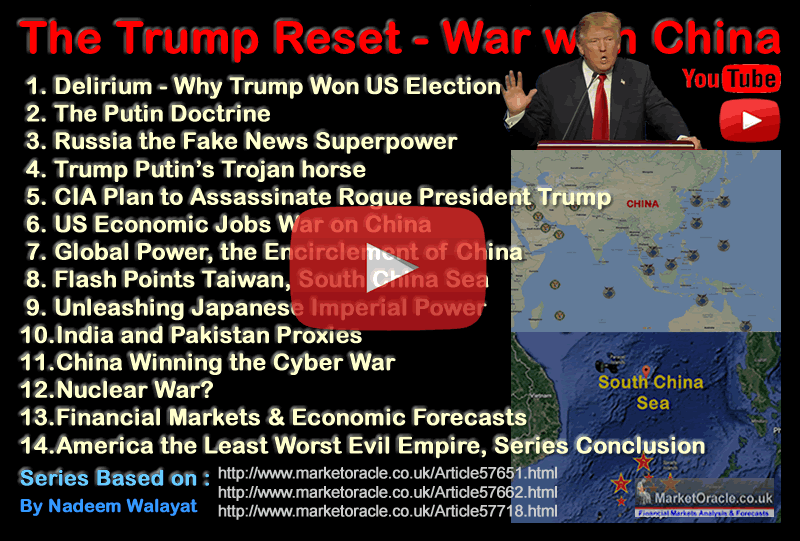 By Nadeem Walayat
Copyright © 2005-2017 Marketoracle.co.uk (Market Oracle Ltd). All rights reserved.
Nadeem Walayat has over 25 years experience of trading derivatives, portfolio management and analysing the financial markets, including one of few who both anticipated and Beat the 1987 Crash. Nadeem's forward looking analysis focuses on UK inflation, economy, interest rates and housing market. He is the author of five ebook's in the The Inflation Mega-Trend and Stocks Stealth Bull Market series that can be downloaded for Free.

Nadeem is the Editor of The Market Oracle, a FREE Daily Financial Markets Analysis & Forecasting online publication that presents in-depth analysis from over 1000 experienced analysts on a range of views of the probable direction of the financial markets, thus enabling our readers to arrive at an informed opinion on future market direction. http://www.marketoracle.co.uk
Disclaimer: The above is a matter of opinion provided for general information purposes only and is not intended as investment advice. Information and analysis above are derived from sources and utilising methods believed to be reliable, but we cannot accept responsibility for any trading losses you may incur as a result of this analysis. Individuals should consult with their personal financial advisors before engaging in any trading activities.
© 2005-2022 http://www.MarketOracle.co.uk - The Market Oracle is a FREE Daily Financial Markets Analysis & Forecasting online publication.
Comments
biju.joseph
12 Jan 17, 18:57
Trumps Tax structure to ebat WTO


Hi Nadeem,

Trump is planning to

- scuttle WTO by changing the tax structure, such that

importers will not be able to deduct foreign supplier

payments

- This will be hit on China/other exporters to USA. China

alone has $400B trade surplus with USA

- USD will spike.

- Third word country corporate debts will become

unserviceable

Some nasty moves ahead.

Larry Summers: I consider him a smart guy.

http://video.cnbc.com/gallery/?video=3000583307

https://www.ft.com/content/7e5900ec-d401-11e6-b06b-680c49b4b4c0



biju.joseph
12 Jan 17, 19:03
wrong CNBC link


http://video.cnbc.com/gallery/?video=3000582743




Only logged in users are allowed to post comments.
Register/ Log in