Why Alternative Facts and Cashless Will Benefit Gold
Commodities
/
Gold and Silver 2017
Feb 01, 2017 - 03:59 PM GMT


Why gold will benefit from the alternative fact of the cashless society
Alternative facts prevail in the European Commission's calls for cash controls
Terrorism is blamed for the need to control cash
Evidence shows criminals find alternative ways to finance activities
Citizens continue to want and to use cash in day-to-day life
Cashless society is being used to force through other 'agendas'
Gold and silver will be used as savers are forced to hold assets outside of the financial system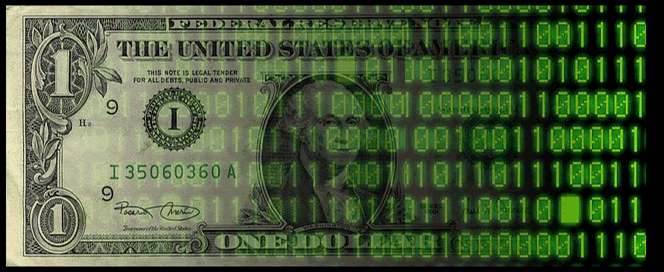 Why gold will benefit from the alternative fact of the cashless society
"Those who control the present, control the past and those who control the past control the future."― George Orwell, 1984
Last week a new phrase was introduced into our lexicon by Trump Adviser Kellyanne Conway. When asked about why press secretary Sean Spicer had made statements that were (according to the press) unverifiable she said that he had used 'alternative facts'.
This prompted a raft of satire, journalists to flail their arms up at the audacity of Conway and Trump's administration, and for people to rush out and buy George Orwell's 1984.
Penguin, the world's largest publisher, ordered a 75,000 copy reprint last week. Apparently more than the 'typical reprint' for the 1949 Orwellian classic. The 'alternative facts' statement echoed of 'Newspeak' the language used by the totalitarian government in Orwell's 1984 to influence and control its citizens of Airstrip One (previously Britain).
European Commission Embraces Newspeak
A day after Conway's interview the European Commission took of the advantage of the furore that continues to surround the Trump administration (the shock that the President is doing exactly what he promised to do) and introduced a proposal enforcing "restrictions on payments in cash."
The EC apparently like to use their own version of alternative facts when it comes to arguing why we should be going cashless.
The proposal is based on a plan from February 2016 that explained, "Payments in cash are widely used in the financing of terrorist activities… In this context, the relevance of potential upper limits to cash payments could also be explored. Several Member States have in place prohibitions for cash payments above a specific threshold."
And whilst terrorists do no doubt use cash to finance some activities (the US has purportedly blown-up stockpiles of ISIS' cash), research shows that countries with higher denominations of cash in fact experience lower levels of crime and corruption.
And what about those non-criminals? EC are failing to address the fact that law-abiding citizens still like to use cash and will continue to whilst negative interest rates and bail-ins remain a reality. Not to mention the privacy it affords us.
This Newspeak is starting to feel like we're supposed to feel bad about using cash and instead should become inclined to move to a cashless way of life. Whilst the EC is still in proposal-stage we should be reminded that the move to cashless is very much in play, as we explained in Cashless society – War on Cash to Benefit Gold?.
Cash-free does not mean terrorism free
As pointed out by Zerohedge the proposal is very focused on stopping terrorism, crime and money laundering. It states:
'Potential restrictions to cash payments would be a mean to fight criminal activities entailing large payment transactions in cash by organised criminal networks…Terrorists use cash to sustain their illegal activities, not only for illegal transactions (e.g. the acquisition of explosives) but also for payments which are in appearance legal"
But, as argued in the Sovereign Man blog, economists such as Rogoff and Stiglitz and government organisations such as the EC are relying on the myth that 'cash facilitates illegal activity.'
Who is so naive to think that a ban on cash will stop terrorism? What they have missed is that criminal and terrorist leanings facilitate such activities, they will always find some form of means of exchange to facilitate it.
Sovereign Man explains that criminals and terrorists can, miraculously, use means other than physical cash in order to facilitate illegal activities.
"The US military has literally blown up more than a billion dollars worth of ISIS's stockpiles of physical cash during airstrikes.
But this hasn't affected their terrorist activities one bit.
That's because the most notorious terrorist group on the planet famously uses both the world's oldest currency (gold) and the world's newest currency (Bitcoin)."
And it's not just big terrorist groups who are able to work their way around a cash-based monetary system.
"What Stiglitz, and perhaps many law enforcement agencies, fail to realize is that one of the biggest tools in masking illegal activity is actually Amazon.com.
Specifically, Amazon gift cards.
If you're looking to quietly and easily pay large sums of money, even tens of thousands of dollars, you can do so with Amazon gift cards.
Amazon gift cards are essentially a "cash equivalent".
Amazon sells just about everything on the planet, so its gift cards can either be spent or quickly resold for cash."
Cash will soon not be a right
The EC, Rogoff and Stiglitz are all behaving as though cash is only used for illicit activities. There is apparently little thought to those of us who still use cash. Most of us look at cash as something that is both convenient and provides a way to spend money without it being anyone else's business other than ours and the seller. But governments label this as suspicious with the intention to get us away from cash so that the banking system may be propped up and 'bailed-in' by our funds.
There is but a fleeting mention of the fundamental right to use cash in this recent EC proposal but it is quickly dismissed:
It should also be observed that national restrictions to cash payments were never successfully challenged based on an infringement to fundamental rights."
Cash is still widely used, by both citizens and big businesses but this has not stopped both governments and banks looking to move us away from using cash.
The most recent example of a shift to a cashless society was of course the demonetisation of 500 and 1,000 rupee notes in India. Whilst Prime Minister Modi acknowledged that millions had been affected he reiterated calls for the country to become a cashless society.
Meanwhile In Ireland companies are making investments on the basis of the future cashless society. US company EVO, a payment processing partner of Bank of Ireland, announced a €9.1 million move to the country that is embracing a cashless way of life. Brian Cleary, managing director of BOI Payment Acceptance Ireland and UK, an arm of Evo Payment International told the Irish Independent, "With over six million debit and credit cards in the market, debit card spend on the increase year-on-year and over 35,000 Irish businesses offering contactless payment facilities, this number continues to grow."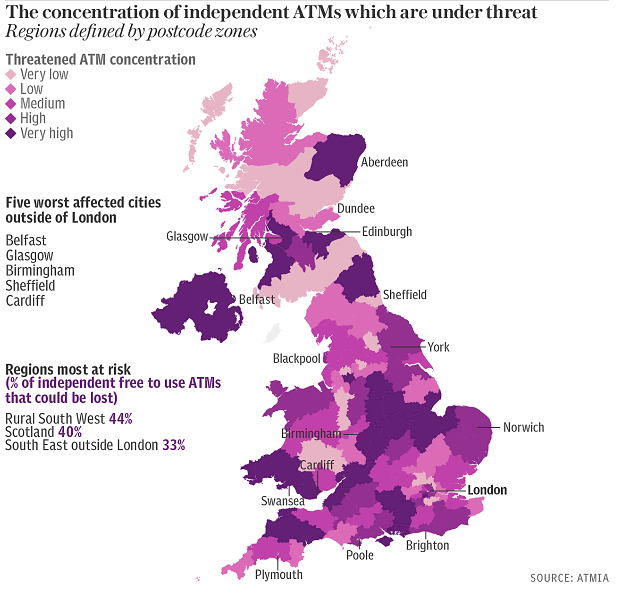 In the UK, cashless is almost as popular as the likes of the Scandinavian countries. In August 2016 More than 260 million contactless transactions were made in the UK, a 200% increase from the year before. According to a Telegraph article, ATMs are close to becoming extinct as banks will no longer finance them. Rural areas will be "the hardest hit with the South West, Scotland, and the South East where 44pc, 40pc and 33pc of cash points are under threat"
The threat of a cashless society is seemingly greater than ever, so much so that MPs are being called to investigate. As Ron Delnevo, director of the ATM Industry Association in Europe, told the Telegraph: "Some organisations want to drive people away from cash because it suits their agenda." He also warned of a "domino effect", saying that if one big bank pulled out of the arrangement "the whole thing will just melt".
Cash controls will extend beyond cash
The EC doesn't intend to stop just at putting controls on (or even outright banning) cash. Under the guise of preventing anonymity they believe that restrictions should be placed on all means of payment that mean people can have some privacy:
"In view of the development of cryptocurrencies and the existence of other means of payments ensuring anonymity, an option could be to extend the restrictions to cash payments to all payments ensuring anonymity (cryptocurrencies, payment in kinds, etc.). On the other hand, restrictions on cash payments could promote the development of alternative payments technologies compatible with the non-anonymity objective pursued."
Aside from what this means for all forms of payments, it ultimately means that the EC has decided that anonymity, i.e. privacy, is a bad thing. To want it is to suggest that you are doing something criminal.
This will no doubt drive up demand for tangible currencies such as gold and silver which should be held outside of the banking system, as outlined in a letter to the FT following Gillian Tett's article in support for a cashless society:
Sir, Gillian Tett sees some benefits in scrapping cash (February 5). I, instead, see an Orwellian nightmare where citizens' every step is recorded in a Big Brother database for tax, financial and monetary purposes. In a certain sense cash means freedom. If cash is really scrapped by governments in the future I have no doubt that alternative tangible currencies will emerge. I will be in the front line using them.
At the moment negative interest rates and bail-ins will only work if cash cannot be removed from the system. And central banks and government are well aware of this. This is why 'tangible currencies' such as gold and silver are becomingly increasingly more attractive as the push for cashless society and reduced privacy, grows.
As Doctor Constantin Gurdgiev wrote:
Cash and monetary assets, such as gold, cannot be expropriated or bailed-in as long as they are held in physical form and under proper storage. Cashless accounts amplify the importance of monetary assets, such as gold, in fulfilling the function of being safe havens against systemic risks – risks that are associated with high probability of Government expropriation.
Conclusion: gold and silver
A cashless world means a transparent world, which is great if terrorists were the only ones using cash. But they're really not, so a cashless world means transparent bank accounts which means restricted banks accounts.
Human behaviour and data does not support the argument for a cashless society. Instead this is seemingly a move to force to restrict our freedom and to get us to hold our wealth in a banking system where negative interest rates and bail-ins are a harsh reality and are our financial decisions are there for all to see.
Lars Feld, economic advisor to the German government, referred to cash as 'printed freedom.' It seems that this will not be the case for long. Unfortunately under the Newspeak guise of protecting us from criminals our cash will no longer be the ticket to a private life.
Money in a bank account is no longer yours- it is a bank deposit, an unsecured liability in a commercial bank that is entrenched in the global banking system. It relies on trust in a system that is inherently broken and on a downward spiral that is prepared to take savings and wealth with it.
Fyodor Dostoevsky wrote, 'Money is coined liberty' and many years later this is still the case for gold and silver. Unfortunately it is no longer the case for cash. History shows multiple attempts of wealth confiscation and restrictions on freedom, each time individuals and governments have returned to gold and silver in order to protect their savings and their privacy.
Going cashless will not rid us of people and organisations who wish to commit horrific and illegal acts. Instead it will encourage them to find additional ways to run their gangs and terrorist cells. For the rest of us it will remind us of the importance of liberty, safe-havens, security and the need to protect our wealth from negative interest rates, bail-ins and currency devaluations.
Whilst a government using 'alternative facts' and telling us that something is for the greater good when it is clearly for the greater banking system is disheartening we should embrace the role of gold and silver. The role of precious metals in a cashless society are key and investors should remember the importance of diversification and holding assets, under direct ownership, outside of the vulnerable and exposed banking system.
KNOWLEDGE IS POWER
10 Important Points To Consider Before You Buy Gold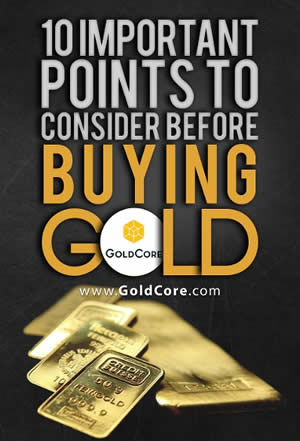 Please share our research with family, friends and colleagues who you think would benefit from being informed by it.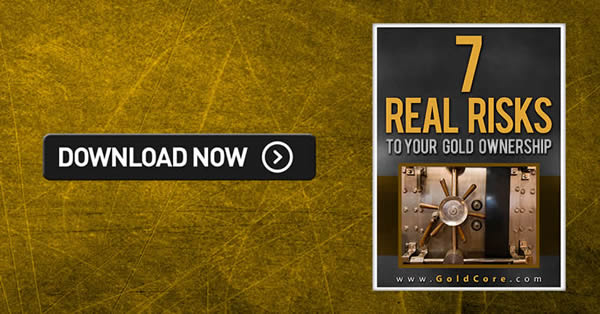 Gold Prices (LBMA AM)
01 Feb: USD 1,210.00, GBP 960.01 & EUR 1,122.03 per ounce
31 Jan: USD 1,198.80, GBP 964.91 & EUR 1,119.20 per ounce
30 Jan: USD 1,189.85, GBP 949.38 & EUR 1,112.63 per ounce
27 Jan: USD 1,184.20, GBP 943.81 & EUR 1,108.77 per ounce
26 Jan: USD 1,191.55, GBP 945.14 & EUR 1,111.95 per ounce
25 Jan: USD 1,203.50, GBP 956.90 & EUR 1,119.62 per ounce
24 Jan: USD 1,213.30, GBP 972.22 & EUR 1,130.07 per ounce
23 Jan: USD 1,213.75, GBP 974.03 & EUR 1,130.12 per ounce
Silver Prices (LBMA)
01 Feb: USD 17.60, GBP 13.91 & EUR 16.29 per ounce
31 Jan: USD 17.29, GBP 13.86 & EUR 16.07 per ounce
30 Jan: USD 17.10, GBP 13.65 & EUR 16.03 per ounce
27 Jan: USD 16.70, GBP 13.32 & EUR 15.61 per ounce
26 Jan: USD 16.86, GBP 13.39 & EUR 15.71 per ounce
25 Jan: USD 16.93, GBP 13.46 & EUR 15.74 per ounce
24 Jan: USD 17.10, GBP 13.73 & EUR 15.92 per ounce
Mark O'Byrne
Executive Director
This update can be found on the GoldCore blog here.
IRL
63
FITZWILLIAM SQUARE
DUBLIN 2

UK
NO. 1 CORNHILL
LONDON 2
EC3V 3ND

IRL +353 (0)1 632 5010
UK +44 (0)203 086 9200
US +1 (302)635 1160
WINNERS MoneyMate and Investor Magazine Financial Analysts 2006
Disclaimer: The information in this document has been obtained from sources, which we believe to be reliable. We cannot guarantee its accuracy or completeness. It does not constitute a solicitation for the purchase or sale of any investment. Any person acting on the information contained in this document does so at their own risk. Recommendations in this document may not be suitable for all investors. Individual circumstances should be considered before a decision to invest is taken. Investors should note the following: Past experience is not necessarily a guide to future performance. The value of investments may fall or rise against investors' interests. Income levels from investments may fluctuate. Changes in exchange rates may have an adverse effect on the value of, or income from, investments denominated in foreign currencies. GoldCore Limited, trading as GoldCore is a Multi-Agency Intermediary regulated by the Irish Financial Regulator.
GoldCore is committed to complying with the requirements of the Data Protection Act. This means that in the provision of our services, appropriate personal information is processed and kept securely. It also means that we will never sell your details to a third party. The information you provide will remain confidential and may be used for the provision of related services. Such information may be disclosed in confidence to agents or service providers, regulatory bodies and group companies. You have the right to ask for a copy of certain information held by us in our records in return for payment of a small fee. You also have the right to require us to correct any inaccuracies in your information. The details you are being asked to supply may be used to provide you with information about other products and services either from GoldCore or other group companies or to provide services which any member of the group has arranged for you with a third party. If you do not wish to receive such contact, please write to the Marketing Manager GoldCore, 63 Fitzwilliam Square, Dublin 2 marking the envelope 'data protection'
© 2005-2019 http://www.MarketOracle.co.uk - The Market Oracle is a FREE Daily Financial Markets Analysis & Forecasting online publication.

Only logged in users are allowed to post comments.
Register/ Log in