Bitcoin Gets WinkleF*ked By the Criminal SEC Organization
Currencies
/
Bitcoin
Mar 11, 2017 - 05:31 PM GMT


Last week we heralded, "Bitcoin Is Now As Good As Gold, Actually, It's Better".
It was a bit tongue-in-cheek, and I knew it'd get the gold crowd whipped into a frenzy. But, the point was, for the first time ever, the value of one unit of bitcoin surpassed the value of one ounce of gold.
At the time it was around $1,250.
Today, though, gold bugs will be happy to know that bitcoin just got Winklef*ked back down below the price of gold…. To $1,100 as of the time of this writing.
Bitcoin had been soaring in recent days on the anticipation of a ruling by the SEC on the listing of a bitcoin backed ETF.
Today, the U.S. Securities and Exchange Commission (SEC) disapproved the proposed Winklevoss bitcoin ETF (COIN).
The news came out at exactly 4 pm Eastern and, as you can see, the response by bitcoin was swift.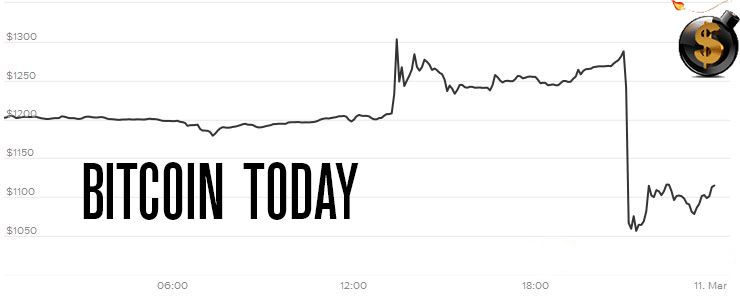 Bitcoin, for a moment, went below $1,000 on some exchanges… which just happened to be the exact price I said bitcoin could go to, temporarily, if the SEC disapproves the ETF.
The reason the ETF was not approved, according to the SEC, was because bitcoin is "too susceptible to fraud due to its unregulated nature."
This is quite wry coming from the ultra-corrupt and anti-free market SEC. The market needs no regulation by an outside and violent entity (government) operating through the use of stolen funds (taxes) to manipulate, extort and attack people who do not pay enough bribes (political donations).
Bitcoin, in fact, is perfectly regulated the way it should be. By the blockchain itself. Bitcoin is 100% regulated by the blockchain which is a ledger system that is completely transparent, available to all, and unchangeable by any one entity.
In fact, "regulation" in and of itself is a tool used by branches of crime syndicates such as the SEC. Luckily, bitcoin cannot actually be regulated by the SEC, which makes it far more secure and less susceptible to manipulation and corruption.
Many in the bitcoin community were quite happy to hear that the SEC did not approve the ETF. Aside from not wanting the blessings of a corrupt, criminal entity they also said it limits the ability of some to manipulate the market, via shorting and other means that would be made easier via the ETF.
GOLD VS BITCOIN
This event, today, gives us the opportunity to comment further on the differences between gold and bitcoin. After we said that "bitcoin is better than gold" last week, thousands of people lost their mind on the Youtube comments based on the article!
To begin, The Dollar Vigilante is a huge proponent of precious metals. In fact, it is, by far, the biggest weighting in our portfolio. Bitcoin, and other cryptos, only take up 5% of our portfolio for many reasons… some of which include the volatility like we saw today.
In truth, in terms of total value, bitcoin still has a VERY long way to go before it will ever surpass gold… if ever.
Gold's market cap is somewhere between $7 and $40 trillion USD while comparatively, bitcoin has a market cap of around $20 billion which pales in comparison.
Gold still remains more tried and true than bitcoin in that it has been around for millennia, whereas bitcoin has been around for a grand total of eight years.
And, for gold to become "money" it had to be recognized as the marketable commodity that it is. Despite all the wonderful attributes bitcoin has, it lacks the one thing that makes gold so valuable - time.
However, in terms of ease of transference, bitcoin is massively superior to gold. For the most part, it doesn't really exist in physical terms and can be easily transferred from one computer to another and bought and sold via exchange in equally as efficient a manner.
We, now, live in a very digital world. And, that means a lot of change.
The largest population in the world is not China. It's the internet. The largest economy in the world is not the United States. It's the internet. The largest postal carrier is not the USPS, UPS or FEDEX. It's the internet.
Bitcoin is the internet's money. It's the defacto money adopted by those on the internet. It has no state nor borders. No bank can control it. It's not about "what country will adopt bitcoin first". It's about bitcoin not needing a country to exist.
That is what makes bitcoin so valuable. And, it is not going away anytime soon.
Sure, if the US government shuts down the internet or does a false flag EMP attack to shut down the power grid, it would cripple or destroy bitcoin. And, yes, these are actually very real possibilities.
If the power grid is irreparably damaged, however, I don't think the majority of people reading this will be much worried about bitcoin or gold. They'll be holed up, hopefully well armed, fending off the zombie hordes.
If they do not turn off the internet or power, however, expect bitcoin to keep growing massively. Will it ever get to the $1 million valuation which I calculated to be its value if it became the main currency used worldwide?
No one knows. And it'd be safest to bet against it. Lots can happen. Other cryptocurrencies could take over dominance. Hacks or supercomputing changes could bring bitcoin to its knees.
But if they don't… bitcoin is going to continue to rise.
THE BITCOIN STORY IS NOT OVER YET
Stick with us here at The Dollar Vigilante, where we have been following and recommending bitcoin to our subscribers (subscribe here) since it was $3 in 2011.
And, check out all the presentations from The Dollar Vigilante's Internationalization & Investment Summit which took place less than two weeks ago here.
And, keep in mind, another bitcoin ETF is set to be ruled upon by the SEC by the end of this month. So, even this part of the game isn't over. And, if the SEC were ever to approve a bitcoin ETF it will cause a massive spike in demand for bitcoin… but it may also put the final nail in the coffin of the fiat currency/central banking system.
So, we'll definitely be watching!
Anarcho-Capitalist. Libertarian. Freedom fighter against mankind's two biggest enemies, the State and the Central Banks. Jeff Berwick is the founder of The Dollar Vigilante, CEO of TDV Media & Services and host of the popular video podcast, Anarchast. Jeff is a prominent speaker at many of the world's freedom, investment and gold conferences as well as regularly in the media.
© 2017 Copyright Jeff Berwick - All Rights Reserved Disclaimer: The above is a matter of opinion provided for general information purposes only and is not intended as investment advice. Information and analysis above are derived from sources and utilising methods believed to be reliable, but we cannot accept responsibility for any losses you may incur as a result of this analysis. Individuals should consult with their personal financial advisors.
© 2005-2019 http://www.MarketOracle.co.uk - The Market Oracle is a FREE Daily Financial Markets Analysis & Forecasting online publication.

Only logged in users are allowed to post comments.
Register/ Log in