Global Oil, Food and Water Crisis Economic Tipping Points
Economics
/
Global Economy
Aug 14, 2008 - 01:51 PM GMT


Larry Edelson writes: I'll discuss the state of the markets shortly. First, I'd like to discuss the state of the world's future.
According to a long-term study just released by the U.S. Naval Services Department, a series of tipping points could dramatically alter the global prospects for economic growth and humanity — for the worse.
Right now, for instance, fully half the world is vulnerable to social instability resulting from rising food and energy prices, lack of water, failing state governments, and pollution.
102 countries are at risk of chaos. 46 countries, comprising 2.7 BILLION people, are at risk of armed conflict with lack of adequate natural resources as the root cause for many of them. Another 56 countries, with 1.2 billion people, are at risk of severe social instability.
There are now 14 ongoing wars around the world: Five in Africa, four in Asia, two in the Americas, two in the Middle East, plus the world-wide war on terrorism.
And 37 countries face a food crisis due to increased demand, falling supplies, high energy prices, and global cereal stocks at 25-year lows. Nearly three billion people subsist on less than $2 a day.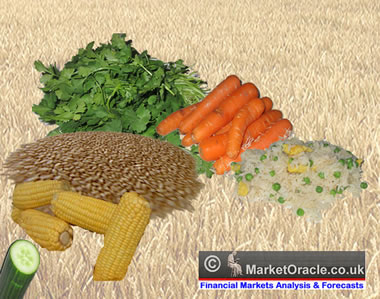 Due to increased demand and with global cereal stocks at 25-year lows, many countries are facing a food crisis.
Some Other Facts to Consider ...
— The world population today is 6.677 billion people, growing at a rate of 1.16% per annum.
— The global economy had one of its best years ever in 2007, growing at 4.9% to $66 trillion in purchasing power parity (PPP). Global per-capita income grew a tad under 4%.
— Yet, high levels of extreme poverty have given birth to 40 new diseases, 1,100 epidemics over the last five years, and 20 drug-resistant diseases today, a record.
Worse, old diseases have re-emerged, such as cholera and yellow fever. And more than one-third of all child deaths occur in the first 28 days of life, mostly due to lack of clean, potable water.
— In total, 700 million people face water scarcity today. Without drastic investment of hundreds of billions of dollar, an estimated three billion people will not have adequate water supplies by 2025.
A scarcity of clean potable water will affect an estimated 3 billion people by 2025.
— The world will need 50% more food within the next five years, and 100% more by 2030.
— Democracy and freedom has declined over the last two years in one-fifth of the world's countries , while total military expenditures have hit $1.3 trillion per year.
— There are an estimated 20,000 active nuclear weapons in the world, 1,700 tons of highly enriched uranium, and 500 tons of separated plutonium that could produce nuclear weapons.
— There were over 150 reports of unauthorized use of nuclear materials per year between 2004 and 2007.
— Illicit trade, corruption, and cybercrime are estimated to cost global GDP well over $2 trillion per year.
— Global energy demand could double in just 20 years . Without major technological changes, fossil fuels will provide 81% of primary energy demand by 2030.
No matter how you look at it, the world has its work cut out for it if we are going to improve the future for our children and grandchildren, and for billions of people around the world.
Fortunately, there are some bright spots. Namely, three important ones ...
#1: Governments around the world are now becoming acutely aware of the problems the world faces. And, they are sharing their knowledge more consistently in international workgroups to solve crises.
#2: Super computers are now reaching levels that will be able to help solve problems at exponentially quicker rates.
A computer can now perform 1.144 thousand trillion floating point operations per second with the capability to support highly complex social, environmental, medical, and economic modeling that will allow more reliable predictions of future behavior and cause and effect relationships in virtually every field of study.
#3: Thanks to the Internet, a global "collective intelligence" is now forming on many of the issues confronting the world today. This enhanced global communication will speed the development of solutions through sharing of ideas and models.
I have faith. I believe we can do it. But getting there won't be easy.
Only massive, unprecedented investment will avert an energy crisis — by investing hundreds of billions of dollars in wind energy, geothermal, ground solar and space solar, and saltwater-based bio-fuels, and an equally massive investment in nuclear power plants.
And that's why I say ...
Natural Resources Will Clearly Remain In Long-Term Bull Markets
Given all the above, plus the fact that central bankers and politicians around the world will always opt for growth over recession — even if they have to print unlimited supplies of money — it should be awfully clear that the bull markets in natural resources are here to stay.
Indeed, according to my long-term studies and economic models, the prices of natural resources will continue higher for up to ten more years, reaching their peaks in the year 2018.
"What, has Larry lost his marbles?" you ask. "Gold, oil and many other commodities are getting crushed!"
Well, mark my words: The pullbacks you're now seeing in many natural resources are nothing more than normal, healthy bull market retracements. A chance for prices to consolidate, before heading higher.
Just take a look at any long-term chart of any commodity. You'll see what I mean. Every single one of them remains in a long-term bull market.
Also consider the following ...
So what if gold falls back to $800, or even $700? At $700, it's still nearly triple its price of 2000!
So what if oil falls back to $100, or even $70 a barrel? At $70 oil, it's still nearly 500% higher than it was in 1999!
Despite a current pullback in prices, the demand for oil and other commodities will explode higher.
Get the point? Even if commodity prices were to fall that much, which I do not believe they will, they would merely be making HIGHER LOWS, the classic definition of a long-term bull market.
Put another way, the world is getting used to higher oil prices, higher gold prices (a lower dollar), and higher prices for virtually every natural resource under the sun.
What's more, as commodity prices pull back, demand will explode higher again. Won't you run off to the gas pump if you can buy gas again at, say, $3.25 a gallon versus over $4 today?
You bet you will. And so will millions of others. That will lead to a whole new surge in demand, from much higher lows for the price of gas. The same can be said for gold, copper, heating oil, soybeans, wheat, and corn.
What we have witnessed over the last few years — what I call Phase 1 of the greatest bull market in natural resources, ever — is merely the breakout phase.
From here on out, the world will no longer assume we have plentiful supplies of natural resources. Demand will continually rise in its own right, partly due to the ongoing and rapid emergence of countries all over the world, especially China and India.
And all the while, central banks everywhere will err on the side of inflation, by creating more and more money to chase fewer and fewer goods.
Stay the course with your natural resource investments. They have paid off, and they will continue to pay off.
Best wishes,
Larry
P.S. Tony and I are both in Asia right now, where China's retail sales for July just exploded 23% higher — the fastest pace in 9 years! In fact, Tony will be issuing a new recommendation to his Asia Stock Alert subscribers before he flies home. If you'd like to get that recommendation, you must sign up by 3 p.m. on September 12.
This investment news is brought to you by Money and Markets . Money and Markets is a free daily investment newsletter from Martin D. Weiss and Weiss Research analysts offering the latest investing news and financial insights for the stock market, including tips and advice on investing in gold, energy and oil. Dr. Weiss is a leader in the fields of investing, interest rates, financial safety and economic forecasting. To view archives or subscribe, visit http://www.moneyandmarkets.com .
© 2005-2019 http://www.MarketOracle.co.uk - The Market Oracle is a FREE Daily Financial Markets Analysis & Forecasting online publication.

Only logged in users are allowed to post comments.
Register/ Log in