Canada Mother of All Housing Bubbles - Buy Gold in a Hurry!
Housing-Market
/
Canada
Apr 17, 2017 - 10:57 AM GMT


By Shannara Johnson : For centuries, physical gold has served as an effective crisis hedge. When economies take a severe downturn and paper money gets devalued, a stash of gold can save you from losing your shirt.
Our friendly neighbors to the north would do well to remember that wisdom—because they've been experiencing the mother of all housing bubbles.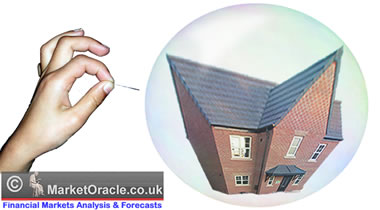 "At this point," says Jared Dillian, a former Wall Street trader and contrarian analyst who predicted Canada's looming economic crash early on, "you'd have to live under a rock to not realize what's going on. Three years ago, I got laughed at when I said Canadian real estate was in a bubble. No one's been laughing recently, though."
Unlike three years ago, today the tell-tale signs of a bubble waiting for a pin are ubiquitous.
Here are just a few:
Sign #1: When a million-dollar tear-down starts feeling like an amazing bargain, run.
In February, Toronto home prices hit another record high. The average selling price for a detached home was $1.57 million, up 29.8% in one year. Even modest single-family homes sell for fantastic amounts of money.
Recently, a three-bedroom, three-bathroom home sold for $2.6 million after being listed at a price of "only" $1.5 million… that's more than a million over the asking price.
And a dilapidated bungalow built in 1912 in Toronto's East York neighborhood sold for $1.05 million—$370,000 over asking.
"It's a sign of what little $1-million now buys in Toronto's soaring housing market," quipped the Canadian Globe and Mail, "a tear-down home on a skinny lot fetching a premium price in a neighbourhood known for its blue-collar roots."
Sign #2: When reality TV hosts and musicians give you real estate advice, run.
At the recently concluded Toronto Real Estate Wealth Expo, US rapper Armando Christian Pérez, aka Pitbull, did just that.
Aside from performing his greatest hits, he egged on the audience to start speculating in real estate with profundities like, "The biggest risk you take is not taking a risk at all."
Pitbull's sidekicks at the Toronto Real Estate Wealth Expo were infomercial king Tony Robbins, Boston firefighter-turned-house-flipper Dave Seymour, Flip or Flop reality star Christina El Moussa, and Jim Treliving, the Canadian equivalent of a Shark Tank host.
The goal of this knowledgeable cast was to tell 15,000 enraptured Canadians how to get rich quick by investing in real estate.
"Get started flipping property in your area," advises the expo registration website. "Once you learn our system, it's fast and easy. And we help you get the money to fund good deals." Here's how, according to blogger Tim Bergin, the attendees were encouraged to find that cash:
Not everyone has money, so what can they do? The answers were shocking. Be "creative" was the first response. Pool your money, borrow from friends and family, own just 5% of a house, get the money however you can and just do it—remember, it only goes up. […] The presentations all suggested that you can borrow money, if you don't have it, at 4% and then buy these investments at 10%—easy money.
Sure. What could possibly go wrong?
Sign #3: When daycare moms and cab drivers tell you the market will go up forever, run.
Staying with the Toronto Real Estate Wealth Expo for another moment, who were those 15,000 participants that heeded the speakers' millionaire-making advice? Professional investors, hedge fund managers, wealthy retirees?
Not if you look at this "exit poll" of Canadians who had just attended the event.
Melanie B., a 33-year-old children's entertainer, sums up her takeaway from the Wealth Expo: "Don't take advice from non-doers and keep only positive people around you." Her projection for Toronto real estate? "I think it's going to go even more sky-high."
Daud S., an 18-year-old investor, also thinks "the market will continue to exponentially increase." And Rania P., a foster mom, is now convinced that "I need to invest" and that the market "will continue to grow for a while."
Famous last words if we ever heard any.
Contrarian investment guru and gold bug Doug Casey once said that you know a market has reached its peak when the masses dive into it head first and you get investment tips from your friendly cab driver.
We think that time may have come for Canadian real estate. Definitely time to buy some gold.
The right time to buy gold is now, but make sure to do your homework first. Find out everything you need to know about which type of gold to buy and which to stay away from at all costs… how to safely store your gold… and much more… in the revealing ebook, Investing in Precious Metals 101. Click here to get your free copy now.
© 2017 Copyright Hard Assets Alliance - All Rights Reserved Disclaimer: The above is a matter of opinion provided for general information purposes only and is not intended as investment advice. Information and analysis above are derived from sources and utilising methods believed to be reliable,
© 2005-2019 http://www.MarketOracle.co.uk - The Market Oracle is a FREE Daily Financial Markets Analysis & Forecasting online publication.

Only logged in users are allowed to post comments.
Register/ Log in