Kenadyr's Kyrgyz Region Gold Drilling Improves on Historic Results
Commodities
/
Gold and Silver Stocks 2017
Jun 01, 2017 - 01:16 PM GMT

Potentially Connects to TBL's 8.9m oz. Avg. 7.23 g/t Deposit
VANCOUVER, BC / ACCESSWIRE / May 31, 2017 /The gold price chart below is pretty much why investors could currently care less about gold. For a bunch or reasons, other than the lure of a rapidly rising price, eschewing gold exposure is likely a tactical portfolio error.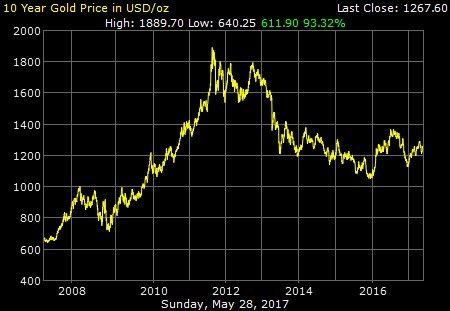 4
In the background, exploration juniors are rising and attracting partnerships and financing for speculative plays has become somewhat 'easier.'
Further up the food chain are those junior stocks that look to prove up what already appears to be a significant resource and ultimately hope to exceed those numbers.
Since listed at the end of March 2017, Kenadyr Mining (TSXV: KEN, the Company) has been moving with all speed. Zijin's TBL orebody may connect to Kenadyr's high grade "South Zone" in its100% owned Borubai License--its highest priority target.
The soviet estimate within a portion of Kenadyr's south zone (based on 24 drill holes in the area directly adjacent to the TBL orebody) shows an initial unclassified historic estimate of 900,000 oz. Au at a grade of 8.3 G Au/T. This historic estimate is open in all directions and to depth: More to come but these ae pretty nifty. These results exceed the Soviet drilling in that Kenadyr recovers 95 percent of the cores while the Soviets only showed 60 percent.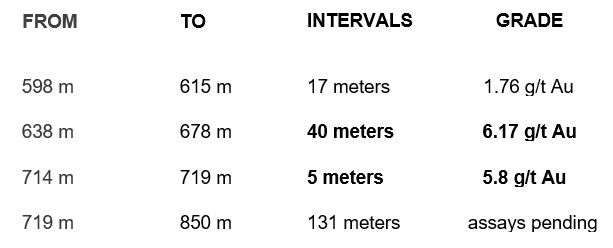 Of course, the Company makes absolutely no conclusions as to deposit or reserves, actual or inferred.
The goal is to prove or exceed the metrics of previous Soviet drilling, which consisted of the gold zones identified by Soviet drilling (81,800m in 139 holes) that are adjacent to Zijin's TBL deposit (using a 1g au/T cut off).
The historic global potential is estimated is 6m oz. Au grading 2.3 - 4.7g au/T.
There are ample reasons to postulate that the Soviets missed a lot of gold. If just these results were ultimately proved up it could be a decent mine on its own.
But where's the fun in that?
"While the previous Soviet drilling and numbers act as great guides, we are very encouraged by these preliminary results," stated Bryan Slusarchuk, President of Kenadyr. By virtue of our 95% core recovery versus the Soviet's 60% we are hoping to delineate more than the 900k of gold estimated by the Soviet work, but at significantly higher grades."
The Soviet numbers within a portion of the South Zone (based on 24 drill holes in the area directly adjacent to the TBL orebody) shows an initial unclassified historic estimate of 900,000 oz. Au at a grade of 8.3 G Au/T. This historic estimate is open in all directions and to depth.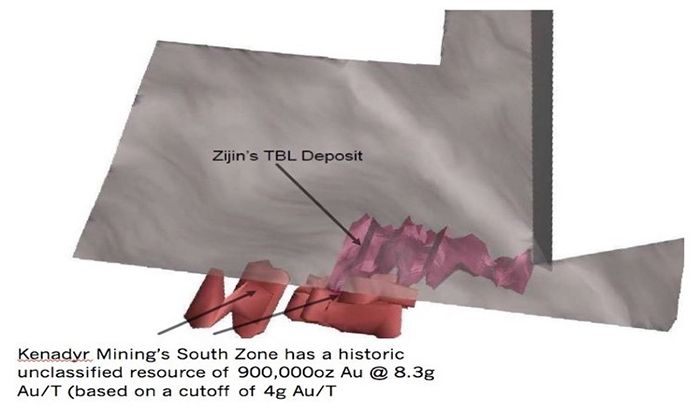 Kenadyr's management feels that those figures generated by the Soviets could well be well understated.
Kenadyr hopes to have more assay results from this round of drilling by end of Q2 2017.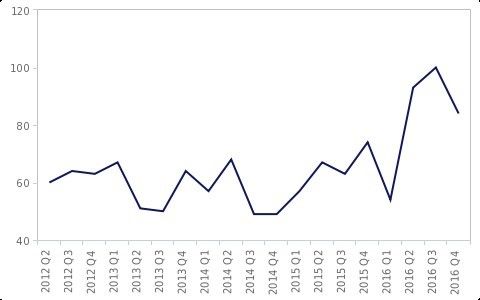 Q1 2017 Metals and Mining M&A and capital raising showed an interesting uptrend ex-China. EY Analytics states;
"The lack of exploration spend as a result of limited access to capital, will inevitably contribute to a future supply deficit and may trigger a return to financing across the juniors towards the end of 2017. Global aggregate capital raised fell by 28% to US$47b in 1Q17 compared to the same period in 2016. The major drop was in China were proceeds more than halved from US$35b raised in 1Q16 to US$14b in 1Q17. Excluding China, however, capital raised in the rest of the world increased by 10% year-on-year mainly due to a strong rise in transactions in North America."
Those companies with better balance sheets and that have successfully de-levered could well signal an increase M&A and financing activity. The trend seems to be moving toward funding junior exploration or adding strategic consumption rather than simply acquisition at what are still attractive prices.
Conclusion: What have we learned?
- The Soviet's extensive drilling in the KEN's Borubai
- Gold prices appear on their posterior
- KEN has no debt and $7 million in cash
- Potentially connects to behemoth TBL's deposit
- TBL parent, China's Zijin tends to be quite acquisitive.
More importantly, this isn't some group of rookies using their credit cards to drill one hole in the Ontario bush. Kenadyr brings money, world class mining expertise with the knowhow to delineate this large property in short order. Recent drilling results are impressive and bolsters the Company's belief that better technology and better core valuation should yield significant gold.
Dr. Alexander Becker, Kenadyr Chief Executive Officer states, "Partial results from our initial 2017 drill hole at Borubai have exceeded our expectations. Based on the geometry of the adjacent TBL orebody, it is the Corporation's interpretation that these intersections are close to true widths. Subject to obtaining additional drill results, the Corporation believes that the mineralization encountered in our initial drill hole validates and supports the findings reported in historic drilling and indicates that the mineralization being mined at the adjacent TBL Mine may continue onto Kenadyr's Borubai License."
CEO Dr. Alexander Becker's mining provenance in Asia is impressive. Experienced in the Kyrgyz Republic over more than two decades, he has many successes including the acquisition of acquiring the gold potential of the Chaarat deposit in the Kyrgyz Republic (gold resource of 6.5 million ounces).
Alex is primarily in-country and runs the operation on the ground. His local, industry and government contacts are peerless.
http://www.wmtracking.com/aff_c?offer_id=6&aff_id=2&url_id=192
Legal Disclaimer/Disclosure: This document is not and should not be construed as an offer to sell or the solicitation of an offer to purchase or subscribe for any investment. No information in this Report should be construed as individualized investment advice. A licensed financial advisor should be consulted prior to making any investment decision. We make no guarantee, representation or warranty and accept no responsibility or liability as to its accuracy or completeness. Baystreet.ca assumes no warranty, liability or guarantee for the current relevance, correctness or completeness of any information provided within this Report and will not be held liable for the consequence of reliance upon any opinion or statement contained herein or any omission. Baystreet.ca has been compensated five thousand dollars for its efforts in presenting the KEN profile on its web site and distributing it to its database of subscribers as well as other services. Furthermore, we assume no liability for any direct or indirect loss or damage or, in particular, for lost profit, which you may incur as a result of the use and existence of the information, provided within this Report.
© 2005-2018 http://www.MarketOracle.co.uk - The Market Oracle is a FREE Daily Financial Markets Analysis & Forecasting online publication.

Only logged in users are allowed to post comments.
Register/ Log in