Bitcoin Just Smashed Through $12k… Wait, $13k… Now $14k… This Is Getting Ridiculous!
Currencies
/
Bitcoin
Dec 07, 2017 - 06:35 PM GMT


It was less than a week ago that we posted, "Bitcoin Smashes Through $10k... Wait... $11k! What The Fk Is Going On?"
Now, in the last 24 hours, it has smashed through $12k, then $13k and now $14k to a new all-time high over $14,200.

So, it is time to update this table:
$0000 - $1000: 1789 days
$1000- $2000: 1271 days
$2000- $3000: 23 days
$3000- $4000: 62 days
$4000- $5000: 61 days
$5000- $6000: 8 days
$6000- $7000: 13 days
$7000- $8000: 14 days
$8000- $9000: 9 days
$9000-$10000: 2 days
$10000-$11000: <1 day
$11000-$12000: 6 days
$12,000-$13,000: 19 hours
$13,000-$14,000: 2 hours
Since hitting $6,000, it has only taken a total of 46 days to more than double and surpass $14,000.
And cryptocurrencies as a whole now sit on the cusp of a $400 billion valuation. Or, nearly half a trillion dollars!

The central banking cartel continues to send out their puppets into the mainstream media they control, but that nobody watches anymore, to try to tame this tiger.
Today it was Alan Greenspan!
The former Federal Reserve Chairman mentioned in a CNBC interview on Wednesday that bitcoin reminded him of the currency issued during America's Colonial past that ultimately proved worthless called "Continental money" which was a fiat currency that was declared legal tender by the Continental Congress. It was not backed by gold or silver.
In 1775, the Continental currency, like all fiat currencies, allowed George Washington to finance the war, but seven years later in 1782, it became worthless as it was continually issued and ultimately collapsed in value as all fiat does.
Of course, bitcoin is finite and is not declared to be legal tender by government which is precisely why it cannot be considered fiat - it is not inflationary nor is it forced on people with violence. Likewise, it is backed by proof-of-work and cryptography, which differs from the continental currency in that the early colonial fiat was backed by nothing more than governmental decree.
One of the most accurate and intelligent quotes ever spoken by Thomas Jefferson who experienced the continental currency's collapse first-hand was:
"If the American people ever allow private banks to control the issue of their currency, first by inflation, then by deflation, the banks…will deprive the people of all property until their children wake-up homeless on the continent their fathers conquered…The issuing power should be taken from the banks and restored to the people, to whom it properly belongs."
Although this quote is disputed as possibly not being legitimate and was aimed at Americans, it's accurate for any country that has a central bank - which is nearly every country in the world.
For the first time in a long time, the people of the world are beginning to take back the power to issue their own currency. In this case, they are bringing it into existence through solving complex mathematical algorithms.
And here at TDV, we identified the potential for bitcoin since 2011 when it was trading at just $3.
Meanwhile, Peter Schill, whose family is very connected to the Rothschilds agreed with Alan Greenspan today, continuing Peter's unblemished record of being wrong on bitcoin since it was in the double digits.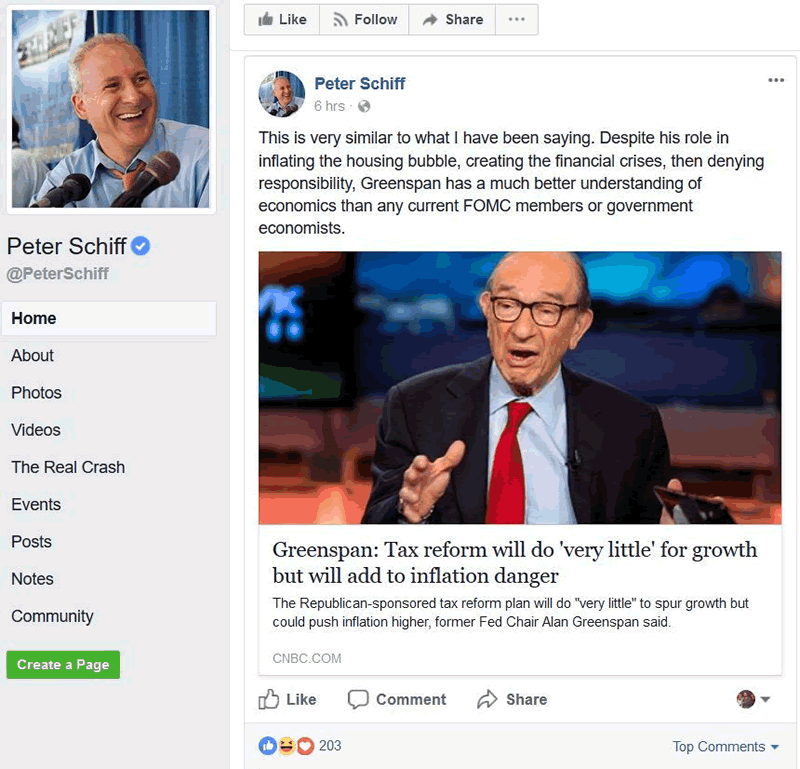 We've been right on cryptos since the beginning and made, so far, 460,000% gains on bitcoin since recommending it at $3 in 2011.
To get all the best updates on the crypto markets including great portfolio recommendations, many of which have made our subscribers 1000's of percent gains, subscribe here.
The Continental currency was created by central banks, forced upon people by government violence and financed war and eventually went to zero as all fiat currencies do.
Bitcoin has no central bank, isn't forced upon people via violence and due to its non-inflationary nature, cannot be used to finance war. Because of all these benefits, not only will it not go to zero… but many are wondering if it will eventually be worth more than $1 million dollars in today's dollars.
At the rate it is going, rising $3,000 per day, it wouldn't take very long to get there!
Anarcho-Capitalist. Libertarian. Freedom fighter against mankind's two biggest enemies, the State and the Central Banks. Jeff Berwick is the founder of The Dollar Vigilante, CEO of TDV Media & Services and host of the popular video podcast, Anarchast. Jeff is a prominent speaker at many of the world's freedom, investment and gold conferences as well as regularly in the media.
© 2017 Copyright Jeff Berwick - All Rights Reserved Disclaimer: The above is a matter of opinion provided for general information purposes only and is not intended as investment advice. Information and analysis above are derived from sources and utilising methods believed to be reliable, but we cannot accept responsibility for any losses you may incur as a result of this analysis. Individuals should consult with their personal financial advisors.
© 2005-2019 http://www.MarketOracle.co.uk - The Market Oracle is a FREE Daily Financial Markets Analysis & Forecasting online publication.

Only logged in users are allowed to post comments.
Register/ Log in