How A NASA Scientist Could Trigger The Next Cannabis Boom
Companies
/
Cannabis
Dec 17, 2018 - 11:08 AM GMT

Marijuana spent this year finding its feet. It may spend next year surfing a big wave of profits.

Marijuana 1.0 was all about the legalization drive, the dumping of billions of dollars of cash into the industry and mouthwatering, legitimizing mergers and consolidations—but it was a jockeying exercise in capacity expansion.

Marijuana 2.0 could be just as big a deal—it's about the technological tweaks that will actually make this industry profitable.
It involves Big Data, AI, automation and a host of other tech tweaks that will increase profitability and open up vast new markets in key verticals. That includes everything from recreational use and OTC pain and sleep relief to pharmaceuticals and beauty/nutraceuticals.
Wall Street's top marijuana expert has predicted explosive growth for the industry
eventually reaching $500 billion
.
Only the most efficient and competitive cannabis players will thrive under the coming Big Data and AI revolution.
And one little-known company has already developed an efficient, high-quality, low-cost automated mass production operation.
The little-known company is the
Wayland Group (
WAYL.CN
,
OTC:MRRCF
)
, and it's positioning itself to be the "Vertical Integrator of Cannabis".
How?
Just like major oil companies
such as ExxonMobil or Royal Dutch Shell used their superior
Big Data capabilities
to streamline their supply chain and muscle their way to the top of the oil distribution chain, this company is positioning itself to become the "Vertical Integrator of Cannabis" by leveraging the first large-scale integration and automation drive in the medical cannabis industry
Their operations require just
10 percent
of the staff of a traditional operation
And for now, it remains "little-known" because just as early investors failed to understand that Amazon was a technology company first and a retail operation second … the same thing could unfold in the cannabis sector.
Everything is about the tech—and Marijuana 2.0 will prove that.
The easy money in the weed industry has already been made. The real money comes in the next wave of profits from companies that are able to navigate the technological and efficiency
cul-de-sacs
that plague the industry…
Wayland is a "tech first" $250-million market-cap company armed with a war chest of patented technologies that can reshape the marijuana industry in 2019.
Here are 5 Reasons why
Wayland Inc
. is slated to become successful
#1 Replacing Gut Feeling with True Tech
Being a relatively new industry, the cannabis space suffers from a severe shortage of credible, evidence-based data and a major void of automation tools. As a result, most companies have been relying on gut-feeling to run their operations - leading to high operational inefficiencies and high costs.
Wayland Group (
WAYL.CN
,
OTC:MRRCF
)
is a medical cannabis company that's positioning itself as the industry's ultra-efficient manufacturer of CBD and CBD products by automating its upstream and downstream operations.
The company has partnered with
Rockwell Automation
(NYSE:ROK) to develop a connected and scalable platform that seamlessly connects its cultivation facilities for a consistent and high-yield crop.
Wayland employs Rockwell's new exclusive agriculture platform from AI Data Grow with its hardware, Automation FactoryTalk software and Ethernet/IP network connectivity to streamline communication between traditional silos such as process control functions, material handling and building automation. This connected and scalable system provides a single, integrated platform for predictive AI, environmental monitoring, process automation and building management.
Through this innovative platform, the company is able to monitor and control all the variables required for the growing of medicinal cannabis, including capturing the ideal nutrient mix, humidity, temperature and light cycles to produce a consistently high-quality and high-yield crop regardless of changing weather conditions. The unified platform is highly scalable and expandable, thus allowing the company to seamlessly replicate a bolt-on solution and facilitate rapid growth. This improves asset utilization, shortens time-to-market and lowers costs.
The system is the industry's first large-scale integration in the medical cannabis industry and transfers Rockwell's immense expertise in life sciences to the medical cannabis industry. Additionally, Wayland is integrating Oracle's ERP with Rockwell and AI Data Grow's platform to have full visibility and control from the factory floor to the executive suite.
Wayland's automation drive has earned it various industry accolades including the Good Manufacturing Practice (GMP) rating, becoming one of only 5 EU GMP-certified producers that can sell directly to the EU market.
That's remarkable for a $250-million company, with the others being the industry's big fish: Tilray, Canopy, Cronos and Aurora.
The big craze about the company's automation platform is this: It makes cannabis production energy efficient and introduces lower labor costs. That removes two ominous bogeymen for the sector.
Energy efficiency:
Utilizing FactoryTalk energy metrics, Wayland is able to optimize its carbon footprint by controlling fans, lights and other environmental specifications such as temperature, lighting, humidity, fertigation and carbon dioxide to achieve a 90 percent-plus energy efficiency rating (EER).
Some of its key milestones include onsite natural gas cogeneration facilities and state-of-the-art water filters that recycle water leading to losses of just 10,000 liters per year.
Lower labor costs:
Automation enables the company to replace ergonomically challenging and labor-intensive jobs with advanced operators with higher skills sets. This creates a lower headcount with higher pay grade and thus addresses a major hurdle in agriculture agronomics. The company has fully automated its Canadian operations, and now needs only 26 employees as opposed to 500 before the exercise. At 14 dollars an hour minimum wage in Ontario, those savings quickly add up.
It's a high-cost-savings bar that other producers struggle to match.
#2 Fat Profit Margins Potential in a $180-Billion Market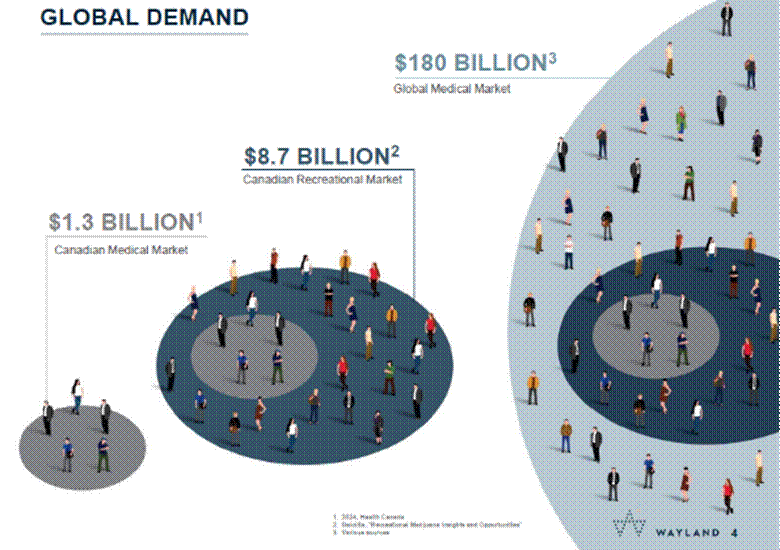 Wayland (WAYL.CN, OTC:MRRCF) is now able to leverage its innovative automation machine using another clever trick—by only targeting growing regions and markets that will likely provide high returns and profits.

Regions like Argentina and Columbia where production costs are low … and markets like Switzerland, Germany and the EU where cannabis products fetch attractive prices.

That's because only niche markets will deliver the kind of crazy margin goals that this company has set for itself…

And so far, it's working.

Wayland is now selling CBD at CAD$16 per gram in Europe compared to prices as low as $5.65 in Canada.

With production costs in in Argentina and Columbia as low as 5 cents per gram for CBD, there is a massive profit opportunity if South American CBD were to be sold in Canada.

Even the Canadian region has become highly profitable for the company thanks to its full-on automation.

With cheap production in Canada due to its low labor costs and automation the company is still able to realize a very impressive gross profit in a market where pretty much everybody else is counting losses

#3 Differentiated Products Using Pharmaceutical Breakthroughs

Wayland (WAYL.CN, OTC:MRRCF) has brought the best of the pharmaceutical world to the marijuana industry by integrating Vesisorb technology across its product portfolio--thus enhancing rapid absorption and predictable dosing.

Vesisorb is a patented product applied to fat-soluble formulations leading to as much as 622 percent increase in bioavailability.

CBD molecules are oily in nature and tend to clump together upon ingestion. This interferes with absorption and can lead to unpredictable effects. Vesisorb resolves that by improving dispersion of CBD molecules and ensure uniform absorption.

Wayland has the patented-protected global rights (ex-U.S.) for use of Vesisorb with cannabis.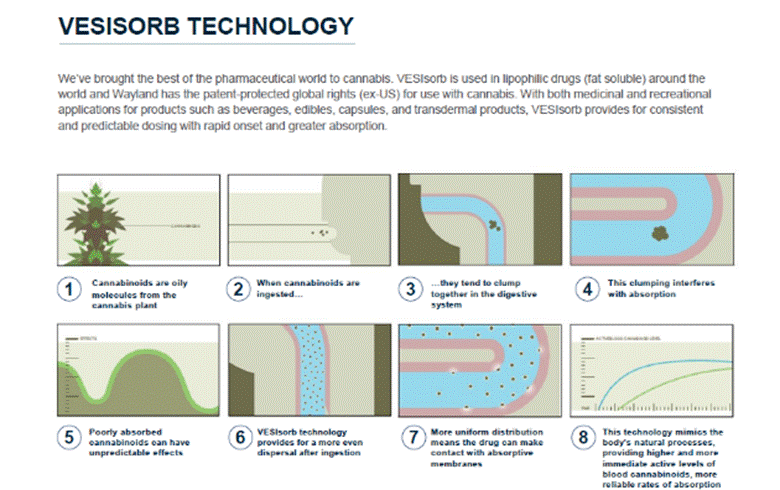 Wayland has also developed a range of CBD brands to cater to buyers of different ages, genders, needs and occasions. Each brand projects a unique feel and image making it easy and intuitive for customers to make their pick in a potentially confusing industry.

Marijuana consumers no longer fit the old stereotype of bored people simply trying to escape their crushing suburban ennui. Wayland has created a range of high-quality products for the sophisticated consumer, with brands like Solari--designed to provide the best holistic and health benefits that CBD can offer, while Kiwi is perfectly balanced to appeal to new or light users.

#4 Big Pharma and Tech Gurus

Wayland's (WAYL.CN, OTC:MRRCF) advisory board is a Who's Who of Big Pharma and Silicon-Valley-style tech gurus—and its management team is headed by a similarly powerful line-up of pharma-tech figures from the CEO and chairman to the CFO and president.

The board pulls from the best and brightest at NASA Jet Propulsion Labs (JPL) and Lockheed Martin, among others.

All the industry bases are covered, with a massive nod to high-tech and pharma.

Wayland President Terry Fretz is a veteran pharmaceutical exec with two privately held generic pharma companies under his belt that were the fastest-growing in Canada and acquired by publicly traded multinationals.

CFO Scott Langille has over 30 years of experience in the pharmaceutical industry in both Canada and the United States, holding executive positions at publicly traded pharma companies including Tribute Pharmaceuticals, and Virexx Medical Corp.

The advisory board includes everyone from Hilti Tools empire heir apparent Rudolph Hilti, Prof. Dr. Markus Backmund MD, PhD—the chair of the German Society of Addiction Medicine, and Dr. Horst Schiessl, on the supervisory board of Baader Bank AG, to Dr. Hans Dendl, former chairman of AOK Health and researcher at NASA Jet Propulsion Laboratory and Lockheed Martin Aeronautical Research.

#5 An Incredible Growth Rate

To fully capitalize on its growing moat, Wayland (WAYL.CN, OTC:MRRCF) plans to rapidly ramp up production in its key markets.

From a projected 2,400 kilos of CBD in the current year, it's eyeing a run-rate of 95,000 kilos per annum by Q4 2019 in Canada alone.

The company expects similar sharp ramps elsewhere— boosting dry cannabis for CBD extraction in both Switzerland and Germany.

And, this will show where it counts most…the bottom line.

But the best part of the story: the company says it's already made massive infrastructural investments to yield free cash flow for the coming years.

Marijuana 2.0 is a tech game above all, and this little-known company has been quietly developing the tech this industry needs to turn hype into profit and to make good on the industry's desperation to expand capacity to meet demand. That's exactly what will define 2019 for pot, and the high times will be on the back of the right tech, rolling the right margins.

By. Ian Jenkins

**IMPORTANT! BY READING OUR CONTENT YOU EXPLICITLY AGREE TO THE FOLLOWING. PLEASE READ CAREFULLY**

Notice for Forward-Looking Information

Certain statements in this press release are forward-looking statements and are prospective in nature. Forward-looking statements are not based on historical facts, but rather on current expectations and projections about future events, and are therefore subject to risks and uncertainties which could cause actual results to differ materially from the future results expressed or implied by the forward-looking statements. Such forward-looking information includes that cannabis use and sales will grow as currently predicted; Wayland's intended acquisition of various foreign companies and expansion into international markets; Wayland's plans to bring automation and the latest technology to projects in various locations throughout the world; that it could be granted growing licenses; that Wayland will create a range of cannabis consumer brands, to be distributed through their own digital platforms and retail facilities; that Wayland can successfully integrate pharmaceutical breakthroughs into its products; that Wayland can achieve its sales targets and gross profit margins as planned; and that it will be able to carry out its business plans.

Readers are cautioned to not place undue reliance on forward-looking information. Forward looking information is subject to a number of risks and uncertainties that may cause actual results or events to differ materially from those contemplated in the forward-looking information, and even if such actual results or events are realized or substantially realized, there can be no assurance that they will have the expected consequences to, or effects on Wayland. Such risks and uncertainties include, among other things: that a regulatory approval that may be required for the intended acquisitions and subsequent sales are not obtained or are obtained subject to conditions that are not anticipated; growing competition for intended acquisitions in the cannabis industry; potential future competition in the markets Wayland operates for sales; competitors may quickly enter the industry; general economic conditions in the US, Canada and globally; the inability to secure financing necessary to carry out its business plans; competition for, among other things, capital and skilled personnel; the possibility that government policies or laws may not permit legal cannabis sales or growth or that favorable laws in place may change; interruption or failure of information or other technology systems; the cannabis market may not grow as expected; Wayland's technology may not achieve the expected results and its accomplishments may be limited; Wayland may not successfully develop a cannabis consumer brand; and it may not be successful in developing a cannabis based treatment for medical uses; even if it develops a successful treatment, it may not be able to protect its intellectual property; its patent applications may be rejected or successfully challenged; Wayland's business plan also carries risk, including its ability to comply with all applicable governmental regulations in a highly regulated business; incubator risk investing in target companies or projects which have limited or no operating history and are engaged in activities currently considered illegal under US federal laws; and regulatory risks relating to Wayland's business, financings and strategic acquisitions.

DISCLAIMERS

PAID ADVERTISEMENT. This communication is a paid advertisement and is not a recommendation to buy or sell securities. Safehaven.com, Leacap Ltd, and their owners, managers, employees, and assigns (collectively "the Company") has been paid by the profiled company or a third party to disseminate this communication. In this case the Company has been paid by Wayland fifty-eight thousand three hundred thirty three US dollars for this article and certain banner ads. This compensation is a major conflict with our ability to be unbiased, more specifically:

This communication is for entertainment purposes only. Never invest purely based on our communication. Gains mentioned in our newsletter and on our website may be based on end-of- day or intraday data. We have been compensated by Wayland to conduct investor awareness advertising and marketing for Wayland. Therefore, this communication should be viewed as a commercial advertisement only. We have not investigated the background of the company. The third party, profiled company, or their affiliates may liquidate shares of the profiled company at or near the time you receive this communication, which has the potential to hurt share prices. Frequently companies profiled in our alerts experience a large increase in volume and share price during the course of investor awareness marketing, which often end as soon as the investor awareness marketing ceases. The investor awareness marketing may be as brief as one day, after which a large decrease in volume and share price is likely to occur.

We do not guarantee the timeliness, accuracy, or completeness of the information on our site or in our newsletters. The information in our communications and on our website is believed to be accurate and correct, but has not been independently verified and is not guaranteed to be correct. The information is collected from public and non-public sources but is not researched or verified in any way whatsoever to ensure the information is correct.

SHARE OWNERSHIP. The owner of Safehaven.com will not notify the market when it decides to buy or sell shares of this issuer in the market. The owner of Safehaven.com will be buying and selling shares of the featured company for its own profit. This is why we stress that you conduct extensive due diligence as well as seek the advice of your financial advisor or a registered broker-dealer before investing in any securities.
NOT AN INVESTMENT ADVISOR. The Company is not registered or licensed by any governing body in any jurisdiction to give investing advice or provide investment recommendation. ALWAYS DO YOUR OWN RESEARCH and consult with a licensed investment professional before making an investment. This communication should not be used as a basis for making any investment.

INDEMNIFICATION/RELEASE OF LIABILITY. By reading this communication, you agree to the terms of this disclaimer, including, but not limited to: releasing The Company, its affiliates, assigns and successors from any and all liability, damages, and injury from the information contained in this communication. You further warrant that you are solely responsible for any financial outcome that may come from your investment decisions.

RISK OF INVESTING. Investing is inherently risky. While a potential for rewards exists, by investing, you are putting yourself at risk. You must be aware of the risks and be willing to accept them in order to invest in any type of security. Don't trade with money you can't afford to lose. This is neither a solicitation nor an offer to Buy/Sell securities.
© 2005-2019 http://www.MarketOracle.co.uk - The Market Oracle is a FREE Daily Financial Markets Analysis & Forecasting online publication.

Only logged in users are allowed to post comments.
Register/ Log in