Mega-Trend: End of the Era of Falling Interest Rates
Interest-Rates
/
Global Financial System
Sep 28, 2008 - 09:23 PM GMT


Dear Reader,
In early CAPI(SOPI)TALISATION process of USSR/RUSSIA, they have searched the earth for a nice motto for a newly minted credit card called RUSSIAN EXPRESS. Their search has finally ended when they DISCOVER(ed) the AMERICAN EXPRESS ad with a motto: Do Not Leave Home Without It.
And Bingo. The choice was uncontested. The motto became...
DO NOT LEAVE HOME!
After more than a decade from that incredible Curtain Opening event, we in USA have rediscovered this, great RUSSIAN invention. Now entire SOPITALIST community, ordinary peoples objections notwithstanding, have adopted same motto. The only problem is that to make it work SOPITALISTS (Central Bankers, All Levels Of Government, Multinationals and Wall Street) have demanded that we American people pay them 1 Trillion Dollars for the privilege of using this motto. Well, to copy is the highest measure of flattery, so I was told. By that measure, we are long way on the road to complete the roadmap that I presented at SAFEHAVEN (2 years ago) showing we have embarked on to copy the RUSSIAN revolution down to the greatest detail (except throwing drunk YELTZIN on the tank to make it look real).
I said then, that USA is going the way RUSSIA did on destroying its own SENIOR populations ability to sustain with dignity. By destroying the purchasing power of, yet locked up, Social Security moneys to the same extent or better (we always do better than copy) than RUSSIA did. Before Revolution Russian pensioner could count on 100 loafs of bread purchasing power of their monthly Social Security payments. After the revolution and today they can manage only one.
Dear Senior and just ordinary American. Your honest hours works worth has been reduced by 50% in just last 6 years. By the 2011 it will be down 70%. It pains me write this joke. I wonder, why am I joking still.
Ok, we are not going to bore you with mundane market things, you can read them all at ANTI-SOPITALIST most of it is free. But we do like to point out that there still maybe free lunch for Wall Street, but for the main street the free lunch is dead and so is free (or low interest) money. Just a Day before rescue package was first rumored, we made new call (no we think a click-me MEGA CALLS ), which read like this
likelyhood-of-interest-rates-bottomed-Is-High . We stated the exact DECENIAL support levels where Interest rates would/could bottom and they were 3.16 on TNX (10 year notes) and 3.88 on TYX (30 Year Bonds). As it turned out the former was approached by 8 cents (low 3.24) and the latter was hit with 100 Precision. After that Interest rates rose 25-30% in 3 days or less, which coincided with the first Bailout package announcement.
Now, we did not even dream that our call on interest rates would be nearly so prophetic, but looking at it could be that and more. Not a mega call, but perhaps a Terra Call, as we think the interest rates could be in an up trend of over 30 years after just completing the 27year decline.
So to go back, to the free lunch, we can say little how long will it last, but the free money for average Joe and Jane to buy homes is gone, with the wind. And that, I am sure is no coincidence that it happened exactly when the SOPITALISTS went to "rescue the MAIN STREET" from going broke. Irony of all ironies is always presented by nature when feeble among us find that we have found anti gravitation tools. Enough said. Just keep an eye we will come back with a sequel named "DRUGS-CREDIT, LIES-RESCUE & SEX", I, frankly do not know anything about SEX, but it looked cool in the title.
The takeaway for investors reading this should be that mother of all changes has just visited the planet earth. This is not your fathers fixed income world. Expect interest rates to creep higher and higher as the fight to save us from ourselves is getting into higher and higher gear. Before the SOPITALISTS give up the CREDIT drug license we might even see double-digit interest rates.
This, initially at least, may not be so bad for stocks as they are a typical ANTI-DOLLAR (see, mega-rich multinationals love low dollar and bailouts, well that is precisely how they got rich). This, in short term, may even not be so bad for Dollar (which we so "foolishly" said will bottom in last PASSOVER (April 2008) and top in next PASSOVER (March-May 2009) and even as the entire world, Soros-Rogers brothers included, was against us (:-). This will cause the GOLD and Energy to base little longer than the GOLD bugs would like (see clickme-> MEGA CALLS as we predicted their temporary demise). We think Anywhere from October 2008 to March 2009 could see these investments be in lower to sideways moves, good for accumulation.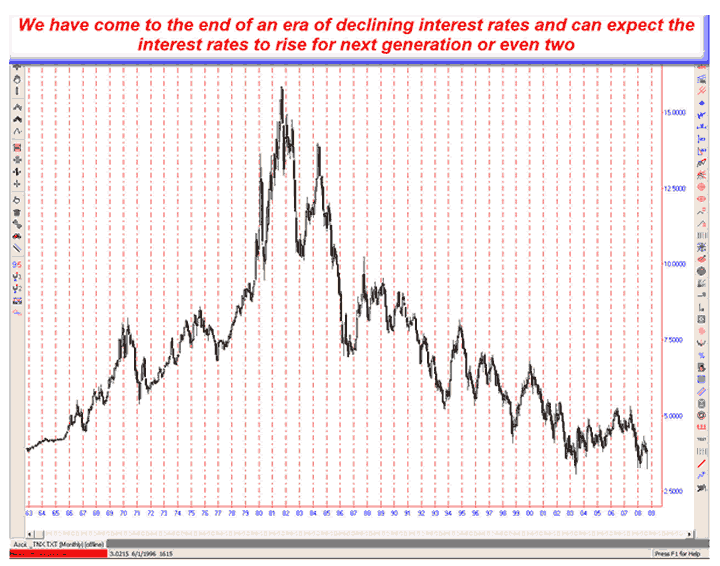 We hope we did not forget any major investment of interest to you Dear Readers and if we did and/or would like more specifics, please visit http://borisc.blogpot.com and we will answer you questions.
Now, for those that would like to have more advanced day-to-day, week-to-week view of each one of these financial instruments, we have the reports that have/detailed with astonishing details where these markets will go. Details of our services can be found at ANTI-SOPITALIST
As mentioned before we give a lot of free information (ASSET ALLOCATION and CHARTS, MARKET PRESSURE-daily, question and answer etc), because we believe in what 12th century great Georgian Philosopher and Poet Shota Rustavey said.
"You Find What You Give, All Else Is Lost"
By Boris Chikvashvili
borisc.blogspot.com
In short... I was supposed to be a theoretical physicist(Russia+Jerusalem Hebrew University, MS Physics, with distinction, toyed with QUARKS). Somewhere on the road to PHD I have discovered, first the Computers - at Carnegie Mellon University ( MS EE, Fathered UNIX, adopted WINDOWS), and second Finance on Wall Street.President ITI,( Computer/Finance Consulting Firm) Consulted AT&T,IBM,SUN,CITIBANK,JP MORGAN, LEHMAN, MICROSOFT. Designed/implemented Trading Systems - BLOOMBERG LLP. There is nothing more to say professionally speaking. Please Note: The opinions expressed here are only for education purposes and do not constitute the advice in any shape of form.
© 2005-2019 http://www.MarketOracle.co.uk - The Market Oracle is a FREE Daily Financial Markets Analysis & Forecasting online publication.

Only logged in users are allowed to post comments.
Register/ Log in