Financial Markets Crash into a Credit Freeze Ice Age
Stock-Markets
/
Credit Crisis 2008
Sep 29, 2008 - 05:35 PM GMT

Pre NO Vote Commentary -
The greatest transfer of wealth in history (from those who hold their money in paper to those that don't) took a GREAT LEAP forward since the last edition of this newsletter. The wall of money which will someday become known as the great REFLATION began in earnest in the last two weeks. The MONETARY flooding we anticipated then has now MATERIALIZED and the initial BLANK checks have been written. A whopper of a BLANK check is due to arrive sometime in the next week (I am writing this on a Sunday morning) when the BAILOUT of the biggest banks and brokers in the world is FINALIZED and we actually get to see 120 pages of POLITICAL compromises. A political compromise means political supporters will BENEFIT while the PUBLIC gets FLEECED.


THIS IS THE GREATEST OPPORTUNITY IN HISTORY! Markets are completely mispriced to REFLECT reality, so when they do PRICE in reality you are offered VOLATILITY and "Volatility is Opportunity " for the prepared investor. Do your homework, or find someone who does, and set your investing sails to catch the trends that will emerge. Do not be afraid. Fear is your enemy . This is not DOOM and GLOOM. It is opportunity as the BIGGEST, dumbest money in the world is sitting at the buffet table and you can CARVE them up on your way to the future. Delicious irony!
One needs look no further than the faces of the MANDARINS of Washington to see mischief is afoot and you are in DANGER. During periods of CRISIS the broad public futures and finances are most at risk as FEAR (False Evidence Appearing Real) allows the public serpents –er, servants and socialist mainstream media handmaidens to STAMPEDE the public into FOOTING the bill with interest and surrendering freedoms to BE SAVED.
Looking at the smiles and GLEE on their faces tells it all: it's payday for the political classes, their campaign and special interest supporters and the BANKERS who finance it all using coupons (FIAT MONEY and credit creation) masquerading as money printed out of thin air. The obligations for it are passed to the borrowers (you), who MUST pay it back WITH interest.
Since the LAST newsletter was released two weeks ago, a 2 TRILLION dollar bill was sent YOUR way and that's only the principle owed without COMPOUNDED interest. YOU and your children will pay multiples of this figure.
Let's take a look at a small part of the tally the Federal Reserve has spent since March:
The Bear Stearns takeover by JP Morgan, which was mid-wifed by the federal government (cost to taxpayers: $29 billion)
Special Fed liquidity programs including the Term Lending Facility and Term Auction Facility ($200 billion)
The Economic Stimulus package ($168 billion)
The Federal Housing Administration's scheme to refinance failing mortgages into new, reduced-principal loans with a federal guarantee ($300 billion)
The bailout for Fannie & Freddie (up to $200 billion); will be $800 before its over
The bailout for AIG ($85 billion); will be up to $400 billion plus before its over
Last week's decision to block short-selling of financial stocks
The insurance program for money market funds (potentially $50 billion from the Great Depression era Exchange Stabilization Fund)
Direct Treasury purchases of mortgage-backed securities ($10 billion) $800 billion authorized
Another $300 billion injected into global credit markets on Friday, September 26
Add in the $700 billion proposed for the current bank bailout plan, $87 billion in repayments to JP Morgan Chase for providing financing to underpin trades with bankrupt investment bank Lehman Brothers, etc., etc., and I tally up over $1.8 TRILLION ... so far.
A flood of dollars into the system lowers the value of dollars. It's simple supply and demand. Since commodities are priced in dollars, as the greenback goes lower, they usually go higher. And gold is an obvious play for a falling dollar.
Take a look at this chart and comments from the latest King report: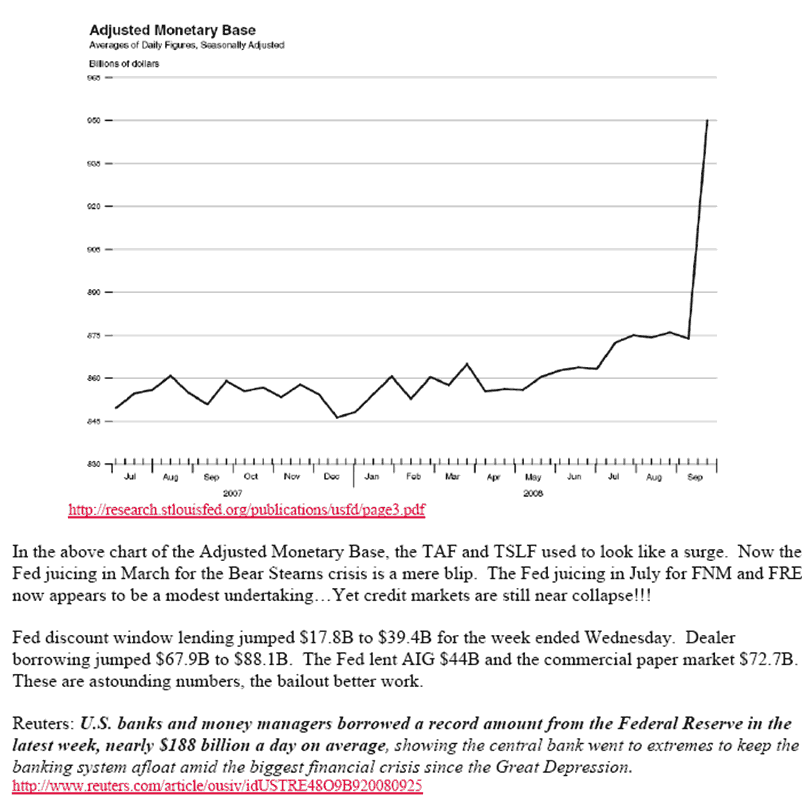 Thank you, Bill.
My guess is that surge in money is reflecting a RUN ON THE BANKS of the United States and the PAPER money required for withdrawals, also known as MATTRESS money. This is not the high-powered money that this surge would imply. The Lehman Brothers FAILURE has backfired on the Fed and Treasury department. Had it been saved arguably the credit markets would still be alive. Now they are dead. Take a look at this chart of the chain of unintended effects from a recent Wall Street Journal www.wsj.com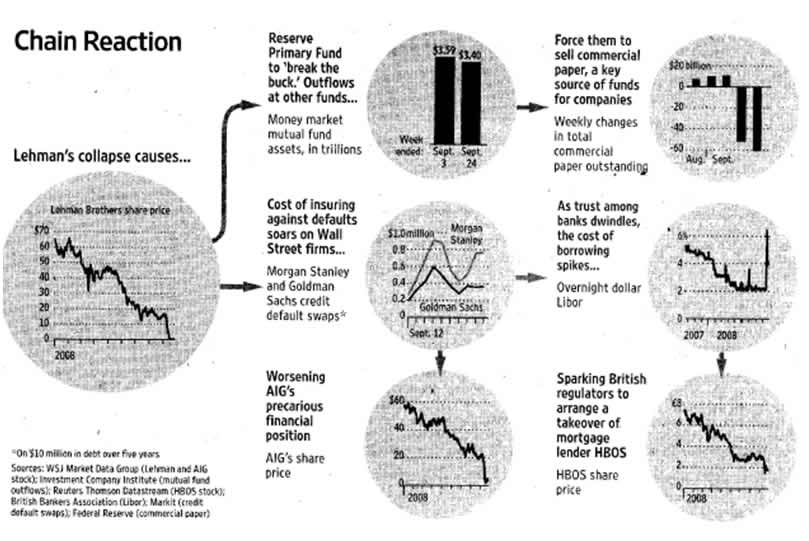 The Federal Reserves, European Central Banks and Bank of England's term lending facilities (parking lots for crappy toxic paper) are all overwhelmed and over subscribed by 2. As I predicted, those facilities will just widen and widen. It is INEVITABLE! Where will the money come from? Out of thin air!
Don't misconstrue my words. The BAILOUT of the BANKING system MUST occur. It is INSOLVENT and cut off from the short-term funding required to fund itself. But the devil is in the details. The CREDIT markets are in CARDIAC arrest as we speak, as no one trusts US and G7 financial and banking institutions. CAPITAL IS NOT AVAILBLE to them. Their ONLY source of capital and credit is their RESPECTIVE governments and central banks. The government DID not produce it. It is a fake bailout!!!
LIBOR ( London Inter-bank Rate for Loans Between Banks) is at its highest levels EVER. Loans longer than 1 or 2 days are UNAVAILABLE. Three-month, yearly and multi-year lending is a dream (keep in mind these financial and banking entities have OVER 1 TRILLION dollars of MATURING obligations between now and next summer which either must be paid off or ROLLED). They HAVE NO hope to do so. Last week $6 billion of Muni debt issues were anticipated. Only $100 million was actually placed and the rest was POSTPONED, but CANCELED may be a better word for it.
MANY times I have urged readers to IGNORE the headlines and look at public servants' actions. This is one of those times and the word that comes to mind is: DESPICABLE. Socialism for the rich, debt slavery for the poor.
As outlined in a Ted bits commentary from August 2007 entitled Roach Motels (I urge you to read that issue for more insights) there was NOT and is not enough money in the world to underpin the OVER-the-COUNTER CDO's, CMO's, CLO's and MBS's, (collateralized debt, mortgage, loan obligations, mortgage backed securities) as NO marketplace or clearing functions were in place to PROVIDE a market of buyers and sellers which would allow PRICE DISCOVERY to take place. Nor was there a marketplace to allow them to be quickly bought and sold with reliable COUNTER parties and clearing functions.
NOTHING being considered fixes the FUNDEMENTAL flaw that was outlined in Roach Motels . The bottom line of Roach Motels is this — they will NEVER be able to print enough money fast enough to cover the losses as these OVER-the-COUNTER investment products FALL to (ultimately) a price of ZERO, as they have already begun to do. Nobody will buy or hold an investment if it is IMPOSSIBLE to know its value or sell them to control risk, so no one will buy them, and everyone who HOLDS one WANTS OUT NOW. Now the US government wants to be the bidder for these THINGS, these MONSTERS. Do you think you can expect them to pay what they are worth, or will they pay what their biggest campaign supporters WISH them to be? The only solution is to create an exchange for them AS QUICKLY as possible to promote PRICE discovery. Nothing less will FIX the problems. (READ ROACH MOTELS )
On top of that problem we have the DEVIL's spawn of NAKED credit default swaps which must be OUTLAWED at the earliest possible time. A naked credit default swap (CDS) is a BET on the ultimate success or failure of a bond or borrowing, such as credit cards, car loans, mortgage, commercial lending, municipal obligations, etc. For the people who actually OWN those lending obligations, credit default swaps are a legitimate hedge, and as long as the counterparty that sold the swap has the ability to PAY OFF then it should be allowed. However, as PRINTED money has mushroomed around the world, NAKED credit default swaps have become a casino unparalleled in history. These issues were barely MENTIONED in the congressional hearings on the bailouts. Let's look at the enormity of the PROBLEM: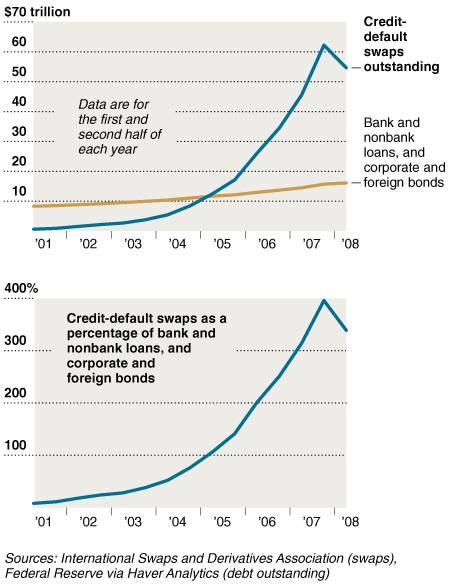 A bet of 5% of face value can pay off 20 to one on the dollar. Make twenty bets of 5 percent and if one company or borrower FAILS you get a 2000% return. Make twenty bets, and you can do the math. The MATH is stacked in favor of the buyer of the naked swaps and stacked against those that wrote them, as prior to July 2007 they were PRICED based upon the POLITICALLY correct ratings of the NSRO's (National Statistical Ratings Organizations) also known as Moody's, S&P and Fitch.
For YEARS these politically correct OLIGARCHS have manufactured credit ratings based on being paid by the issuers, known as Merrill Lynch, Goldman Sachs, Morgan Stanley, Bear Stearns, Lehman Brothers and the commercial banks such as Citigroup, JP Morgan Chase, Bank of America, etc. These mislabels have promoted the biggest and dumbest money in the world to PURCHASE them with the FALSE belief that the credit RATINGS mean what they are implied to mean in terms of risk of default. These ratings could not be further from the truth: AIG was rated A or better when IT FAILED! The ratings on the Municipal Bond Markets should be JUNK. This is a multi-trillion dollar black hole about to appear.
Tens of billions of dollars are PARKED in these NAKED credit default bets. If only two bets out of twenty PAY off then the buyer makes 100% on their money. Everybody is decrying the golden parachutes for the people who allowed this to happen and drove their companies into the ground. WE HAVEN'T SEEN ANYTHING YET ON THE MALFEASANCE AND IDIOT DECISIONS. THIS WILL TURN CURRENT LOSSES INTO DWARFS!
Why weren't these credit default issues addressed? Because this is the only corner of the over-the-counter markets that can still generate income. It has not CLOSED for business like the rest of the toxic paper markets.
Now you know why one of the reasons AIG was TOO BIG TO FAIL. They had written over $400 billion of credit default swaps on CDO's, CMO's, CLO's, MBS's, etc. to EUROPEAN banks and GOLDMAN SACHS (also served as underlying clearing organization) who held many of the underlying securities. It is now emerging that JP Morgan Chase held over $150 billion worth of LIABILITIES (aka losses) had Bear Stearns been allowed to fail. NOW we know why Bear and AIG were saved and Lehman WAS NOT. Remember Hammering Hank Paulson holds his FORTUNE in Goldman stock, and JP Morgan Chase is just another face of the bankers which hold the Federal Reserve. Of course they will save themselves first and SEND you the bill for doing so, and absorb the FAILED institutions as they did in the Great Depression.
The finance minister of Germany crowed that this is the end of Wall Street dominance and he is correct, but the EU WILL NOT be the beneficiaries. They have their own ENORMOUS problems which have been swept under the rug.
Here's an excerpt of the facts when it comes to the European banks from a recent Financial Times :
European banks are living on borrowed time :
• Massive evasion of regulatory requirements
• AIG has written coverage for greater than $300 billion of credit insurance for European banks that was provided "for the purpose of providing them with regulatory capital relief rather than risk mitigation"
• A formal default by AIG would have exposed the European banks to large increases in regulatory capital requirements with possibly devastating consequences for their ratings and market confidence.
• The dozen largest European banks now have an average overall leverage ratio (shareholders equity to total assets) of 35, compared to less than 20 for the American banks. European banks report regulatory leverage ratios of close to 10 .
• Deutsche Bank leverage ratio 50x, total liabilities 2 trillion Euros, equivalent to 80% of German GDP
• Barclays 60x, 1.3 trillion pounds, equivalent to 100% of UK GDP
• Fortis 30x, equivalent to 300% Belgium GDP
Can you say Bear Stearns and Lehman Brothers on steroids? The money printing has barely begun in the European Union. The credit default swaps are worth anything from zero, if the counterparty is bankrupt like AIG, to maybe a little something if the writer still maintains a balance at their PRIME brokers. The Lehman Brothers Europe bankruptcy has ENDED London 's presumed benefits from Wall Street's unfolding demise because segregation of customer accounts is nonexistent. Customers are NOW creditors in the bankruptcy. US law prevents this.
General Motors and Ford owe hundreds of billions of dollars to lenders, but the amount of credit default swaps is OVER FIVE TIMES this amount. As dead men walking, these buyers just wait for the inevitable. In order to short circuit the BLOW UP, the gang of 535 (also known as the US Congress) will BAIL them out to try and POSTPONE their demise. Bailing them out is FUTILE as they consume more then they produce and, as currently structured, they WILL NEVER RETURN to profitability.
Take a look at this comment from a recent Rude Awakening ( www.dailyreckoning.com ):
"A well-known cynical New York short-seller observes: "This morning, Mr. Buffett referred to the 'economic Pearl Harbor ' that would occur if the Federal government did nothing. Well…given that Mr. Buffett's Berkshire Hathaway has written almost $40 BILLION in equity puts…one Pearl Harbor would certainly arrive in Omaha !"
According to Berkshire Hathaway's June 2008 10-Q, the company's balance sheet contained $8.8 billion in notional value of Credit Default Obligations - UP 88% from 12/31/07. The balance sheet also contained $39.9 billion in notional of equity index put options, which is up 14% from 12/31/07. In other words, a falling stock market would be very bad news for Berkshire Hathaway.
"I am betting on the Congress doing the right thing for the American public and passing this bill," Buffett told CNBC. If we may read between the lines, the "right thing" would be anything that boosts the stock market."
Do you think a 20% decline in the stock market might put a dent in Berkshire Hathaway's bottom line? Like Bill Gross at PIMCO did by buying Fannie and Freddie guaranteed paper in the most foolhardy FALLING knife trade I can ever remember seeing? Warren is now IN THE BOAT doming a falling knife trade himself and waiting for the Treasury bailout. I hope for everybody's sake it arrives. In this week's Barron's , Merrill Lynch's chief economist Richard Bernstein comments on stock valuations:
" We have never had a combination of 5.5% inflation and about a 25 multiple on the S&P's trailing earnings. When we talk about a 25 multiple on the S&P, nobody can believe that its actually trailing earnings. And then people say, "Well, if that's true, it's only financial stocks." Well, its not. It's much more broad-based." WOLF WAVE!
I have news for Richard — inflation is running almost 12 percent if properly calculated as it is by John Williams of www.shadowstats.com :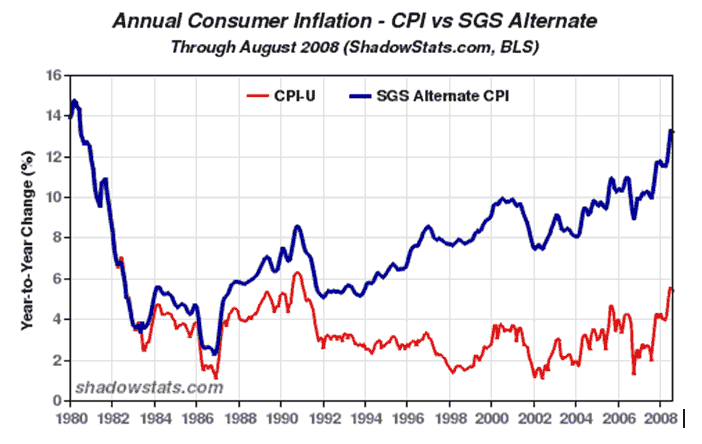 Combine this with this year's pattern of the year, which is a WOLF wave. This wave is the earnings of the S&P 500 going back to the early 1970's when Breton Woods II set us on the course we are arriving at today: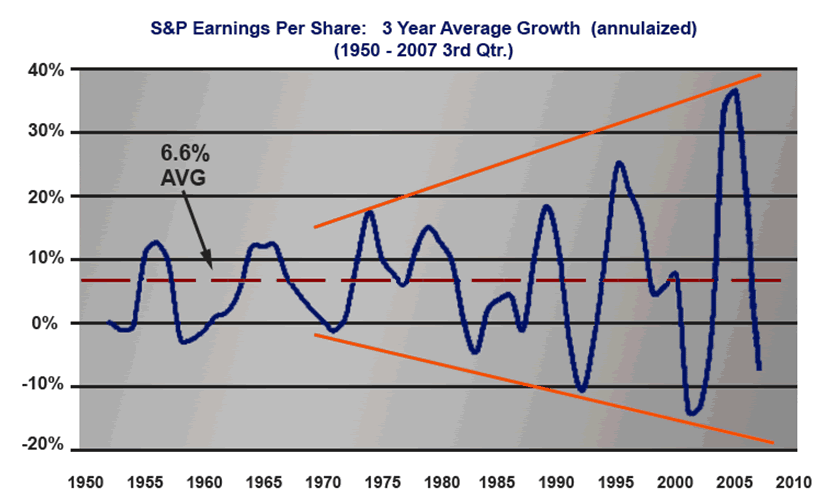 This chart has been modified to reflect profit growth through the 2 nd quarter 2008
Earnings are not about to rebound ANYTIME SOON. They are slicing through those lows as we speak. But keep in mind the LARGER collapse in income this chart reflects . Personal, corporate, municipal, state and federal INCOMES are falling under the knife of reduced incomes caused by the challenges of INFLATION, plummeting employment and business. Consumer and corporate confidence is in freefall as are orders for durable goods and real estate values throughout the G7. At the same time budgets are geared for 2006 when the last high in incomes in the Wolf wave was recorded. Government spending is not being reduced in any meaningful manner and the bailouts have just BARELY begun. HI HO HI HO it's off to the printing press they must go….
In Conclusion: NOTHING has been solved! Public serpents —er, servants, have FAILED to address the issues and continue to avoid them. The "economic stabilization act of 2008" is NOTHING of the sort. It's a sham. The public servants did not take this seriously and have chosen to do what they have always done – write a document that serves their supporters and destroys the public at large. You can tell by the looks on their faces they have gathered power, reduced your freedom and have made sure their supporters are PAID. Of course they are gleeful as they now own and control the largest mortgage companies in the world known as Fannie Mae and Freddie Mac and have also nationalized AIG, the largest insurer in the world. They are thinking of all the sugar plums they can FLEECE from the companies in terms of CAMPAIGN donations; and retired politicos can earn MILLIONS for mismanagement as they have done for decades with Fannie and Freddie.
In Europe , they are woefully behind the curve and are REALLY in trouble. As I finish this on Monday morning FORTIS, mentioned above, has been injected with capital by the Belgian government and ORDERED to deliver their ABN AMRO acquisition from last year -- thinking a little money printing here and there will do the trick. Well, that dog won't hunt anymore and what they believed to be a free lunch is now due and billable. SO THEY WILL PRINT the money again. The greatest reflation in history is directly in our path. PAPER is POISON. Bonds and cash are fool's gold . The FAKE recapitalization of the bailout is actually a bailout of the Gang of 535, and Hank's friends and buddies . It is not a recapitalization, which MUST occur.
The details of the rescue are just coming in and it's not pretty. It's not a practical solution. It's a political solution FULL OF POISON PILLS and weasel words, courtesy of economically illiterate PUBLIC SERPENTS –er, LAWYERS – er, LAWMAKERS. I am sure you are NOT SURPRISED? The markets smell the RATS and they are voting with their feet. It's gapping lower this morning. The political classes and Wall Street can lie to the public but the markets ultimately are the TRUTH meters.
Any rally the bailout generates is just an opportunity to GET SHORT before the reality of stock prices reflect EARNINGS. Stocks P's "prices" have fell far less then the E's "earnings". I have projections to 8,000 on the DOW and mid 900's in the S&P 500. But if they slice the purchasing power of those THINGS called G7 currencies in half, as they will be forced to do, you could see an immediate rally after the bottoms, as you have seen in ZIMBABWE and the Weimar Republic . In any event, tangibles will outperform on a purchasing power basis. Got gold anyone?
Tuesday is quarter end, and if the Dow closes below 10620 a Bear market on the longest term quarterly charts will BE CONFIRMED. The banning of NAKED short selling is essential and it has been rampant for years, as regulators let their biggest investment and commercial banks and their BIGGEST customers IGNORE the law to make money and victimize the public at large; however, it does not change the fact that this is not a LIQUIDITY problem. It is a SOLVENCY problem.
As predicted, the term auction facilities are fully subscribed and must be expanded by WEDNESDAY October 1, as that is quarter end. Look for them to double, then triple in size. Many believe hedge fund liquidation lies directly ahead, I believe it has already been done to a large extent as they are now SITTING on about $600 billion in CASH.
The velocity of money is plummeting as people HOARD their cash. They must print the money to replace it. When it turns higher after that the Weimar Republics of the G7 will be exposed. Credit markets are FROZEN and in collapse. No one rolls, they just redeem, taking more of the lifeblood out of the economies. Global central banks have just announced an increase in currency swaps from $290 Billion to $690 Billion. In the stroke of a KEYBOARD there is money out of THIN air.
When you think of the INSOLVENCY of banks and brokers think of a chain with each company as a link. The market will always focus on the weakest link, destroy it then move onto the next weakest link. It will continue to do so until it reaches a link it can't destroy. At that point we will be at the bottom of the crisis. UNFORTUNATELY the weakest links are at the top, known as G7 governments and central banks, and they are fiscally and morally BANKRUPT.
The capital markets are FROZEN and CLOSED to the investment and commercial banks. The circles of freeze are growing. AIG's failure was caused by lack of access to short term liquidity, as it was to WAMU and now Wachovia. There is no LACK of dollars, Euros, Pounds, etc. The ultimate Crack-up Boom looms a little closer on the horizon. Either the G7 governments QUIT playing a shell game and write the checks to recapitalize them or the markets will send them the ultimate message: Look for a crash.
Don't miss Ty, LIVE on Mark Maxon's call-in Radio/Internet Talk Show where he will discuss the Crack-up Boom and the Greatest Transfer of Wealth in History, aka Wind Shear. The show airs this Thursday, October 2 nd on K-Talk radio at www.k-talk.com (click the Listen Now link ), right after the news at approximately 11:06 am Eastern Time (10 Central, 9 Mountain and 8 Pacific.) Listeners will be able to call in to: 1.801.253.7963.
Please remember that subscribers receive Tedbits two to three days before it is posted on the web. Subscribers will also start receiving guest essays from leading economic pundits, and a blog looms soon. So if you want it early and the added features SUBSCRIBE NOW it's FREE!
Thank you for reading Tedbits if you enjoyed it send it to a friend and subscribe its free at www.TraderView.com don't miss the next edition of Tedbits.
If you enjoyed this edition of Tedbits then subscribe – it's free , and we ask you to send it to a friend and visit our archives for additional insights from previous editions, lively thoughts, and our guest commentaries. Tedbits is a weekly publication.
By Ty Andros
TraderView
Copyright © 2008 Ty Andros
Hi, my name is Ty Andros and I would like the chance to show you how to capture the opportunities discussed in this commentary. Click here and I will prepare a complimentary, no-obligation, custom-tailored set of portfolio recommendations designed to specifically meet your investment needs . Thank you. Ty can be reached at: tyandros@TraderView.com or at +1.312.338.7800
Tedbits is authored by Theodore "Ty" Andros , and is registered with TraderView, a registered CTA (Commodity Trading Advisor) and Global Asset Advisors (Introducing Broker). TraderView is a managed futures and alternative investment boutique. Mr. Andros began his commodity career in the early 1980's and became a managed futures specialist beginning in 1985. Mr. Andros duties include marketing, sales, and portfolio selection and monitoring, customer relations and all aspects required in building a successful managed futures and alternative investment brokerage service. Mr. Andros attended the University of San Di ego , and the University of Miami , majoring in Marketing, Economics and Business Administration. He began his career as a broker in 1983, and has worked his way to the creation of TraderView. Mr. Andros is active in Economic analysis and brings this information and analysis to his clients on a regular basis, creating investment portfolios designed to capture these unfolding opportunities as the emerge. Ty prides himself on his personal preparation for the markets as they unfold and his ability to take this information and build professionally managed portfolios. Developing a loyal clientele.
Disclaimer - This report may include information obtained from sources believed to be reliable and accurate as of the date of this publication, but no independent verification has been made to ensure its accuracy or completeness. Opinions expressed are subject to change without notice. This report is not a request to engage in any transaction involving the purchase or sale of futures contracts or options on futures. There is a substantial risk of loss associated with trading futures, foreign exchange, and options on futures. This letter is not intended as investment advice, and its use in any respect is entirely the responsibility of the user. Past performance is never a guarantee of future results.
© 2005-2019 http://www.MarketOracle.co.uk - The Market Oracle is a FREE Daily Financial Markets Analysis & Forecasting online publication.
Comments
Bernie O'Brien
29 Sep 08, 18:58
Wall St. bail out


The American politians have been bought and paid for from lobby groups. One of the largest contributers is the U.S. Chamber of Commerce. Why not email Mr. Thomas J. Donohue, the President and CEO and voice your disapproval for been un-American?

These subversives caused the decline of the American middle class. Pure Greed




Only logged in users are allowed to post comments.
Register/ Log in