Where's the Stock Market bottom? Is this IT?
Stock-Markets
/
Stock Markets 2019
Aug 06, 2019 - 11:54 AM GMT


Last Friday, August 2, 2019, we posted an article suggesting this current downside move in the US stock market may be setting up a "washout low" price rotation and we suggested all traders be very cautious over the weekend. Obviously, with the US major indexes down -2 to -3% right now on extended selling after the Asian/Chinese stock market and currencies collapsed overnight, one has to ask the question "is this IT? The big collapse everyone has been waiting for?"
Our researchers believe this is the precursor to the move that everyone has been waiting for. This move in the markets sets up a potential for a bigger collapse and we strongly believe this is a washout rotational low that is setting up – very similar to what happened in October 2018 when the US Fed initiated a downside price rotation in the markets. Time will tell if we are correct or not, but we believe the August 19, 2019 peak/breakdown date that we've been predicting is still a valid target date and this current news sets up a price pattern that may result in an incredible future price rotation for skilled technical traders.
At this time, if you have not been paying attention to our research and have not already scaled back your long trades in preparation for this type of volatility, you may get one more chance to reposition your portfolio before the move really breaks. We believe the US markets are over-reacting to this US/China trade issue and the new tariffs with regards to this current downside price move. We believe that once the news settles and reality returns, investors will suddenly realize the US economic outlook, as well as 4th quarter expectations, are much more opportunistic than current global trade issues.
There are three critical aspects that we, as skilled technical traders, have to consider at this time.
_ First, the 6 to 18-month pre-election price weakness cycle that should prompt a price decline sometime between now and May or June 2020. Every major Presidential election cycle in the US has prompted this type of price weakness cycle as concerns regarding the future leadership in the US as well as a moderate economic stagnation in the US related to the election cycle create a pause/rotation in the US equity markets. Is it starting early because of the US/China trade issues? Take a minute to read this.
_ Second, the global trade issues and Asia/China banking issues present a very interesting dynamic related to global expectations. As we're reported, Asia/China have attempted to take advantage of cheap US Dollar QE functions and extended this debt into all sorts of projects and banking instruments. As the US Fed pushes interest rates higher while the Asian/Chinese economic outlook weakens, at some point the Asian/Chinese markets may enter a "death spiral" mode with a domino-effect type of collapse. Once the Asian/Chinese economy turns from expansion/growth to contraction/fear, it is just a matter of time before panic sets in as consumers watch assets, markets, capital and opportunity contract into the abyss. How much longer can China continue to keep their citizens immune from reality? Take a minute to read this.
_ Third, the EU is starting to crumble under the weight of the lack of foreign investment and growth expectations. Recent news suggests that Germany has entered a negative rate process with GDP and manufacturing shrinking considerably over the past 16+ months. We believe this contraction in the EU is starting to take root and could be a much broader problem in the EU than anyone really wants to admit. Take a minute to read this.
ES Mini - SP500 Index Daily Chart
Using our proprietary Fibonacci price modeling system, we're going to attempt to highlight why we believe this move may be very close to being over (bottoming) and why traders need to pay attention to the rotation/reversion that may begin to unfold very shortly. First, we'll take a look at this ES Daily chart and we want all of our readers to pay attention to the deeper price low setup in June 2019. Until the current price breaks below that low price level, near 2720, Fibonacci price theory teaches us that this downside rotation is nothing more than a bearish price rotation in a BULLISH trend. Fibonacci price theory suggests that price will attempt to identify new price support (likely near the GREY and RED projected Fib price levels on the right side of the chart) and then attempt to rotate higher after support has been found.
If our analysis is correct, then the price has already found support, near 2900, and is already exploring a "washout low" price level below this critical support level on the ES. This would suggest that price may attempt a rebound upside price move (reversion) back to levels near 3000 fairly quickly once this downside pricing pressure (news) abates.
Just like we saw back in May, we profited from the rally before the May sell-off, then we profited from the falling market using SDS just like we did again for the recent rally now this market crash/correction. Our Current SDS ETF is up over 8.5% in a couple of days during a time when everyone else is losing a lot of money.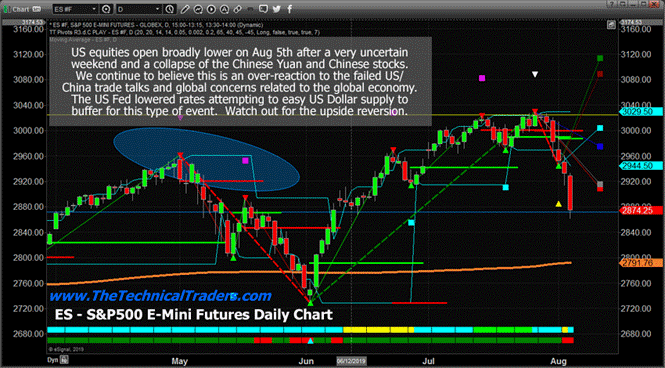 Dow Jones Industrial Index Daily Chart
This INDU chart paints a similar picture where price has already broken lower, below the 26,000 GREY Fibonacci projected target level and is currently resting just 400 points above the ORANGE Moving Average support level. If our analysis is correct and this is a washout low price rotation that will prompt a price reversion move, the upside potential in the INDU is +1000 to +1750 points higher.


NASDAQ Daily Chart
Lastly, this NASDAQ chart represents the most volatile of the three markets we are highlighting. The NQ Fibonacci price modeling system suggests the downside price move has yet to reach the GREY or RED Fibonacci projected targets and that suggests the NQ could still see some price weakness over the next few days. Overall, though, the ES and INDU are suggesting the bottom is likely already starting to form and we would not be surprised to see the NQ trading above 7800 before August 19, 2019 (+300 points).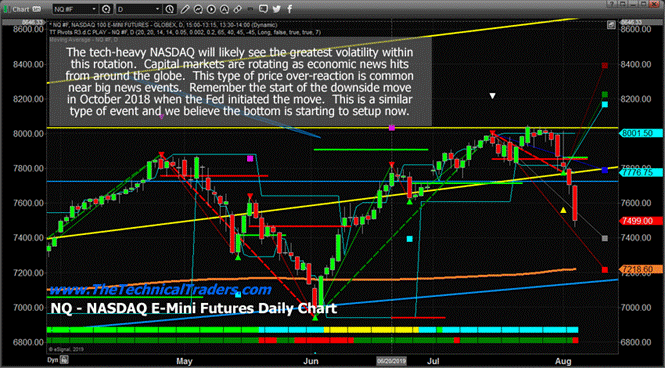 The one thing we want to keep in mind is that the total global stock market matrix is not a single entity – it is a combination of various entities that make up a basket of trading instruments. As the old saying goes, it is not a "stock market", it is a "market of stocks".
Pay attention to how capital shifts play out as we get nearer to the US election date and what is happening throughout the world. The German elections, BREXIT, Asian/Chinese market turmoil and commodity price deflation are all playing out to generate these huge swings in the global markets. Our members have already seen incredible success from our calls and trades. Isn't it time for you to learn how TheTechnicalTraders.com can help you stay ahead of these incredible market moves?
In early June I posted a detailed video explaining in showing the bottoming formation and gold and where to spot the breakout level, I also talked about crude oil reaching it upside target after a double bottom, and I called short term top in the SP 500 index. This was one of my premarket videos for members it gives you a good taste of what you can expect each and every morning before the Opening Bell. Watch Video Here.
I then posted a detailed report talking about where the next bull and bear markets are and how to identify them. This report focused on gold miners and the SP 500 index. My charts compared the 2008 market top and bear market along with the 2019 market prices today. See Comparison Charts Here.
On June 26th I posted that silver was likely to pause for a week or two before it took another run up on June 26. This played out perfectly as well and silver is now head up to our first key price target of $17. See Silver Price Cycle and Analysis.
More recently on July 16th, I warned that the next financial crisis (bear market) was scary close, possibly just a couple weeks away. The charts I posted will make you really start to worry. See Scary Bear Market Setup Charts.
CONCLUDING THOUGHTS:
In short, you should be starting to get a feel of where stocks are headed along with precious metals for the next 8-24 months. The next step is knowing when and what to buy and sell as these turning points take place, and this is the hard part. If you want someone to guide you through the next 12-24 months complete with detailed market analysis and trade alerts (entry, targets and exit price levels) join my ETF Trading Newsletter.
Be prepared for these incredible price swings before they happen and learn how you can identify and trade these fantastic trading opportunities in 2019, 2020, and beyond with our Wealth Building & Global Financial Reset Newsletter. You won't want to miss this big move, folks. As you can see from our research, everything has been setting up for this move for many months – most traders/investors have simply not been looking for it.
Join me with a 1 or 2-year subscription to lock in the lowest rate possible and ride my coattails as I navigate these financial market and build wealth while others lose nearly everything they own during the next financial crisis.
As a technical analysis and trader since 1997, I have been through a few bull/bear market cycles. I believe I have a good pulse on the market and timing key turning points for both short-term swing trading and long-term investment capital. The opportunities are massive/life-changing if handled properly.
FREE GOLD & SILVER WITH MEMBERSHIPS
So kill two birds with one stone and subscribe for two years to get your FREE PRECIOUS METAL and get enough trades to profit through the next metals bull market and financial crisis!
Chris Vermeulen has been involved in the markets since 1997 and is the founder of Technical Traders Ltd. He is an internationally recognized technical analyst, trader, and is the author of the book: 7 Steps to Win With Logic

Through years of research, trading and helping individual traders around the world. He learned that many traders have great trading ideas, but they lack one thing, they struggle to execute trades in a systematic way for consistent results. Chris helps educate traders with a three-hour video course that can change your trading results for the better.

His mission is to help his clients boost their trading performance while reducing market exposure and portfolio volatility.

He is a regular speaker on HoweStreet.com, and the FinancialSurvivorNetwork radio shows. Chris was also featured on the cover of AmalgaTrader Magazine, and contributes articles to several leading financial hubs like MarketOracle.co.uk
Disclaimer: Nothing in this report should be construed as a solicitation to buy or sell any securities mentioned. Technical Traders Ltd., its owners and the author of this report are not registered broker-dealers or financial advisors. Before investing in any securities, you should consult with your financial advisor and a registered broker-dealer. Never make an investment based solely on what you read in an online or printed report, including this report, especially if the investment involves a small, thinly-traded company that isn't well known. Technical Traders Ltd. and the author of this report has been paid by Cardiff Energy Corp. In addition, the author owns shares of Cardiff Energy Corp. and would also benefit from volume and price appreciation of its stock. The information provided here within should not be construed as a financial analysis but rather as an advertisement. The author's views and opinions regarding the companies featured in reports are his own views and are based on information that he has researched independently and has received, which the author assumes to be reliable. Technical Traders Ltd. and the author of this report do not guarantee the accuracy, completeness, or usefulness of any content of this report, nor its fitness for any particular purpose. Lastly, the author does not guarantee that any of the companies mentioned in the reports will perform as expected, and any comparisons made to other companies may not be valid or come into effect.
© 2005-2019 http://www.MarketOracle.co.uk - The Market Oracle is a FREE Daily Financial Markets Analysis & Forecasting online publication.

Only logged in users are allowed to post comments.
Register/ Log in