Stock Market Bubble - No One Gets Out Of Here Alive!
Stock-Markets
/
Liquidity Bubble
Feb 17, 2020 - 10:22 AM GMT

"The seasons of time offer no guarantees. For modern societies, no less than for all forms of life, transformative change is discontinuous. For what seems an eternity, history goes nowhere – and then it suddenly flings us forward across some vast chaos that defies any mortal effort to plan our way there. The Fourth Turning will try our souls – and the saecular rhythm tells us that much will depend on how we face up to that trial. The saeculum does not reveal whether the story will have a happy ending, but it does tell us how and when our choices will make a difference." – Strauss & Howe – The Fourth Turning
As we wander through the fog of history in the making, unsure who is lying and who is telling the truth, seemingly blind to what comes next, I look to previous Fourth Turnings for a map of what might materialize during the 2nd half of this current Fourth Turning. After a tumultuous, harrowing inception to this Crisis in 2008/2009, we have been told all is well and are in the midst of an eleven-year economic expansion, with the stock market hitting all-time highs.
History seemed to stop and we've been treading water for over a decade. Outwardly, the establishment has convinced the masses, through propaganda and money printing, the world has returned to normal and the future is bright. I haven't bought into this provable falsehood. Looking back to the Great Depression, we can get some perspective on our current position historically.
The Dow is up 450% since its 2009 low, which is the metric used by the establishment to prove their money printing solutions have succeeded in lifting the country from the depths of despair and depression. The narrative peddled to the plebs by the lords of the manor through their fake news media mouthpieces for the past decade is one of solid recovery, as the cancer of debt proliferates through the global intestines, thrusting the patient towards a terminal fate.
Looking back to the previous Fourth Turning it seems the Dow went up 450% from its 1932 low in just five years, making this bull market look like a calf. It seems the ruling class did quite well in the midst of the Great Depression, while the masses lined up in soup lines. History may not repeat, but it certainly seems to be rhyming during this Fourth Turning, as the Wall Street cabal have been enriched while senior citizens have been impoverished by the Federal Reserve ZIRP and QE to infinity. This is proof depressionary conditions can prevail for the majority even as the stock market skyrockets to new heights.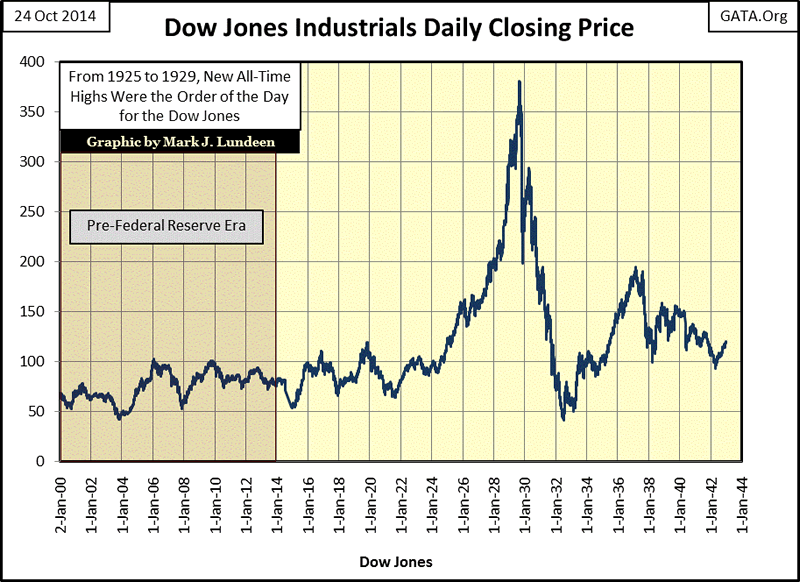 Trump consistently touts our economy as the best ever. Obama crowed about bringing the country out of the depths of recession. How many of today's historically challenged iGadget addicted morons know GDP grew by 63% between 1933 and 1937, in the midst of the Great Depression? Meanwhile, GDP has only grown by 48% since the 2009 low, over a ten-year period. And this has only been achieved through a 100% increase in the national debt, a 450% increase in the Federal Reserve balance sheet, a decade of zero interest rates, and trillion-dollar annual deficits.
The blizzard of lies obfuscating the reality of our economic decline has been so persistent, critical thinking Americans have lost all trust in the existing social order. The fabric of our nation has been torn asunder through the machinations and criminality of the Deep State players and their apparatchiks disseminated throughout our political, financial, government and media structures.
I do contemplate what future historians (if our egomaniacal leaders don't blow up the planet) will write about this profoundly abnormal period in world history. Rational sober minded people will wonder "what were they thinking?". How did mass delusion sweep across the globe and convince hundreds of millions to believe debt equaled wealth and prosperity could be generated by central bankers printing money at hyper-speed. How could supposedly highly educated financial professionals convince themselves it was rational to pay $900 per share for a company losing hundreds of millions per year?
The irrational exuberance exhibited by the big swinging dicks on Wall Street during the dot.com bubble, the subprime mortgage induced bubble, and the current everything bubble has been encouraged and inspired by the reckless actions of the Federal Reserve and their fellow feckless central bank heroine dealers around the world. Their arrogance is only exceeded by their greed and myopia. Their grasp of history reaches to last Wednesday. No one is heeding the wisdom of great men. That's why they will be blind-sided by the coming total catastrophe, once again.
"There is no means of avoiding the final collapse of a boom brought about by credit expansion. The alternative is only whether the crisis should come sooner as the result of voluntary abandonment of further credit expansion, or later as a final and total catastrophe of the currency system involved." – Ludwig von Mises, Human Action [1949]
I spent countless hours during the Obama administration poking holes in the false narrative of the unemployment figures produced by the BLS and GDP numbers produced by the BEA. The Obama haters were completely onboard with my counter-factual arguments, backed up with rational arguments that these government drones were doing nothing more than peddling lies to keep the serfs in the dark.
Even Donald Trump openly scorned and ridiculed the fake data pumped out month after month. But it seems Donald now believes every economic data point his governmental agencies produce on a monthly basis. The recent jobs report was a perfect example. The mainstream media all blasted the same headline that 225,000 jobs were added in January, much higher than expected. This proved the economy is doing wonderfully, in their eyes.
It's funny, but the Trump acolytes ignored the 520,000 downward revision of jobs created in the prior year, making his State of the Union boasts provably false. I've trashed the birth/death adjustments made by the BLS for years, but now Trump and his supporters ignore its falsity. The 225,000 increase in jobs came from the establishment survey. I heard no one point out the household survey showed the number of employed Americans fell by 89,000 in January and the number of unemployed jumped by 139,000. There are still almost 101,000 million working age Americans not working, the same number not working at this point in Obama's presidency.
The overall employment situation has improved in the last three years, but Trump touting this as a blue-collar recovery is laughable. Real median weekly earnings for full-time workers is $362 ($18,824 annually), up a phenomenal 2.8% over the 3 years of Trump's presidency. Real wages did fall 2.9% over the first three years of Obama's presidency, but let's not get carried away with less than 1% real wage growth per year under Trump. And remember, using a true inflation figure north of 5% would show real wages are actually in decline.
None of the current narrative fanboys pointed out only 1.93 million private industry jobs were created in 2019, the lowest level since 2010. Not exactly robust. And not consistent with the "greatest economy ever" narrative being promoted to the masses. The Fed reporting consumer debt soaring by $22 billion in December, with credit card debt growing by the most in over two decades (just prior to the dot.com debacle), is surely a sign of a healthy consumer. Right?
Consumer credit as a percentage of GDP reaching all-time highs as their real wages are stagnant isn't a sign of middle-class desperation. Right? We also know 40% of American adults don't have $400 of savings to cover an emergency expense, like a normal car repair or medical expense. It is clear to any critical thinking individual that credit card debt has risen to new all-time highs because the average family is treading water by paying utilities, rent, taxes, food and medical bills with their credit cards.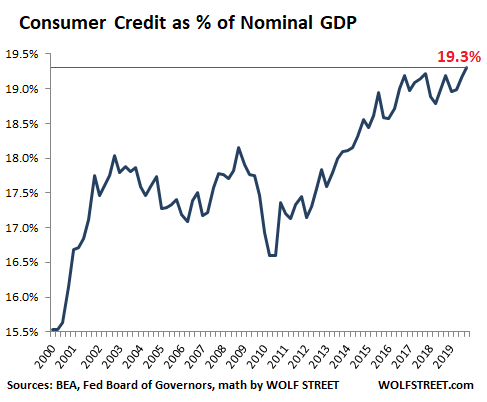 The foolishness of consumers, corporations, politicians and government bureaucrats is borne out in the chart below. The Federal Reserve created loose monetary policy, started under Greenspan in the 1980s, has convinced Wall Street titans the Fed will always have their back, bailing them out after they take excessive risks and push the financial system to the brink of collapse. The hubris of the ruling oligarchs, exhibited by issuing debt at hyper-speed to "solve" a crisis caused by excessive debt, knows no bounds.
Just the leveling off of debt in 2008/2009 threatened to bring the house of cards down. The issuance of another $17 trillion of debt, a 30% increase in ten years, has barely budged GDP. The fallacy that debt doesn't matter because we owe it to ourselves has been proven false time and again. Consumers and corporations have to service their immense debt or go bankrupt. Interest on the national debt is already crowding out spending on real priorities like our infrastructure. Borrowing to pay interest on the debt is a pathway to destruction. An unsustainable trend will not be sustained. It's just a matter of time.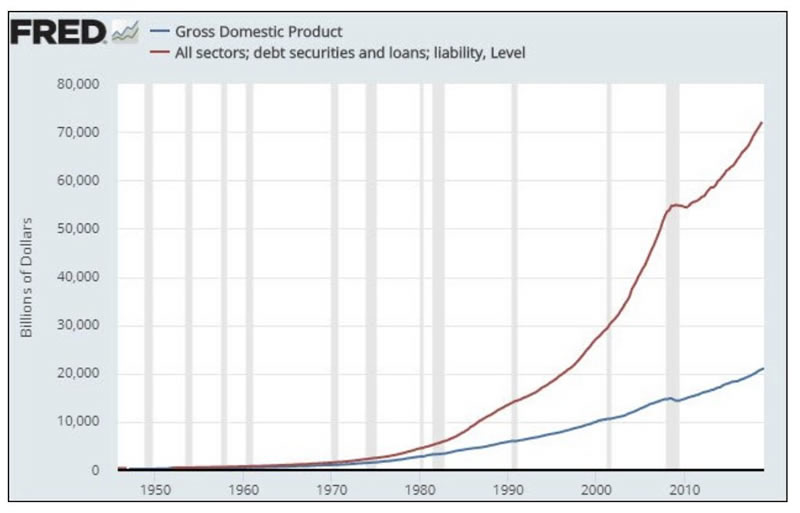 So, who benefits from this hyperbolic increase in debt? Certainly not the average working stiff who has been propagandized into buying shit they don't need with pretend money (debt) they don't have, in order to keep up with the Joneses. As clearly demonstrated over the last decade, the beneficiaries of this stratospheric issuance of debt have been Wall Street shysters, mega-corporation executives, corrupt politicians, billionaire oligarchs, media titans, the military industrial complex, and the Deep State.
Why is it that Wall Street bankers were able to borrow for free from the Federal Reserve for a decade, while paying .15% to senior citizens and reaping billions in ill-gotten profits? As the Federal Reserve chairman lies that keeping interest rates low is to benefit the average American, why are interest rates on credit cards at an all-time high? I wonder who is benefitting from this interesting development. If the average American hasn't figured out ZIRP, QE to infinity, and trillion-dollar deficits aren't for their benefit, then they are just willfully ignorant or plain stupid.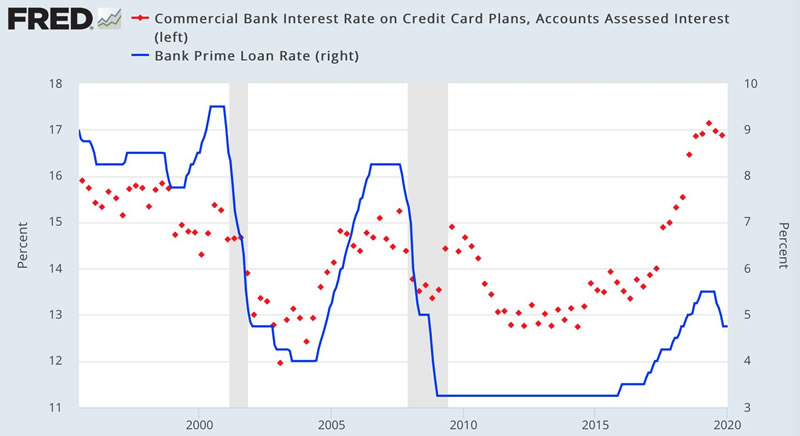 After what has seemed an eternity with this Fourth Turning not appearing to intensify, the last few months, and particularly since the start of 2020, it seems like we are about to be flung forward into a coming storm of chaos, with no way to plan for the challenges awaiting. The ruling oligarchs recognized their attempt to try and normalize our economic system by slowly weaning it from ever expanding debt during 2019 was headed towards a cliff.
Their actions over the last six or so months reveal an air of desperation. The sudden reversal from methodically slow interest rate increases to three cuts in succession exposes the Fed as being trapped, with no way out. Normalization is impossible. Then the repo market began to implode, with overnight rates soaring to 10%. The ongoing hundreds of billions in funding provided by the Fed every day divulges the rot underlying the financial system, requiring never ending emergency measures to keep it alive.
"The worship of the state is the worship of force. There is no more dangerous menace to civilization than a government of incompetent, corrupt, or vile men. The worst evils which mankind ever had to endure were inflicted by bad governments. The state can be and has often been in the course of history the main source of mischief and disaster." ― Ludwig von Mises
The masses have been trained through decades in government gulags (aka public schools) to worship the state and propagandized through the corporate media to believe government and the politicians picked for us by men in backrooms are working on our behalf. Nothing could be further from the truth. The Deep State is inhabited by a myriad of corrupt, vile men who are the source of the mischief and disasters being inflicted on honest hard-working people across the land.
Central bankers and their Wall Street puppet masters have been making billions as they blow bubbles, then use their power and control over politicians to shift their losses to the ignorant masses when their bubbles burst. When it happens over and over again, it clearly isn't due to mistakes or misunderstandings. The pillaging of your wealth, rigged markets, fraud, and buying off the regulatory system is now the standard operating procedure in our outlaw surveillance state.
In Part Two of this article I will examine the earth moving events which have already happened in 2020 and ponder what will catalyze the rest of this year and the second half of this ongoing Fourth Turning.
If you feel you've received some value from this article and this blog dedicated to free speech and truth in the face of lies, corruption and fake news, feel free to make a Donation to keep the lights on at The Burning Platform.
By James Quinn
James Quinn is a senior director of strategic planning for a major university. James has held financial positions with a retailer, homebuilder and university in his 22-year career. Those positions included treasurer, controller, and head of strategic planning. He is married with three boys and is writing these articles because he cares about their future. He earned a BS in accounting from Drexel University and an MBA from Villanova University. He is a certified public accountant and a certified cash manager.
These articles reflect the personal views of James Quinn. They do not necessarily represent the views of his employer, and are not sponsored or endorsed by his employer.
© 2019 Copyright James Quinn - All Rights Reserved
Disclaimer: The above is a matter of opinion provided for general information purposes only and is not intended as investment advice. Information and analysis above are derived from sources and utilising methods believed to be reliable, but we cannot accept responsibility for any losses you may incur as a result of this analysis. Individuals should consult with their personal financial advisors.
© 2005-2019 http://www.MarketOracle.co.uk - The Market Oracle is a FREE Daily Financial Markets Analysis & Forecasting online publication.

Only logged in users are allowed to post comments.
Register/ Log in