Why People Have Always Held Gold
Commodities
/
Gold & Silver 2020
Jun 27, 2020 - 06:50 PM GMT

The current phase of the gold bull market, which started last year, is – we believe – the third and final wave of the secular bull run tracking back to 2001.
It's going to create a tidal bore of immense size and power. A wave that those who hold the metal (and silver) can ride as insurance against state-sponsored value-destruction of a country's currency, and as real money that cannot and has not ever gone to zero in recorded history.
It could last 3 or 4 years, until the end of this decade... or beyond.
Yes, the time will come when we want to be mostly out of gold and silver, with one marker to watch being the Dow/Gold Ratio, but that time is a number of years in the future.
In any event, diverse energies (and rationales) are building around the globe, which should make this a run for the record books – a ride you really don't want to miss!
This time, gold will break out – possibly by the end of 2020 and rise to a number that most investors can't begin to imagine. The price will be a function of how long it takes for higher rates of inflation to kick in from the stagflation environment similar to what took place in the late 1970's.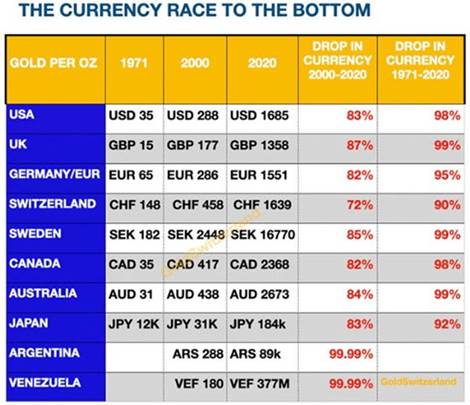 As a paper currency-only holder these days, "Do you feel lucky?"
A "from-the-heart" talk about what holding gold really means to people…
The following accounts about what gold means on a personal level came to me unsolicited and fairly close to each other time wise. The first is from a commercial airline pilot with deep prior life experiences in Europe and the Middle East. He wrote:
Gold does not deteriorate or tarnish. These traits give it an ability to last forever, and transcend through different dimensions of time. Humanity is acutely aware of both its own mortality and the short time we get to exist in this universe. In our collective view there is only one who is immortal, transcending time and space, God…Whoneverdies.Livesforever,changingonlyinformanddimension.
Gold comes very close to duplicating these traits, but without the imaginary human abilities that religion has assigned to a supreme being. I think people instinctively want to be close to immortality –capableofbeinginhope,appreciation,andenvyfor(gold's)abilitytolastindefinitely.
By holding a gold coin in your hand, you are interacting with an immortal substance. If we could construct a human made of gold, she/he would live forever, but that'sanotherstory...
The second comment comes from a colleague in the United Kingdom:
Hi David, I listened and reflected last week for many hours to a multitude of views on the future of gold and silver. At the end, in a state of confusion, I remembered what my Dad had said to me many a time:
1) One can never have enough physical gold.
2) I have NEVER sold a milligram of gold EVER. I only bought, and then bought some more.
3) There is no such thing as cheap or expensive gold, only gold that is available or not. And when it's unavailable, it is too late.
4) Don't try to outfox the market, just buy when you have funds. Protect yourself against yourself. Don't waste time and energy. Simply buy and squirrel it away.
Beware the summer doldrums…
As Jim Rickards says:
Right now, even though the gold market is relatively quiet, in a broad sideways to higher trend on the charts, in this perceived calm –traditionalsummerdoldrumsnotwithstanding–precious metalscanbesetoffbyanumberofunexpectedevents.
A driver is panic buying in response to a new disaster. This could take the form of a 'secondwave'ofinfectionsfromtheWuhanvirus,afailureofagoldETFortheCOMEXtohonorphysicaldeliveryrequirements,oravictorybyJoeBideninthepresidentialelection.
Right now, the gold market is not priced for any of these outcomes. It won'ttakeallthreeeventstodrivegoldhigher.Anyone(ofthem)woulddojustfine.Butnoneofthethreecanberuledout.
We have gold in our cells…
Recently I learned something new from a book titled, Why Gold is a Better Way, by Adam Barrata. He wrote:
96% of the human body is composed of Oxygen, Carbon, Hydrogen and Nitrogen. The other 4% consists of other elements. We absorb small amounts of gold from our environment, and gold is present in our cells at birth. The average person's body weight is 154 pounds. It contains 0.229 milligrams of gold...
Many people look up at the stars in the sky and feel small because the Universe is so vast. I look at the Universe in a different way. I understand that the Universe was created from an incredible explosion of matter. We, as human beings are a part of that matter.
When I look at the Universe I realize that the stars and the elements that make up its matter are inside of me, and rather than feel small, I feel vast.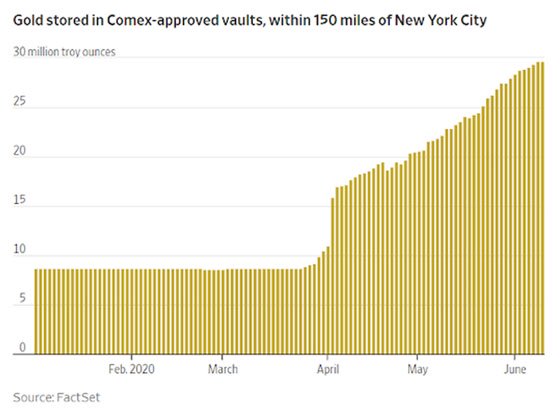 Big buyer U.S. money is now flooding into gold.
My Conclusion: It's time to start feeling – and being financially – "more vast."
Hopefully, this essay has got you thinking about why humankind is more connected to gold than you ever thought possible.
Maybe it's why every time I've seen someone – whether it was a centa-millionaire or just "regular" folks like us – hold a gold coin or bar in their hand... they started to smile. We may think we understand why they react this way, but now you know just how deep it goes. Yes – you and I are truly golden beings!
The gold we were born with – those 0.229 grams – is only worth about $14. That value is likely to go up quite a bit in the coming years as physical gold makes new all-time highs. But it's going to be difficult for you to "cash in" with it!
Why not pick up some "hold in your hand" gold soon. Before summer wanes. While the metals and miners are backing and filling on the charts. This could be a golden opportunity for you in more ways than one, perhaps the last best one for a long time.
David Smith is Senior Analyst for TheMorganReport.com and a regular contributor to MoneyMetals.com as well as the LODE Cryptographic Silver Monetary System Project. He has investigated precious metals' mines and exploration sites in Argentina, Chile, Peru, Mexico, Bolivia, China, Canada and the U.S. He shares resource sector observations withr eaders, the media and North American investment conference attendees.
Disclaimer: The above is a matter of opinion provided for general information purposes only and is not intended as investment advice. Information and analysis above are derived from sources and utilising methods believed to be reliable, but we cannot accept responsibility for any losses you may incur as a result of this analysis. Individuals should consult with their personal financial advisors.
© 2005-2019 http://www.MarketOracle.co.uk - The Market Oracle is a FREE Daily Financial Markets Analysis & Forecasting online publication.

Only logged in users are allowed to post comments.
Register/ Log in