Nationalisation and Capital Injections Mean Worst of Financial Crisis Behind Us
Stock-Markets
/
Credit Crisis 2008
Oct 19, 2008 - 10:57 AM GMT

BCA Research: Policymaker action finally hitting critical mass - "Fresh capital and government guarantees for bank liabilities are very positive signs that the credit crisis is nearing an end, although it will be a long road to recovery.
"Policymakers around the world have 'pulled out the big guns' in their efforts to get the credit markets working again. Over the weekend, numerous European governments announced a massive bank bailout plan that includes funds for recapitalization, credit guarantees, and the purchase of troubled assets.
"In the US, the Treasury committed $250 billion to purchase bank preferred shares. It also took the important step of allowing the FDIC to temporarily guarantee the senior debt of all FDIC-insured institutions. This guarantee stops short of a blanket guarantee for all bank liabilities, but is broad enough to significantly reduce perceived risk in the banking industry. Taxpayer-backed recapitalization and broad guarantees are two critical items for solving the credit crisis.
"Banks need to get back to the business of market-making, but have been hit hard by the high cost of funding relative to the yield pickup on their inventories of securities. Investors should monitor measures of bank funding costs and related spreads for signs that the latest policy initiatives are working. These include Libor/OIS spreads, 2-year swap spreads, counterparty CDS spreads and the slope of the Libor/swap curve. Also watch financial over non-financial corporate bond spreads."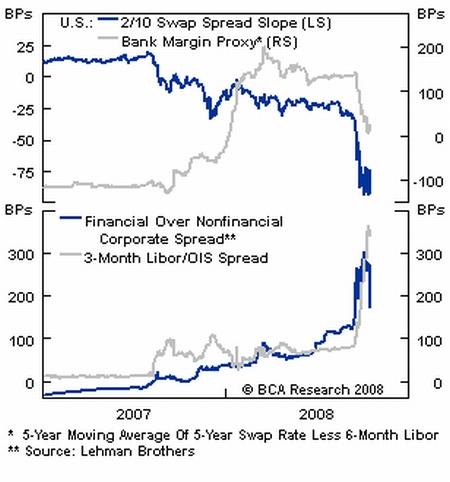 Source: BCA Research , October 16, 2008.
Bespoke: Overnight Libor starting to look like Overnight Libor again
"As many are well aware, Overnight Libor has spiked to extremely high levels multiple times over the last few weeks. Historically, the average difference between Overnight Libor and the Fed Funds Rate has been +11 basis points. As shown in the chart below, this traditionally tight spread got extremely out of whack recently as the credit crisis caused havoc. But over the last two days, this spread has gotten back to normal levels, and Overnight Libor is currently at 1.67% versus the Fed Funds Rate of 1.50%. The stabilization of this spread is a clear indication that the credit crisis is easing, and as long as it stays tight, the unfreezing should continue."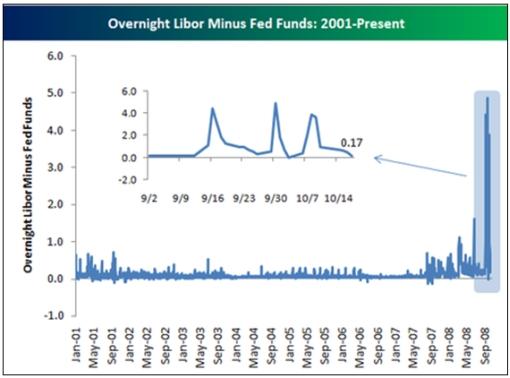 Source: Bespoke , October 17, 2008.
Philip Finch (UBS): The start of the end?
"The 'defining moment' has arrived in the evolution of the financial crisis, according to Philip Finch, global banks strategist at UBS.
"He says nationalisation of parts of the banking system in the US and Europe could mark 'the start of the end' of the turmoil, even though the economy is worsening. That is because state capital support should remove concerns over the solvency of the financial system, giving counterparties the confidence to resume business.
"He notes that since the £400 billion rescue of the UK banking system was announced last week, the credit default swaps of UK banks have almost halved. 'Inter-bank spreads remain elevated but should start to come down once banks in other countries also have access to state support.'
"This banking crisis, though, is different to previous ones. 'Historically, state-sponsored recapitalisation support was the catalyst for a sustainable re-rating of the banking sector.
"'However, in this crisis, government intervention has come earlier relative to the impairment cycle, suggesting that a re-rating of similar size to previous crises is less likely.'
"Mr Finch says that even after a series of bail-outs, more banks are likely to fail. 'Stock selection remains critical. Poorly capitalised banks remain most vulnerable while we view universal banks with high capital ratios and strong retail depository franchises as best placed for survival and market share gains.'"
Source: Philip Finch, UBS (via Financial Times ), October 13, 2008.
MoneyControl: End of global turmoil? Faber, Mobius speak
"So have global markets finally bottomed out? Here are a few experts on the road ahead for US markets.
"Marc Faber, Editor of The Gloom, Boom & Doom Report, said, 'Maybe the worst of the financial crisis has been seen, but I will give you an example, General Motors was at USD94 in 1999. Yesterday, it rallied 33% but it's still at USD6. People say the market has rallied 10% and stocks like Morgan Stanley went up 86%, but they are still way below the previous peaks and losses are colossal in the investment community.
"'We have to see the rally in the context of everything, the market was already oversold when it was at 1200 and then it went down to 831 on the S&P and became statistically unbelievably oversold. It was probably the most oversold condition ever. Now we have a rebound and these rebounds can be in the order of 20% to 30% and then traditionally usually you have a retest of the lows. I am not saying the lows will be retested. But usually there is a retest of the lows.'
"On gold he said, 'The gold price could easily drop to USD700 per ounce before it enters into a rise but one will see much higher gold prices eventually because paper money is over time losing its purchasing powers in the world. It's very clear that every currency is losing its purchasing power in the world.
"Mark Mobius, MD of Templeton Asset Management, said, 'There will certainly be a lot of retrenchment in the real economy. But the stock market tends to look ahead. And therefore we have seen these big declines in the market. You will see a few more declines but we are beginning to see a bottom and therefore the opportunities are quite interesting, quite attractive.'
"David Darst, Global Wealth Management, Morgan Stanley, said, 'We need confidence to return, people need to have faith and trust the prices on the balance sheet. And they have to have faith and trust in the management. Supremely and most importantly they have to have faith and trust in the authorities. All these authorities are working together and that is definitely helping to restore the confidence a bit.
"'The upward market movement was a combination of three things. It was global, it was coordinated and it was systemically directed as opposed to ad-hoc. Some of the actions by the UK has sparked and motivated and inspired others. In turn some of the US programs have done that for European nations and this has led everyone in their own independent way to fall into the parade and act together.'"
Source: MoneyControl , October 14, 2008.
CNBC: Peter Schiff & Mark Zandi – Capital injection's impact
Discussing the economic impact of the capital injections, with Mark Zandi, Moody's Economy.com, and Peter Schiff, Euro Pacific Capital.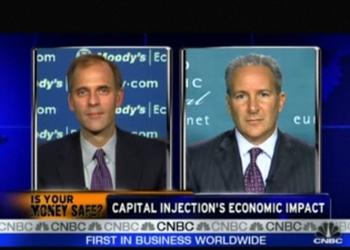 Source: CNBC , October 15, 2008.
Bloomberg: Schwarzman says US plan "breaks back" of crisis
"Blackstone Group Chairman Stephen Schwarzman said the US government's plan to inject cash into financial institutions, coupled with similar actions by other nations, may jumpstart stalled global credit markets.
"'We're looking today at an absolute sea change in the global financial system in terms of liquidity,' Schwarzman said today at the Super Return Middle East conference in Dubai. 'This could be the time that breaks the back of the credit crisis.'
"The US plans to invest about $125 billion in nine of the country's biggest banks, including Citigroup and Goldman Sachs, in exchange for preferred shares, people briefed on the plan said. The measure follows similar moves by European leaders to unfreeze credit markets and shore up confidence in the financial system.
"'There is no reason in the face of this why anyone would have any concerns or fear about putting money into the US financial system,' Schwarzman said. 'Before this remarkable initiative, the cost of money for financial institutions was way higher than they could afford to lend it out. The system ground to a close.'"
Source: Jason Kelly, Bloomberg , October 14, 2008.
Bloomberg: Volcker says bailouts make recession more manageable
"Former Federal Reserve Chairman Paul Volcker said the US's $700 billion bailout of banks is necessary and will help mitigate the effect of an almost inevitable recession.
"The bailout measures were 'distasteful' and 'not consistent with a capitalistic system,' Volcker said at a lecture in Singapore today. 'But however distasteful, they are necessary to restore stability to the financial system.'
"The bailout will help turn an 'inevitable recession into something more manageable and that will last not too long,' said Volcker, chairman of the Fed from 1979 to 1987. The global financial system is in 'intensive care' and will remain there for a considerable time before things return to normal, he said.
"'We will face a challenge in restoring a full, private environment for finance,' Volcker said."
Source: Chen Shiyin, Bloomberg , October 14, 2008.
Times Online: JPMorgan Chase chief attacks Washington for prolonging banking crisis
"Jamie Dimon, the chief executive of JPMorgan Chase, bitterly criticised Washington lawmakers yesterday, deriding their sluggish decision-making and describing the political system as suffering from 'institutional sclerosis … unable to make a decision to make this country healthy'.
"His attack came hours after his bank had been forced to sell a stake in itself to the US Government, following the announcement of President Bush's plans to partially nationalise America's biggest financial institutions.
"Speaking at the Harvard Business School in Cambridge, Massachusetts, Mr Dimon also criticised the notion that all business people were corrupt and overpaid – accusations that have been levelled at Wall Street since the implosion of the US banking system forced Washington to use taxpayers' money to bail out financial institutions.
"Many on Capitol Hill have expressed anger at having to use taxpayers' money to bail out bankers who have received huge salaries and bonuses in the past.
"Mr Dimon, who has been tipped as a favoured candidate to be the new US Treasury Secretary in the event that Barack Obama, the Democratic presidential hopeful, wins next month's election, also attacked other Wall Street executives. … he accused some of his rivals of failing to act quickly enough when it became obvious that America's banking system was experiencing intolerable strain."
Source: Times Online , October 15, 2008.
Bloomberg: World may be lucky to get worst recession since 1983
"The world may be heading for its worst recession in a quarter of a century – if it's lucky.
"A steep slump looks likely as the credit squeeze crunches economies from the US to Singapore and panic engulfs global financial markets.
"'It's certainly going to be the worst since the 1980s,' says Bradford DeLong, an economics professor at the University of California at Berkeley who worked at the US Treasury Department from 1993 to 1995. 'The hope is that it won't become the worst unemployment business cycle since the Great Depression.'
"Of special concern: The two big bulwarks of the global economy in recent years – US consumer spending and the rapid growth of emerging markets – may be finally giving way in the face of the 14-month-old financial turmoil.
"That raises the odds that the coming economic decline will be long and deep, despite US Treasury Secretary Henry Paulson's $700 billion financial rescue plan, similar efforts by European leaders and the coordinated interest-rate cuts engineered by Federal Reserve Chairman Ben Bernanke and other central bankers last week.
"The International Monetary Fund's World Economic Outlook last week forecast that global growth will slow to 3% in 2009, from 3.9% this year and 5% in 2007. That would mean a world recession under the fund's informal definition – growth of 3% or less – although current IMF chief economist Olivier Blanchard declined to describe it as such.
"One of his predecessors wasn't so shy. 'It's hard to imagine it not being the worst recession in at least 25 years,' says Kenneth Rogoff, who is now a professor at Harvard University in Cambridge, Massachusetts."
Source: Rich Miller, Bloomberg , October 13, 2008.
Financial Times: Krugman wins Nobel prize
"Paul Krugman, a fierce critic of the Bush Administration, won the Nobel prize in economics."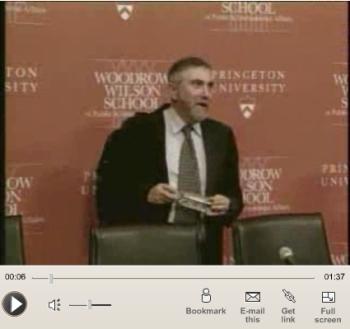 Source: Financial Times , October 14, 2008.
CNBC: Carl Icahn on corporate greed
Investor Carl Icahn shares his views on how we got here …"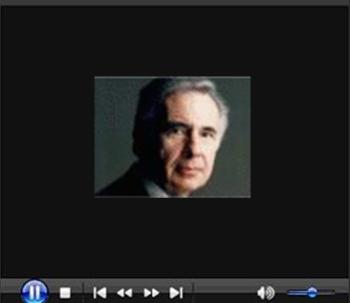 Source: CNBC , October 15, 2008.
YouTube: Nassim Taleb – angry with economists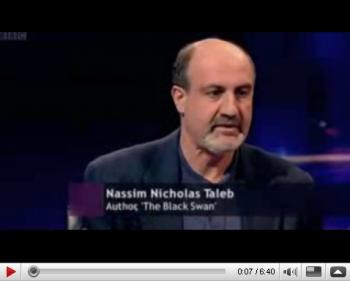 Source: YouTube , October 12, 2008.
Asha Bangalore (Northern Trust): Home building activity continues to trend down
"Housing starts fell 6.3% in September to an annual rate of 817,000. The 7.5% gain in starts of multi-family units helped to trim the pace of decline in home building activity. Single-family housing starts plunged 12.0% to an annual rate of 544,000 in September, following a 4.0% drop in August. The record low for single-family housing starts is 523,000 set in October 1981. Record keeping for housing starts began in 1959.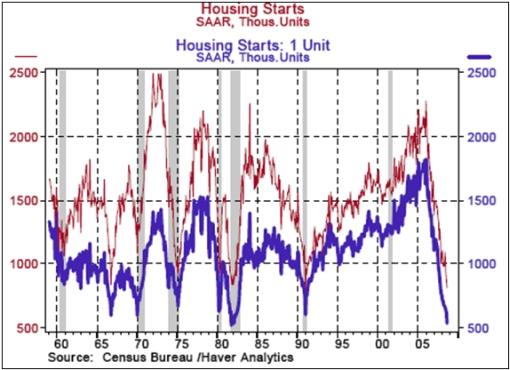 "Going forward, we should be able to identify if home building activity has reached a bottom by tracking the inventory of unsold new single-family homes. The inventory of unsold new single-family homes has held in the narrow range of 11.2 months and 10.2 months for six consecutive months."
Source: Asha Bangalore, Northern Trust – Daily Global Commentary , October 17, 2008.
Asha Bangalore (Northern Trust): Consumer sentiment index plunges
"The University of Michigan Consumer Sentiment Index fell 12.8 points to 57.5 in October and more than reversed the 7.3 point gain in September (70.3). The sharp plunge is hardly surprising given market conditions in the past month. The October reading is the lowest since May 1980 (51.7) excluding the 56.4 level of June 2008."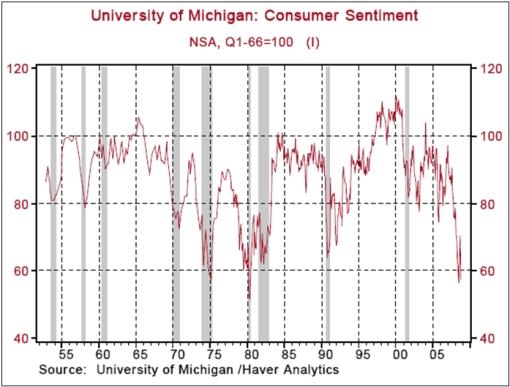 Source: Asha Bangalore, Northern Trust – Daily Global Commentary , October 17, 2008.
Asha Bangalore (Northern Trust): Factory activity remains significantly weak
"Factory production plunged 2.8% in September versus a 1.0% drop in August. The sharp drop in factory activity in September is partly related to Hurricanes Gustav and Ike. According to the Fed, the impact from hurricanes on total industrial production in September is about 2-1/4 percentage points. The Boeing strike accounted for an estimated 1/2 percentage point to the overall decrease in industrial production."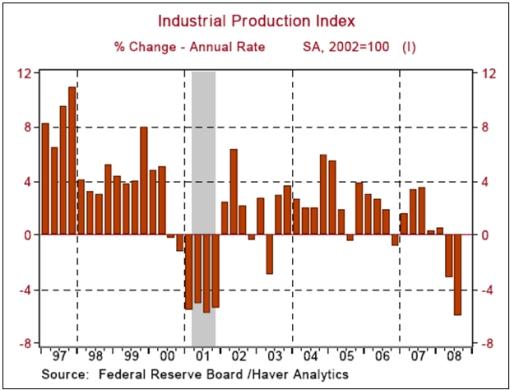 Source: Asha Bangalore, Northern Trust – Daily Global Commentary , October 16, 2008.
Asha Bangalore (Northern Trust): Q3 real retail sales weakest in nearly three decades
"Nominal retail sales dropped 1.2% in September, putting the third quarter decline at annualized rate of 4.0%. Using the Consumer Price Index of commodities to adjust for inflation, a rough approximation, real retail sales tumbled at an annualized rate of 12.5%, the largest drop since the second quarter of 1980 when real retail sales dropped at an annual rate of 16.4%. It is nearly certain that consumer spending (good and services) in the third quarter will post the first decline since the fourth quarter of 1991, which raises the probability of a contraction of real GDP in the third quarter."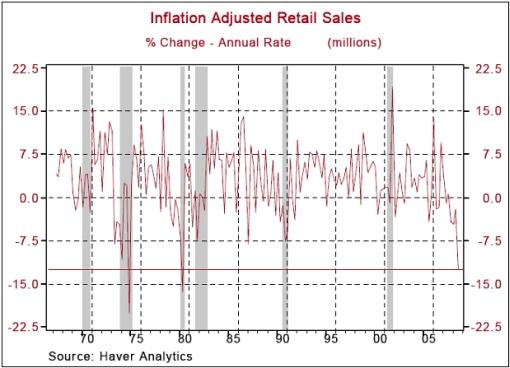 Source: Asha Bangalore, Northern Trust – Daily Global Commentary , October 16, 2008.
Asha Bangalore (Northern Trust): CPI appears to have peaked
"The Consumer Price Index (CPI) held steady in September after a 0.1% drop in August. On a year-to-year basis, the CPI rose 4.94% in September versus a 5.4% jump in August, which is probably the peak reading for inflation in the current business cycle."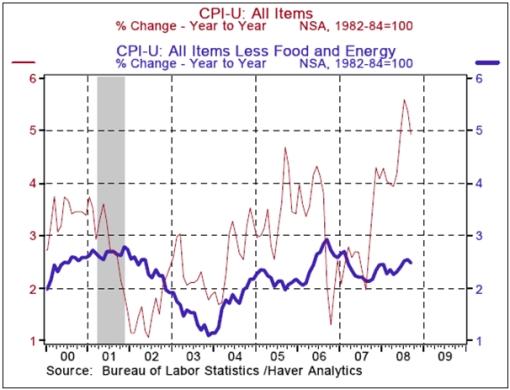 Source: Asha Bangalore, Northern Trust – Daily Global Commentary , October 16, 2008.
Asha Bangalore (Northern Trust): Weak economy trumps increase in core wholesale prices
"The Producer Price Index (PPI) of Finished Goods fell 0.4% in September following a 0.9% decline in the prior month. The 2.9% decline in the energy price index was largely responsible for the drop in the overall price index."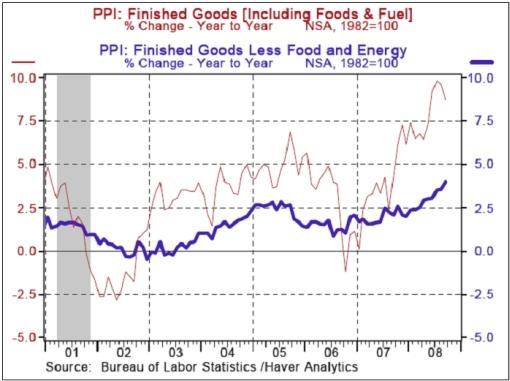 Source: Asha Bangalore, Northern Trust – Daily Global Commentary , October 15, 2008.
Charlie Rose: A conversation with Nouriel Roubini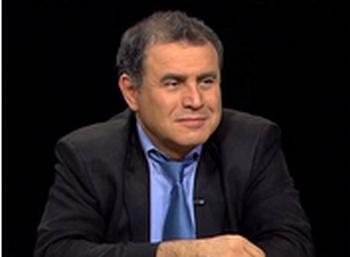 Source: Charlie Rose , October 14, 2008.
Forbes: Interview with Alan "Ace" Greenberg.
"Steve Forbes discusses with former Bear Stearns CEO Ace Greenberg the demise of Bear Stearns, the state of the economy, why this crisis is different and the basics of investing for the long-term."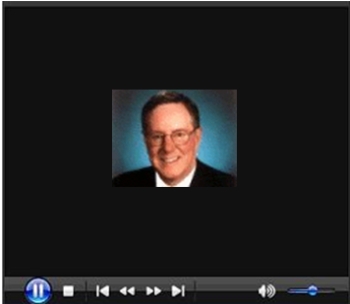 Source: Forbes , October 14, 2008.
CNBC: The Fed's next move, with former Fed Gov Frederic Mishkin
"Insight on the Treasury's plan for a comprehensive rescue plan, with Frederic Mishkin, former Federal Reserve Board Governor/Columbia University economics professor."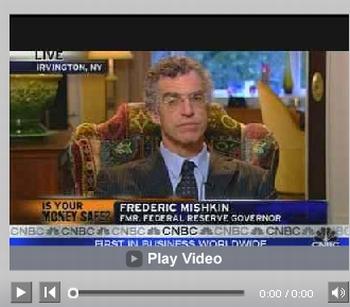 Source: CNBC , October 13, 2008.
BCA Research: More Fed easing ahead
"The combination of a deteriorating economic outlook and continued severe financial stress point to an early cut in the Fed funds rate to 1%. The worsening economic outlook is sustaining a high level of risk aversion on the part of lenders and investors. Of course, this creates a self-fulfilling outcome as frozen credit markets and falling equity prices directly undermine the economy. The authorities fully understand that they must break this vicious cycle.
"For its part, the Fed has begun to rapidly expand its balance sheet, and it is under pressure to cut interest rates again soon. The recently released Beige Book provided further confirmation that economic activity is weakening across the country, and there is little doubt that a deep rather than mild recession is unfolding. A zero funds rate within the next few months is possible if financial conditions do not soon improve."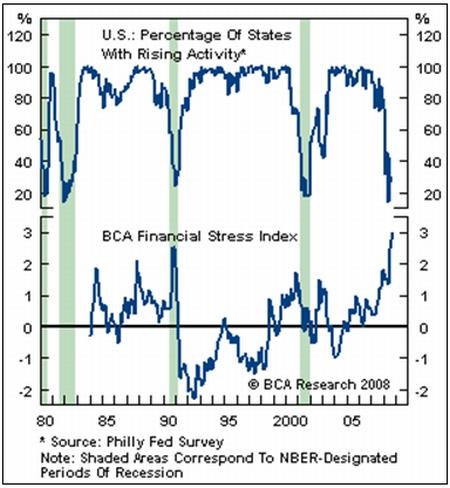 Source: BCA Research , October 17, 2008.
Bespoke: Commodities – from a $500 billion tab to a $200 billion windfall
"The impact of commodity prices on consumers' wallets continues to sink lower from its highs in early July. At the peak of the commodities bubble in July, the average daily impact of higher commodities was costing the average American an extra $4.77 per day in 2008 versus 2007 (or about $523 billion in total). Now just over three months later, that 'tax' on the consumer has turned into a windfall of $2.00 per day or $220 billion in total. While the $4.77 a day 'tax' surely hurt the already strapped consumer this year, the reversal to a $2.00 per day windfall should provide some relief."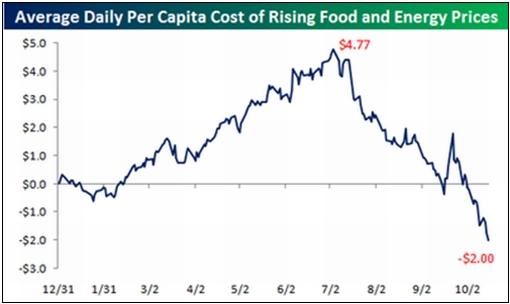 Source: Bespoke , October 16, 2008.
John Authers (Financial Times): Wall Street's wild week
"John Authers looks at a week of intense and unprecedented volatility in the US markets, in part driven by upheaval in the hedge fund sector."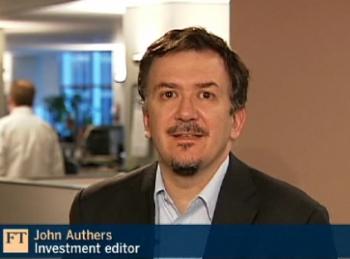 Source: John Authers, Financial Times , October 17, 2008.
Richard Russell (Dow Theory Letters): Market's internals keeping me on sidelines
"The week ended October 10 included three 90% down-days, Monday, Tuesday and Thursday. Normally, a 90% down-day is followed by 2 to 7 rally days. One would think that three 90% down-days might have exhausted the desire to sell and greatly reduced the inventory of stock to be unloaded. What we were looking for was an upside stampede or a 90% up-day. The quality of the recovery following that series of down-days was critical. So what happened?
"On October 13 we finally received a 90% up-day. Was this the long-awaited turn to the upside? On Oct. 14 the Dow was down 76 points. On Oct. 15 the Dow closed down an incredible 733 points – hardly what we were looking for. Yesterday, Oct. 16, the Dow closed up 356 points, but the market's internals were negative. There were more declines than advances despite the Dow's rally and down-volume dominated up-volume.
"If last week's three 90% down-days, and Monday's 90 % up-day marked the turn, then the market should be on its way higher amid impressive upside internals. We've yet to see such action, which is disappointing. Therefore, it may take additional 90% down-days to "clear the air" and produce a thoroughly sold-out market. Lowry's just announced that today was a 90% down-day.
"The negative span between Lowry's Selling Pressure Index and their Buying Power Index widened yesterday to a record 671 points. With the Selling Pressure Index climbing to match its previous high. All of which is discouraging, and enough to keep me on the sidelines.
"On top of everything else, the VIX closed yesterday at a sky-high 67.61, meaning that option sellers expect a continuation of the incredibly-high volatility that we have been experiencing. That along with the new lows in the bond Confidence Index (CI) keeps me on edge with accompanying white knuckles."
Source: Richard Russell, Dow Theory Letters , October 17, 2008.
David Fuller (Fullermoney): Ted spread remains greatest immediate concern
"The current environment remains highly nervous and emotional. Against this background, the easy forecast is to say that we will see further volatility, which adds to the general uncertainty and anxiety. Understandably, a major concern for most equity investors is the outlook for corporate profits in what is still a deteriorating economic environment. There is little doubt that reactive central banks prevaricated for too long before introducing their sweeping rescue packages, as Warren Buffett was pointing out a few weeks ago.
"As a consequence, my guess is that we will have a longer economic slowdown in the US and parts of Europe than might have otherwise occurred. However the world's stronger developing economies should recover more quickly, buttressed by their fundamentally sound financial sectors, higher personal savings rates and government surpluses in many instances.
"Technically, most eyes are still focussed on Wall Street, ensuring that its leash-effect remains influential for other stock market trends. Last week's plunge was certainly climactic and Monday's relief rebound impressive. Also, the recent relative strength shown by US financial indices is encouraging. However, the Dow, S&P 500, and Nasdaq need to undergo successful tests of last Friday's lows, followed by moves above yesterday's highs, to reaffirm scope for the yearend rallies that I expect.
"The Ted spread remains my greatest immediate concern. If this does not fall more quickly and significantly, it will be difficult for the recent stock market lows to hold, delaying scope for a yearend rebound."
Source: David Fuller, Fullermoney , October 15, 2008.
Bespoke: Historical bull and bear markets for the Dow
"In the past, we have just focused on bull and bear markets for the Dow since World War II because the US was still essentially an emerging market prior to then. However, since the current market is unlike anything seen since the early 1900s, we've taken the date range back further.
"Since the end of World War II, there have only been 13 bear markets and 12 bull markets using the standard 20% rally and decline measure. The average bull or bear since then has lasted 911 calendar days. From 1900 to 1946, there were 20 bulls and 20 bears. From 1929 to 1934 alone, there were 9 bears and 8 bulls, and the average bull or bear lasted just 105 calendar days.
"Since volatility is currently at levels not seen since the 1930s, are we in store for a market where 20% rallies and declines become commonplace again? It's definitely a possibility. With a gain of 11% yesterday, many are now even talking about a new bull market occurring in a matter of days. To hit the 20% gain threshold, the Dow needs to get back to 10,141.43, which is still a long way away from the Dow's current level of 9,300."
Source: Bespoke , October 14, 2008.
Bespoke: S&P 500's largest intraday hi/low spreads
"Of the twenty days since January 1987 that the S&P 500 had its highest intraday high/low range, seven of those have occurred over the last 12 trading days. The only other year that came even close to 2008 was 1987, which had six of the top twenty biggest range days."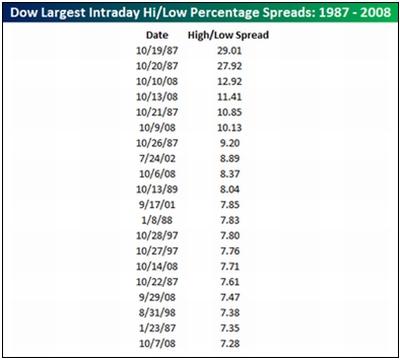 Soure: Bespoke , October 14, 2008.
Bespoke: US equity sector snapshot
"Below we highlight our trading range charts of the S&P 500 and two of its sectors. For each chart, the white line is the 50-day moving average, and the light blue shading represents one standard deviation above and below the 50-day moving average. The red and green shading represents between one and two standard deviations above and below the 50-day moving average, and anywhere outside of this range is considered extreme overbought and oversold territory.
"You don't have to look at the charts to know that we're in extreme oversold territory, but they do provide an astonishing picture of just how bad things got last week. For the S&P 500 to even get back to the bottom of the green area, it needs to rally more than 12%. To get back to its 50-day, it needs to rally 35%."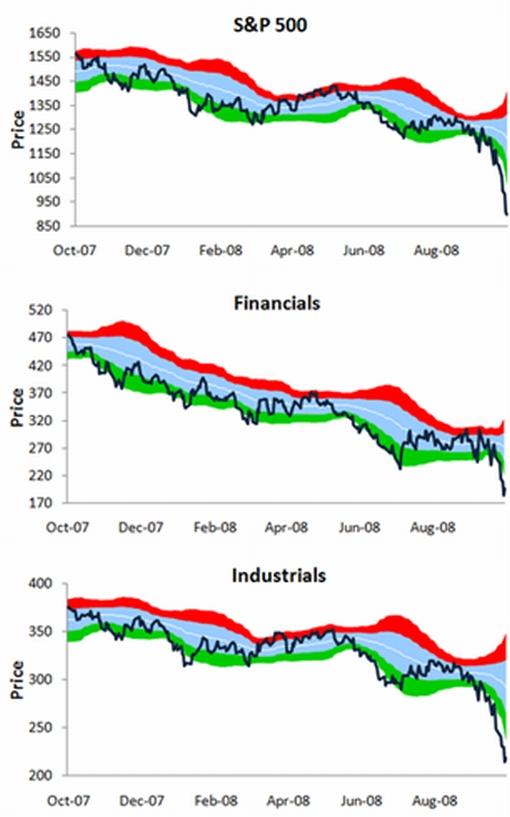 Source: Bespoke , October 13, 2008.
Casey's Charts: Money heaven
"The global financial crisis has turned its engine up full force over the last few weeks, leaving even the savviest investors scratching their heads. … despite such a massive destruction of wealth, there is hope, at least for those well positioned.
"The value-weighted S&P 500 index has dramatically shifted directions since August with over $3 trillion evaporating away. The financial services sector was hardest hit, suffering a $1.1 trillion loss, causing its share of the index to drop from 21.2% to 16.3%. But that 4.9% had to go somewhere. Where did it end up?
"Surprise, surprise – the energy sector, which in just over a year has climbed from a 9.3% index share to 14.2% today. Facing a worsening economic storm, the smart money has started ignoring the technicals and following the fundamentals – right into the energy industry that has arguably some of the most solid fundamentals of any sector."
Source: Casey's Charts , October 14, 2008.
Henny Sender (Financial Times): Hedge funds caught in vicious cycle
"The only way for hedge funds to break the cycle of forced selling may be to shut down entire funds, Henny Sender."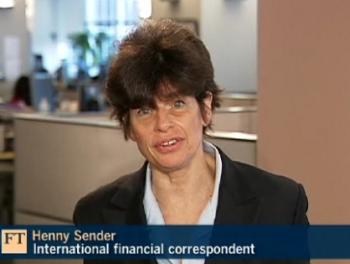 Click here for an article by John Authers.
Source: Henny Sender, Financial Times , October 17, 2008.
Eoin Treacy (Fullermoney): Commodities faced by supply destruction
"Fears that economies, globally, will slow more than forecast are having a detrimental effect on sentiment towards industrial commodities. A number of metals are down in excess of 50% and none of the 6 main industrial metals appear currently capable of sustaining more than a technical rally from current levels. It will take time for support to be rebuilt and speculative interest to return. Since this sector is suffering more than most due to recessionary fears, there is a possibility it will also be one of the better performers when those concerns ease.
"Global infrastructure development remains a powerful secular theme. Important projects have been stalled because of high commodity prices and more recently due to withdrawal of credit by financial institutions. However, now that commodity price inflation is unlikely to be a problem for the time being, the availability of credit is one of the key concerns for those interested in initiating major construction projects. The credit crisis continues to ravage investor confidence and only governments, sovereign wealth funds and a few cash rich investors currently have the ability to make significant investments in development projects. This will not always be the case. Demand for inward investment remains high.
"High commodity prices led to demand destruction but that is now giving way to supply destruction. This will gradually provide price supports for the sector. Once the credit crisis has been resolved, and I accept this will take time, the most credit worthy borrowers are likely to be in Asia and they should not have too much trouble raising the capital needed to help expand their economies."
Source: Eoin Treacy, Fullermoney , October 17, 2008.
Bespoke: Oil down 48% from highs
"With oil trading at $75/barrel, the commodity is down 48% from its highs just a few months ago. Remember all those people who said oil would never get back to double digits again? That prognostication didn't last long!
"The irony here is that oil is down more than the stock market, but you don't hear anyone complaining about evil oil short sellers or begging for drastic supply cuts to halt the slide in prices. It all depends on the asset class when it comes to free market intervention."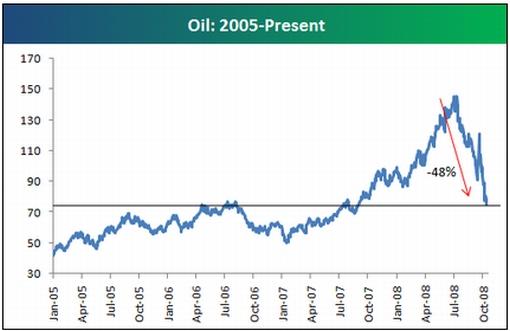 Source: Bespoke , October 15, 2008.
Financial Times: Opec brings forward crunch meeting
"Opec on Thursday brought forward to next week an emergency meeting to consider a cut in production after oil prices dropped to less than $70 a barrel for the first time in more than a year on worries about a global recession.
"The move coincided with fresh calls from those countries within the oil producing cartel that are heavily dependent on oil revenues for their budgets – most notably Iran, the organisation's perennial hawk – to cut output. Ecuador and Qatar also supported slashing production.
"Even Saudi Arabia, the cartel's most powerful member, which initially opposed the 500,000 barrel a day cut announced last month and is close to the US, appears to be in agreement that the group needs to reduce its production.
"Opec had said that it would need to pump about 31.3 million barrels a day in the first quarter of next year to balance the market, well below its current output of 32.2 million b/d, suggesting that the cartel sees a need to cut output by almost 1million b/d."
Source: Javier Blas and Carola Hoyos, Financial Times , October 16, 2008.
Bloomberg: Zurich bank's vault is "full to the top" with gold
"Zuercher Kantonalbank, the Swiss lender that manages about $107 billion, said its gold vault is full after a surge in demand from investors seeking a haven during the credit crunch.
"Assets in the Zurich-based bank's ZKB Gold ETF, backed by about 2.66 million ounces of the metal, have risen to a record for seven consecutive weeks. That amount of gold is worth about $2.25 billion at today's prices and equal to about 12 days of global production.
"'Demand is so strong,' Susanne Toren, a metals analyst at the bank, said by telephone from Zurich today. 'Our vaults are full right up to the top.'
"Investors are buying gold coins and bars, and exchange-traded funds backed by physical metal, after banks including Lehman Brothers collapsed. Assets in SPDR Gold Trust, the largest ETF backed by bullion, advanced to a record 770.64 tons (24.78 million ounces) on October 10.
"Zuercher Kantonalbank, which is owned by the Canton of Zurich, also manages funds for silver, platinum and palladium. Sibylle Umiker, a spokeswoman for the bank in Zurich, confirmed the vault is full and said the company is looking for more space in Switzerland.
"The amount of gold held by nine ETFs and two closed-ended funds monitored by London-based researcher GFMS Ltd. reached a record 1,128.7 tons on September 30, 25% more than at the end of last year."
Source: Rachel Graham, Bloomberg , October 15, 2008.
Richard Russell (Dow Theory Letters): The gold paradox
"Physical gold is being swept off the market, ironically paper gold (GLD) sets the price. In the face of world deflation gold is again testing its lows in the 740's. In the meantime, the US is attempting to bail itself out by printing money. How long our international creditors will put up with this is the question. The Achilles Heel of the US is the reserve status of the dollar. At this point, it's a question of whether the US will be allowed to print itself out of debt-hell.
"My view is that it's illogical and immoral to be able to create wealth out of thin air. Gold is our insurance against a day when Fed-created dollars are no longer accepted as money. I think it's significant that physical gold has now been taken off the market for all practical purposes. For those who can't take the pressure, you may have to sell a portion of your paper gold (GLD). Paper gold is easy access to insurance, physical gold is the ultimate insurance against the dollar."
Source: Richard Russell, Dow Theory Letters , October 17, 2008.
MarketWatch: Gold could hit $1,500, say Merrill analysts
"Gold prices could hit $1,500 as global plans to rescue the financial industry are set to increase inflation pressures, according to analysts led by Francisco Blanch at Merrill Lynch. 'The unintended consequence of the ongoing financial bailout will be a return of inflationary pressures to the commodity markets,' wrote the analysts in a note released Monday. The analysts didn't say when gold would hit the price target. They also predicted oil prices will rise to $150 a barrel."
Source: Moming Zhou, MarketWatch , October 14, 2008.
BBC News: Will China bail out the West?
"With nearly $2 trillion worth of foreign currency reserves, China is being touted by some as the potential saviour of the Western banking system.
"In order to bail out ailing financial firms, Western governments need money – and China seems a good place to get that much-needed cash.
"But Chinese economists say that while Beijing is ready to play its part in the rescue efforts, it will not be writing any blank cheques.
"Senior Chinese officials say they are more focused on their own, internal problems, such as avoiding a domestic economic slowdown.
"And any help offered by the Chinese government to solve the current financial crisis is likely to come with strings attached.
"'The Chinese government could offer to lend up to $500 billion to the US government for the rescue of its financial sector,' wrote Mr Subramanian, of the Peterson Institute for International Economics."
Source: Michael Bristow, BBC News , October 15, 2008.
Bloomberg: India Joins Brazil, Russia in injecting cash in banks
"India joined Brazil and Russia in injecting funds into commercial banks to tackle the global credit crunch without risking interest rate-cuts that may fan inflation.
"The Reserve Bank of India yesterday cut its cash reserve ratio to 6.5% from 7.5% to ease the worst cash crisis in the economy since 2000. Russia lowered its reserve requirement for the second time in a month, while Brazil reduced the measure October 13 for the fourth time in three weeks.
"Only China among the so-called BRIC economies has cut interest rates after the nation's inflation rate almost halved since April. Prices are still at elevated levels in India, Russia and Brazil, and the decline in their currencies this year may stoke inflation from higher import costs.
"'There are a number of countries that haven't cut rates and the common feature for all of them is that their domestic inflation numbers are still quite high,' said Subir Gokarn, Asia-Pacific chief economist at Standard & Poor's. 'That is really what is holding back the Reserve Bank of India.'"
Source: Cherian Thomas and Archana Chaudhary, Bloomberg , October 16, 2008.
Bloomberg: Putin may use credit squeeze to "destroy" oligarchs
"Vladimir Putin came to power in 2000 vowing to destroy Russia's oligarchs 'as a class'. Within two years, he'd driven two into exile and imprisoned another.
"Now, he may use the global markets meltdown to finish the job.
"The $50 billion that the prime minister and President Dmitry Medvedev have pledged to lend cash-strapped companies will extend state control over business leaders. Billionaires seeking bailouts – including Oleg Deripaska, Russia's richest man, and Mikhail Fridman – will have to give authorities veto power over their companies' financing decisions.
"'This will give the state more leverage over the country's biggest companies and main industries,' said Chris Weafer, chief strategist at UralSib Financial Corp in Moscow. 'In 2008, there is only one real oligarch: the state.'
"All this marks a reversal from a decade ago, when oligarchs bankrolled Boris Yeltsin's almost-insolvent government. As recently as April, Russia's 100 wealthiest citizens had a combined fortune equivalent to about a third of the economy, Forbes magazine estimated.
"The nation's 25 wealthiest businessmen have seen their worth shrink by $230 billion, or 62%, according to Bloomberg calculations. And Putin controls the strings on the biggest remaining purse – $531 billion in government reserves, which he is doling out through state-run Vnesheconombank, or VEB, where he presides as chairman of the supervisory board."
Source: Torrey Clark and Henry Meyer, Bloomberg , October 17, 2008.
Did you enjoy this post? If so, click here to subscribe to updates to Investment Postcards from Cape Town by e-mail.
By Dr Prieur du Plessis
Dr Prieur du Plessis is an investment professional with 25 years' experience in investment research and portfolio management.
More than 1200 of his articles on investment-related topics have been published in various regular newspaper, journal and Internet columns (including his blog, Investment Postcards from Cape Town : www.investmentpostcards.com ). He has also published a book, Financial Basics: Investment.
Prieur is chairman and principal shareholder of South African-based Plexus Asset Management , which he founded in 1995. The group conducts investment management, investment consulting, private equity and real estate activities in South Africa and other African countries.
Plexus is the South African partner of John Mauldin , Dallas-based author of the popular Thoughts from the Frontline newsletter, and also has an exclusive licensing agreement with California-based Research Affiliates for managing and distributing its enhanced Fundamental Index™ methodology in the Pan-African area.
Prieur is 53 years old and live with his wife, television producer and presenter Isabel Verwey, and two children in Cape Town , South Africa . His leisure activities include long-distance running, traveling, reading and motor-cycling.
Copyright © 2008 by Prieur du Plessis - All rights reserved.
Disclaimer: The above is a matter of opinion and is not intended as investment advice. Information and analysis above are derived from sources and utilizing methods believed reliable, but we cannot accept responsibility for any trading losses you may incur as a result of this analysis. Do your own due diligence.
© 2005-2019 http://www.MarketOracle.co.uk - The Market Oracle is a FREE Daily Financial Markets Analysis & Forecasting online publication.

Only logged in users are allowed to post comments.
Register/ Log in