AI Tech Stocks Buy Ratings, Levels and Valuations
Companies
/
AI
Apr 14, 2021 - 01:29 PM GMT

This is the final part of my most recent investing in AI tech stocks series focused on the remaining AI stocks on my list following the Top 5 in my last article. However the whole of this extensive analysis was first made available to Patrons who support my work:
AI Tech Stocks Buying Ratings, Levels and Valuations March 2021
AI Tech Stocks Buying Levels and Valuations 2021 Explained
Coronavirus Pandemic Vaccines Indicator Current State
Post Pandemic Summer 2021 Social Unrest ?
Get Ready for Inflation Mega-trend to Surge 2021
The AI Megatrend Big Picture
Human Brain vs High End Desktop PC in 2021
AI Stocks Investing 2021 - Top 14 Stocks Analysis
AI Stocks Portfolio Table 2021
Stocks Bear Market / Crash Indicator (CI18)
So for immediate first access to ALL of my analysis and trend forecasts then do consider becoming a Patron by supporting my work for just $3 per month. https://www.patreon.com/Nadeem_Walayat.
As well access to my latest analysis - How to Invest in High Risk Tech Stocks for 2021 and Beyond
Covid Current State
How to Get FREE Access to My Patreon Content for the Next 5 Years!
Dow Stock Market Dow Trend Forecast Current State
Stocks Bear Market / Crash Indicator (CI18)
AI Stocks Lead the Bull Charge
King Zuckerberg Tech Companies to Set up their own Governments!
Best AI ETF ?
INVESTING IN HIGH RISK TECH STOCKS
THE ONLY WAY TO GET THE BIG PAY OFFs
High Risk Tech Stocks Short List
TESLA DISCOUNTING THE FUTURE
4 More High Risk Tech Stocks
Who Wants to live Forever?
Firstly - How to Get FREE Access to My Patreon Content for the Next 5 Years!
The crypto mania is continuing to offer a short window of opportunity for likely only a few more months as Bitcoin continues to trade near well above $50,000 which means virtually anyone with a decent GPU in their desktop PC can make easy money crypto mining in the background, and here's how my desktop PC is actually earning a net $6.50 per day crypto mining in the background, which within 3 weeks earned $136 net of UK electricity costs that resolves to $200 per month, more than enough to cover 5 years of Patreon fees at $3 per month ($180)!
Check out my video if you want FREE money, and yes my eyes rolled when I wrote that, sounds too good to be true. Though I do cover the risks in the video such as that the Bitcoin price WILL CRASH, and mining profits are GPU dependant. Nevertheless crypto mining in the background with Nicehash is generating $6.5 profit per day for me, so do look into crypto mining with your desktop PC whilst it lasts (referral link).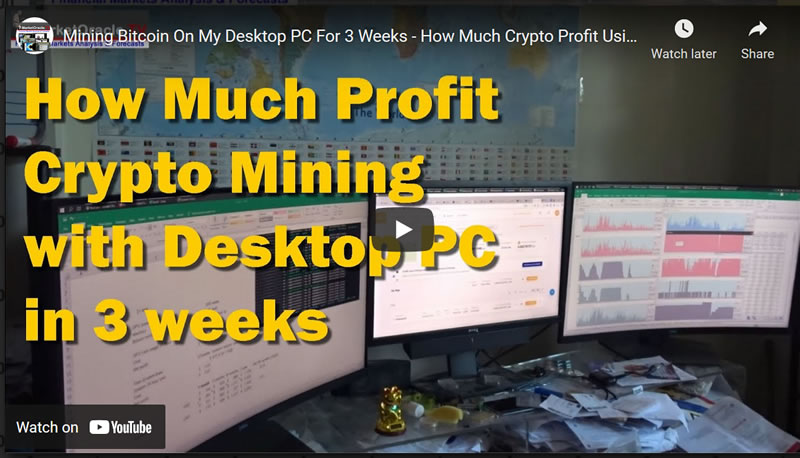 Video Contents:
00:20 Mining with NiceHash Intro
01:20 Limit GPU System Power Draw
02:58 3 Weeks Mining Earnings
03:38 Calculating Profitability
07:24 GPU settings for Mining in the background
08:46 Which GPU's are profitable
10:03 How long to crypto mine for
11:04 What to do with your bitcoin earnings
12.30 Spend Your Bitcoin when Price is High
13.30 Bitcoin Price Could CRASH
14:45 Mine whilst profitable to do so
16:33 What to do if Bitcoin Crashes
The bottom line is that the current free easy money crypto mining environment is time limited, how long will it persist for? Whilst I will do an analysis on the future prospects for the Bitcoin price in forthcoming piece. However, I don't see this crypto mania party extending much beyond say 3 or 4 months at best, so don't waste this opportunity as the likes of NiceHash make crypto mining with ones desktop PC a breeze. And if you do mine, don't hold onto your coins!
6. NVIDIA $548 - ARMED!
Where Nvidia is concerned there is good news and then there is GREAT news! The Good news is just as I stated when Nvidia launched their RTX 3000 series of GPU's in September 2020, is that it would allow Nvidia to literally PRINT MONEY, sell as many GPU cores as Nvidia can produce, which has been the case for the past 6 months since launch! YOU JUST CANNOT BUY AN RTX 3080! I should know as I am still waiting for the latest additional to my computer room to materialise, an RTX 3080 5950x 64gb system that hopefully should be making an appearance by Mid March after being bought and paid for early January.
As for the GREAT news, or should I say potential great news is Nvidia's $40 billion bid for ARM, which if successful would solidify Nvidia into being up rated to becoming PRIMARY AI STOCK! No longer a sidelines GPU player but PRIMARY, and likely soon to be trading on similar $1trillion+ market caps as the other primaries on my list.
But it is going to take time to overcome all the regulatory and national security road blocks on the way to ARM acquisition success, where we are so far 6 months down the path, and likely at least another year to go. I expect such uncertainty to continue to act as a damper on the prospects for Nvidia as the market reacts to M&A good and bad news events along the way and despite continuing GPU market success.
Nvidia's GPU boom is starting to feed through into corporate earnings that finally is seeing Nvidia's eye watering EC level towards a less volatile level falling from 173 to 107. That's a BIG drop and illustrates that Nvidia is literally printing money so it's definitely good to be holding a stock that can print money! My expectations were we could see Nvidia trading on an EC of 85 by late 2021, I now think Nvidia is going to get there much sooner which means much higher stock prices to come! So as I stated in November, Nvidia is going to make NEW ALL TIME highs during 2021 on a new wave of buying on the repricing of Nvidia and so Nvidia makes into becoming a Primary AI stock on my list. In terms of my Buy rating then Nvidia stands at 75%.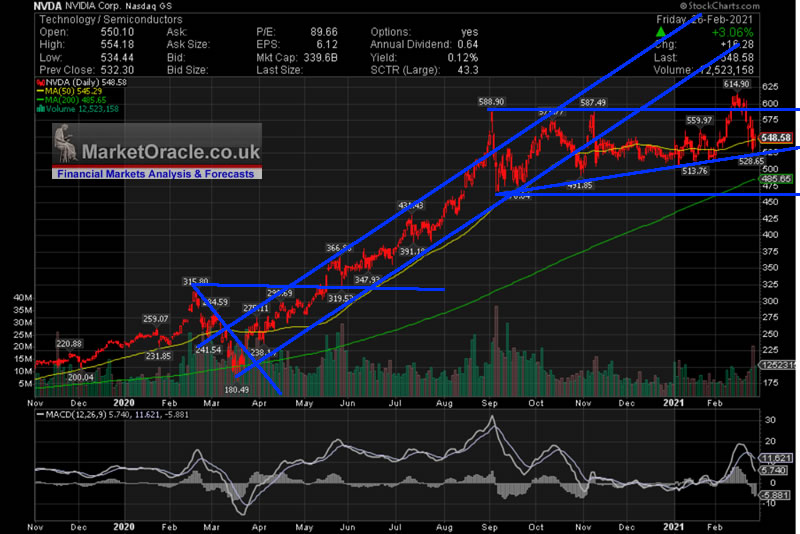 Nvidia continues to consolidate it's gains of 2020 as earnings play catchup .Nvidia will breakout to new highs until then it is an positively sloping trading range between $600 and $530, so not much downside against the current price of $548. At best Nvidia could briefly trade down to $515. Therefore the buying level for Nvidia is $530.
SECONDARY - 12%
1. AMD $84.5
AMD profiting from it's Zen 3 processors if not it's 6000 series GPU's due to lack of supply has meant that AMD's eye watering valuations have evaporated. Gone is Mid 2020's EC of 317, gone is Novembers 137, AMD not stands on an EC of just 56! Which means AMD IS CHEAP! Thus gets a buy rating of 100%.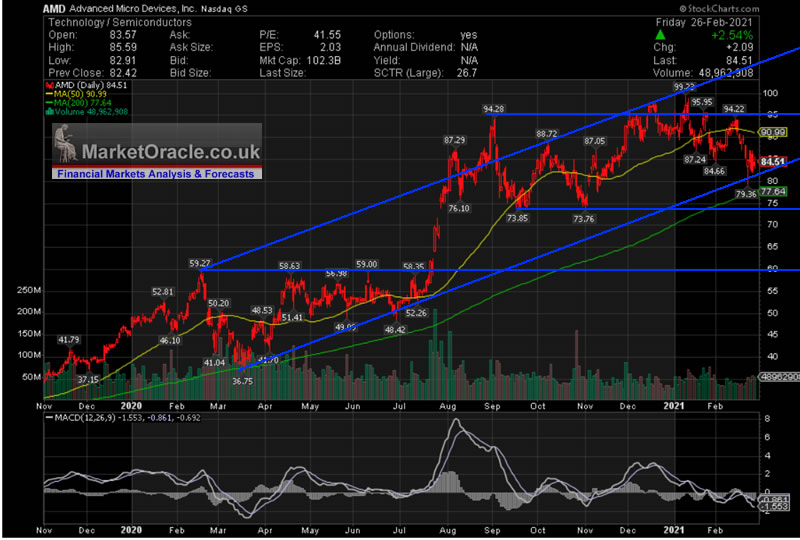 (Charts courtesy of stockcharts.com)
AMD is correcting which is good news given the fact that I consider the stock to be cheap in valuation terms. However with heavy support at $74, there is not much downside form the current price of $84. The current downtrend is pending reversal which could happen at any time. AMD's buying level remains at $78, though do take note that the Buy rating is 100%, so personally if I were looking to buy AMD stock then I would at least buy some at the current price with perhaps a limit order to buy more at $78.
2. SAMSUNG $1850
What do you expect a good stock to do during a pandemic? Increase earnings and so as been the case with Samsung, profits up 30% on the year! However the surge higher into January to $2060 was a little rich and despite the correction EC still remains elevated at 18, unless the market is re rating Samsung. is possible given the huge demand for chips right now. The buy rating for Samsung is 60%.
The samsung stock price is continuing to correct after surging to a January high of $2060. An achievable buying level is $1700.
3. Johnson & Johnson $158.5 - Vaccinate!
J&J vaccine has now been authorised by the FDA, though the stock price has hardly budged on the news, why? lack of production. On the plus side it only requires one shot rather than 2 as is the case with virtually all of the other vaccines. Also it can be stored in ordinary fridges so it should prove a popular product once it can be produced in high enough quantities. In technical terms the vaccine is similar to Astrazenica's and priced at $10 dollars per shot so relatively cheap.
J&J like it's vaccine remains relatively cheap on an EC of 20, though it could remain cheap for many more years before the breakthroughs we are betting on come through, still in the meantime J&J does pay a healthy 2.5% dividend. In terms of a buy rating I would put it at 60%.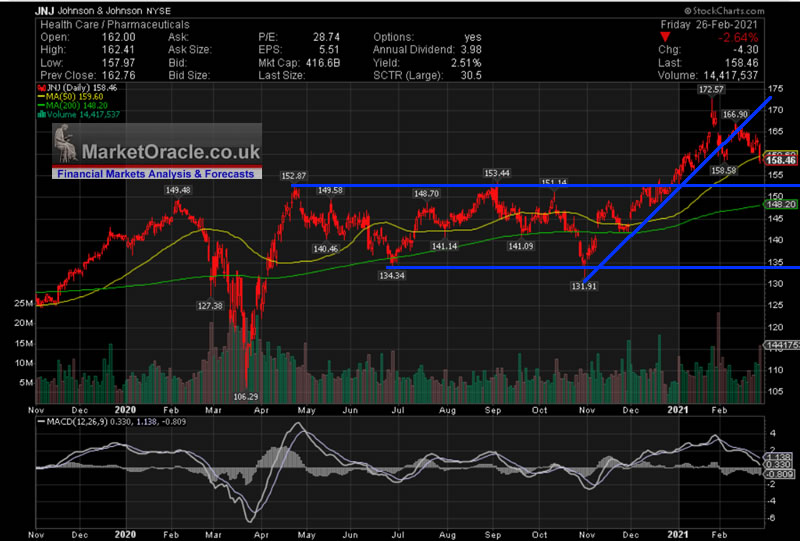 The break above $153, was a sign that JNJ is attempting to trend after have spent the whole of 2020 in a trading range. There is immediate support at $158 and then $153, so downside should be limited where the expected pattern is for JNJ uptrend to soon resume and target a break of the $172 high .Therefore the Buy level for JNJ is $158.
HIGH RISK - 8%
A new section for the portfolio incorporating what I deem to be high risk more volatile tech stocks that generally tend to be smaller caps and skewed towards AI derivative sectors such as Fin tech, Gaming and Gambling. The aim is to have 6 stocks in this section as more speculative holdings, but definitely NOT penny stocks.
1. TSMC
Starting the ball rolling with a recent addition to my stocks portfolio, the stock has soared which is not surprising nevertheless is high risk given that there's a war coming with China and Taiwan is one of the primary flash points. The degree to which TSMC can survive what's coming down the road depends on the degree to which TSMC can offshore it's chip manufacturing, especially to within the borders of the United States.
TSMC despite its fabs running flat out cannot meet demand, estimated demands is 30% greater than supply. Everyone even auto manufacturers are ramping up production in advance of the post pandemic boom, and again TSMC supplies critical chips for a number of automakers.
TSMC on an EC of 54 which is about 20% over valued, and thus the Buy rating is 55%, Even after the recent correction $126 is a bit rich, and I thought I was over paying for TSMC back in November at $98!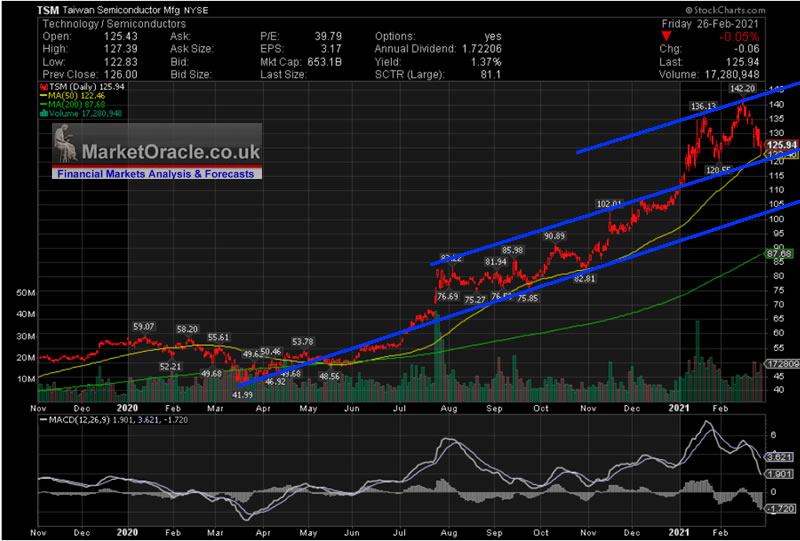 The chart shows support at $121, so downside is limited. TSMC is a in a strong bull trend which means the stock should soon resolve to the upside and trade to new highs and thus become even more over valued so it does not look like TSMC is going to allow people to invest at a fair price, so a case of if one wants exposure then one is going to have to pay top dollar. The Buying level is nearby support at $121.
2-6
Again this is a work in progress that I aim to complete as an additional "High Risk Tech Stocks" article during March. Where I am in the process of whittling down my short list of stocks that currently stands at 17. Nevertheless in advance of my next article in this series here is my short list of high risk tech stocks from which I aim to select 4 or 5 stocks.

Adyen N.V. (ADYEY)
Afterpay Limited (AFTPY)
CrowdStrike Holdings, Inc. (CRWD)
CuriosityStream Inc. (CURI)
DraftKings Inc. (DKNG)
DocuSign, Inc. (DOCU)
Green Dot Corporation (GDOT)
MercadoLibre, Inc. (MELI)
Opendoor Technologies Inc. (OPEN)
Pinterest, Inc. (PINS)
QuantumScape Corporation (QS)
Sea Limited (SE)
Shopify Inc. (SHOP)
Square, Inc. (SQ)
StoneCo Ltd. (STNE)
Tesla, Inc. (TSLA)
Unity Software Inc. (U)

SLEEPERS - 10%
Stocks in the dog house. See Portfolio table for Buy ratings and Buying Levels.
1. IBM $118
2. Intel $61
Intel has finally ditched their awful CEO Bob Swan and hopefully is now on the right track in terms of innovating. EC now stands at 7, which illustrates Intel was dirt cheap when trading on an EC of -1. Of the sleepers Intel is definitely the better buy of the lot and thus has a buy rating of 75%.
3. Roche $41.1
4. GSK $33.6
AI Stocks Portfolio Table 2021 (March)
The bottom line is that unlike what some clearly inexperienced prominent tech commentators out there are stating this is NOT A Tech BUBBLE! Stocks are trading higher due to real sales and earnings growth and innovation that the market is discounting. The developments that are taking place in the tech world are REAL and thus the current valuations are sustainable for most of the tech giants on my AI list as we firmly remain on on upwards trend trajectory curtest of the exponential AI mega-trend.
And here are the updated buying levels, buy ratings and EC valuations leading the way in terms of which stocks represent the best value for accumulating into during March.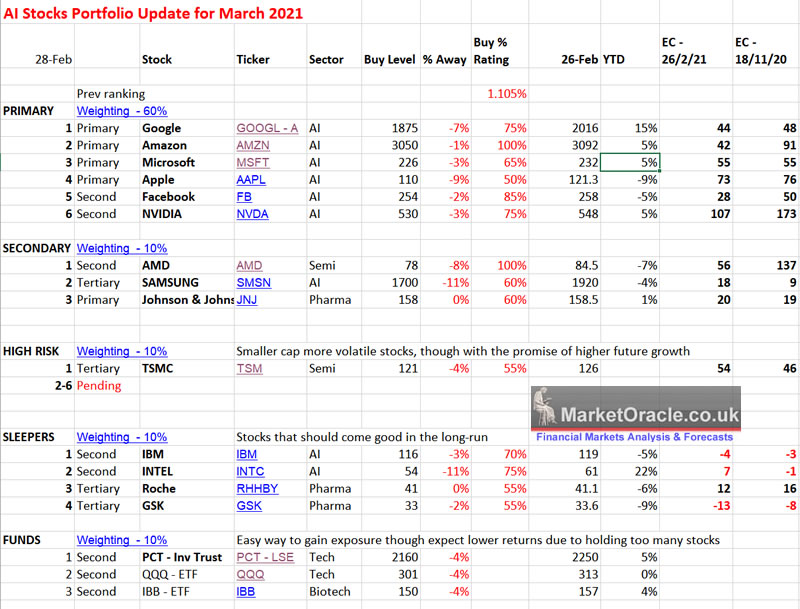 So what will I be doing during March?
I consider Amazon and AMD cheap right now so I will be buying some more of these two stocks. Next should be Facebook, but I'm not sure I want to buy more right now, maybe if it took a panic tumble to $210.
Next on my target buy list would be Google and Nvidia.
I want to buy more TSMC, but it's over valued.
As for the sleepers, I am tempted to buy some more Intel because it looks like Intel finally might be getting their act together which I am sure the market will eventually discount by pricing Intel a lot higher than it's recent trading range.
Stocks Bear Market / Crash Indicator (CI18)
Current Risk Remains VERY LOW: 15%
The Crash Indicator is one of the neural nets I am working on as my AI takes baby steps into understanding how to interpret the stock market. It's task is to state the current risk of a bear market or crash being imminent i.e. within the next couple of weeks or so. So an independant technical indicator that acts as a warning to HEDGE stock portfolios ahead of a high probability drops in the market. Where my preferred hedging tool is to go short stock index futures so as to capitalise on any drop without selling any stock holdings, and delivering fresh funds to buy more AI stocks at deep discounts just as I did during March 2020. The last time this indicator triggered a warning was late February 2020, so it is NOT a trading indicator but instead advance warning that a correction could turn into something worse so my stocks portfolio needs to be hedged.
Again my latest analysis is - How to Invest in High Risk Tech Stocks for 2021 and Beyond
Covid Current State
How to Get FREE Access to My Patreon Content for the Next 5 Years!
Dow Stock Market Dow Trend Forecast Current State
Stocks Bear Market / Crash Indicator (CI18)
AI Stocks Lead the Bull Charge
King Zuckerberg Tech Companies to Set up their own Governments!
Best AI ETF ?
INVESTING IN HIGH RISK TECH STOCKS
THE ONLY WAY TO GET THE BIG PAY OFFs
High Risk Tech Stocks Short List
TESLA DISCOUNTING THE FUTURE
4 More High Risk Tech Stocks
Who Wants to live Forever?
So do consider becoming a Patron by supporting my work for just $3 per month. https://www.patreon.com/Nadeem_Walayat. Including access to my recent analysis -
NEW Annual Patreon Memberships!
Get 1 month FREE (8% discount)
Minimum 30 Posts over 12 months (Jan-Dec)
Save on transaction fees
My analysis schedule includes:
UK house prices trend forecast
Bitcoin price trend forecast
How to Get Rich!
US Dollar and British Pound analysis
Your analyst profiting form the crypto mania bubble whilst it lasts.
By Nadeem Walayat
Copyright © 2005-2021 Marketoracle.co.uk (Market Oracle Ltd). All rights reserved.
Nadeem Walayat has over 30 years experience of trading derivatives, portfolio management and analysing the financial markets, including one of few who both anticipated and Beat the 1987 Crash. Nadeem's forward looking analysis focuses on UK inflation, economy, interest rates and housing market. He is the author of five ebook's in the The Inflation Mega-Trend and Stocks Stealth Bull Market series that can be downloaded for Free.

Nadeem is the Editor of The Market Oracle, a FREE Daily Financial Markets Analysis & Forecasting online publication that presents in-depth analysis from over 1000 experienced analysts on a range of views of the probable direction of the financial markets, thus enabling our readers to arrive at an informed opinion on future market direction. http://www.marketoracle.co.uk
Disclaimer: The above is a matter of opinion provided for general information purposes only and is not intended as investment advice. Information and analysis above are derived from sources and utilising methods believed to be reliable, but we cannot accept responsibility for any trading losses you may incur as a result of this analysis. Individuals should consult with their personal financial advisors before engaging in any trading activities.
© 2005-2022 http://www.MarketOracle.co.uk - The Market Oracle is a FREE Daily Financial Markets Analysis & Forecasting online publication.

Only logged in users are allowed to post comments.
Register/ Log in