Four Small Cap Bio-Tech 10X Potential Stocks for 2021 and Beyond
Companies
/
Bitcoin
Jul 05, 2021 - 02:56 PM GMT

This analysis is part 3 of 3 from my recent extensive analysis that concludes in my latest biotech stock picks with the potential to X10 over the coming years Five More Small Cap Bio and Tech Stocks to Invest for 2021 and Beyond! that was first been made available to Patrons who support my work.
Topics Include:
Invest and Forget
Stock Market Early Summer Correction Review
AI Stocks Strength vs Weakness
RAMPANT MONEY PRINTING INFLATION BIG PICTURE!
HIGH RISK STOCK BUYING LEVELS
RISK RATINGS
WESTERN DIGITAL - WDC $71 - CHIA! - Risk 1
Life Sciences Biotech Smaller Cap High Risk Stocks Investing Binge
Biotech stock 1 - Cheap Low Risk Pharma - Risk 1
Biotech stock 2 - HIGH RISK GENE EDITING - Risk 9
Biotech stock 3 - Low Risk 2
Biotech stock 4 - X10 for Max Risk 10
High Risk Stocks Portfolio Buying Levels
Covid India Black Mold Epidemic
Bitcoin and Raven Coin Buying Levels
So for immediate first access to ALL of my analysis and trend forecasts then do consider becoming a Patron by supporting my work for just $3 per month. https://www.patreon.com/Nadeem_Walayat.
DISCLAIMER - Investing in small cap stocks is VERY HIGH RISK. The analysis in this article is a matter of opinion provided for general information purposes only and is not intended as investment advice. Information and analysis derived from sources and utilising methods believed to be reliable, but I cannot accept responsibility for any trading or investing losses that may be incurred as a result of this analysis. Individuals should consult with their personal financial advisors before engaging in any investing or trading activities.
RISK RATINGS
I am also adding a risk rating to the high risk stocks where 1 is lowest risk and 10 highest risk in terms of something going wrong and the stock effectively crashing into becoming a penny stock or even going bust within the next 5 years. This is based on the sum of all my analysis of each stock and given my risk averse nature then most of the stocks will have a low probability of actually going bust within the next 5 years. Still this rating will give an extra measure of risk vs reward when entertaining potential position sizes.
Life Sciences Biotech Smaller Cap High Risk Stocks Investing Binge
Why has my focus shifted to biotech stocks and not more tech stocks?
Firstly, I have been investing in biotech stocks for DECADES, it's just that since 2015 my focus shifted to the emerging AI mega-trend to make sure I was invested to capitalise on a trend that was clear to me would span DECADES, at the time I thought I was probably getting in late on the AI Mega-trend but clearly that is always the case! WE ALWAYS THINK we're late to the party but this trend is going to run right into the end of the 2030's
This also explains why I hold the likes of GSK and JNJ amongst a string of smaller cap biotech stocks many of which have been disappearing from my portfolio over the years usually due to being taken over as it looks likely to be the case for GW Pharma later this year. So I need to replenish this once much loved and now neglected stock sector with a string of new smaller cap high risk stocks for the next 5 to 10 years.
Secondly, our beloved AI stocks have been BID UP to high valuations, yes including Google, so they are not CHEAP, even after a 10% to 15% correction i.e. the likes of Microsoft and Amazon are discounting a lot of future earnings growth! Of course that does not necessarily mean that they are about to fall to what I would consider to be fair value let lone cheap levels as they did during March 2020 because at the end of the day they are GOOD stocks so usually command a healthy premium to invest in.
However, during the course of this exercise I am repeatedly finding that the biotech stocks are tending to be greatly unloved! Especially when one compares them to the barmy valuations that many of the smaller cap tech stocks that populate the likes of ARK INVEST have been lifted to such as TESLA and SQAURE and most of the rest.
So this does appear to be an opportune time to go on the hunt for smaller cap higher risk biotech stocks.
ABBVIE - ABBV $116 - Cheap Low Risk Pharma - Risk 1
This pharma was only founded in 2013 as a spin off from Abbott Labs and is based in North Chicago, the stock has already grown to a market cap of $206 billion. The play here as is the case with most of the biotech's is to capitalise on FDA approval of drugs and treatments under development. The fundamentals are one of strong revenue and earnings growth with Q1 sales jumping by 51% and earnings up 22%. The company trades on a very low PE of 9.1 and pays a HUGE dividend of 4.5%, so definitely not much of a high risk stock. I expect the stock will soon migrate it's way upwards in my stocks portfolio to join the likes of JNJ. Why is the stock so cheap trading only on a PE of 9? We'll the market is discounting the loss of patents over the next couple of years on it's primary earners such as Humira that accounts for about 1/3rd of the companies revenues. Though the company has a huge number of drugs in the pipeline any one of which could be as big an earner as Humira. The company has strong cash flow of $17 billion, plenty of coverage to continue to pay it's annual dividend and scope to acquire smaller biotech corporations as well as cover interest payments on it's $78 billion of debt.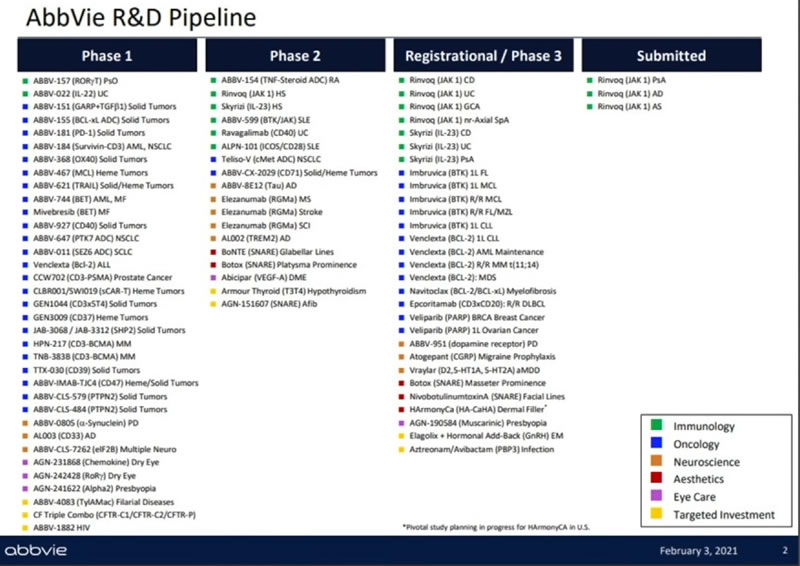 The stock charts long-term performance to date is hardly exciting, only recently surpassing it's previous high of $105, however which will now act as strong support. So downside looks very limited which means this breakout to new highs could see the stock accelerate much higher over the coming year. Therefore the 1st Buying level is $ 110 and then $104, as downside looks very limited in technical terms, unless a general market slump delivers us a deeper buying opportunity.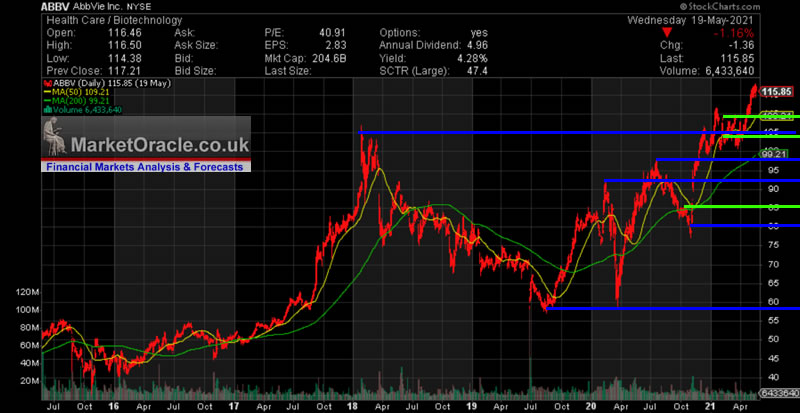 (Charts courtesy of stockcharts.com)
So Abbvie is definitely an example of the Pharma sector being unloved and hence a good safe stock that is selling very cheaply. Despite the trend to date, I would not be surprised if the stock doubled in price a year from now. So what I am wondering is do I buy the stock right now are risk waiting for just a 5% drop to $110 as the current general stock market correction so far has not had any negative effect on this stock which is a sign of relative strength i.e. one buys strength and sells weakness.
CRISPR - CRSP $110 - HIGH RISK GENE EDITING - Risk 9
There is no point me conducting analysis on high risk stocks if all of the stock picks turn out to be relatively low risk compared to most of the stocks out there. So here is a real HIGH RISK small cap all or nothing stock! Crispr! A stock that could go ballistic or go to zero with little middle ground, that is CRSP. I am sure many of you will have already heard of CRISPR gene editing, for better or worse it's already here! In fact one can setup ones own gene editing lab for less than $10,000! I am not going to dive off into the deep end to cover the various gene editing therapies that the company is developing. But it is a stock I have had my eye on for some time where the recent collapse in price finally offers an opportunity to gain some exposure to, though it is very high risk given that the company is basically burning through cash at the rate of about $300 million a year, which means it's going to keep diluting shareholder funds for quite a while until it's therapeutics come good.
There are other gene editing stock plays out there such as Editas Medicine and Intellia Therapeutics which has been showing relative strength to Crisper and maybe I will take a look at separately whilst Editas is in even worse shape than Crispr when it comes to crunching the numbers. probably the best thing that Crispr has going for it is that it's market cap is only $8.4 billion, so it would not take much buying on only a little bit of good news to send this stock soaring.
Well the stock price says is all of what one can expect when investing in true high risk stocks, when the market is all hyped up about a sector or stock then all those that even offer a glimmer of what's possible soar into the stratosphere as Crispr did into early 2021 flying high as a kite to $220, which I am pretty sure had Cathy Wood's stock pumping handiwork behind it, of course then reality sets in and the stock gave up all of it's gains. In technical terms there is strong support at $74 along previous highs that should act as a floor whilst the nearby resistance level is at $136.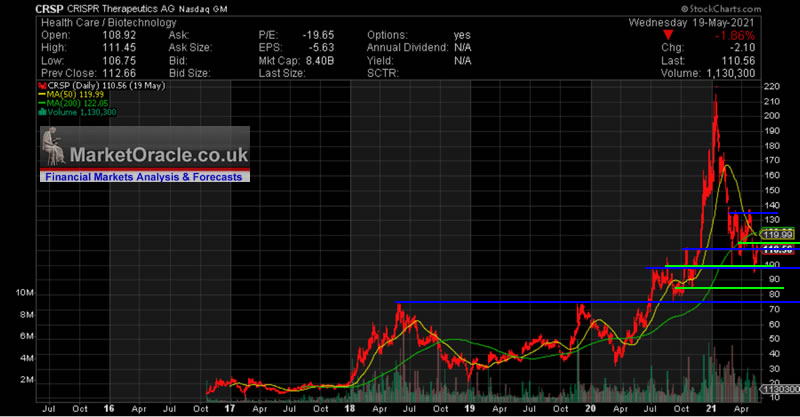 In terms of buying levels, I would say we are right at a buying level of $112, then next at $102. After all the stock has already HALVED from it's high which makes right now an opportune time to invest for the long-run. I am definitely buying some Crispr right now for the long-run, but I understand it could go as low as $74 for the fundamental fact that it is a long way from turning a profit, but by then it will be too late to invest as the run up to $220 illustrates. If investors are willing to bid the stock up to $220 on just vague hopes of what could be then imagine where the stock could be trading to if and when it actually starts to turn a profit!
So Crisper is a HIGH risk stock with the capacity to X10 and MORE! BUT that carries the risk that it COULD collapse to $74 or even lower to $30, hence has a risk rating of 8.
Neurocrine Biosciences - NBIX $92 - Low Risk 2
This biotech stock is focused on treating neurological and endocrine disorders and has been around since 1992, so has stood the test of time, trades on a market cap of $8.8bn and a PE of 22 so the stock at least makes a profit. The company shows consistent revenue growth though profits are erratic, estimated earnings growth for the next 3 years is 30%. The company has good debt to equity ratio of just 26.7%. So for a small cap high risk stock the company looks rock solid!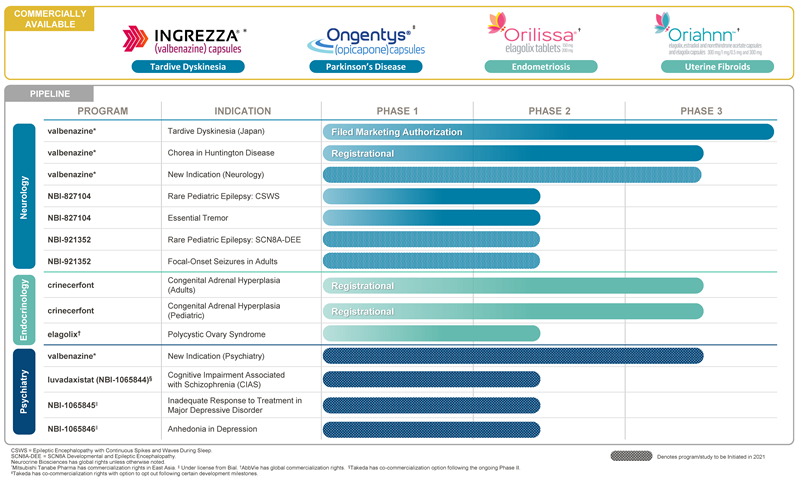 The stocks in a strong trading range of $135 to $70 pending a breakout HIGHER. Current price puts the stock right near support so AT a buying level right now primed for another run at the high! This price pattern is not what one would expect to see in a high risk stock which is a function of the fact that the pharma sector is unloved! So what do you think is going to happen to the stock price when the sector becomes loved with stocks such as this flying as high as the tech sector is right now to trade on 100X+ earnings! That's X5 NBIX's current price without any increase in earnings! For the biotech stocks have just as much future potential as the tech sector has! As for buying levels I would say right now at $92 is a buying level, then not too distant is $84, and then a more distant $74.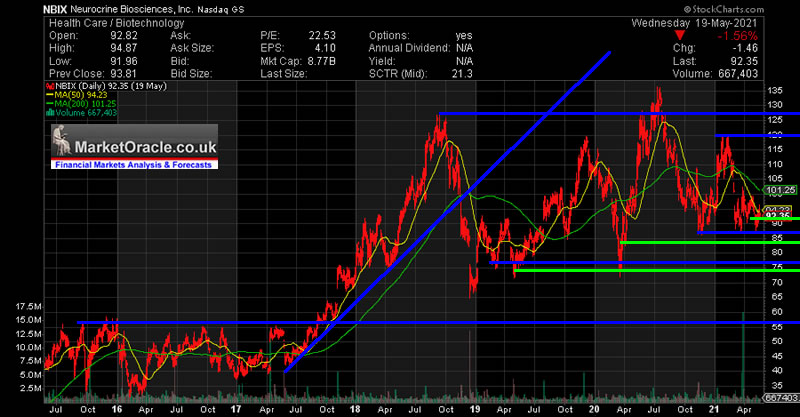 The bottom line is NBIX has been around for decades so has a good track record, and is fairly priced right now and is trading AT a buying level. So I am a buyer of NBIX! as it definitely has the potential to X10 with little downside risk to $70 at the worst against $92. I don't think the stock is going to stick around current levels for long.
Atea Pharmaceuticals - AVIR $22 - X10 for Max Risk 10
Have I saved the best till last? Atea Pharmaceuticals focused on discovering, developing and commercialising ANTIVIRAL therapeutics for patients suffering VIRAL infections, so one would think the stock has soared into the stratosphere, yes it had but not right now for 2 reasons. 1. Pharma sector is unloved, 2. It's a too small a cap stock for the big funds, i.e. $2 billion is too small for most of the fund managers out there. For instance the likes of Buffets Berkshire can only really focus on investing in mega-corps given the size of their fund. Which means we could be looking at one of those perfect 10X stocks! But first the fundamentals, trades on a racy PE of 37, but it is a small cap stock, PEG ratio is just 0.4! That is more than just good that is a pricing mismatch. Forecast ROE is a healthy 25% over the next 3 years and from what I can tell the company has NO DEBT! I hope they are not fiddling the books! Just to be sure there's no funny business going on I checked to see if insiders are selling stock, NO, in fact over the past few months insiders have bought $20 million of stock! Looking further into its stock activity reveals a company called FMR LLC quietly building a up a stake that has bought up 13% of the company over the past 12 months, FMR better known as Fidelity Management and Research. Clearly FMR have spotted this hidden gem and have been busy trying to buy as much stock as they can without sending the stock price soaring.
Looking at the stock price chart and the only thing that comes to mind is what he hell happened here? Looks like a bloodbath went from $30 to $95 and now down to $22!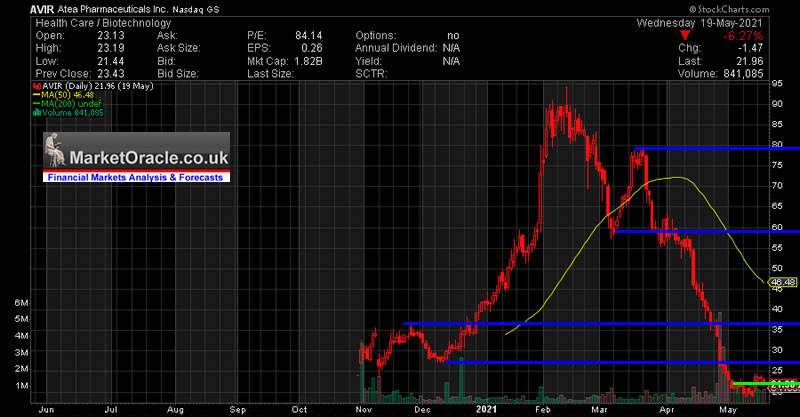 So the stock charts a blood bath, but the fundamentals look good, and there's no point in generating buying levels for this stock chart because there is literally empty space below i.e. the stock is now trading lower than it's IPO of $24,. So the Buying level is where it is already trading $22. It's worth a punt as unless there is some funny business going on with the company accounts, It's worth a stake so I will definitely be buying some Atea stock. Though given it's price chart it is going to have to be classed as a VERY HIGH RISK stock i.e. I can tell it is going to be volatile as hell! Gyrating all over the place towards new highs. Anyway I am going to buy a small stake and see what happens as given it's current price of $22 it could easily X10 but then again half again to $10, that is the risk vs reward of high risk stocks for when a stock is an obvious good buy then it is too late because the price will already be trading at $200. Anyway, we will find out in due course. I'll be buying Atea to 22, all or nothing, invest and forget for X10, worth the risk vs the reward i.e. risk 100% for a possible 1000%+, but the price chart won't be pretty to watch!
High Risk Stocks Portfolio Buying Levels
Here is my new high risk stocks table which was necessary to separate from my main AI stocks table as I will be adding at least 10 more smaller cap higher risk stocks to this list over the next few weeks as I complete my high risk stocks analysis binge at the rate of screening 6 stocks an hour.

Covid India Black Mold Epidemic
The Indian strain is fast becoming dominant in the UK which has the government implementing plans for a third booster dose later this year. Meanwhile India is seeing a new emerging nightmare consequence of covid-19 - black mold disease, an opportunist fungal disease which is related to high blood sugar levels i.e. diabetes which is at epidemic levels in India that now the black mold disease is capitalising upon due to immune system impaired covid-19 infections. Black Mold KILLs tissue and if untreated has a fatality rate of 94%! Far in excess of covid-19! Though it can be treated in the early stages with anti-fungal's but if left unchecked would require expensive specialist treatment i.e. surgical intervention to remove the dead tissue.
Hospitals in India are reporting a surge in patients infected with black mold disease across 29 states, for instance 1 large state hospital (Maharaji Yehswantrao) is reporting 185 cases during the weekend alone when the hospital was used to experiencing 2 cases per year and has become more challenging than Covid-19 in terms of hospital resources. This illustrates the broader danger of covid in that it can allow opportunist killers to gain a foothold on a population where the healthcare system has been brought to a state of collapse.
Meanwhile India continues to under report the true extent of the pandemic with actual deaths likely 5 times official numbers, so around 15 deaths per million people per day as does likely most of Africa to an even greater extent. The pandemic also continues to worsen in most of the South American nations.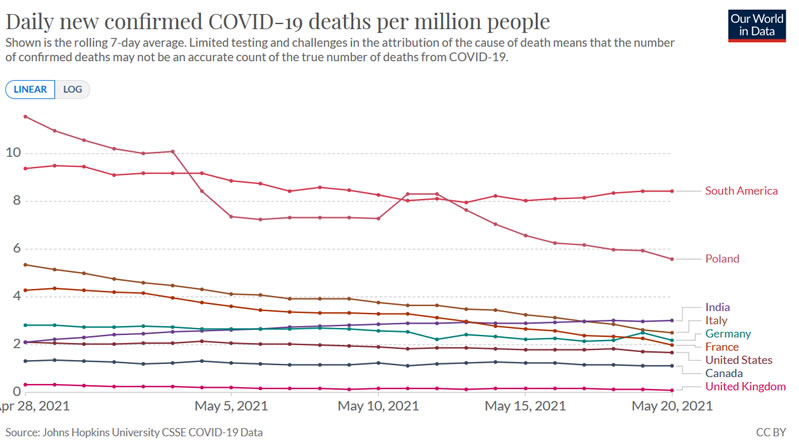 So covid looks like becoming a permanent income stream for pharma's, both in terms of vaccines and treatments such as anti fungal's for the emerging consequences such as Black Mold disease.
The whole of this extensive analysis that concluded in my latest biotech stocks with the potential to X10 over the coming years Five More Small Cap Bio and Tech Stocks to Invest for 2021 and Beyond! was first been made available to Patrons who support my work.
With my most recent analysis converting a full spectrum analysis of the crypto markets -
Bitcoin Bear Market Trend Forecast 2021 and Model Crypto Portfolio Buying Levels
Investing in the Tulip Crypto Mania
Bitcoin Price Trend Forecast Review
Lessons Learned
Cathy Crypto Wood's View on Bitcoin
BITCOIN HALVINGS TREND TRAJECTORY
Stock to Flow Infinity and Beyond!
Bitcoin, Crypto's and the Inflation Mega-trend
Black Swan 1 - Will Crypto's Get Banned?
Black Swan 2 - GOOGLE
Black Swan 3 - USDT Tether Un-Stable Coin Ponzi Schemes!
BLACK SWAN 4 - Bitcoin 51% Network Attack by China?
Black Swan 5 - Bitcoin is Already Obsolete
US Trending Towards Hyperinflation
BITCOIN TREND ANALYSIS
Bitcoin Bear markets analysis - How low could she blow?
Bitcoin Trend Forecast
Bitcoin Long-term probable Next bull market price target
Alternative Scenarios
My Crypto Bear Market Investing Strategy
Crypto 1 - Ethereum (ETH) $2600
Crypto 2 - Bitcoin $40,375
Crypto 3 - Ravencoin $0.078
Crypto 4 - Cardano $1.59
Crypto 5 - Pokadot $25
Crypto 6 - ChainLink $26
Crypto's 7 to 10
Creating The Perfect Crypto
How to Invest in Crypto Without Getting SCAMMED

CHIA SCAM COIN
Binance vs Coinbase
Have ARK Invest Funds Bottomed?
Of which this video gives a taste of -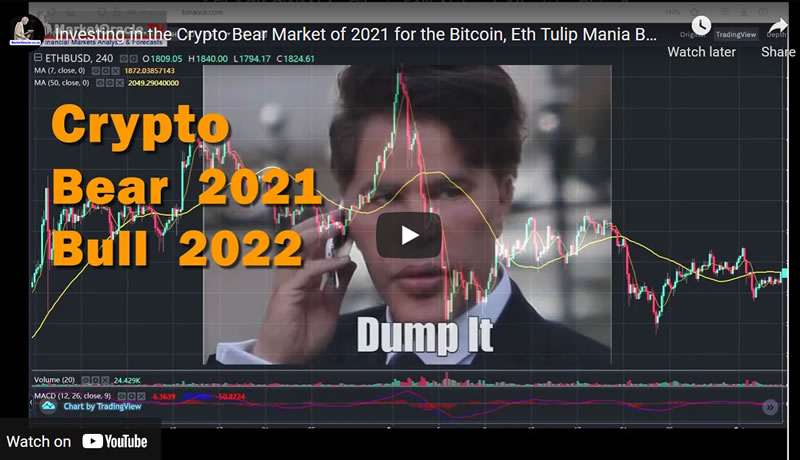 For crypto trading and investing see Binance for 10% discount on trading fees - Discount Code LZ728VLZ
For managing your crypto's see Coinbase
For GPU mining check out Nicehash (affiliate links).
So for immediate first access to ALL of my analysis and trend forecasts then do consider becoming a Patron by supporting my work for just $3 per month. https://www.patreon.com/Nadeem_Walayat.
Whilst my next to be published analysis covers the risks of Financial Crisis 2.0
You Don't Know How Big of a Bubble Your in Until AFTER it BURSTS
Stock Market Summer Correction
REPO Market Brewing Financial Crisis Black Swan Danger
Margin Debt Bubble
Michael "Big Short" Burry CRASH and HYPERINFLATION WARNING!
Michael Burry's Track Record
Michael Burry's Portfolio
Investing During Uncertainty
HEDGING AI Stocks Portfolio
Crypto Portfolio Brief
Bitcoin Bull / Bear Indicator
Market Oracle AI Coin Thoughts
My analysis schedule includes:
More X10 Biotech Tech Stocks - 50% done
UK House Prices Trend Analysis - 10% done
How to Get Rich! - 70% done
US Dollar and British Pound analysis
Gold and SIlver Price Analysis
Again for immediate access to all my work do consider becoming a Patron by supporting my work for just $3 per month. https://www.patreon.com/Nadeem_Walayat.\
Your biotech stocks investing analyst.
Nadeem Walayat
Copyright © 2005-2021 Marketoracle.co.uk (Market Oracle Ltd). All rights reserved.
Nadeem Walayat has over 30 years experience of trading derivatives, portfolio management and analysing the financial markets, including one of few who both anticipated and Beat the 1987 Crash. Nadeem's forward looking analysis focuses on UK inflation, economy, interest rates and housing market. He is the author of five ebook's in the The Inflation Mega-Trend and Stocks Stealth Bull Market series that can be downloaded for Free.

Nadeem is the Editor of The Market Oracle, a FREE Daily Financial Markets Analysis & Forecasting online publication that presents in-depth analysis from over 1000 experienced analysts on a range of views of the probable direction of the financial markets, thus enabling our readers to arrive at an informed opinion on future market direction. http://www.marketoracle.co.uk
Disclaimer: The above is a matter of opinion provided for general information purposes only and is not intended as investment advice. Information and analysis above are derived from sources and utilising methods believed to be reliable, but we cannot accept responsibility for any trading losses you may incur as a result of this analysis. Individuals should consult with their personal financial advisors before engaging in any trading activities.
© 2005-2022 http://www.MarketOracle.co.uk - The Market Oracle is a FREE Daily Financial Markets Analysis & Forecasting online publication.

Only logged in users are allowed to post comments.
Register/ Log in