Global Economic Recession, Country by Country
Economics
/
Recession 2008 - 2010
Nov 05, 2008 - 02:45 PM GMT


There was an interesting post on the Big Picture Blog last week by guest writer Michael Panzner. The post is called A World of Faltering Growth . Here is the key chart.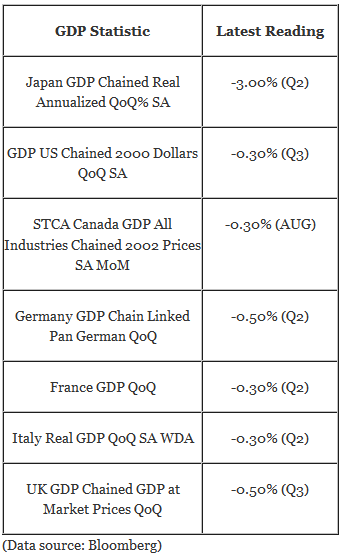 I want to move past that with a closer look at the world's largest economies by GDP . Here is a partial listing.

15 Largest Countries by GDP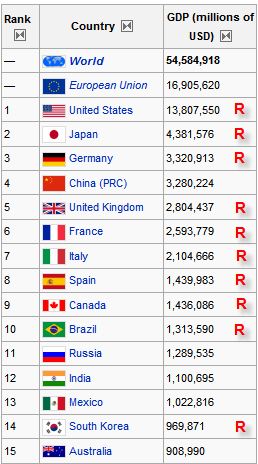 Nine out of 10 of the world's largest economies are contracting. China is the lone exception, but even in China manufacturing is contracting. Please see Tail Wags Dog Theory Blows Up for more on China.

South Korea, the world's 14th largest economy is contracting and Mexico and Australia, 13th and 15th respectively, will soon follow suit although both are in denial at the moment.

How so many people thought that China could decouple from the US and lead world growth higher remains somewhat of a mystery except to note that irrational exuberance always marks the top.

Global Manufacturing PMI At Record Low In October

Inquiring minds are taking a look at the JPMorgan Global Manufacturing PMI Report .
The world manufacturing sector suffered its sharpest contraction in survey history during October, as the ongoing retrenchment of global demand and further deepening of the credit market crisis negatively impacted on the trends in output, new orders and employment. The JPMorgan Global Manufacturing PMI posted 41.0, its lowest reading since data were first compiled in January 1998 and a level below the no-change mark of 50.0 for the fifth month in a row.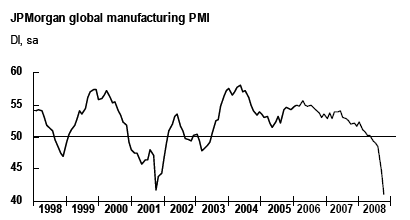 Output, total new orders and new export orders all contracted at the fastest rates in the survey history in October. With the exception of India, which again bucked the global trend, all of the national manufacturing surveys posted declines in output and new orders.

The turnaround in the performance of the US manufacturing sector has been especially marked in recent months and, in October, production and new orders fell to the greatest extents since mid-1980 when the US economy was in the midst of a deep recession. The downturn in the Eurozone gathered pace in October, with production and new work contracting at the fastest rates in the survey history. Within the euro area, the majority of the national manufacturing sectors posted series record losses for output and new orders, including the big-four economies. Output fell at survey record rates in China and Brazil, and at near-series records in Japan and the UK.

At 48.1 in October, the Global Manufacturing Input Prices Index signaled a decline in average purchase prices for the first time since August 2003. The drop in input costs was mainly focused on the US and China, both of which have seen cost inflationary pressures retreat sharply from highs in mid-2008. Rates of increase in raw material prices eased sharply in the Eurozone, the UK and India. There are some other interesting charts and tables in the article and one fact jumps out at me: The US% share of global GDP is 30.5%, the Eurozone 18.7%, and China is 4.9%. Somehow that 4.9% tail was supposed to wag the dog.

No Engines Of Growth

Nouriel Roubini is writing about the Rising Risk of a Hard Landing in China .
For the last few years the global economy has been running on two engines, the U.S. on the consumption side and China on the production side, both lifting the entire global economy. For the last few months the first engine of global growth has effectively shut down as the latest batch of macro news from the U.S. are worse than awful: collapsing consumption and consumer confidence, plunging housing, collapsing auto sales, plunging durable goods spending (while supply side indicators such as production, ISM and employment are also free falling).

There are now increasing signs that the other main engine of the global economy – China - is also stalling. Let us consider now in detail the evidence that China may be on its way to a hard landing…
As always, Roubini writes an excellent column that is well worth a look.

Evidence of a global recession is now rapidly piling up from multiple sources. And the conclusion is now inescapable: The race to Global ZIRP And The "Impossible Global Contraction" is now underway.
By Mike "Mish" Shedlock
http://globaleconomicanalysis.blogspot.com
Click Here To Scroll Thru My Recent Post List
Mike Shedlock / Mish is a registered investment advisor representative for SitkaPacific Capital Management . Sitka Pacific is an asset management firm whose goal is strong performance and low volatility, regardless of market direction.

Visit Sitka Pacific's Account Management Page to learn more about wealth management and capital preservation strategies of Sitka Pacific.
I do weekly podcasts every Thursday on HoweStreet and a brief 7 minute segment on Saturday on CKNW AM 980 in Vancouver.

When not writing about stocks or the economy I spends a great deal of time on photography and in the garden. I have over 80 magazine and book cover credits. Some of my Wisconsin and gardening images can be seen at MichaelShedlock.com .
© 2008 Mike Shedlock, All Rights Reserved
© 2005-2019 http://www.MarketOracle.co.uk - The Market Oracle is a FREE Daily Financial Markets Analysis & Forecasting online publication.
Comments
Leanna Gomeeza
28 Mar 09, 01:25
RECESSION IN THE WORLD


Hello, I would like to find out something.....where is the recession in the world at the moment? It has past through many countries but I don't know when it will hit our country,UAE! Maybe it already has but I am not sure...plz plz help me with the anwering of the question.

It will be much aprecciated!



mohd mazbah
03 Apr 09, 23:54
presentation


iwant,global economic recession and its impact on international trade and commerce;on presentation.



Uchiha Itachi
03 Aug 09, 19:33
THE CRISIS


You capitalist pigs brought this upon yourselves, now do you see the error in your democratic ways. Convert to Communism now and be saved from your greeds oppression.




Only logged in users are allowed to post comments.
Register/ Log in