The Global Financial System is Coming to an End
Economics
/
Financial Crash
Nov 21, 2008 - 01:47 PM GMT

I don't have to tell you how awful things are. People all over the world are frightened. Many are panicking. Most are confused and don't know where to turn for guidance or help with their money and their future. Since January 1, 2008, stockholders of U.S. corporations have suffered about $8 trillion in losses, as their holdings declined in value from $20 trillion to $12 trillion. Homeowners will soon see their equity down by as much as $8 trillion, and those losses are likely to increase.


The currency markets have been in turmoil as the carry trades unwind viciously and in a most terrifying manner. Hedge funds ( that turned out to not even understand the meaning of the word "hedging") are going out of business and liquidating like there is no tomorrow. They cannot survive with returns they have—some in excess of minus 50%. That's a very huge ouch.
The media continues to feed us with hope that things will get better. How comforting that the price of oil has gone down and we now have a silent tax savings. Yippee. That is small consolation for those people who are losing their jobs. The unemployment numbers from last week were ugly. October showed a loss of 240,000 jobs. To add insult to injury, the negative revision to August and September increased these losses by an additional 179,000. The economy has lost 1.2 million jobs since December, with over half of those losses in the last 3 months. While two-thirds of the losses are in manufacturing and goods production, the service economy is also starting to show signs of strain.
At least two trillion dollars have disappeared from the IRAs and savings accounts of millions of hard-working Americans. People are fearful because they now know that they can no longer trust their elected officials to protect them from harm. It's one thing to spend trillions fighting a war in Iraq to keep the "homeland" safe. It's quite another when people have to make a decision between eating and buying needed prescription medications. Old people are eating cat food because they do not have enough money to eat and buy their medications.
Meanwhile, the gangster bankers are being paraded before Congress, exposing their greed and arrogance. How about that Dick Fuld? What a performance --and can you see the greed slithering all over him like a greased pig? They will get a slap on the hand and their 15 minutes of public humiliation before they slither back to their desert islands and palatial estates. Why should they be held accountable for running their companies into the ground and losing billions for their shareholders and employees while they lined their pockets and walked away with hundreds of millions in Golden Parachutes?
Stephen Colbert called Jim Cramer "a prophet" for saying that the Fed knew nothing when everyone said he was nutso. People are now telling Nick Russo and me that we are brilliant for warning them about The Big Rollover, beginning in 2005 when no one wanted to listen and they told us we were even more nutso than Cramer ( and that, my friends, is a whole lotta' nutso!)
Europe is in complete turmoil, and the fate of the euro hangs in the balance. Milton Friedman said that the euro would not survive the first recession and it is possible that he is about to be proven right.
Pakistan is going bankrupt. Iceland, once a safe haven for all things banking, is now closed for business. Icesave's owner, Landsbanki, was nationalized and put in receivership.
The capital of Iceland is Zero. Inflation in Iceland is now close to 16% and rising.

Furious British customers were told they faced battling through two different compensation schemes to get their money back. Between the 300,000 of them, they have 5 billion British pounds in Icesave.
European banks are at risk of losing $75 BILLION on the Iceland default.
Ask yourself how you would feel if you logged into your online bank account and saw this message?
We are not currently processing any deposits or any withdrawal requests through our Icesave internet accounts. We apologize for any inconvenience this may cause our customers. We hope to provide you with more information shortly.
We have reason to believe that Argentina, Pakistan, Hungary, Romania and Belarus are in trouble. The Federal Reserve is being sued by Bloomberg News under the Freedom of Information Act. The Federal Reserve, aka, The Creature From Jekyll Island (thank you G. Edward Griffin for your fabulous book!) is refusing to identify the recipients of almost $2 TRILLION dollars of emergency loans that they picked from the pockets of the American taxpayer. The Federal Reserve is also refusing to identify the nature of the "troubled assets" they are accepting as collateral.
So much for transparency.
Meanwhile, the financial capital of the world has moved from New York to Washington, D.C. We have a new governmental structure. Yes, we have a new imperial structure with Emperor Henry at the helm. It's that same Emperor Henry that took his $700 million when he left Goldman Sachs, and is now dumping this $820 BILLION package of debt into the laps of each of us---the American taxpayer. We also bow down to Emperor Henry for appointing a 35 year old clone of his from Goldman Sachs to manage our money. And- by the way, Emperor Henry will be leaving soon, taking his and some of our money with him. Asked who would be a good replacement for King Henry, our two major candidates suggested Warren Buffett or Meg Whitman. How's that for a choice between the lesser of two evils?
In any case, the foxes are now guarding the chicken coop, and we are the chickens. Do you think for one minute that we will ever see one cent of that money returned to us?
As we predicted publically in early 2007—Obama has been elected. This was been predetermined by history and chronicled in brilliant detail in The Fourth Turning by Strauss and Howe. Now, the die is cast and we have elected to the highest office in the U.S. an individual that will try to clean up the major mess we are in. Rather than Commander in Chief, he will be forced to assume the role of Janitor in Chief. We are facing a depression that will rival that of the Great Depression of the 1920's and may more closely resemble the Greater Depression of 1873.
There are going to be stock market rallies within this bear market, and that will be the time for those still holding and hoping to get out before the bear really begins to claw in 2009.
Before this secular Bear Market is over, we are going to new lows in all indices, more than 3500 banks will close, unemployment will surge, there will be violence in the streets and people will kill you to get what you have. Every one of the 17 macro factors detailed in The Big Rollover is converging and coming to fruition. Sorry—but this is what we see in the future. Could we be wrong? Of course. No one has a crystal ball that can see beyond the hard right edge of the charts. No one can tell the future with complete accuracy. All we have are our many years of research and the fact that everyone has now begun to see, hear and feel the power of The Big Rollover.
This is what we are giving to our children and their children. This is why we need to apologize to them, and apologize profusely because they will be paying for our mistakes for the rest of their lives. I have enormous compassion for these young people who will be the victims of the privatization of profits and the socialization of losses. Just as we have allowed our elected officials to loot us, we have looted our children and their children.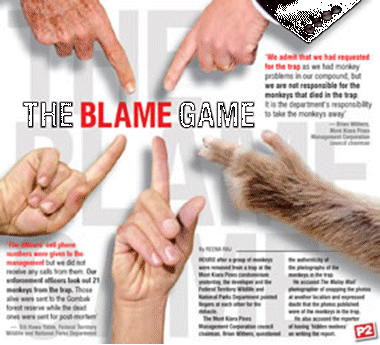 Meanwhile, there is plenty of blame to go around. . Trying to sort this out in a blame game would put our country into more debt than the Kilimanjaro of debt in which we already find ourselves!
There is more than enough blame to go around, and the blaming and whining has only begun!
So, let me make this simple for you. If you want to blame someone, here is my second choice:
Kakistocracy. That's right. Pure, unfettered, unprincipled and undisciplined KAKISTOCRACY: government by the least qualified or most unprincipled citizens.
If you want to see the U.S. government in all of its oxymoronic glory, observe that Representative Barney Frank--- one of the men responsible for the current economic debacle-- will head the investigation into what caused the debacle.
Speaking on the bailout, Frank had the unmitigated gall to say "We were the EMTs rushing to the rescue of an economy that suddenly found itself choking, but now we have to perform more serious reform."
Please Wake Up America. Frank and his cronies were choking the American people and –at the same time—picked our pockets and handed our money to everyone but us.
When will guys like this finally go to prison? When? Likely never. They are the root of Kakistocracy.
My first choice for someone to blame is me. That's right. I blame myself for not getting the message of The Big Rollover ( http://snipurl.com/68l1y ) to more people when I saw it in 2005, for not selling The Big Rollover "hard" enough. I am responsible for everything I did not do to help others. OK. It might seem that I am being really hard on myself, but I am. I feel strongly that I did everything I could without spending tens of thousands of dollars for advertising. But it was not enough. At the Big Rollover Inner Circle teleconference on September 23, there were only 83 people. We left room for 200, and only 83 chose to join. I failed to get this message to hundreds of thousands of people that really needed it. I am deeply sorry and I apologize to everyone for this. That is my part in this, and that is what I am responsible for. What is your part in this?
Lest you think that this is written by a crazed depressive who things that the world is going to hell in a hand basket never to return, I am not and do not.
With all of this doom and gloom, there is enormous hope. Addictions, if not stopped, end in only three ways: jails, institutions or death. We are now about to take off the beer goggles, get off the drugs, and deal with the consequences of years of reckless spending and self-indulgence. This is going to be a long and painful process of cleansing and detoxification. It won't feel good, and you will—at times—fight against it and long for the high of your addiction. Those who get sober and stay sober will find that life as we know it today has changed forever.
People will awaken to a higher level of purpose and meaning. They will find a new freedom and a new happiness. Values of integrity and honesty will be respected. Trust will return as we strip away the excesses and stand in the light of authenticity of our true selves. It will be a happier, more serene and simple way of being. In the end, after all the sound and fury, the gnashing of teeth and the depths of despair and hardship, those who survive will find that they have—at long last--- come home again.
Until Next Time,
Good Trading and Brain On!
By Dr. Janice Dorn, MD, PhD
Prescriptions for Profits
www.thetradingdoctor.com
Signup for your risk-free subscription to the Trading Doctor Newsletter. If you are not completely satisfied that our newsletter is for you just let us know, via email, within 7 days of your subscription date and we'll immediatly refund your money.
© Copyright 2006-08 -- Janice Dorn, M.D., Ph.D. -- Ocean Ivory LLC
Dr. Janice Dorn is a graduate of the Albert Einstein College of Medicine, where she received her Ph.D. in Neuroanatomy. She did her postdoctoral work in Neurophysiology at the New York Medical College. She received her M.D. from La Universidad Autonoma de Ciudad Juarez, did one year of clinical clerkships in Phoenix, Arizona. and then completed a Neurology Internship at The University of New Mexico in Albuquerque. For the past twelve years, Dr. Dorn has focused her attention on trading, mentoring and commentary in the financial markets, with emphasis on Behavioral NeuroFinance, Mass NeuroPsychology, Trading NeuroPsychology, Futurism and Life Extension. A graduate of Coach University, she is a full time futures trader and trading coach. Dr. Dorn is the author of over 300 publications, relating to Trading and Investing Neurouropsychology, Market Mass Neuropsychology, Behavioral Neurofinance, and Holistic Wellness and Longevity.
© 2005-2019 http://www.MarketOracle.co.uk - The Market Oracle is a FREE Daily Financial Markets Analysis & Forecasting online publication.

Only logged in users are allowed to post comments.
Register/ Log in