Emerging Stock Markets, China up 22%! Brazil up 24%! What to do ...
Stock-Markets
/
Emerging Markets
Apr 21, 2007 - 12:34 PM GMT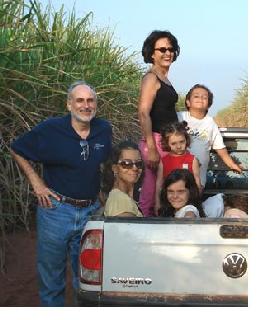 No matter where I am in the world — even while driving our farm's little pick-up in the sugar cane fields of Brazil — I'm always connecting the dots —
To the rising price of sugar …
To the surging demand for cane-based ethanol …
To China's voracious appetite for energy …
To the dramatic growth in China's economy, and …
To the very nice profits average U.S. investors can make in both Brazil and China!
Just last week, for example, the Chinese government shocked the world, announcing 11.1% yearly growth in its GDP in the first quarter. And just in the last six weeks, Brazil's stock market is up 24%, while China's is up 22%.
This is Not Exactly a New Infatuation for Me!
I've been in love with Brazil since I first lived there in 1952 … and deeply interested in China since I first started learning Chinese in 1968.
But in my letters to investors, I didn't used to talk about it as much as I would have wanted to — for the simple reason that investing in Brazil was very difficult; investing in China, out of the question.
Even for more accessible countries, you had to open a foreign brokerage account. You had to pay big commissions. And you had to assume a substantial currency risk.
No more!
Now China has opened up and reinvented itself.
Now, the currency risk is reversed, and you actually get a currency advantage! Indeed, it's the dollar that's falling — not just against the traditionally strong currencies like the euro, the Swiss franc and the yen, but, most remarkably, also against the Brazilian real and the Chinese yuan!
So it's investors who keep all their money in U.S. dollars that are taking the bigger risks, in my view. Meanwhile, investors who diversify globally get an extra kicker in their dollar profits, thanks to the rising foreign currencies.
Now, with exchange traded funds, you can effectively buy Brazil or China online with a very small investment and a tiny broker commission. Or, you can do it with a simple phone call to your regular broker.
Not only does that reduce your risk (because of broader, global diversification) … it also gives you the potential for much greater profits.
Last year, for example, for every $10,000 you could have made in the S&P 500, you could have made over $24,000 in Brazil's major index and over $96,000 in China's. And this year, both of those markets are rising at an even faster clip!
But if you missed that opportunity, I wouldn't let that bother you. We have every reason to believe we're still in the early stages of this long-term global change. And we are taking a couple of steps to make it as easy for you as possible:
First, we are watching for a window of opportunity to jump into the Brazil and China booms within the next week or so.
Second, we have a new trading service dedicated to international ETFs like these.
And third, for the first time in the history of my company, I am offering skittish investors the opportunity to try it out for just $275, and even that's 100% refundable if you're not delighted with the results.
IMF and UN Support Our View
Not long ago, we were among the very few recommending China. Today, even the International Monetary Fund (IMF) and the United Nations (UN) are now pointing out China's spectacular economic growth.
In its recently released report on global growth, the IMF acknowledges China's economic "resilience" … its "brisk" economy … and "continued strong growth."
The UN goes a step further, calling China "a locomotive for worldwide growth" and even ups its growth forecast for all of Asia because of China.
This is a massive, broad-based, megatrend, and it's not slowing down. It's actually gaining momentum.
The Only Question: Exactly What to Buy, When, in Which Countries
We both know there's no such thing as a bullet-proof stock market or a risk-free investment. Losses are always possible.
That's why I feel it's absolutely imperative to have a strategy designed to help move you into the right markets when they're moving higher — and to alert you when it's time to take a profit or cut a loss.
That's why my team and I spent years searching for a fund trading strategy with a documented, long-term record of helping investors buy and sell at the best time.
And we've found it: Our new International ETF Trader is based on the trading strategy and signals that already thumped the S&P index by MORE THAN SIX TO ONE SINCE 1990!
The World's Easiest Way to Aim for Potential Large International Profits from the Comfort of Your Home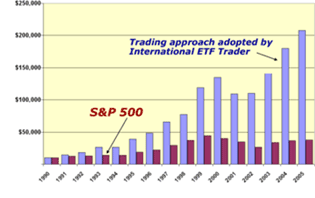 We apply the same principles — a strategy using "buy" and "sell" signals that are so accurate, they prompted the widely respected Hulbert Financial Digest to award top ratings EVERY YEAR since 1993.
Moreover, you can get started with as little as $5,000 in investment capital — and harness the world's most profitable stock markets … without futures … without opening a foreign stock account … without leverage of any kind … and without even having to open any special brokerage accounts.
Unlimited Profit Potential In the World's Most Wildly Profitable Stock Markets For the Price of a Cup of Coffee!
When you join International ETF Trader …
First , you'll get our latest recommendation as soon as it pops off our computers. We'll tell you exactly what it is … how to buy it … what to pay … and precisely what instructions to give your broker … online or on the phone.
Second , you will get your copy of the International ETF Trader Manual , GLOBAL ETFs, GLOBAL PROFITS , packed with virtually everything you'd ever want to know about profitable investing in global exchange traded funds:
You'll discover …
Why using ordinary mutual funds to invest overseas could be a costly mistake — and how exchange traded funds can help you grow richer quicker, with the likelihood of less risk than you're exposed to now …
How International ETF Trader scours the world to spot the hottest stock markets and the exchange traded funds best positioned to help you profit …
How International ETF Trader is designed to cut your risk by helping you take your profits when the time is right — and cut your losses short by moving you out in the trickiest of times …
A comprehensive description of the International ETF Trader signals you'll be receiving — and step-by-step instructions on what to do with each one …
An introduction to the 104 international ETFs we'll be using to help grow your wealth …
The IRS-qualified strategy that allows your profits to compound without the drag of taxes, thereby helping your wealth multiply even faster …
How to make sure you reap 100% of International ETF Trader's profit potential in just a few minutes per week …
And much, much more!
Then, just watch your e-mail inbox or fax machine for your first International ETF Trader trades, and simple step-by-step instructions!
Third, act on our recommendations! Every signal you receive — whether by e-mail or fax — will tell you in plain English …
Why the trade is being recommended, and …
What to say to your broker — word for word — when making the trade.
When you receive your International ETF Trader signals, just read them to your broker. Or, if you prefer, follow the easy instructions online.
All I ask is that you execute these and all other trades as soon as possible after receiving them.
Join for Just $275. And Get on Board NOW to Prepare for Our Next Recommendation!
Our trading services normally sell for as much as $5,000 per year, or $1,250 per quarter.
But now — to make sure you do NOT miss out on this exciting profit opportunity — I've arranged for you to experience International ETF Trader — and harness all the enhanced profit potential and reduced risk it offers you — for a fraction of that rate!
For only $275 (just $3.01 per day), we will rush you a FREE copy of GLOBAL ETFs, GLOBAL PROFITS — our comprehensive guide to trading international ETFs — and …
You'll receive three full months of International ETF Trader — plenty of time to go for substantial gains in China, Brazil, and other surging foreign markets.
Just click the link below to join now. Then, use International ETF Trader to make all the money you want for three full months — and if you're less than thrilled with the profits you earn, just let me know: I'll promptly refund every penny you paid for the membership!
Otherwise, just continue enjoying your profits and we'll automatically bill your credit card $275 per quarter until you tell us to stop.
Consider the benefits …
Just $275 for trading signals that have beaten the S&P 500 six to one since 1990 …
Applied to foreign stock markets that are soaring as much as 144% per year …
You must be thrilled with the profits you make, or just cancel within 90 days for a full refund of your entire membership fee!
And no matter what, your free copy of GLOBAL ETFs, GLOBAL PROFITS is yours to keep completely without cost or obligation!
Want an even better deal? Join now for a full year at our deeply-discounted Charter Member rate of just $995 per year. That's under $2.73 per day — less than the price of a single gallon of premium gasoline!
Or better yet, join for a two-year Charter Membership for just $1,795 and your cost goes all the way down to just $2.46 per day!
Warning: Brazil and China Are Not Going to Wait Around for You
Since we launched International ETF Trader just two months ago, China's stock markets have surged as much as 22% and Brazil is up even more!
Now, with the latest economic news — China's GDP growth blowing away virtually all previous records — we have every reason to believe China's stock market is headed higher … while China's growth continues to boost major countries that feed it, like Brazil.
But these two dynamic markets are not going to wait around for you. So if you want to be part of the profit machine that's coming from foreign stock markets, especially China's, now is the time to come on board our International ETF Trader — before the next recommendation goes out!
Grab one of the Charter Memberships by calling TOLL FREE 1-800-735-6260 (Overseas: 561-627-3300) or by clicking the link below.
BEST VALUE: Guaranteed Two-Year Charter Membership :
$1,795 (just $2.46 per day) !
GREAT VALUE: Guaranteed One-Year Charter Membership :
$995 (just $2.73 per day)!
SMALLEST INVESTMENT: Quarterly Recurring Membership:
ONLY $275 (just $3.01 per day)
Good luck and God bless!
Martin
By Martin Weiss
This investment news is brought to you by Money and Markets. Money and Markets is a free daily investment newsletter from Martin D. Weiss and Weiss Research analysts offering the latest investing news and financial insights for the stock market, including tips and advice on investing in gold, energy and oil. Dr. Weiss is a leader in the fields of investing, interest rates, financial safety and economic forecasting. To view archives or subscribe, visit http://www.MoneyandMarkets.com
© 2005-2019 http://www.MarketOracle.co.uk - The Market Oracle is a FREE Daily Financial Markets Analysis & Forecasting online publication.

Only logged in users are allowed to post comments.
Register/ Log in