The Cycle of Economic Deflation During 2009
Economics
/
Deflation
Jan 11, 2009 - 02:44 PM GMT

Bloomberg: Nouriel Roubini - worst is still ahead of US
"The global financial system in 2008 experienced its worst crisis since the Great Depression of the 1930s. Major financial institutions went bust. Others were bought up on the cheap or survived only after major bailouts. Global stock markets fell by more than 50% from their 2007 peaks. Interest-rate spreads spiked. A severe liquidity and credit crunch appeared. Many emerging-market economies on the verge of a crisis had to ask for help from the International Monetary Fund.


"So what lies ahead in 2009? Is the worst behind us or ahead of us?
"Unfortunately, the worst is ahead of us. The entire global economy will contract in a severe and protracted U-shaped global recession that started a year ago. The US will certainly experience its worst recession in decades, a deep and protracted contraction lasting at least through the end of 2009. Even in 2010 the economic recovery may be so weak - 1% growth or so - that it will feel terrible even if the recession is technically over.
"There also will be recessions in the euro zone, the UK, continental Europe, Canada, Japan and the other advanced economies.
"A hard landing for emerging-market economies may also be at hand. Among the so-called BRICs, Russia will be in an outright recession in 2009. Growth in China will slow to 5% or less, representing a hard landing for a country that needs expansion of close to 10% to move 10 million to 15 million poor rural farmers into the urban industrial sector every year. Brazil will barely grow in 2009. Even India will experience a sharp slowdown."
Click here for the full article.
Source: Nouriel Roubini, Bloomberg , January 1, 2009.
E.S. Browning (The Wall Street Journal): Rebound Wrinkle - recession
"Since the Great Depression, only two recessions have run longer than this one, the first ending in 1975 and the other in 1982. Each lasted 16 months, according to the National Bureau of Economic Research, the government-designated recession tracker.
"The current recession, beginning in December 2007, has run 13 months and could easily surpass those two. If it goes past March, as many economists expect, it will become the longest-running since the 43-month beast that ended in 1933."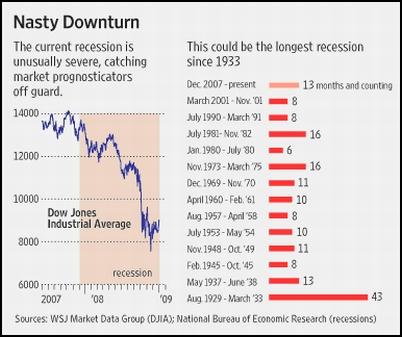 Source: E.S. Browning, The Wall Street Journal , January 5, 2009.
BCA Research: FOMC Minutes - Fed's balance sheet to balloon further
"The Minutes from the mid-December FOMC meeting confirmed that policymakers are very concerned about the possibility of a prolonged economic slump and a sustained bout of deflation.
"With the fed funds rate virtually zero, the Minutes highlighted that the policy focus would shift to unconventional tools. The first such tool is communication strategy. This includes signalling that the policy rate would stay 'exceptionally low for some time', in order to keep longer-term borrowing rates low.
"The Fed also would reinforce its commitment to keep inflation from falling below 'desired levels' on a sustained basis, in order to avoid an unwelcome rise in real rates of interest if expectations for deflation mushroom (as occurred in Japan).
"The second major unconventional tool is quantitative easing, in which the Fed's balance sheet and excess bank reserves would grow as needed while purchasing large amounts of assets (including Agencies and Agency-backed MBS).
"Although not mentioned in the Minutes, the Fed's next move could be to purchase high-quality corporate bonds if yields on these instruments do not fall in the near term. Bottom line: Investors should expect falling private sector bond yields and a long period of zero short-term rates."
Source: BCA Research , January 8, 2009.
Trader Dan (JS Mineset): Fed monetizing US agency debt
"The reason they [the Fed] are being forced into buying the debt is because no one else wants it. We have been charting this for some time by monitoring the Custodial data from the US Federal Reserve system.
"… chart … see how foreign central banks are dumping Fannie and Freddie debt in large amounts onto the market. Without the Fed monetizing that debt, there would be a significant drop off in the amount of funds for mortgages.
"The Fed is going to need every bit of that $500 billion they are going to create out of thin air to acquire what the foreign central banks are unloading."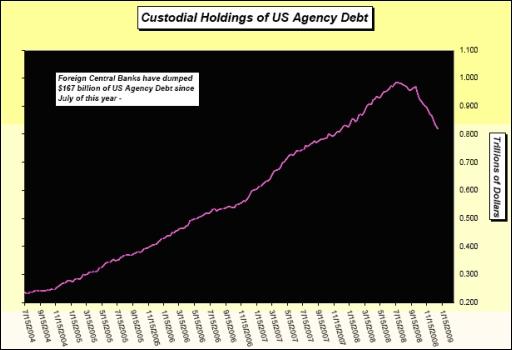 Source: Trader Dan, JS Mineset , January 5, 2009.
Asha Bangalore (Northern Trust): December employment report - further deterioration of labor conditions
• Civilian Unemployment Rate : 7.2% in December versus 6.8% in November, cycle low is 4.4% in March 2007.
• Payroll Employment: -524,000 in December versus -584,000 in November, net loss of 154,000 jobs after revisions of payroll estimates for October and November.
• Hourly earnings: +5 cents to $18.36, 3.7% yoy change versus 3.8% yoy change in November; cycle high is 4.28% yoy change in December 2006.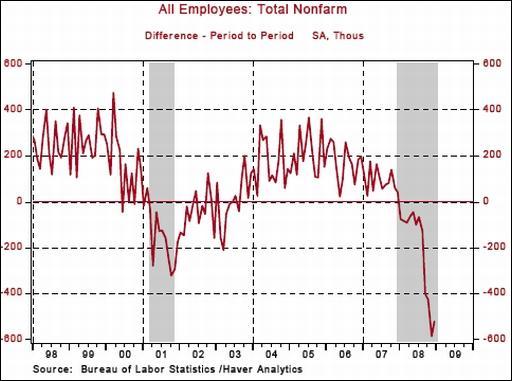 "The Fed is expected to stay on hold for all of 2009 in terms of implementing monetary policy changes via adjustments of the target federal funds rate but other non-interest avenues to support/ease financial market conditions remain open. The details of the employment report are grim and provide ample evidence for proponents of a large fiscal stimulus package to revive economic activity."
Source: Asha Bangalore, Northern Trust - Daily Global Commentary , January 9, 2009.
Paul Kedrosky (Infectious Greed): There's unemployment, and then there's unemployment
"I have been sent this Reuters story from yesterday umpteen times, so I may as well post it, as well as the underlying graph. The gist: If unemployment were being measured the same way as it was during the Depression, the US would be well on its way to similar numbers.
"Check the SGS line in the following graph from John Williams' ShadowStats:
"Eye-opening, is it not?
"A few quick comments:
• Unemployment by SGS's measure is at almost 18%, but it's also not been under 10% in recent history.
• The whole idea of employment/unemployment has changed a great deal over time, with, for example, there being more part-time and flex work etc., messing with figures.
• The existence of a social safety net has, for better or worse, made it possible for people to withdraw permanently from the workforce without having to live on the streets.
• There is no denying that there are far more able-bodied people out of work than the skewed-low US BLS figures purport to show."
Source: Paul Kedrosky, Infectious Greed , January 9, 2009.
Bloomberg: Pimco's McCulley says US economy in "nasty recession"
"Paul McCulley, managing director at Pimco, talks with Bloomberg's Kathleen Hays about the outlook for the US economy in 2010. McCulley says the Fed is using the right policy response to the current crisis and that he has 'very small' concerns about inflation."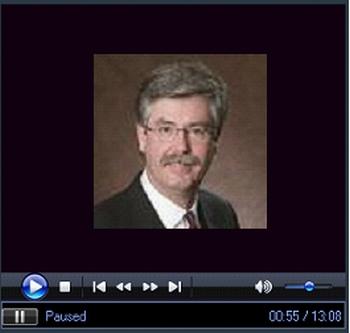 Source: Bloomberg , January 9, 2009.
Comstock Partners: The cycle of deflation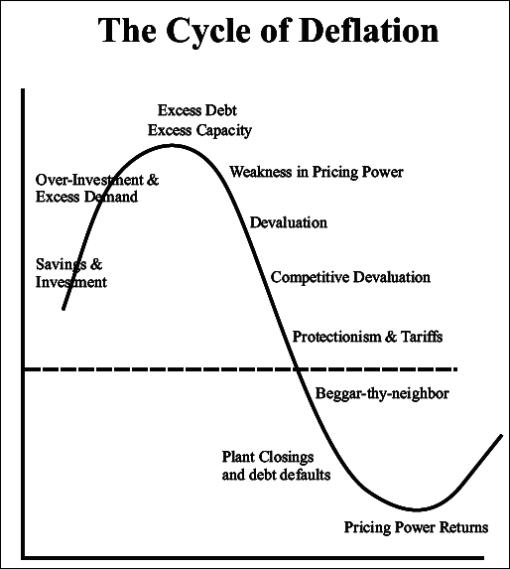 Source: Comstock Partners , January 2009.
Asha Bangalore (Northern Trust): Further declines in pending Home Sale Index
"The Pending Home Sales Index (PHSI) of the National Association of Realtors dropped 4.0% to 82.3 in November after a 4.2% drop in the prior month. Although mortgage rates have dropped in recent months, the positive impact on the housing market in terms of an increase in sales is yet to be seen."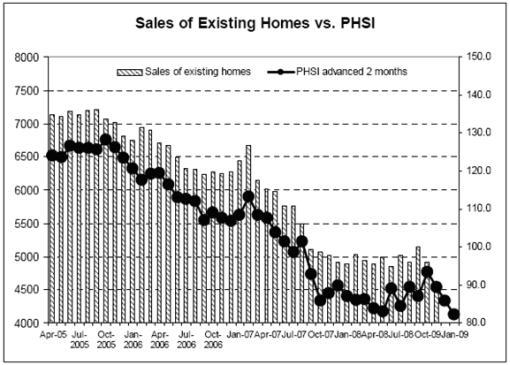 Source: Asha Bangalore, Northern Trust - Daily Global Commentary , January 6, 2009.
Asha Bangalore (Northern Trust): Non-manufacturing ISM Survey close to record low
"The Non-manufacturing ISM composite index increased to 40.6 in December from 37.3 in November. But the level is significantly below the expansion cut off mark of 50.0, implying that the non-manufacturing sector continues to lose momentum."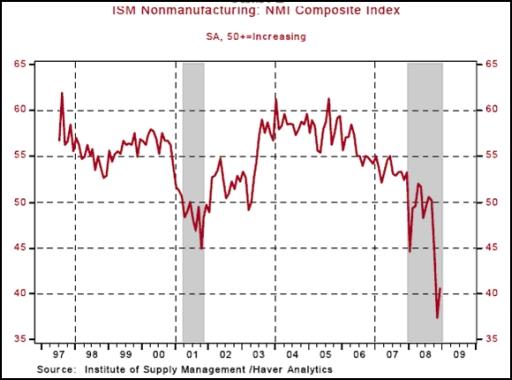 Source: Asha Bangalore, Northern Trust - Daily Global Commentary , January 6, 2009.
Bloomberg: US retail sales fell 0.8% in week after Christmas
"Purchases at US retailers declined last week as post-Christmas markdowns failed to overcome what may have been the worst holiday shopping season in four decades.
"Sales at stores open at least a year dropped 0.8% in the seven days through January 3, the International Council of Shopping Centers and Goldman Sachs Group said today [Tuesday] in a statement. ICSC Chief Economist Michael Niemira said November-December sales declined as much as 2%.
"'December was relatively chaotic in price, with more discounts than retailers planned, especially in department stores,' Richard Hastings, a consumer strategist at Global Hunter Securities, said in a telephone interview. 'Consumers have discovered that the industry is responding with lower and lower and lower prices.'"
Source: Heather Burke, Bloomberg , January 6, 2009.
Bloomberg: US shopping mall vacancies reach 10-year high
"Vacancies at US malls and shopping centers approached 10-year highs in the fourth quarter, and are set to rise further as declining retail sales put more stores out of business, research firm Reis Inc. said.
"Regional mall vacancies rose to 7.1% last quarter from 6.6% in the third quarter. It was the highest vacancy rate since Reis began tracking regional malls in 2000, as well as the largest quarter-to-quarter jump in vacancies, according to New York-based Reis.
"More than a dozen retailers, including Circuit City, Linens 'n Things and Sharper Image, filed for bankruptcy protection in 2008 as the credit squeeze and recession drained sales. Vacancies will rise further until the job market recovers, housing prices stabilize and lending resumes, restoring consumer confidence, said Reis."
Source: Hui-yong Yu, Bloomberg , January 7, 2009.
Bespoke: "Official" 2009 strategist S&P 500 price targets
"Below we list the 2009 S&P 500 strategist price targets in the final Bloomberg survey of 2008 (on 29 December). The average 2009 year-end S&P 500 estimate of the 11 sell-side strategists that participated is 1,056, or 16.9% above the S&P's year-end price of 903.25.
"UBS strategist David Bianco is the most bullish of the group with a year-end target of 1,300 (a 43.9% gain). Deutsche Bank's Binky Chadha is the second most bullish with a target of 1,140, followed by Goldman, Strategas, and JP Morgan, who are all looking for a gain of 21.8%. Only one strategist, Barclays' Barry Knapp, believes the S&P 500 will fall in 2009, but only by 3.2%.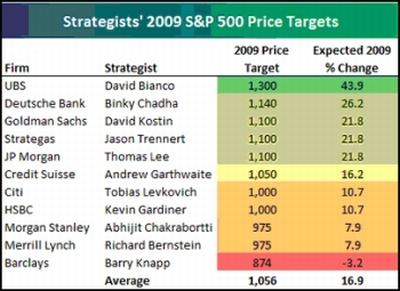 "The consensus estimate for year-end 2008 was 1,632 at the start of last year, which translated into an expected gain of 11.12%. Let's hope the strategists are a little closer to the mark this year."
Source: Bespoke , January 6, 2009.
Bespoke: Crazy gains since November 20 low
"While no one is calling it that, we are technically in a new cyclical bull market and have been since December 8. Since the 11/20 lows, the S&P 500 is up 24%, which meets the standard bull market definition of a 20% rally that was preceded by at least a 20% decline. But the unwillingness for the majority to call it a bull market is what bulls should be thankful for, since the market typically climbs a wall of worry where investors are full of doubt throughout the rally.
"Regardless of what you call it, some of the performance numbers since the 11/20 lows are downright crazy. Even though the S&P 500 is up 24% since 11/20, the average stock in the index is up 41.25%. This means the smaller cap names in the index are up much more than their larger cap brethren. And the stocks that were down the most during the 10/9/07 to 11/20/08 bear are up much more than the ones that were down the least. As shown below, the average performance since 11/20 of the 50 stocks that were down the most during the bear market is 112%! The 50 best-performing stocks during the bear market are only up an average of 8.3%.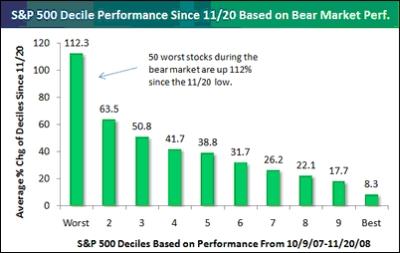 "And while 20 stocks in the S&P 500 are down since November 20, 29 of them are up more than 100%!"
Source: Bespoke , January 6, 2009.
Bespoke: Investor sentiment shows improvement
"When gauging investor sentiment, the two most popular surveys that track bullish sentiment are the polls conducted by Investors Intelligence of newsletter writers and the American Association of Individual Investors (AAII) survey of its members. As shown below, both measures have shown improvement in recent weeks and have broken their downtrends of the last several months. Given that investor sentiment is typically a contrarian indicator, high readings of bullishness are generally considered negative for the market. However, with current bullish sentiment readings below 50%, these are hardly levels that can be considered extreme."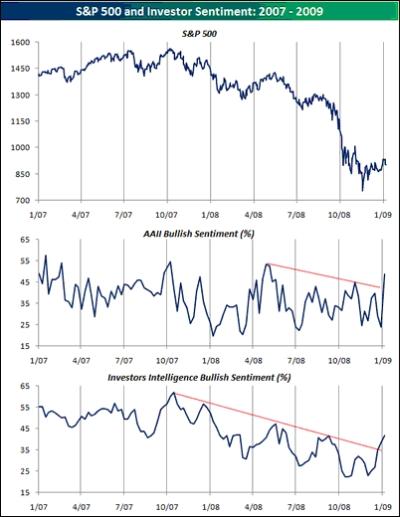 Source: Bespoke , January 8, 2009.
Investment Week: Mobius reduces cash holdings
"Franklin Templeton's Mark Mobius has reduced his cash positions over the past couple of months, saying he is positive on the prospects for the global economy.
"Manager of the Emerging Markets Investment Trust, Mobius says he is 'quite bullish on the future despite all the negative news' and predicts the beginning of a recovery in the second quarter of this year.
"'Valuations look good and with interest rates at one or below and stocks yielding up to 20% on dividends this looks very tempting for investors,' he says.
"Mobius claims that while he is actively investing, others are not: 'I don't think this is the consensus - people have the feeling we are nearing the bottom but they are not putting their money there. Bull markets are built on a bull market, not a bear market. However we are being proactive.'
"Having ramped up his cash allocations going into the big fall, Mobius started reinvesting in November. He favours energy and emerging market consumer stocks - including banks which weren't hit by the debt crisis - and maintains oil and commodities valuations are still strong."
Source: Beth Brearley, Investment Week , January 6, 2009.
BCA Research: A challenging equity outlook
"Equity markets could have a healthy January effect this year after the fallout in 2008. However, the macro backdrop remains risky.
"Last year's violent selloff left global equity prices down nearly 50% from their cyclical highs, making this the second deepest bear market in the past 40 years. In other words, a lot of bad news has been discounted as sentiment became crushed and investors rushed for safety. It now appears that selling pressures may finally be abating: equity prices have edged higher in recent trading days on the back of tentative improvements in the credit markets and an easing in implied option volatilities from sky-high readings.
"Upside momentum could persist in the weeks ahead as investors and money managers reposition their portfolios and redeploy some of the cash piled on the sidelines. That said, it is difficult to see how equities can sustain an advance until the monetary transmission mechanism begins to function more normally. In addition, the poor earnings outlook will be a persistent headwind for stocks throughout 2009 and analysts are likely to be disappointed in their overly optimistic profit forecasts: earnings could fall by as much as 25% to 30% as revenue growth slows and margins contract.
"Bottom line: Equities seem poised to edge higher from oversold levels but a sustained advance will rely on the stabilization of credit markets."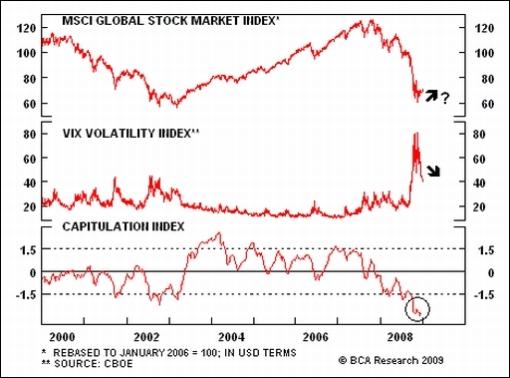 Source: BCA Research , January 5, 2009.
Bloomberg: Saut says "decent chance" equity markets have bottomed
"Jeffrey Saut, chief investment strategist at Raymond James Financial, talks with Bloomberg's Carol Massar about his investment strategy in the stock market. Saut also discusses the outlook for the US economy and the impact of rising credit costs on corporate margins."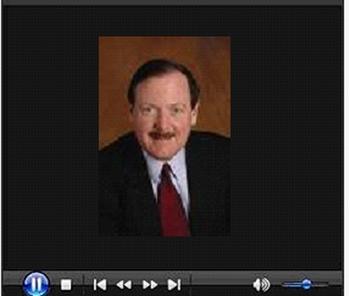 Source: Bloomberg , January 7, 2009.
The New York Times: China losing taste for US debt
"China has bought more than $1 trillion of American debt, but as the global downturn has intensified, Beijing is starting to keep more of its money at home, a move that could have painful effects for American borrowers.
"In the last five years, China has spent as much as one-seventh of its entire economic output buying foreign debt, mostly American. In September, it surpassed Japan as the largest overseas holder of Treasuries.
"But now Beijing is seeking to pay for its own $600 billion stimulus - just as tax revenue is falling sharply as the Chinese economy slows. Regulators have ordered banks to lend more money to small and medium-size enterprises, many of which are struggling with lower exports, and to local governments to build new roads and other projects.
"'All the key drivers of China's Treasury purchases are disappearing - there's a waning appetite for dollars and a waning appetite for Treasuries, and that complicates the outlook for interest rates,' said Ben Simpfendorfer, an economist in the Hong Kong office of the Royal Bank of Scotland."
Source: Keith Bradsher, The New York Times , January 7, 2009.
Barron's: Stay away from Treasury bonds
"The bubble in Treasuries looks ready to pop, sending prices on government debt sharply lower. But just about every other corner of the bond market beckons."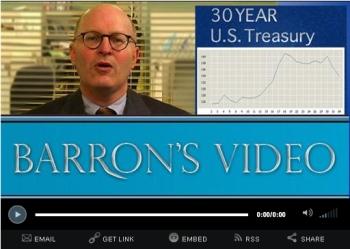 Click here for the article.
Source: Barron's , January 3, 2009.
John Authers (Financial Times): A bond bubble?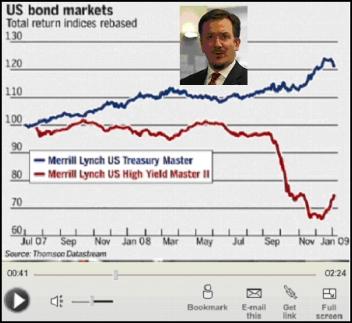 Source: John Authers, Financial Times , January 6, 2009.
Bloomberg: Treasury bond market not a bubble, Goldman Sachs says
"Goldman Sachs Group said the US Treasury market hasn't turned into an asset bubble even as investors debate the wisdom of buying government bonds with yields near record lows.
"The US economy is likely to expand below its potential for the next six to eight quarters, resulting in lower 'core' inflation, according to a report released today by the New York- based firm. Inflation erodes the fixed payments of bonds.
"'By mapping one-year ahead macro expectations to long-dated government yields through our Sudoku framework we find that global bonds are, in the aggregate, currently trading close to the model's measure of fair value,' Francesco Garzarelli, chief interest-rate strategist at Goldman Sachs in London, wrote in a research note.
"As the year progresses and investors' focus shifts to the prospects for recovery into 2010, yields will likely drift higher, though in line with Goldman Sachs' forecasts, Gazarelli wrote. Treasury 10-year note yields will likely trade at 3% to 3.25% by year-end, he said. During the current quarter, yields will trade in a 2.50% to 2.75% range, Goldman Sachs' predicts."
Source: Liz Capo McCormick, Bloomberg , January 8, 2009.
Financial Times: German bond sale's fate signals trouble ahead
"A German sovereign bond auction failed on Wednesday as investors shunned one of the most liquid and safe assets in the world in a warning for governments seeking to raise record amounts of debt to stimulate slowing economies.
"The fate of the first eurozone bond auction of 2009 signals trouble ahead as governments around the world hope to issue an estimated $3,000 billion in debt this year, three times more than in 2008.
"The 10-year bonds failed to attract enough bids to reach the €6 billion the German government wanted. Bids of €5.24 billion, a cover of only 87%, amounted to the second worst auction on record in terms of demand.
"Analysts said the vast amount of supply is deterring investors and a growing number of countries, including those with deep and mature bond markets, such as Germany, the UK and Italy, are struggling to attract buyers."
Source: David Oakley, Financial Times , January 7, 2009.
Financial Times: Asset managers turn to corporate bonds
"High-grade corporate bonds are set to outperform other asset classes in 2009, fund managers and market strategists surveyed by the Financial Times have forecast.
"More than half those surveyed said high-quality corporate credit was trading at cheap levels and that this was the asset class most likely to see a rally in 2009.
"In contrast, government bonds were the least-favoured asset class, with many of the 30 leading asset managers and strategists surveyed arguing that yields had plummeted too far in 2008, prompting talk of a possible price bubble.
"A majority of those polled said high-quality corporate bonds had been oversold after investors had abandoned corporate credit of all grades over the past year in favour of the safest and most liquid assets, such as government bonds and gold.
"Tim Bond, global head of asset allocation at Barclays Capital, said: 'I like credit as an asset class the best. Investment-grade corporate bond spreads are at levels last seen in 1932, which happened to be an excellent point to buy credit - even though it was the middle of the Great Depression.'
"John Paul Smith at Pictet Asset Management said corporate credit offered the best potential returns while the severe global recession continued. 'While we don't anticipate any immediate improvement in the economic outlook, with corporate credit yields currently at unprecedented levels, investors are being paid to wait.'
"Credit market prices are consistent with an unprecedented risk of default, even for the highest quality corporate bonds.
"US investment-grade corporate bond prices, for example, imply a cumulative default rate of 36% over five years, assuming a typical recovery of 40 cents in the dollar, according to analysts at Morgan Stanley. This is more than 7.5 times higher than the worst default rate in any previous five-year period."
Source: Esther Bintliff, Financial Times , January 5, 2009.
Bespoke: High yield spreads narrow for 13th straight day
"High yield bond spreads (based on Merrill Lynch indices) narrowed for the 13th straight trading day on Monday. This marks the longest streak of declines since April 2003, and the second longest streak since the series began in 1997.
"At a current level of 1,744 basis points above Treasuries, high yield spreads are now down 20% from their peak level from December 15 (2,182 basis points) and back to levels we saw before the election and the run on Citibank.
"Make no mistake that at current levels high yield spreads are still extremely high, but given the widespread view that the market cannot stage a meaningful rally until spreads begin to narrow, the current move is a step in the right direction."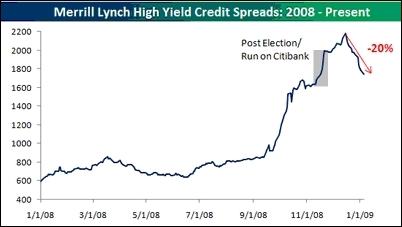 Source: Bespoke , January 6, 2009.
Edmund Conway (The Telegraph): Willem Buiter warns of massive dollar collapse
"The long-held assumption that US assets - particularly government bonds - are a safe haven will soon be overturned as investors lose their patience with the world's biggest economy, according to Willem Buiter.
"Professor Buiter, a former Monetary Policy Committee member who is now at the London School of Economics, said this increasing disenchantment would result in an exodus of foreign cash from the US.
"The warning comes despite the dollar having strengthened significantly against other major currencies, including sterling and the euro, after hitting historic lows last year. It will reignite fears about the currency's prospects, as well as sparking fears about the sustainability of President-Elect Barack Obama's mooted plans for a Keynesian-style increase in public spending to pull the US out of recession.
"Writing on his blog, Prof Buiter said: 'There will, before long (my best guess is between two and five years from now) be a global dumping of US dollar assets, including US government assets. Old habits die hard. The US dollar and US Treasury bills and bonds are still viewed as a safe haven by many. But learning takes place.'"
Source: Edmund Conway, The Telegraph , January 06, 2009.
FT Alphaville: Beware, commodity index rebalancing ahead
"The major commodity indices rebalance their respective asset weightings once a year (or occasionally more) - and with that comes a mass dose of buying and selling. The 2009 rebalancing is expected to start sometime this week.
"Luckily, JP Morgan has produced its best guess of how the 2009 reweightings of the DJ AIGCI and the S&P GSCI indices will impact the market.
"The weightings for both indices are released ahead of time, but begin to kick in the first few working days of the new year. In the case of the DJ-AIGCI - which JP Morgan estimates has $25 billion in funds tracking it - the new weightings come into force during the roll period that begins January 9. The S&P GSCI index weightings kick-in after its January roll which commences January 8. JP Morgan estimates about $50 billion of investment into that index.
"JP Morgan see the most significant change coming in the DJ-AIGCI rebalance. Here the market weight of crude oil is expected to increase from 9.6% to 13.8%, gold from 10.8% to 7.9%, copper (COMEX) from 4.5% to 7.3%, live cattle from 6.4% to 4.3% and sugar from 4.7% to 3.0%. Meanwhile, S&P GSCI crude oil weight will go from 32% to 33.8%".
Source: Izabella Kaminska, FT Alphaville , January 5, 2009.
Ambrose Evans-Pritchard (Telegraph): Merrill Lynch says rich turning to gold bars for safety
"Merrill Lynch has revealed that some of its richest clients are so alarmed by the state of the financial system and signs of political instability around the world that they are now insisting on the purchase of gold bars, shunning derivatives or 'paper' proxies.
"Gary Dugan, the chief investment officer for the US bank, said there has been a remarkable change in sentiment. 'People are genuinely worried about what the world is going to look like in 2009. It is amazing how many clients want physical gold, not ETFs,' he said, referring to exchange trade funds listed in London, New York, and other bourses.
"'They are so worried they want a portable asset in their house. I never thought I would be getting calls from clients saying they want a box of Krugerrands,' he said.
"Merrill predicted that gold would soon blast through its all time-high of $1,030 an ounce, and would hit $1,150 by June."
Source: Ambrose Evans-Pritchard, Telegraph , January 9, 2009.
Reuters: Pickens - oil prices to top $100 by end of 2010
"Texas billionaire T. Boone Pickens said on Tuesday that oil prices will rise above $100 a barrel by the end of 2010 as the global economy recovers.
"Oil prices in the $40 a barrel range are 'not going to be around much longer,' Pickens told a gathering at Rice University in Houston.
"Oil prices have tumbled from over $147 a barrel in July to about $48 a barrel on Tuesday as demand in the United States and other developed countries slows due to the global economic crisis.
"By late 2010, Pickens sees a rebound in oil demand sparked by a global recovery, pushing prices higher. If the US continues to rely on imported oil for 70% or more of its supply, prices could reach $200 to $300 per barrel in another decade, Pickens said.
"As an investor, Pickens said he remains 'on the sidelines', with just 10% of his BP Capital hedge fund invested in energy. The fund lost $2 billion last year before shifting to cash as energy prices and stocks declined."
Source: Reuters , January 6, 2009.
Bespoke: New bull market for oil
"Based on the standard bull/bear market move of 20%, oil is already well into a new bull market with its move of 44.7% since its closing low of $33.87 on December 19. Since 2000, the average oil bull market has seen the commodity rise 89%, while the average bear has seen oil decline by 39%.
"The 88-day decline in oil from 9/22 to 12/19 of 72% was by far the steepest drop the commodity has ever seen without a 20% rally. The last four bull and bear markets in oil have all come within 6 months, highlighting the extreme volatility in the commodities market.
"As shown in the bottom chart, the number of days that the last four market cycles have lasted has been much lower than normal. It's likely that we'll continue to see these big swings in short periods of time until the financial markets cool down."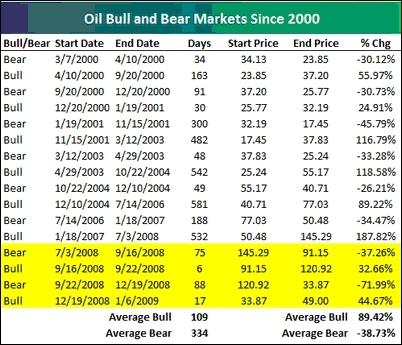 Source: Bespoke , January 6, 2009.
CEP News: Euro zone services PMI falls to series low in December
"Following the release of Italian purchasing managers index figures, along with final estimates on both the French and German services PMIs, Markit Economics reported that the services sector in the euro zone continued to deteriorate as the services PMI fell to a series low in December with a revision to 42.1 from the original estimate of 42.0.
"December's reading is much lower than November's 42.5 print.
"'The final euro zone PMI indicates a 0.6% fall in GDP in the fourth quarter. Although some encouraging - but only tentative - signs of a bottoming-out were evident in Spain and Italy, the downturn gathered momentum in Germany and France,' said Markit Economics chief economist Chris Williamson."
Source: CEP News , January 6, 2009.
Financial Times: Alistair Darling on the economy
"UK chancellor Alistair Darling talks to Chris Giles about the outook for the UK economy and what can be done by global governments."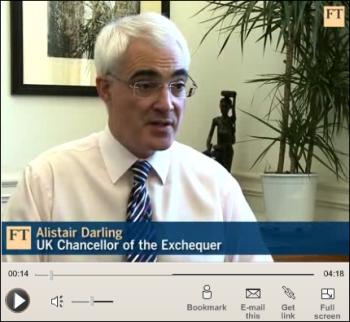 Source: Financial Times , January 6, 2009.
Victoria Marklew (Northern Trust): UK - record low repo rate
"As widely expected, the Bank of England (BoE) cut its repo rate another 50bps today [Thursday], taking it to a record low 1.50%. In its rather terse statement, the bank noted that output is likely to keep falling sharply in the first half of this year, but also cited a 'substantial' decline in the pound as helping to offset the impact of a slower global economy. There was no obvious commitment to cut again at the February 5 Monetary Policy Committee (MPC) meeting, which probably explains the small bounce in sterling this morning.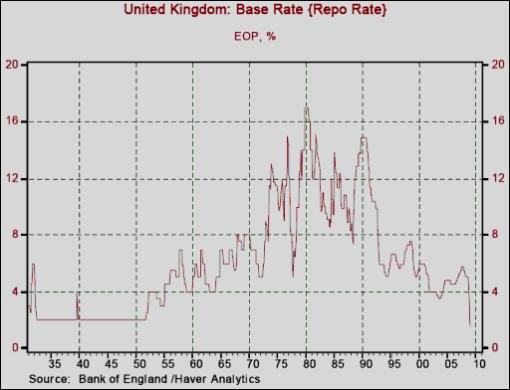 "Today's policy statement from the BoE said that 'further measures' are needed to increase lending to business and consumers, but it did not specify what, and nor did it include any comment on quantitative easing. Boosting money supply would require the approval of the government but Chancellor Darling has dismissed the idea, telling reporters that 'nobody is talking about printing money'."
Source: Victoria Marklew, Northern Trust - Daily Global Commentary , January 8, 2009.
Bloomberg: Is China's economy crisis-bound?
"Anyone who said a year ago that China's economy was crisis-bound was dismissed out of hand. Today, skeptics have lots of company.
"'This year is going to be characterized by much, much weaker growth in China than I think people are anticipating,' says Jim Walker, chief economist at Asianomics in Hong Kong.
"That may be news to the World Bank, which forecasts China will expand 7.5% in 2009. The government is targeting 8% growth, believing the $586 billion stimulus package it announced in November will boost the world's fourth-biggest economy.
"Citigroup agrees. 'The most important reason supporting our confidence about 8% growth is the government's will and ability,' says Huang Yiping, the bank's chief Asia-Pacific economist in Hong Kong.
"That's the problem. Chinese officials have done a masterful job generating growth, creating jobs and reducing poverty. They have done so with impressive regularity and earned the trust of many economists and investors. It's important to remember, though, that external trends made China's success possible.
"There's no doubt that China's leaders have the will to support growth. The question is their ability to do so while all of the world's economic engines sputter. Yes, all."
Source: William Pesek, Bloomberg , January 7, 2009.
US Global Investors: Below-trend economic growth in store for China
"2008 could register the first below-trend economic growth for China after five straight years of supernormal expansion. Based on China's post-reform history, however, a cyclical downturn would typically last more than four years on average, which means a potential, multiyear cycle of growth moderation has yet to arrive."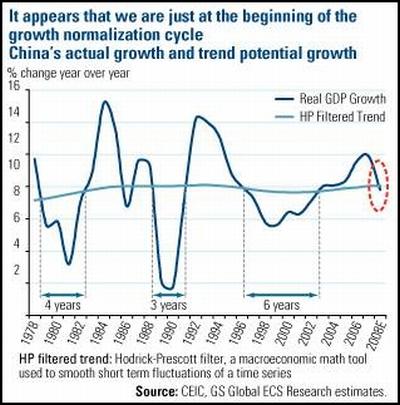 Source: US Global Investors – Weekly Investor Alert , January 9, 2009.
Reuters: What is Russia's end-game in gas row?
"Russian Prime Minister Vladimir Putin raised the stakes in his gas conflict with Ukraine by slashing supplies to Europe, a measure that has left some EU states struggling to heat homes in sub-zero temperatures.
"Russian gas export monopoly Gazprom said it was forced to take that step because Ukraine - locked in a dispute with Moscow over gas pricing - was stealing gas being pumped across its territory for customers in Europe.
"What was Putin seeking to achieve by reacting in this way? There is so far no consensus among diplomats and analysts about what Russia's end-game is.
"The Kremlin started out with the modest aim of persuading Ukraine to pay closer to market prices for its gas, but has now been out-manoeuvred by Kiev.
"'Russia and Gazprom have walked into a trap,' said Fyodr Lukyanov, editor of the journal Russia in Global Affairs.
"He said Ukraine - desperate not to pay more for its gas because of the fragile state of its economy - seized the initiative from Moscow by endangering exports to Europe.
"'They are calculating, and I think not without basis, that the longer this drags on the more the blame will be laid at Moscow's door,' said Lukyanov.
"He said Gazprom, under pressure from a Europe angry its supplies are being disrupted and fearful for its reputation as an energy supplier, will now be forced to cut the price it is demanding Ukraine pay for its gas. 'Ukraine wants to go back to the negotiations from a position of strength … And it is working,' he said."
Source: Reuters , January 7, 2009.
Did you enjoy this post? If so, click here to subscribe to updates to Investment Postcards from Cape Town by e-mail.
By Dr Prieur du Plessis
Dr Prieur du Plessis is an investment professional with 25 years' experience in investment research and portfolio management.
More than 1200 of his articles on investment-related topics have been published in various regular newspaper, journal and Internet columns (including his blog, Investment Postcards from Cape Town : www.investmentpostcards.com ). He has also published a book, Financial Basics: Investment.
Prieur is chairman and principal shareholder of South African-based Plexus Asset Management , which he founded in 1995. The group conducts investment management, investment consulting, private equity and real estate activities in South Africa and other African countries.
Plexus is the South African partner of John Mauldin , Dallas-based author of the popular Thoughts from the Frontline newsletter, and also has an exclusive licensing agreement with California-based Research Affiliates for managing and distributing its enhanced Fundamental Index™ methodology in the Pan-African area.
Prieur is 53 years old and live with his wife, television producer and presenter Isabel Verwey, and two children in Cape Town , South Africa . His leisure activities include long-distance running, traveling, reading and motor-cycling.
Copyright © 2009 by Prieur du Plessis - All rights reserved.
Disclaimer: The above is a matter of opinion and is not intended as investment advice. Information and analysis above are derived from sources and utilizing methods believed reliable, but we cannot accept responsibility for any trading losses you may incur as a result of this analysis. Do your own due diligence.
© 2005-2019 http://www.MarketOracle.co.uk - The Market Oracle is a FREE Daily Financial Markets Analysis & Forecasting online publication.
Comments
Alex
01 Mar 09, 05:14
State Budgets


Seven ways of stealing from budget

3. "Layer".

Nobody writes and talks about it, but such things happen. Some big state company ordered the equipment abroad. It was bought not at the manufacturer, but at a foreign firm that purchases the necessary equipment, and resells it gaining 10-20 %. But if you would call there you would hear Russian voice. And as the equipment - boring, costs over $1 billions you would tell, who the customer is. By the way, RosUkrEnergo is a kind of such pattern.




Only logged in users are allowed to post comments.
Register/ Log in