Stock Markets to Bounce Or Not to Bounce– That Is The Question
Stock-Markets
/
Investing 2009
Jan 27, 2009 - 01:45 PM GMT


Like the others , it appears what was formerly reliable sentiment related analysis associated with the study of open interest put / call ratios has now succumb to an increasingly mature market(s) condition. Of course, technically, such a conclusion could be viewed as incorrect in that the reason stocks did not go up this week was not because of selling, but because of a buyers strike. This is why in spite of such devastatingly bad news associated with the economy, and there was a multitude of it this week, stocks did not fall more. It should be noted this has caught the attention of a great many market participants, which is the dynamic that will eventually set up the next round of 'unwarranted complacency' we expect to grip investor psychology in spring, allowing for far stepper losses in stocks than is being witnessed at present.


The following is an excerpt from commentary that originally appeared at Treasure Chests for the benefit of subscribers on Thursday, January 15th , 2009.
Before this happens however, and assuming investors find a reason to come back into the stock market prior to this, it makes sense to hypothecate that to some degree prices should rise at least one more time into a seasonal high within the anticipated post crash March / April timing window, which as you may know would be consistent with the 1929 / 1930 experience . And as you will see below, such an outcome would also be consistent with the post crash patterns witnessed in the 1937 / 1938 sequence, as well as the Nikki crash of the 90's. So, in total then, it appears it might be a bit early to write off our sentiment related studies entirely, especially if sentiment remains bearish, and a squeeze is engineered into spring.
What's more, and as you will see below, if history is a good guide, the next squeeze should be even more vicious than the one that peaked out just last week, so whatever you do, don't short the stock market here, even if new precedents are about to be established. Heaven knows the fundamentals are pointing to lower prices, and this should become a reality later this year, however as pointed out in our opening remarks, by and large investors are on a 'buyers strike' right now, not panicking out the market, which is suggestive that when buying reappears, it could be 'elevator up' in a big way.
So, although we may need to go down and 'test the lows', which in itself will bring buying back into the market from those looking for such a test, again, if history is a good guide, this not the time to be bearish, but cautiously optimistic better shorting opportunities lie ahead. That is to say although higher prices may be in the cards moving forward, this doesn't mean that you should be attempting to pick this bottom. No, such a conclusion would be an error for fundamentally conservative investors. As mentioned a few weeks back now, all the easy money in this counter-trend rally off the November lows has already been made, and that most market participants should wait for oversold conditions to return.
Of course in the larger sense this may take until the fall again, where in the meantime, some juicy shorting opportunities maybe presented, again, in the March / April post crash bounce topping window, mentioned above. This will be the next 'easy money' made in my opinion, where opportunity would be aligned with the fundamentals once again. Further to this, I do like prospects for another squeeze higher in crude oil coming up as well, where as mentioned earlier in the week , after options expire tomorrow, perhaps we will witness a change in sentiment. If this were to occur, coupled with the fact oil has seen no appreciable bounce with the rest of the equity complex, the condition set would be 'prime' in my opinion, where long positions in appropriate ETF's would be contemplated once again.
And of course strength in the broads would also be requisite for a 'high confidence move' in this regard, so why don't we take a look at a few historical comparisons in sizing up prospects moving forward. In this first panel below we are looking at the post crash Dow from the 1937 / 1938 sequence overlaid with the post bubble in the Nasdaq to set the larger picture, which is an exact match as you can see. (See Figure 1)
Figure 1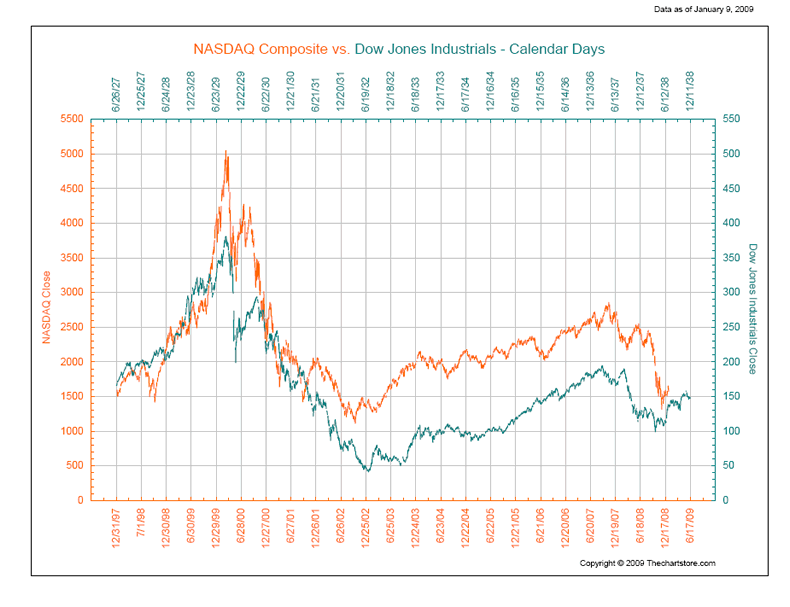 The understanding here, as you may remember from previous discussions on the subject, is that psychologically people do not change during periods of mass mania / stress, and that crowd behavior will repeat from generation to generation as circumstances dictate. And the fact we have such tight pattern repeats on the overlays is of course indisputable proof this is the case, highly suggestive future outcome should be anticipated to mirror previous patterns closely, to say the least. Here is a close-up view a Dow / S&P 500 (SPX) overlay measuring the same time periods to drive this point home. (See Figure 2)
Figure 2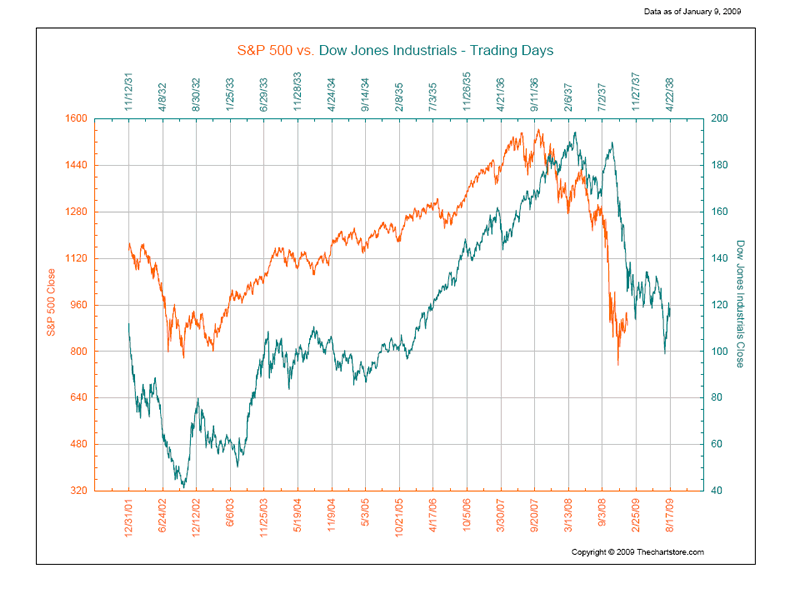 Apparently even if there is a divergence in post bubble behavior one should expect such differences to be closed at some point, which is the lesson learned in viewing this next panel, that of the 'modern day' post bubble patterns in the Nasdaq and Nikki. Notice how a delusional US bureaucracy / investing population attempted to push prices back into bubble territory without a thought of the consequences, which we are now facing. (See Figure 3)
Figure 3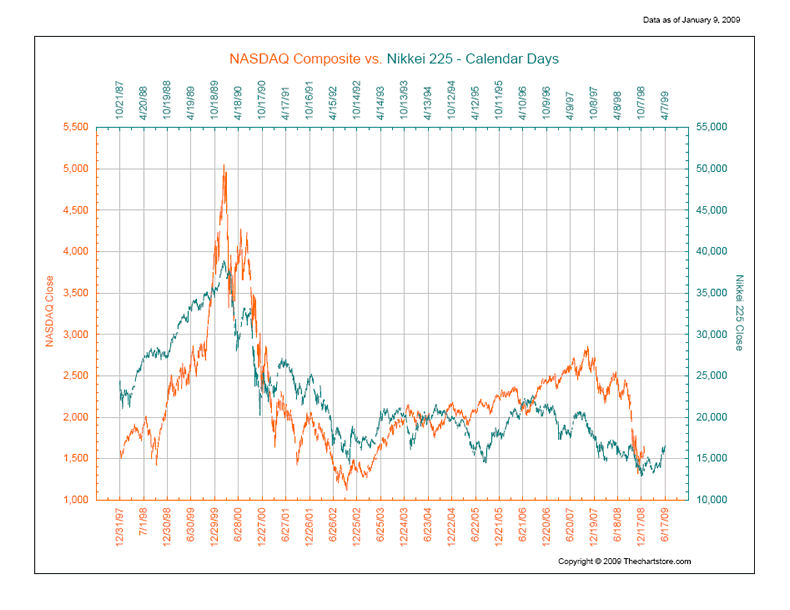 This divergence was closed however. And now, because so much more credit was issued in attempting to rebubblize the system, the aftermath of the US experience may in fact be worse than the Japanese experience pattern wise, where in 'whipsaw' fashion, the Nasdaq might begin under-performing the Nikki. How do we know this other than by deduction associated with simple market / physical dynamics? Well, for one thing US broads still have a long way to fall if they are to come close to mirroring the Japanese experience. And for another thing, despite the fact US stocks were essentially 'halved' in just over a year at the bottom in November, margin debt levels remained divergently elevated, and they are still elevated today. (See Figure 4)
Figure 4

In taking a lesson from what we learned about divergences from above then, this means that at some point the percentage of margin debt currently being utilized in the New York Stock Exchange (NYSE) will need to be brought back down to 'mean levels', at a minimum, with overshoot on the downside very possible once the ball gets rolling. That's what tends to happen when 'wave amplitude' goes too far one way you know. The reaction also tends to overshoot the mean going the other way too. What's scary about this realization, where this is the 'scary chart' I was referring to earlier in the week, is that if prices contract proportionally to margin debt as per the logarithmic scale presented in Figure 4, then it's not inconceivable to see them down some 90%, just like what has happened to all the other bubble markets throughout history.
Unfortunately we cannot carry on past this point, as the remainder of this analysis is reserved for our subscribers. Of course if the above is the kind of analysis you are looking for this is easily remedied by visiting our continually improved web site to discover more about how our service can help you in not only this regard, but also in achieving your financial goals. For your information, our newly reconstructed site includes such improvements as automated subscriptions, improvements to trend identifying / professionally annotated charts , to the more detailed quote pages exclusively designed for independent investors who like to stay on top of things. Here, in addition to improving our advisory service, our aim is to also provide a resource center, one where you have access to well presented 'key' information concerning the markets we cover.
And if you have any questions, comments, or criticisms regarding the above, please feel free to drop us a line . We very much enjoy hearing from you on these matters.
Good investing all.
By Captain Hook
http://www.treasurechestsinfo.com/
Treasure Chests is a market timing service specializing in value-based position trading in the precious metals and equity markets with an orientation geared to identifying intermediate-term swing trading opportunities. Specific opportunities are identified utilizing a combination of fundamental, technical, and inter-market analysis. This style of investing has proven very successful for wealthy and sophisticated investors, as it reduces risk and enhances returns when the methodology is applied effectively. Those interested in discovering more about how the strategies described above can enhance your wealth should visit our web site at Treasure Chests
Disclaimer: The above is a matter of opinion and is not intended as investment advice. Information and analysis above are derived from sources and utilizing methods believed reliable, but we cannot accept responsibility for any trading losses you may incur as a result of this analysis. Comments within the text should not be construed as specific recommendations to buy or sell securities. Individuals should consult with their broker and personal financial advisors before engaging in any trading activities, as we are not registered brokers or advisors. Certain statements included herein may constitute "forward-looking statements" with the meaning of certain securities legislative measures. Such forward-looking statements involve known and unknown risks, uncertainties and other factors that may cause the actual results, performance or achievements of the above mentioned companies, and / or industry results, to be materially different from any future results, performance or achievements expressed or implied by such forward-looking statements. Do your own due diligence.
Copyright © 2009 treasurechests.info Inc. All rights reserved.
Unless otherwise indicated, all materials on these pages are copyrighted by treasurechests.info Inc. No part of these pages, either text or image may be used for any purpose other than personal use. Therefore, reproduction, modification, storage in a retrieval system or retransmission, in any form or by any means, electronic, mechanical or otherwise, for reasons other than personal use, is strictly prohibited without prior written permission.
© 2005-2019 http://www.MarketOracle.co.uk - The Market Oracle is a FREE Daily Financial Markets Analysis & Forecasting online publication.

Only logged in users are allowed to post comments.
Register/ Log in