Gold Bull Market Projects to $2,300 by end of 2010
Commodities
/
Gold & Silver 2009
Feb 12, 2009 - 04:27 AM GMT


The cup and handle pattern is one of the most prevalent and reliable technical patterns. It occurs often and in short, medium and super long-term time frames. Technical analysis is not an exact science. In fact it is more an art than science. The formation of a technical pattern doesn't imply infallibly, that the pattern will complete itself according to textbook manner. However, I find that the cup and handle pattern completes itself far more often than any other technical pattern. Its record is very good.


In this update I want to take a look at the pattern in the context of the Gold market. Our first chart contains two examples of the pattern. Note the three stages of the pattern, which follow the formation of the cup. The first example occurred from 1996 to 2004, while the second example occurred inside of the larger pattern, from 1999 to 2002. Notice how both patterns completed the three phases? (Initial pullback, breakout, retest and blastoff).
The rule on price targets is first and foremost arithmetic and then logarithmic. In the first example, the price targets would be $363 and $398 for the logarithmic. In the second, the targets are $593 and $702. As you can see even the logarithmic price targets played out in both cases.
Now let's focus on the big picture and what is about to happen in this gold market. Take a look at the Gold chart below (from bigcharts.com). Gold is just starting to emerge from this nearly 30-year cup and handle pattern, which has a massive base at $700 to $730.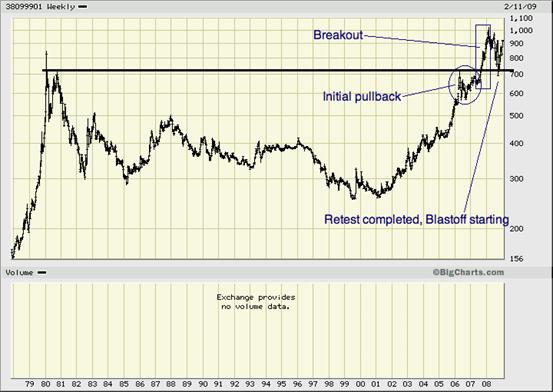 Remember the three stages? Initial pullback, breakout, retest and blastoff. The market is now at the blastoff phase. In terms of the targets I come up with $1,205 and $2,087. I should also mention that the next strongest Fibonacci targets are $1,500 and $2,300. I neglected to mention that in the cases seen on the last page, the targets were hit in less than a year (after the pullback to support). I would be surprised if our target of $2,087 wasn't hit within two years.
As we mentioned, technical analysis is not an exact science. It should be utilized in tandem with fundamentals and sentiment. Most readers of this website are well aware of the bullish fundamentals of Gold. We don't need to tell what you already know. In terms of sentiment, I believe we are fast approaching the point of recognition. I have been writing about this for several years and prematurely expected the point to be imminent.
The point of recognition by the way is sort of the herd realization of the bull market. Why is the herd realization coming soon? First, let's look at the deflationists. Most of them seem to believe that inflation will be coming, though very far into the future. The reality is that Gold advances and outperforms well in advance of an inflation cycle. During the cycle it is non-gold commodities that perform best. The deflationists will capitulate as soon as Gold hits a new all time high. The average investor is starting to realize the inflationary future. Moreover, they are starting to realize there are few viable options outside of precious metals. We think a stampede into precious metals will begin later this year.
Here is our rough projection for the future. Look for the market to make a final pullback before the most exciting phase begins. The moving averages are starting to align and in a few months should provide a solid base near $850. This market is just months away from an explosion to new all time highs. $2,300 is our target by year-end 2010.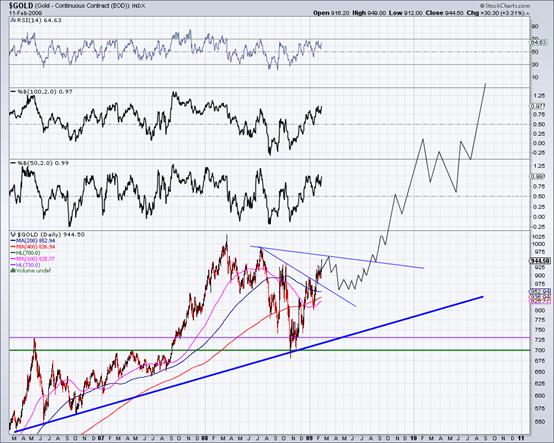 That's all for now. Good luck!
By Jordan Roy-Byrne
trendsman@trendsman.com
Editor of Trendsman Newsletter
http://trendsman.com
Trendsman" is an affiliate member of the Market Technicians Association (MTA) and is enrolled in their CMT Program, which certifies professionals in the field of technical analysis. He will be taking the final exam in Spring 07. Trendsman focuses on technical analysis but analyzes fundamentals and investor psychology in tandem with the charts. He credits his success to an immense love of the markets and an insatiable thirst for knowledge and profits.
© 2005-2019 http://www.MarketOracle.co.uk - The Market Oracle is a FREE Daily Financial Markets Analysis & Forecasting online publication.
Comments
Ker
12 Feb 09, 16:59
Gold - aha, yes right now. everybody will rush to buy it at that price


I think yourself , you won't buy it above 1000, if you will have to spend money for real purchase, anyone can make wishful charts. You will see gold at 550 by the end of 2009, even lower.



Anam
13 Feb 09, 10:15
GOLD I guess people are already rush


Well, i don't agree with your KER, if your compare the charts of last few weeks or months, you will notice GOLD has increased its value against every major currency. This is a sign that Jordan Roy Byrne is predicting the right thing.

I have been telling my dad to invest in gold since it was at $750/oz a few months ago and now it has crossed the $900/oz, he is regreating it.

But still there is a serious chance and with so much money being printed everywhere in the world, it will surely increase the value of GOLD by far grater than $2000/oz.



Badger
14 Feb 09, 00:27
GOLD at 550 - reasons please?


what's the reason the gold price will fall to 550? If deflation takes hold gold might go down to 600 but is STILL in a long term bull market so the longer term trend is up.. and as Anan quite rightly says - printing money will lead to massive inflationary pressures eventually, if not yet.



JACK
18 Feb 09, 23:23
Gold bubble will bust by 2010


Once inflation takes hold the fed will up interest rates which in turn will destroy gold prices. :)



Rohit
01 Dec 09, 22:54
Gold 2000 dollars easy by 2010 end


You are right. GOLD will be easily around 2000 dollars by next year end.



chandru
18 Sep 10, 11:02
yes you are correct


yes you are correct we also see the price at $1284 price




Only logged in users are allowed to post comments.
Register/ Log in