Stocks and Commodities About to Go Bust? Questions and Answer
Stock-Markets
/
Investing 2009
Feb 18, 2009 - 08:48 AM GMT


I am very pleased to announce that we have arrived at the point of maximum confusion. The voices you hear are real, and what they are saying is also being generated by the haze within which we all find ourselves. You'd be best not to pay them any heed.
Your only goal now should be to maintain your sanity, as what happens next is sure to both terrify and surprise. Unfortunately, there's little we can say in advance to help you prepare for the shock and awe of what's imminent. Only stay calm. Keep your head. The impulsive and cocksure will be lost. The deliberate and even-keeled, saved.
Before the insanity of the present progressive ensues, we recommend you take this short questionnaire prepared by our benefactors at the Council on Foreign Relations in order to better understand how well-equipped you are to face the immediate future imperfect. Do not trouble yourself with lengthy responses. Full paragraphs will suffice.
PART A :
Do you currently own gold or gold stocks? (If no, please continue to PART B.)
If yes, do you currently believe that we are approaching an upside breakout for gold and gold stocks?
Do you believe that the American economy is about to implode, its currency about to fail, and that large swaths of the population may be on the verge of taking to the streets to demand "Justice" and "Jobs"?
Do you sense that the Dow – indeed the American equity market in general – is poised to drop anywhere between 10% and 40% in the coming months?
Do you believe the US dollar is on the precipice and will shortly drop to depths heretofore unimaginable to the average American?
Do you believe Tim Geithner is part of, or has ever attended meetings of the Plunge Protection Team or any other group involved in undermining free markets in equities or gold?
Have you ever been treated for rabies?
PART B :
You'll be fine. Get ready to buy.
Results:
Please forward your results to Eileen Hussein at the Internal Surveillance Unit of the Council on Foreign Relations , 58 East 68 th Street , New York , NY 10065 , along with a recent photograph and your social security details. If you have a gun license, please indicate. Any familiarity with martial arts should also be documented.
Your score:
• If you answered yes to 3 of the above seven questions you are simply confused.
• If you answered yes to 4 of the above questions you are likely suffering from something more severe than mere confusion, and a trip to your local blood-letter is in order.
• Answering yes to 5 of the above questions means you are best suited to solitude and should avoid venturing outdoors too often – for everyone's sake.
• More than 5 yes answers means you do have rabies, and the CFR recommends you exit the gene pool forthwith (after sending in the above listed materials). All requests from the Council for "compassionate assisted gene pool exit processing" will be met with favorably.
The charts are showing a major market inflection point has been reached.
Here is the Dow for the last six months. The old girl is a mere hiccup away from breaking to new lows.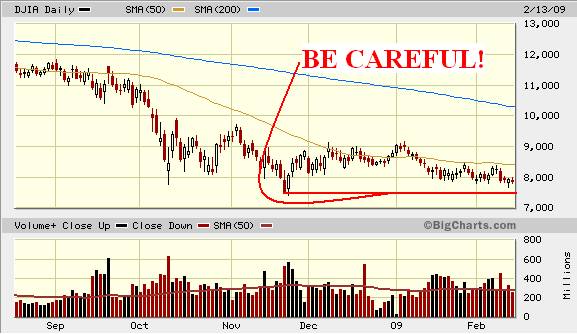 Or should we expect a bounce?
Meanwhile, gold has been rising steadily for months and may be ready to stab the last retracement high at $980 right in the neck!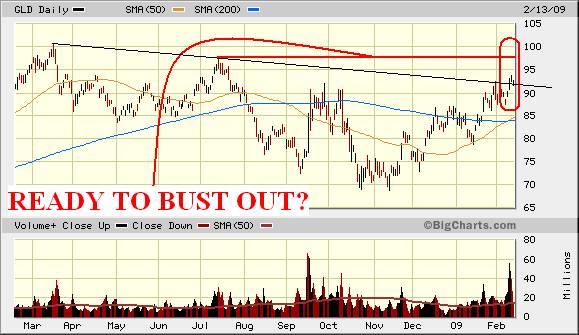 Only the declining trendline (in black) offers pause.
The dollar, too, is being watched like a stripper at a frat party. Check it out: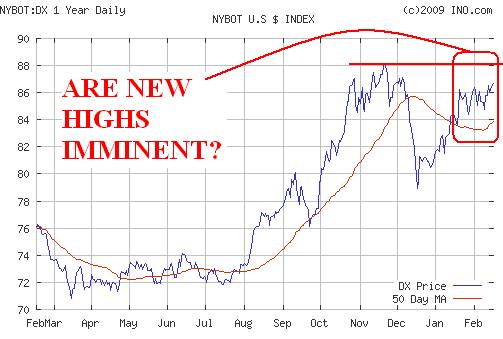 The dollar is defying all the jugheads and chowder crunchers and will very shortly form either a double top before diving, or will also bust out to new highs. Current weakness in the Eurozone (more fully detailed in this week's Residual Income Report ) suggests the dollar could be a lot "stronger" than many expect.
And commodities are also adding to the confusion. Here's the Reuters/Jeffries CRB Index for the last six months. What the hell is going to happen next?

To sum it up, we are currently approaching or are already at massive technical tipping points in nearly every major market. That also means that we should all be ready for the unexpected, because breaks in even one of the above charts could lead to unexpected moves in any or all of the rest. And that means the wildest of swings may await.
Finally, the moment you've been waiting for!
Oh, you dreamed of days like this, didn't you, you big trader, you. You dreamed of the day when ( insert your market here ) would finally ( break up/break down ) and make you richer than rich. But it just isn't going to happen the way you think, boy genius. There's too much that can happen alongside that little dream of yours that your big trader brain hasn't accounted for.
Make sure that when it all unfolds, bigshot, that you don't lose the family jewels, that you don't fall into a depressive funk and cry to your Maker (and anyone else who can handle your whining) that it wasn't supposed to unfold this way, that you were supposed to be right, that you will be right – if you just hold on, just a little bit longer.
And while you wait and watch the market get away from you, and the money goes spinning out of reach, and you spin, too, in a muddle-headed daze, remember that McAbby told you that it was your sanity , you arse, your sanity that was most precious now.
Foaming at the mouth?
Matt McAbby
Analyst, Oxbury Research
After graduating from Harvard University in 1989, Matt worked as a Financial Advisor at Wood Gundy Private Client Investments (now CIBC World Markets). After several successful years, he moved over to the analysis side of the business and has written extensively for some of corporate Canada's largest financial institutions.
Oxbury Research originally formed as an underground investment club, Oxbury Publishing is comprised of a wide variety of Wall Street professionals - from equity analysts to futures floor traders – all independent thinkers and all capital market veterans.
Copyright © 2009 Oxbury Research - All Rights Reserved
Disclaimer: The above is a matter of opinion provided for general information purposes only and is not intended as investment advice. Information and analysis above are derived from sources and utilising methods believed to be reliable, but we cannot accept responsibility for any losses you may incur as a result of this analysis. Individuals should consult with their personal financial advisors.
© 2005-2019 http://www.MarketOracle.co.uk - The Market Oracle is a FREE Daily Financial Markets Analysis & Forecasting online publication.

Only logged in users are allowed to post comments.
Register/ Log in