Why China's Economy is Booming as Gold heads for $2,000
Stock-Markets
/
Investing 2009
Feb 27, 2009 - 03:29 AM GMT


Larry Edelson writes: Could the economy and the financial system get any worse than they already are? Absolutely!
As I've often warned here in my Money and Markets columns, central banks and governments of the world will do anything and everything to try and prevent a meltdown of the global economy.
They will fight it tooth and nail. They will backstop and guarantee just about anything. They will print money like crazy … issue their mountain of new debt. Invest in banks, mortgage brokers, and even effectively semi-nationalize real estate!
Some of their policies will help. Most will fail … backfire … and aggravate the crisis.
In the end, not only will we have witnessed the collapse of a mountain of debt in the private sector but also in the public sector. With precious few exceptions, most governments around the globe are going to end up defaulting on their IOUs … their bonds … their contingent liabilities and promises.
And in the end, a whole new monetary system will be needed.
Right now, you can take your cues from gold, the ultimate currency, which has rocketed back to $1,000. It may take a short-term breather. Still, all of my indicators suggest the yellow metal will soon move to new record highs. Probably around $1,250 an ounce.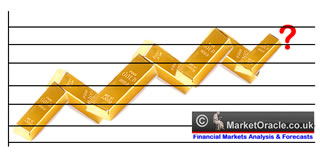 All of my indicators suggest gold will soon move to new record highs. Probably around $1,250 an ounce … and eventually to well above $2,000 an ounce!
But mark my words: $1,250 gold will be merely a stepping stone to much higher prices, eventually to well above $2,000 an ounce!
Meanwhile, for the broad stock markets in the U.S. … Europe … and Japan, I expect to see one more sell-off, which has already started. There's no sure way to say at what levels the Dow may fall to at this time. It could be just a couple hundred points lower, around Dow 7,000 … or it could be Dow 6,500 … or 6,000, perhaps even lower.
But I can say this with a high degree of confidence:
After this selling wave in stocks is over, despite how bad the news out there is and the fact that this crisis will not be over for years — I expect to see a major multi-month rally take place, with the Dow gaining back at least 50% of what it has lost since its major top at the 14,000 level.
It may just be a bear market rally. It's too soon to say. But rest assured I will keep you posted on how to play it.
Meanwhile … in my Money and Markets column of October 9, 2008 , I told you that …
Other than cash, gold, and a few select natural resources, the only other market I would be investing in would be China.
I told you how — despite what all the naysayers were claiming about a massive slowdown — China's retail sales were exploding higher to their fastest pace in more than nine years …
I told you how jewelry sales were soaring … how demand for electrical appliances such as TVs, refrigerators, washers and dryers were rocketing to record highs …
I showed you how domestic consumption in China overall was skyrocketing as disposable income — again, exactly the opposite of what the doomsayers were saying — was zooming higher, climbing more than 14% in the urban areas and bettering 19% in the rural areas.
What's happened since then to the Shanghai Composite 300 Index, China's major stock index akin to our Dow Jones Industrials?
After hitting its low in early November at 1,612, the index has soared more than 730 points — a whopping 45% — to 2,344 as I pen this column.
After surging a whopping 45%, the Chinese stock market is now the best performing market on the planet.
That makes the Chinese stock market the best performing market on the planet, again.
And yet, it's likely just the beginning of a brand new leg up in China's markets that will see the Shanghai composite TRIPLE in the next 18 to 36 months.
Why China is Booming
How could China explode higher when the world is in its worst financial crisis since the Great Depression? What about the tens of thousands of factories closing in China and the millions of Chinese losing their jobs that we're hearing about?
My answers …
First , bank lending is soaring. Chinese banks issued $237 billion in new loans in January, up an amazing 101% year-over-year. This huge leap in lending is almost equal to one-third of the total lending for all of 2008. That's because instead of the fresh money sitting in the banks like has happened in the U.S., loans are immediately flooding the economy.
China's main measure of money supply, like our M2, jumped 18.8% in January. And 39% of all lending in January went to infrastructure projects including power grid, railways and nuclear plants.
Second , China's Purchasing Manager's Index showed its second monthly rise, jumping from 41.2 in December to 45.3, up 6.7 points since its low in November of last year. New orders, including exports, jumped sharply.
Third , Beijing is taking advantage of low prices for natural resources to ensure its supply chain. The recent buying spree includes …

A $19.5 billion investment in resource conglomerate Rio Tinto by Aluminum Corp of China, financed by the China Development Bank

China Petrochemical's $1.5 billion purchase of Canada's Tanganyika Oil operating in Syria

A $25 billion loan to the Russian government in exchange for 290,000 barrels of oil per day for the next 25 years and a pipeline to China to carry the oil

A $10 billion loan to Brazil securing up to 160,000 barrels of crude a day

A deal with Venezuela for up to 1 million barrels of oil per day by 2015 in return for another $4 billion to top off an existing development fund

A $1.7 billion bid by China Minmetals for OZ Minerals, an Australian zinc producer on the verge of bankruptcy
Unfortunately, all this is knocking the U.S. out of the box when it comes to securing natural resources overseas. And that's bound to continue as the U.S. pours money into its economy while Beijing uses its $2 trillion cash reserves to go on a shopping spree.
Philosophic and strategic issues aside, no matter how you look at it, it's a positive for China's economy.
Fourth , retail sales continue to explode higher. January's major retailers reported a whopping 24.5% year-over-year jump in retail sales, with nearly every category, from clothing sales to electronics and luxury items exploding higher.
For January, Mercedes Benz saw sales of its S-Class models jump an impressive 26% in China.
Even Mercedes Benz saw vehicle sales jump 11% in January, with its S-Class models jumping an impressive 26%.
Fifth , Chinese demand is climbing again and starting to push the price of its imported natural resources higher. The price of imported iron ore has climbed 28% since its low last October, while hot-rolled steel prices have surged 41% since November.
My view: Despite all the gloom about China and tales of its GDP slumping to 6% or lower in 2009 — I believe China's economy is going to surprise almost everyone … grow at better than 8% for the year … and help lead the global economy higher as well.
I already told you how the Shanghai Composite is up 45% from its lows. And over the near-term, say the next six months, I expect it will likely rally much higher … from its current 2,300 level to well over 3,300.
My two favorite China plays for you to consider: The iShares FTSE/Xinhua China 25 Index (FXI) , which tracks China's Shanghai stock market, and the U.S. Global Investors China Regional Opportunities Fund (USCOX) .
Both offer terrific profit potential, are easy to buy, and are great ways to grab a stake in China without having to open a foreign brokerage account or buy stocks overseas.
Best wishes,
Larry
P.S. As a regular reader of Money and Markets , I'd like to give you the heads up on our new, specialized, free publication, Global Wealth Report , launching Monday, March 2. This daily newsletter focuses on the precious metals, natural resources, Asian and South American markets, and more. The best part? A subscription to Global Wealth Report won't cost you one red cent!
This investment news is brought to you by Money and Markets . Money and Markets is a free daily investment newsletter from Martin D. Weiss and Weiss Research analysts offering the latest investing news and financial insights for the stock market, including tips and advice on investing in gold, energy and oil. Dr. Weiss is a leader in the fields of investing, interest rates, financial safety and economic forecasting. To view archives or subscribe, visit http://www.moneyandmarkets.com .
© 2005-2019 http://www.MarketOracle.co.uk - The Market Oracle is a FREE Daily Financial Markets Analysis & Forecasting online publication.
Comments
Phillip Reynolds
04 Mar 09, 08:37
Why China's economy is booming


Re: "All of my indicators suggest gold will soon move to new record highs. Probably around $1,250 an ounce … and eventually to well above $2,000 an ounce!"

A bold claim indeed, unless you conclude that the key word in that statement is "eventualy".

Good article other than than, very thought provoking.



partap singh chauhan
31 Jul 10, 03:05
china


like everyone I also awed by the performance of chinese people < the are just doing the super job.




Only logged in users are allowed to post comments.
Register/ Log in