The Global Synchronized Recession
Economics
/
Recession 2008 - 2010
Apr 10, 2009 - 04:11 AM GMT


Even Walt Disney Couldn't Have Imagined This …
Tony Sagami writes: My son, Kenji, was only three years old when I took him to Disneyland. And his favorite two rides were Dumbo the Flying Elephant and It's a Small World . I swear, I had to listen to my son sing It's a Small, Small World a couple hundred times over the next week.
Walt Disney was a visionary in many ways. And he really nailed the concept of a shrinking world. But while he may have been thinking about a shrinking world in social terms, the global economy has been shrinking at a pace that even Disney couldn't have foreseen.
The World has become One Interdependent Global Economy
The Group of Twenty industrial countries (G-20), which met last week in London, were responsible for 85 percent of the global gross domestic product.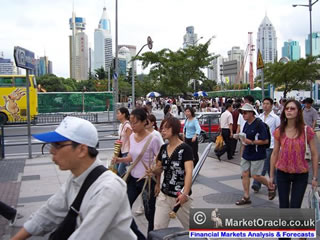 As the global economy shrinks, what happens in the U.S. can affect the rest of the world.
That means whatever happens to the economy of Germany, China, or even Argentina can affect ours. The opposite is even truer because the rest of the world is catching the economic cold that the U.S. has. In fact, things are so bad in the U.S. that walking pneumonia may be a more accurate description.
Example: In the last five months, global industrial production has tumbled 15 percent, an unprecedented drop in such a short period.
The gloom is spreading pretty darn fast, too. Just last week, the World Bank warned that it expects the world's economy to shrink 1.7 percent in 2009 … the first global economic decline since World War II.
The World Bank also warned that the world's richest countries — the same countries at the London G-20 meeting — will see their economies shrink by even more (3 percent)!
That's quite a contrast compared to the 2.1 percent growth that the World Bank expects for what it calls the developing countries.
Think about that: The richer the country … the worse things are going to get, while what we would consider poor countries are humming right along.
And according to the World Bank:
"What began six months ago as a massive de-leveraging in financial markets has turned into one of the sharpest global economic downturns in recent history."
Hans Timmer, manager of the bank's global prospects group added,
"Even with a return to positive growth, the problems that are being created at the moment because of the sharp fall [in growth] will remain with us in 2010 and 2011."
The Organization for Economic Co-operation and Development (OECD), which represents the world's richest nations, has an even gloomier forecast and predicted that global trade would shrink by more than 13 percent in 2009.
Klaus Schmidt-Hebbel the chief economist of the OECD, said,
"We are in the midst of the steepest, most synchronized recession in our lifetime, certainly since the 1930s."
2010? 2011? That's a Long, Long Time
Like the World Bank, the OECD expects the economic contraction to be even worse for the wealthiest countries and fall by a very painful 4.3 percent. That would be the "deepest and most widespread recession in 50 years,"according to the OECD.
The OECD expects the United Kingdom to shrink 3.7 percent, the U.S. 4 percent, Germany 5.3 percent, and Japan 6.6 percent.
Whether you are looking at things from Wall Street, Main Street, or from a seat on Walt Disney's It's a Small World , the global economy looks pretty ugly and will get even uglier. Robert Zoelick, the President of the World Bank, is so worried that he thinks we could see violence on the streets.
Zoelick said,
"These events could next become a human and a social crisis, with political implications. People in developing countries have much less cushion: no savings, no insurance, no unemployment benefits, and often no food. There is a greater risk in doing too little than in doing too much. No one can be certain whether these packages offer enough stimulus for a long enough time."
Do you know what these three G-20 politicians don't get?
That concern is why you saw a pledge of an additional $1.1 trillion of stimulus money from the free-spending G-20 members.
You know what those G-20 politicians and bureaucrats don't get, though? They, including the knuckleheads running our country, don't understand that you can't borrow-and-spend your way to prosperity.
Heck, if all it took was massive government spending to cure a comatose economy, Russia would be ruling the world today. Of course, you and I know better than that.
The Investment Implications Should be Pretty Obvious to You
You want to invest in countries that have a positive balance of trade, don't spend more than they make, and have growing economies.
That description certainly doesn't apply to the U.S. or any members of the European Union. You know who it does describe? China. Indeed, the World Bank forecasts that China will grow 6.5 percent in 2009.
My point is pretty simple: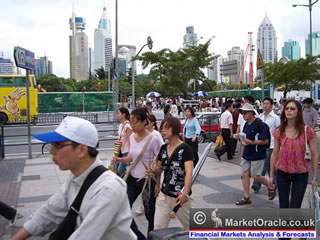 According to the World Bank, China will grow by 6.5 percent in 2009.
If you want to lose your shirt, keep the majority of your stock market money invested in the U.S. If you'd actually like to make some money, consider paying attention to what the World Bank, the OECD, and I are telling you.
Think about lightening up on U.S. stocks and loading up on Asian stocks. The last Asian stock I recommended to my Asia Stock Alert subscribers, China Railway Construction (Hong Kong: 1186), is trending upwards since I recommended it last month. And that stock cost about $1.30 a share. Yup, you could have bought 1,000 shares of that beauty for around $1,300 and be sitting on an open gain already.
Look, the U.S. is shrinking and China is growing. Where do you think you should be investing your money?
Neither you, your feet, nor your investment dollars are stuck in cement. So consider taking Walt Disney's advice to heart and remember that we do live in a small, small world.
Best wishes,
Tony
P.S. For the latest on the tremendous, money-making opportunities available in Asia, sign up for our new free e-zine, Uncommon Wisdom , with daily updates and recommendations to preserve and grow your wealth.
The best part? A subscription to Uncommon Wisdom won't cost you one red cent! Click here to subscribe.
This investment news is brought to you by Money and Markets . Money and Markets is a free daily investment newsletter from Martin D. Weiss and Weiss Research analysts offering the latest investing news and financial insights for the stock market, including tips and advice on investing in gold, energy and oil. Dr. Weiss is a leader in the fields of investing, interest rates, financial safety and economic forecasting. To view archives or subscribe, visit http://www.moneyandmarkets.com .
© 2005-2019 http://www.MarketOracle.co.uk - The Market Oracle is a FREE Daily Financial Markets Analysis & Forecasting online publication.

Only logged in users are allowed to post comments.
Register/ Log in