Analysis Topic: Currency Market Analysis
The analysis published under this topic are as follows.

Tuesday, September 18, 2007

A lowering of the Fed Fund rate creates many short and long-term effects within the different markets. Though the easing is designed to stabilize the economy, in light of the sub-prime credit crunch, and prevent the U.S.A. from drifting into a recession, there is also a chain reaction that develops due to this decrease.
The strength of a currency in the world markets is largely dependent on the fundamental health of the country and the interest rate being offered. The more fiscally secure the country, generally the lower the rate. The opposite is also true. Financially weak countries require a higher rate of return to remain competitive against other currencies.
Read full article...

Read full article...
---

Tuesday, September 18, 2007
I'm not trying to get personal here, I don't' care about your magazines, or other objects you may keep under your mattress. But we ask, how frequently do you here someone say, 'I'm going to put some dollars under my mattress for a 'rainy day'? Well, readers, we have some 'rainy days' coming and the question will not only be:
1. Do you have something under your mattress?
but, more importantly
2. What do you have under your mattress?
Read full article...

Read full article...
---

Monday, September 17, 2007

A great deal has been written about the Chinese economy — much of it nonsense — and the pegging of the yuan to the US dollar. I think a little theoretical digression may be in order. If the world were on a gold standard, by that I mean that all notes and bank deposits would be supported by a 100 per cent gold reserve, the pegging of currencies would not be possible. Each currency would represent a certain amount of gold. If currency A represented x gold units and currency B represented 2x units of gold then the exchange rate would obviously be 2:1. There would be no inflows or outflows of any significance so long as the exchange rates stayed with the gold points 1 .
Read full article...

Read full article...
---

Monday, September 17, 2007
Last week the Euro hit an all time high against the US dollar after speculation intensified that the FOMC (US equivalent of the bank of England ) will cut rates to ease the credit crunch which has plagued the equity markets and lending institution world wide.
Read full article...

Read full article...
---

Friday, September 14, 2007

Martin here with a change in our line-up that will make a lot of readers very happy: The dollar's decline is now so critical — and surging foreign currencies so potentially profitable — that we have decided to add a tremendous new resource for Money and Markets readers:
Our currency expert, Jack Crooks, will be here for you each Friday morning with his timely insights on the dollar, foreign currencies, international markets, and everything they impact.
Read full article...

Read full article...
---

Monday, September 10, 2007

Martin Weiss writes : The U.S. dollar is crashing. It's crashing against the euro, the pound, the Swiss franc and, especially the Japanese yen.
Just this past Thursday, for example, one U.S. dollar could have bought 115 yen; on Friday, it could buy only 113. In just 24 hours, the dollar fell more that it would historically fall in 24 weeks!
Read full article...

Read full article...
---

Friday, September 07, 2007

Bernanke's Plums - "... The problem with plums is that they rot, decreasing in value with age. This means you must sell them, not wait, if there is a glut. That is the new status of the US Dollar..."
MARKET BUBBLES don't really pop. They hiss a bit, reflate a bit, and then hiss a bit more.
Read full article...

Read full article...
---

Sunday, September 02, 2007
As per our FX forecast made on August 1st 115.60 Yen by End of August http://www.marketoracle.co.uk/Article1717.html predicting USD/JPY to reach 115.60 by end of August, the dollar hit this very level on the last day of August from its August 1st level of 119.18. We missed our EURUSD call for $1.37 by 60 pips and our GBPUSD call for $2.100 by 70 pips. In fact, USDJPY fell by more than 700 points during the month before regaining ground and closing below 117.
Read full article...

Read full article...
---

Friday, August 24, 2007

Jack Crooks writes: Since Mike Larson is off today, he's asked me to fill in for him. And his request couldn't have come at a better time: My specialty is foreign currencies. Foreign currencies have been surging against the dollar. And we're on the verge of a very specific currency explosion that could generate one of the greatest profit opportunities in a quarter century.
Here's the scoop:
The world's largest hedge funds and the world's richest institutions have been borrowing massive amounts of cheap Japanese money to fund some of the riskiest bets of all time. And now, that whole mountain of debt and risk is starting to crumble.
Read full article...

Read full article...
---

Monday, August 20, 2007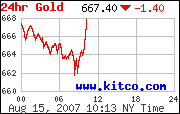 The following is a good 6 dollar spike occurring in the middle of the week. Though too many are concerned with gold not breaking 700 already gold still continues to consolidate, gain steam, and become stronger still.
Now the title of this article is a pretty lofty accusation. We have heard this as a possibility countless, countless times but it has always been just a rumor. Is the possibility still just a rumor?
Read full article...

Read full article...
---

Friday, August 17, 2007
In the face of gyrating currency markets it is difficult to get a real "price" on anything at the moment. We have often asked the question here, what is the price of gold? If it is $670 then we ask, what is the price of the $. Should the $ be valued in gold, the other way round to now? Well the same question should now be asked of oil. Why? Because the value of the $ is now subject to question internationally.
Read full article...

Read full article...
---

Tuesday, August 07, 2007
How far will the US$ fall? Will yen 'carry trade' positions unwind swiftly? Experts give their take on these and related concerns
OVERVIEW
The combination of a sliding dollar, an unwinding of yen 'carry trades' (whereby yen are used to finance investment or speculation in higher- yielding currencies) and a credit crunch in US markets has sent financial markets reeling around the world. Volatility is back and global asset valuations are looking shaky.
The Business Times gathered together an impressive array of experts to discuss just how serious the situation is - and where investors should look for refuge in the storm.
Read full article...

Read full article...
---

Thursday, August 02, 2007
The 48K seen in the ADP National Employment report on private payrolls for July, was well below expectations of 100K following 150K in June and 98 in May. Considering the ADP's 66% track in predicting the direction of (up or down) in private payrolls reported by the US Department of Labor, today's disappointing figure causes us to downgrade our forecast for non farm payrolls to 80K from June's 132K. Consensus of forecasts currently stands at 124K.
Read full article...

Read full article...
---

Thursday, July 26, 2007
Larry Edelson writes: By every measure under the sun, the dollar is getting creamed, just like I told you it would.
It recently hit a 25-year low against the British pound … a record low against the euro … a 12-year low against the Thai baht … and a seven-year low against a third-world currency, the Philippine peso.
In terms of overall international purchasing power, the dollar is now at its weakest level in decades.
Read full article...

Read full article...
---

Thursday, July 26, 2007
For twenty five years (since 1982) I have held the view that the World's Central Banks operate in unison to 'manage' the international markets in general and currency markets in particular. There was a short period after 1987 when, for a while, it looked like things might spiral out of control. On the day of the 1987 crash my attention was riveted to the computer screen. The Australian equity market took a 25% dive in about three hours. In the ensuing days and weeks I watched a parade of high profile captains of industry being rolled out in front of the TV cameras. To a man, they all said "No worries mate. She'll be right."
Read full article...

Read full article...
---

Wednesday, July 25, 2007
In the latest Prudent Squirrel newsletter, we discussed the fact that the Yen is rising and the USD appears to be bottoming. There are a slew of macroeconomic problems also developing for world markets that are heavily leveraged. A rising Yen was heavily involved in the late February global market sell off, and a bottoming or rising USD is precious metals and CRB bearish.
Read full article...

Read full article...
---

Tuesday, July 24, 2007
In This Issue
The Crack-up Boom Series, Part VII
Currencies Do Not Float, They Sink at Different Rates.
Foreword - For greater insight into our publication, have a look at the Overview of Tedbits . It helps current and potential subscribers understand our mission in serving you. It also gives a broad description of what's unfolding globally and what you can expect from Tedbits as a regular reader.
The Crack Up Boom series is exploring the unfolding "Indirect Exchange" (as detailed by Ludvig Von Mises), that dollar holders will be using to exit their holdings now and eventually is will be followed by all holders of fiat currency holdings no matter which country is perpetrating the "fraud" of confiscation of wealth through the printing and credit creation process that all such monetary schemes evolve into. The "Crack Up Boom" will drive an inflationary global expansion to inconceivable heights over the coming years.
Read full article...

Read full article...
---

Monday, July 23, 2007
After over five years of relentless decline, the worlds reserve currency appears now set to break the last important price support of $0.80. This level has proven several times in the past to provide well-needed support whenever the dollar has reached that line. Since the 1980s, the dollar has hit $0.80 six times and then strongly bounced from that level. However, technical evidence now indicates that the Greenback is likely to penetrate this line-in-the-sand for the first time over the next few weeks.
Read full article...

Read full article...
---

Friday, July 20, 2007
During his testimony before Congress this week, Ben Bernanke didn't hesitate to opine on a number of topics that had very little to do with his mandate as Fed Chairman. The wealth gap, racial factors in income inequality, and the impact of capital gains tax policy were all fair game. But when queried about the one issue where his impact is unrivaled, the value of the U.S. dollar, the Chairman quickly passed the buck to the Secretary of the Treasury. Conveniently, the Secretary was nowhere in sight.
Read full article...

Read full article...
---

Sunday, July 15, 2007
As many of you may recall, on the site we had earlier been wary of a substantial dollar rally, which was a big reason for fearing that a Double Top may be forming in gold and silver. However, the mounting evidence of an incubating major advance in the Precious Metals and PM stocks over the past few weeks, specifically signs of substantial accumulation of the larger PM stocks and the increasingly bullish COT profile of both gold and silver, have led us nevertheless to turn strongly bullish on the sector.
Read full article...

Read full article...
---