Head of the Trend: On Politics and Currencies
Currencies
/
US Dollar
May 29, 2007 - 01:23 AM GMT

Following the terrorist attacks of September 11, 2001 there was a spike in interest of opposing views generated by the Left and Right where even Hardball with Chris Mathews got parodied on Saturday Night Live because of its surge in popularity.
But polls soon showed a significant drop in interest for mainstream media outlets as independent news sites captured that attention. As the public became educated they then shared their found information with others as the Blogging revolution was born.
The most infamous of recent bloggers is Rosie O'Donnell who asked questions about the collapse of WTC 7, which was the third skyscraper in lower Manhattan to implode in its own footprint that day.
This is the same building from which Presidential candidate Rudy Giuliani heroically escaped on that day, after he was alerted it was to come down.
To this day the government has no known plausible answer for the collapse since it was not hit by the terrorist attack. So incredible is the independent collapse of WTC 7 that this is by far the most significant event, which has caused a shift in public thinking against mainstream media. This is corroborated by independent polls of New Yorkers, which show the majority does not believe the "official story."
As we noted last month, "What appears reasonable becomes Conventional Wisdom for the public. Often, it is because there is no other mainstream source of information for the public to consume that ideas are given their stature as truths. These ideas, true or false, become part of the fabric of philosophy upon which we build further ideas, right or wrong. Everyone "knew" that Saddam Hussein had Weapons of Mass Destruction, even though we wrote in September 2002 that this was not the case."
"Politics," we said, "feeds on a gluttony of warped perceptions mainly because the public is generally so misinformed." Our point is to underline the fact that this service tries to uncover the truth of the matter and find ways to learn and profit from uneven information flow.
So with the election campaigns picking up, it is interesting to see that opposition to Republican candidate Ron Paul has gathered steam. Initially, we thought Mr. Paul would be marginalized by an unknowing and indifferent public.
But since the Republican debate on May 3, Ron Paul has won two post-debate polls posted by event sponsor MSNBC and it was not lost on us that MSNBC, who commissioned the poll wrote nothing of Ron Paul in May 8 article, despite having handily won their poll. He is now going to appear on real time with Bill Mahr on HBO.
The interest in Mr. Paul centers on the fact that he represents the Republican ideals of yesteryear. He's really a Republican candidate for limited government a la Reagan which does not conform to the New Republicans of Empire and Debt where citizens are told to only answer to the call of duty of whatever the "Empire" does.
As we said last week, Newsweek's latest poll put the President's approval rating at just 28% showing little approval of the costs of Empire. As we also remarked last week, "Back in December 2004 we said that President Bush looked like a mix of both Wilson and Nixon and that the involvement in foreign wars would increase while his popularity continued to wane."
Just as Wilson was disgraced by Congress' refusal to ratify his 14 points following World War I (which he entered after he said he would not), President Bush is now as unpopular as was Jimmy Carter who also scored a 28 percent approval in 1979. But if CPI was reported today using CPI methodologies of 1980 it would be at 10%!
Currency Focus: The Mexican peso has had a spectacular two months, rewarding us for positioning bullishly near the lows. We added to that over the last month and were content to see the peso forge a technical break above long-term downtrend resistance at 0.93.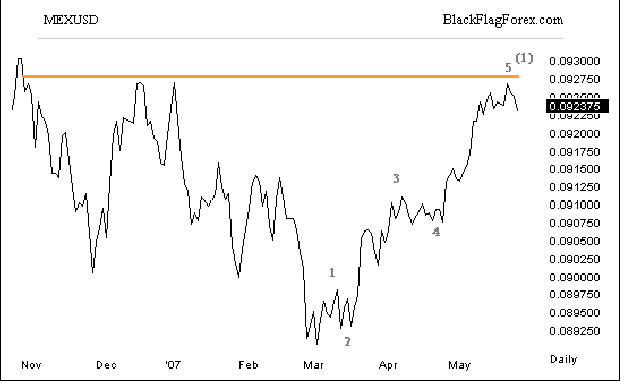 Note that the peso has now risen to wave (1) of 3 following a significant trendline breakout. We expect profit taking near current levels before wave (3) of 3 begins.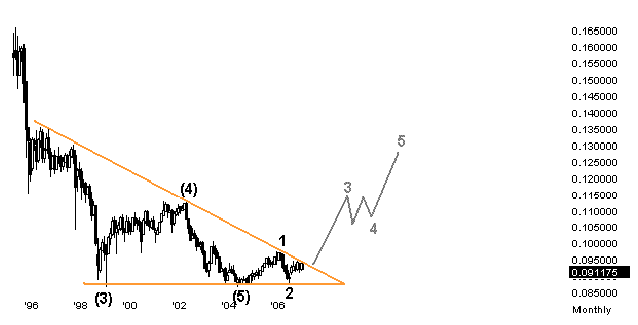 The USD index is nearing the bottom of Wave B and looks to have begun Wave C of the expected advance. Recall that we see this happening concurrent with a rise in interest rates to the 5% level as the Fed sees inflation dangers on the horizon.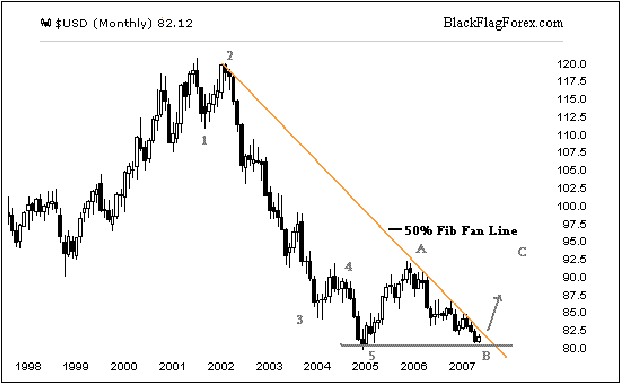 See in the chart below how the CAD/USD rate appears to be nearing a significant wave 5 top as well. When this currency pair peters out, this should signal the go ahead for the dollar to reverse for a short stint.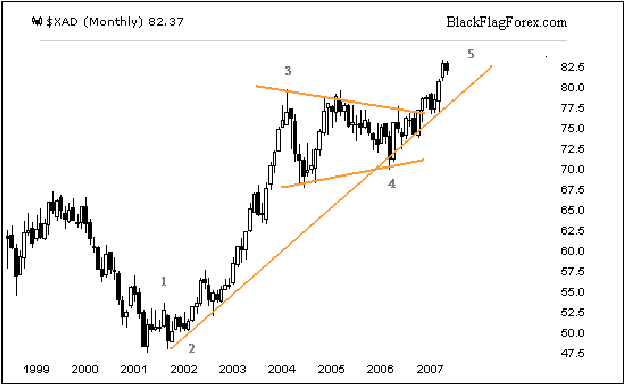 Ultimately, the overall macro view lines up perfectly with what we predicted as an ABC type bounce in the US dollar back in 2005. Currently, the dollar may have ended the "wave B" decline in May and a move above 82.50 would be the first sign of a major turnaround.
Further in-depth analysis and more specific trading recommendations are available through our daily Morning Market Updates and FxSignalZone reports.
By Jes Black
http://www.fxmoneytrends.com
© 2007 Jes Black - Jes Black, hedge fund manager at Black Flag Capital Partners, specializes in foreign exchange and global macro trends. Prior to organizing the fund he helped MG Financial Group launch Forexnews.com. In the summer of 2004 Mr. Black formed FX Money Trends , a research firm catering to professional traders.
Mr. Black holds a degree in economics from the University of Kansas and an MBA from the ESC in France. His market commentary is often featured in the Wall Street Journal, Financial Times and Reuters. He has also written numerous strategy pieces for Futures magazine. To find out more about the funds research letter visit www.fxmoneytrends.com/products.html . Qualified prospective investors can find out more about Black Flag Capital Partners by e-mailing info@blackflagfund.com
© 2005-2019 http://www.MarketOracle.co.uk - The Market Oracle is a FREE Daily Financial Markets Analysis & Forecasting online publication.
Comments
goldenequity
29 May 07, 09:00
Get to Know Ron Paul
Who IS Ron Paul? They still need to know!! NOBODY explains Ron Paul BETTER than Ron Paul himself! Here is an interactive audio archive of Ron Paul speeches and interviews in chronological order. Worth a look! www.ronpaulaudio.com


Only logged in users are allowed to post comments.
Register/ Log in