What PIMCO's Bill Gross Doesn't Want You to Know (Part 2)
Interest-Rates
/
US Bonds
Jun 28, 2009 - 12:15 PM GMT


I hope you now understand how mutual funds work. They play the same shell games as the credit card industry. No matter which share class you buy, you are going to pay huge fees. And most investors who haven't read this piece will never realize that.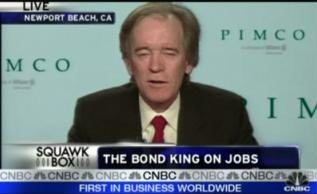 And as I have discussed in the past, mutual funds have NO RISK MANGEMENT system in place because they must remain in the market at all times. All they really do is practice a modified form of dollar-cost averaging.
Why Mutual Funds are the WORST Investments During Bear Markets (Part 1)
http://www.avaresearch.com/article_details-193.html
Why Mutual Funds are the WORST Investments During Bear Markets (Part 2)
http://www.avaresearch.com/article_details-194.html
So what's the solution of you want a managed bond fund account?
Well, you could go to managed money. The fees are smaller and the tax-loss selling is customized to suit you.
An even better alternative would be investment in closed-end funds. The fees are taken from the NAV instead of your account and these fees are smaller than other managed funds.
Others who might not want any fees or risk might consider buying Certificates of Deposit. A Laddering approach would reduce your interest rate risk. Of course, if you're patient, you might have a good opportunity to get very large double-digit CD rates in a few years.
Let me make one thing clear. It doesn't take a genius to uncover this disturbing reality about bond mutual funds. You only have to pay attention to the details, because chances are, you won't be able to count on your financial adviser. Of course there are always exceptions. Just don't think you've run across one (as so many think they have) unless you REALLY have.
I also want to make it clear that this problem is not unique to Mr. Gross' funds. It is a problem with all bond funds.
I wanted to highlight the problem using Total Return because it is the largest mutual fund, AND because the fund grows almost exclusively by assets under management (investors buying the fund) AS OPPOSED to capital appreciation (which occurs with equity mutual funds). What this shows you is just how ignorant investors are.
In my opinion, these fees, given the nature of the investment type, should be ILLEGAL based on what I know about normal standards from the SEC and FINRA.
But the mutual fund industry still has no real regulation. It has only recently fallen under token regulation by the SEC. Prior to this, funds had absolutely no regulation whatsoever. Still, once again, all fees are not accounted for nor disclosed when reporting performance.
But these ridiculous fees apparently weren't enough for Gross. Last summer, a couple of months AFTER he made big bets on Fannie and Freddie debt, Gross began a huge media blitz filled with scare tactics in attempt to convince Americans and politicians alike that Fannie and Freddie should be bailed out. He continued his endorsement of TARP a few months later.
Have a look at Gross' Total Return Fund's top 10 holdings. Recall this is the world's largest mutual fund.
Now you know why he was so much in favor of the bailout for Fannie and Freddie.
TOP 10 HOLDINGS (24.36% OF TOTAL ASSETS)
Company % Assets
FNMA 6% 7.43
FNMA 5.5% 2.76
FNMA 5% 2.63
FHLMC 5.5% 2.30
US Treasury Note 3.125% 1.97
BRAZIL NTN-F 1.87
US TREASURY NOTE 1.55
FNMA 5.5% 1.33
FNMA 1.31
FNMA 5.5% 1.21
Mr. Gross would like to personally thank you for paying your taxes.
You might recall that Warren Buffet did the same thing after taking large stakes in Goldman Sachs and General Electric. I've previously discussed how Buffett uses the media to make money. The following excerpt from an article I previous wrote illustrates this.
During a live interview on CNBC the same day, Buffett said "if Congress doesn't approve the bailout plan soon, I will have done some dumb things." He is basically saying he needs the bailout to rescue his investments (recall Buffett had recently bought large stakes in Goldman Sachs and General Electric).
The media should never interview anyone about policies affecting the capital markets if they have a large financial interest at stake. Many viewers might change their opinion about the need for a bailout after hearing Buffett's "expert opinion," when in fact he stands to lose if the bailout is not passed. So who is the bailout really for? America or Buffett?
The same situation applies to others who stood to get wiped out if the bailout wasn't approved like Bill Gross. His huge investment in Fannie Mae and Freddie Mac bonds was foolish unless he realized his clout would ultimately help fuel a bailout for these government agencies (most likely the case).
Regardless, in my opinion, Gross was still foolish for buying these bonds in the spring of 2008, prior to their collapse. You won't hear the Wall Street hacks on television criticize this blunder because PIMCO spends a lot of money advertising with these networks.
http://www.avaresearch.com/article_details-146.html
All it takes is some common sense and honesty. That is precisely why you will never hear anyone on Wall Street or on CNBC mention it. After all, they aren't at all on your side. Once I found out how the game is played I left Wall Street in disgust.
Now, be a good citizen and forward this article to everyone you know so they will understand these disturbing realities.




By Mike Stathis
www.avaresearch.com
Copyright © 2009. All Rights Reserved. Mike Stathis.
Mike Stathis is the Managing Principal of Apex Venture Advisors , a business and investment intelligence firm serving the needs of venture firms, corporations and hedge funds on a variety of projects. Mike's work in the private markets includes valuation analysis, deal structuring, and business strategy. In the public markets he has assisted hedge funds with investment strategy, valuation analysis, market forecasting, risk management, and distressed securities analysis. Prior to Apex Advisors, Mike worked at UBS and Bear Stearns, focusing on asset management and merchant banking.
The accuracy of his predictions and insights detailed in the 2006 release of America's Financial Apocalypse and Cashing in on the Real Estate Bubble have positioned him as one of America's most insightful and creative financial minds. These books serve as proof that he remains well ahead of the curve, as he continues to position his clients with a unique competitive advantage. His first book, The Startup Company Bible for Entrepreneurs has become required reading for high-tech entrepreneurs, and is used in several business schools as a required text for completion of the MBA program.
Restrictions Against Reproduction: No part of this publication may be reproduced, stored in a retrieval system, or transmitted in any form or by any means, electronic, mechanical, photocopying, recording, scanning, or otherwise, except as permitted under Section 107 or 108 of the 1976 United States Copyright Act, without the prior written permission of the copyright owner and the Publisher. These articles and commentaries cannot be reposted or used in any publications for which there is any revenue generated directly or indirectly. These articles cannot be used to enhance the viewer appeal of any website, including any ad revenue on the website, other than those sites for which specific written permission has been granted. Any such violations are unlawful and violators will be prosecuted in accordance with these laws.
Requests to the Publisher for permission or further information should be sent to info@apexva.com
Books Published
"America's Financial Apocalypse" (Condensed Version) http://www.amazon.com/...
"Cashing in on the Real Estate Bubble" http://www.amazon.com/...
"The Startup Company Bible for Entrepreneurs" http://www.amazon.com...
Disclaimer: All investment commentaries and recommendations herein have been presented for educational purposes, are generic and not meant to serve as individual investment advice, and should not be taken as such. Readers should consult their registered financial representative to determine the suitability of all investment strategies discussed. Without a consideration of each investor's financial profile. The investment strategies herein do not apply to 401(k), IRA or any other tax-deferred retirement accounts due to the limitations of these investment vehicles.
© 2005-2019 http://www.MarketOracle.co.uk - The Market Oracle is a FREE Daily Financial Markets Analysis & Forecasting online publication.

Only logged in users are allowed to post comments.
Register/ Log in