Government Regulations to Force Agricultural Food Prices Higher
Commodities
/
Agricultural Commodities
Jun 29, 2009 - 05:07 PM GMT


The American Clean Energy and Security Act of 2009 (ACES), a 1,300 page yet to be written law based on clearly and widely acknowledged junk science, has been passed by the U.S. House of Representatives. Few sessions of the U.S. Congress have been able to pass two major pieces of extremely bad and damaging legislation in such a short time. However, even in a law as bad as this one we should be able to find some ways for investors to profit.
One needs to only understand the implications of such monumentally misguided legislation. Such laws provide for government regulations to impair and restrict consumer, business, and commercial activities. As a consequence of that, less of everything will be made. The creation of regulations, such as this law intends to accomplish, will reduce total output of the U.S... Government regulations only serve to reduce the total output of a nation. Government regulations never increase the output of a nation.
Second, the imposition of government regulations, as proposed by this law, will only serve to raise the future price of everything. Removal of regulations, on the other hand, lowers prices. Such expectations have been confirmed repeatedly, from natural gas to airline tickets to phone calls. Government regulations force costs up, and marginal producers are forced out of business.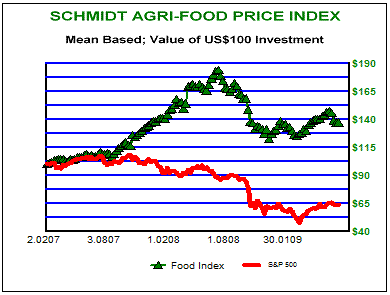 Prices of Agri-Food commodity prices should rise if ACES is enacted. All costs associated with energy will rise, and producing food requires energy in many forms. A consequence of that will be less production as marginal agricultural lands are not planted due to high costs. Further, marginal producers of Agri-Foods will be forced out of business. Just as the world is moving into an era in which it needs more Agri-Food production, the U.S. Congress is passing a law that will reduces global production of Agri-Food, as well as a long list of other goods.
As the above chart shows, Agri-Food prices over time have done quite well, performing better than the U.S. equity markets. While now passing though a normal seasonal slump, Agri-Food prices will now be higher in the future than they would have been had ACES not been enacted. One clear change to be brought about by the current U.S. government is less available Agri-Food selling at higher prices.
Higher demand for Agri-Food on the part of consumers in BRICA, Brazil, Russia, India, China, and ASEAN, can be certainly expected in the years ahead. With their rising incomes they will bid up the prices of Agri-Foods on a global basis. Prices will need to rise by a sufficient amount to restore profitability to those producers hurt by ACES. Investors that position themselves in front of those rising prices will likely benefit.
Growing season is now in process in North America. Major crops, such as corn and soybeans, are going in the ground, or are already there. Winter wheat is well into harvest. Such developments cause a normal seasonal slump in Agri-Food prices. Buyers are now waiting for the new crops to arrive later in the Fall.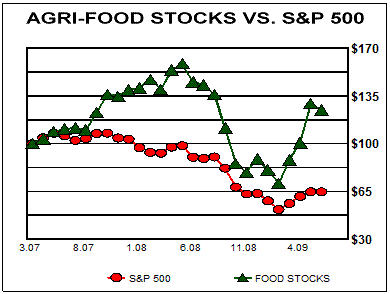 As shown in the above chart, the Agri-Food stocks seem to be finally taking a much needed rest. That development is primarily due to the extremely strong move from the lows of earlier this year. Street strategists were clearly wrong about the death of commodities. Second, seasonal weakness in Agri-Food prices may be spilling over into the equities. Finally, the first round effects of ACES may be depressing the stocks.
As the hot days of Summer pass in North America, the prices of both Agri-Food commodities and Agri-Food stocks should put in place important lows. New lows are not expected, but rather the old lows will be validated. While staying inside to avoid the heat in coming months, researching Agri-Food ideas might be a good use of time.
The economic growth in BRICA is going to dictate the selling prices for innumerable consumer goods in the decade ahead, and in particular the prices of Agri-Food. At the margin, these nations are a major component of the demand for Agri-Food. In research to be published in the next monthly issue of The Agri-Food Value View, we find that the growth in demand by BRIC consumers for broilers, table chicken, will consume almost 60% of the increased production of broilers in the 2005-9 period. The rest of the world has been left to divide only slightly more than 40%. BRICA and bio-energy demand for Agri-Food is kicking off Wave III of the grand cycle developing for Agri-Food, and that might serve your portfolio well in the decade ahead. Read more at http://home.att.net/~nwschmidt/Order_AgriValueRECENT.html
By Ned W Schmidt CFA, CEBS
AGRI-FOOD THOUGHTS is from Ned W. Schmidt,CFA,CEBS, publisher of The Agri-Food Value View , a monthly exploration of the Agri-Food grand cycle being created by China, India, and Eco-energy. To receive the most recent issue of this publication, use this link: http://home.att.net/~nwschmidt/Order_AgriValueRECENT.html
Copyright © 2009 Ned W. Schmidt - All Rights Reserved
© 2005-2019 http://www.MarketOracle.co.uk - The Market Oracle is a FREE Daily Financial Markets Analysis & Forecasting online publication.

Only logged in users are allowed to post comments.
Register/ Log in