1930's Depression Bear Market a Plausable Reality for Todays Stock Market
Stock-Markets
/
Stocks Bear Market
Sep 04, 2009 - 12:26 AM GMT


Half Empty circa 1930
In similar fashion to the present wisdom held by the majority of professionals, it is with certainty that the majority of those embedded in the '29 quagmire viewed their 48% V-shape rally in the Dow as the start of a full economic recovery, an end to the crisis, and a sure sign of a permanent return to prosperity.
As the record clearly shows, their optimistic perceptions could not have been more wrong. Although we are not predicting a repeat or rhyme of this diabolic sequence of devastating events, we wish simply to bring to readers' attention the very real plausibility of such an outcome.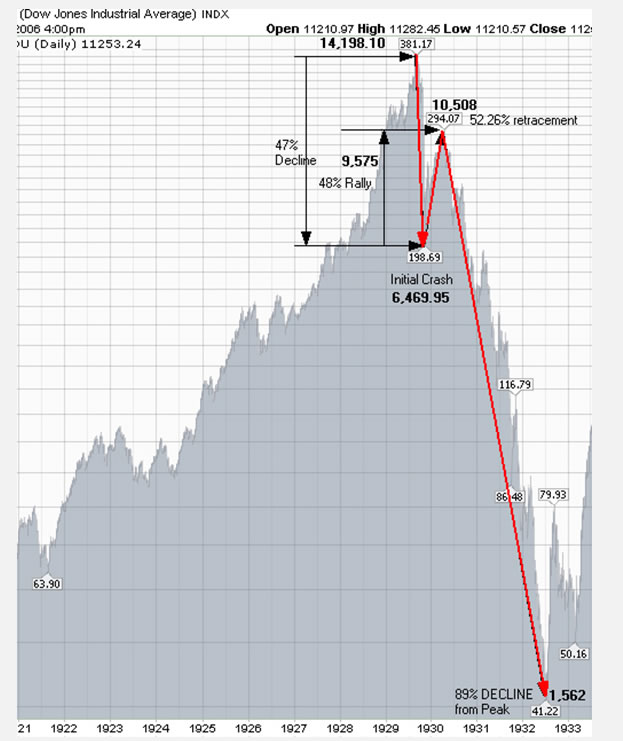 Was our modern day 54.4% 18-month crash in the Dow simply an overdone anticipation of Armageddon, or was it an initial warning shot across the bow as was the case in 1929?
In our view, the Dow's March low of 6469 could easily have been "in early stage process" of pricing in Armageddon rather than "overshooting" to the downside providing what many are touting as an extreme "under-valuation" long-term buying opportunity.
The largest financial coup in the history of humankind
What stopped the road to ruin? It was yet another epic financial coup engineered by none other than the Fed and Treasury affecting every means necessary to rescue an irreparably insolvent system.
With the unique benefit of monopoly over the worlds reserve "make-believe" currency, without limit or immediate consequence, the Fed and Treasury reflexively trounced the constitution, changed rules, and threw as much of their monopoly money at their global banking and wall street buddies as was necessary in order to effect yet another "do-over" for the status quo elites.
If Bernie couldn't do it, Let's try Ben ... Let's go Ben ... Let's go Ben...
Only time will tell if the world will buy into this diabolical scheme in the same way that feeder funds and astute investors bought into Bernie Madoff's version of reality.
In the five months following our modern-day March low, the Dow has rallied 48.84% to its intraday August 28 high of 9630, which is eerily similar to the percentage gained off the 1929 low.
Shy of the 1930 retracement, the modern-day rally into August retraced only 40.88% of its entire decline. Should we match the 52.26% retracement achieved in the V-spike from 1930, the Dow could trade as high as 10,500 and still risk total collapse.
What might that look like, and what may follow such a plausible reality? The chart below ponders one such path that the Dow may take in event such dire conditions impose themselves on the masses.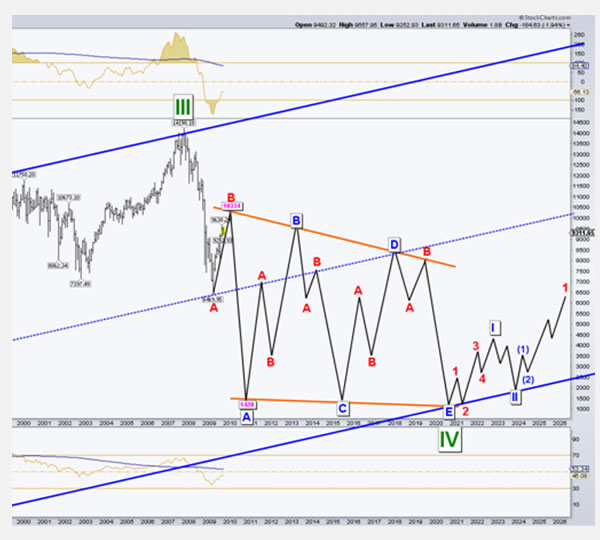 A thirteen-year "M" shaped recovery
The above chart pattern illustrates a five-wave 13-year secular bear market triangle consisting of waves "A" through "E" at cycle degree. The massive cyclical bull and bear markets strewn over the course of the next ten years might form what may come to be known as the long and torturous "M" shaped recovery.
Are you prepared to invest or trade such an environment, or perhaps one that entails a hyperinflationary run up to fresh all-time highs? Rest assured that we are, so join us in our ongoing quest to journal, forecast, and trade the greatest events in financial history.
For those who wish to obtain a visually graphic, easy to understand actionable guide to the various disciplines and real-time actions needed to achieve a broad array of objectives at every level of market engagement, look no further than Elliott Wave Technology's PLATINUM publication. Those with a more narrow focus may select from the below list of PLATINUM'S three subsidiary sister publications.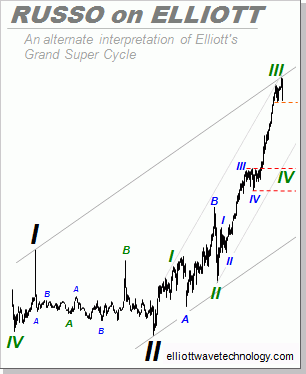 Three More Options: GET ONE TODAY
1. The express focus of Elliott Wave Technology's Near Term Outlook is to provide equity index traders with actionable guidance over the near and medium term.
2. Our Position Traders Perspective provides actionable guidance for longer-term time horizons.
3. EWT's Day Traders Perspective assists short-term traders in executing proprietary methodology for capturing price moves of shorter duration.
Elliott Wave Technology's PLATINUM 500 CHALLENGE:
In our effort to serve and empower as many individuals to trade profitably amid the sharks on the street, we will soon be announcing the availability of $500 PLATINUM service coupons. We shall award these incredibly generous service coupons to select individuals who apply and qualify for entry. We will let those interested know when entry applications for the challenge become available, and shall announce further details of the PLATINUM 500 CHALLENGE as they develop, so stay tuned. If you are interested in pre-qualifying, send us an email containing "PLATINUM 500 CHALLENGE" somewhere in the subject line or body of the email. We will place your email address on our secure list of PLATINUM-500 applicants, and keep you apprised of further developments and qualification criteria.
Until then,
Trade Better / Invest Smarter...
By Joseph Russo
Chief Editor and Technical Analyst
Elliott Wave Technology
Email Author
Copyright © 2009 Elliott Wave Technology. All Rights Reserved.
Joseph Russo, presently the Publisher and Chief Market analyst for Elliott Wave Technology, has been studying Elliott Wave Theory, and the Technical Analysis of Financial Markets since 1991 and currently maintains active member status in the "Market Technicians Association." Joe continues to expand his body of knowledge through the MTA's accredited CMT program.
© 2005-2019 http://www.MarketOracle.co.uk - The Market Oracle is a FREE Daily Financial Markets Analysis & Forecasting online publication.
Comments
Adrian Ford
13 Nov 09, 23:39
1930's Depression Bear Market a Plausable Reality for Todays Stock Market


When the Dow crashed to 1962 in 1932 the dollar was backed by gold. Now that it isn't, maybe the Dow will crash in a similar fashion but only in relation to the gold price. i.e.the Dow might stay at the same kind of level nominally and the gold price explode as opposed to the Dow decreasing




Only logged in users are allowed to post comments.
Register/ Log in