Protectionism Enemy of Economic Recovery
Economics
/
Global Economy
Sep 19, 2009 - 01:08 PM GMT


In the most global-reaching recession since the Great Depression, protectionism is a poison pill for recovery. And we got a taste of it this week …
The Chinese supply about 19 percent of the U.S. tire market. And the Obama administration just slapped a 35 percent tariff on those imports!
This isn't a one-off incident. When global leaders met last April in London for the G-20 meeting, they addressed the "critical importance of rejecting protectionism." But their actions have spoken louder than their words …
The recent World Trade Report from the World Trade Organization shows that, since the global economy took a nosedive, protectionism is on the rise with a sharp increase in new trade restrictions reported to the WTO.
Since April, when the G-20 last vowed to avoid such measures, 91 new protectionist initiations have been reported against G-20 member countries!
Protectionism is a natural response in recessions. When jobs are tight the perception by most workers toward globalization becomes more negative. And studies show that during these times, the number of people who favor the idea of higher tariffs on imported goods increases considerably.

The Chinese have retaliated against Obama's 35% tariff on tires.
So politics play a huge role …
Commenting on the new tire tariff, the president of the United Steelworkers union said … "The President is enforcing our trade rules, and by standing up to China, is standing up for us."
But protectionism has historically put weak economies in a deeper and more prolonged crisis.
A Glimpse at the Track Record Of Protectionism …
What is said to be one of greatest mistakes made during the Great Depression was the Smoot-Hawley Act. Weakening U.S. labor markets in 1927 and 1928 motivated an American senator and a congressman to push for tariff increases across nearly 20,000 imported goods.
Hawley and Smoot's legislation intensified nationalism throughout the world.
The heated discussions started in 1929, prior to the stock market crash. And by 1930, U.S. lawmakers had put tariffs on practically everything they could. What followed were a depression and three recessions over the course of two decades.
Meanwhile, investors who bought at the top of the U.S. stock market in 1929, were underwater for the next 25 years!
So what makes protectionism so dangerous?
Simply put: It brings about retaliation. Other countries tend to take similar action, further choking off global trading activity.
For example, China responded to the new tire tariff by launching a probe into alleged "dumping" practices of American automotive and chicken products. Dumping is when exporters sell a product for less than charged, or can be produced, in its home market.
Global Trade Already in Collapse …
Global trade has fallen off a cliff. And economies cannot afford to let the situation worsen.
The chart below shows the current fall in global trade (the red line) relative to the drop during the Great Depression (the blue line).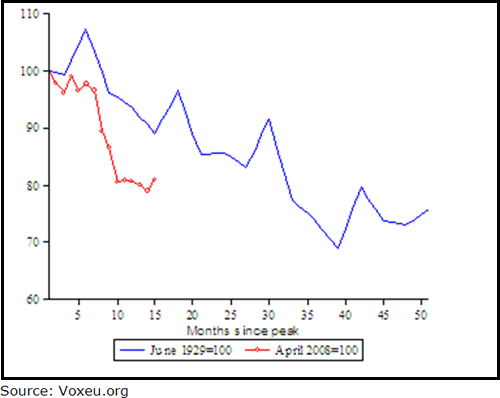 As you can see, despite the improvements in economies and the vast improvements in sentiment, global trade remains on a sharper sloping decline than it did in the Great Depression.
Another Pledge from G-20 Leaders: Avoid Competitive Devaluations
Exports are typically a key tool in leading countries out of recession. And in typical run-of-the-mill recessions, countries can weaken their currencies to improve the competitiveness of their exports.
But in a global recession, currency devaluations have a viral effect. Just like with trade restrictions, if some countries devalue their currencies, others will follow suit.
And with the aggressive rise in many currencies against the dollar over the past six months, the pressure to curb currency strength is growing — which means central banks are dealing with a threatening situation.

A strong currency can hurt countries that depend on exports.
A strong currency can derail fragile recoveries, particularly for those countries with highly export-centric economies. Strong currencies undermine the easy money policies central banks have enacted, and they make exports more expensive and less competitive on a global stage. Alternatively, competitive devaluations could fuel unrest and retaliatory moves by other countries, which could damage a weak recovery.
The bottom line is that global economies are walking on a high wire toward recovery. And the threats that could quickly prompt a fall back into recession are numerous.
Could protectionism be that catalyst that sets the global economic recession into round two? Next week, leaders around the world will meet in Pittsburgh for another G-20 meeting. And you can bet that protectionism and currencies will be a hot topic.
Regards,
Bryan
This investment news is brought to you by Money and Markets . Money and Markets is a free daily investment newsletter from Martin D. Weiss and Weiss Research analysts offering the latest investing news and financial insights for the stock market, including tips and advice on investing in gold, energy and oil. Dr. Weiss is a leader in the fields of investing, interest rates, financial safety and economic forecasting. To view archives or subscribe, visit http://www.moneyandmarkets.com .
© 2005-2019 http://www.MarketOracle.co.uk - The Market Oracle is a FREE Daily Financial Markets Analysis & Forecasting online publication.

Only logged in users are allowed to post comments.
Register/ Log in