Google passes $500, Is it time to sell ?
Companies
/
Google
Nov 26, 2006 - 04:54 PM GMT

Google passes $500 on the back of a wave of speculative interest, is this the start of another run up in google or are we near a potential slump in the google share price ?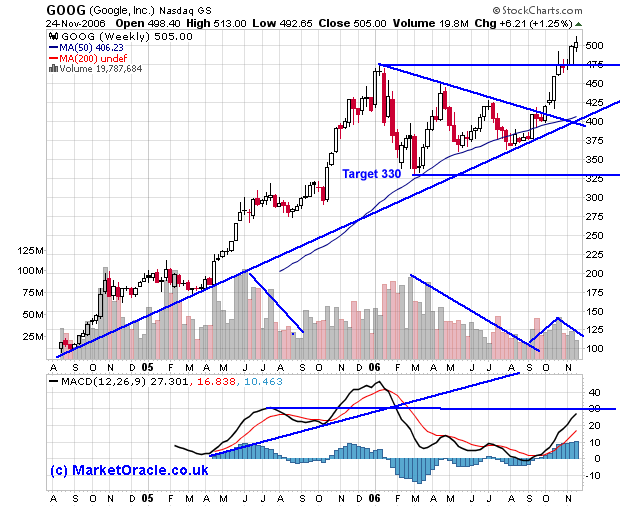 Since google floated some 2 years ago at $85, it has had strong run higher to the current price of $505, up 600% since IPO, and up over 50% on the 330 lows seen barely 3 months ago. Now we look at where google actually stands and probability that it can achieve an even higher price or if Google has run ahead of its fundamentals.
Googles primary, and you could say only source of revenue is the google search engine, where the current market share of searches amongst the five main search index players is approximately as follows.
Google 45%
Yahoo 30%
Microsoft 15%
AOL 5%
Ask. 5%
Despite Yahoo being 2nd, the main competitor to Google is Microsoft, for Microsoft has the means and the financial muscle to overtake google, it may not happen in 2007. But the risks given the amount of resources that Microsoft can throw at the Search Engine is highly probable. Despite googles several recent purchases of companies such as Youtube, and providing free services such as blogging, they are future possible money earners, not current, if Microsoft is able to put a dent into googles primary revenue source searching, then the google stock price could be headed for a sharp drop of more than 50% from the current price of $505.
A financial comparison between Google, Microsoft and Yahoo.
| | | | |
| --- | --- | --- | --- |
| | Google | Microsoft | Yahoo |
| Share Price | $505 | $30 | $27.5 |
| Earnings per Share | $9 | $1.2 | $1.3 |
| Price / Earnings Ratio | 56 | 25 | 22 |
| Turnover | $9.5bn | $45bn | 6$.2bn |
| Profit | $2.5bn | $13bn | $1.1bn |
| Search Market Share | 45% | 15% | 30% |
| Market Capital | $154bn | $292bn | $38bn |
The key item to stand out on the comparison between the 3 major search engine providers are that google is valued at near 3 times either Microsoft or Yahoo. Which suggests extra speculative interest on future growth comprising more than 50% of its current valuation.
Google has a market share of 45%, can that market share grow further when it has microsoft and yahoo coming up behind it ? My opinion is that it may well be able to maintain market share, but will find it difficult to grow market sure much above the current 45%. Which suggest profits will have to come from other business and growth in advertising revenues from searching. Advertising is a cyclical business and there are little significant barriers to entry for this type of business. Google's revenue growth (as strong as it is), is slowing down on a quarterly basis and this is yet to be reflected in the price. Google additionally has benefited from the ongoing problems at Yahoo, which has suffered from a downturn in financial and car advertising, both of which contributed to a 38% fall in its most recent quarterly profits.
The market valuation of Google at $154bn on earnings of $2.5bn seems excessive, much as the value of Microsoft was during the dot com bubble of 1999. The stock does appear to have got ahead of its future revenue growth rate when the only revenue stream that google has is ads revenues generated by the search index. Google is overly expensive at $154bn, not when you can pick up a stock in microsoft and yahoo for near 1/3rd the cost.
Technical Analysis
1. Immediate support is along the uptrendline since Google floated in 2004, presently at $405, which would mark the initial target for any decline.
2. Secondary support exists along the intermediary lows along £365.
3. Major support and the main target for any down trend are the lows along $330. Which would represent a near 35% drop in price, which would still leave google overvalued, relative to its main competitor search engines as once a decline begins both Microsoft , yahoo and other tech stocks would also be declining, but both being outpaced by the slump in Google.
Conclusion :
It is a risky time to be holding google and the safest strategy for stock holders would be to take some profits. In the long-term google may go higher even above $1000, but when I say the long-term I mean 5 to 10 years, coupled with steady year on year earnings growth, and a price earnings valuation nearer 20 rather then the present 60 ! That would be the best case scenerio, the worst case scenerio is that either Yahoo or Microsoft or someone else comes along with an better search engine, It has happened before !
Nadeem Walayat
(c) MarketOracle.co.uk 2005-2006
Disclaimer - This Analysis / Forecast / Trade Scenerio is provided for general information purposes only and not a solicitation or recommendation to enter into any market position, and you are reminded to seek independent professional advice before entering into any investments or trading positions.
The Market Oracle is a FREE Financial Markets Forecasting & Analysis online publication. We aim to cut through the noise cluttering traditional sources of market analysis and get to the key points of where the markets are at and where they are expected to move to next ! http://www.marketoracle.co.uk
This article maybe reproduced if reprinted in its entirety with links to http://www.marketoracle.co.uk
© 2005-2019 http://www.MarketOracle.co.uk - The Market Oracle is a FREE Daily Financial Markets Analysis & Forecasting online publication.

Only logged in users are allowed to post comments.
Register/ Log in