Stock Market V Spike Rally Losing Momentum, Bear Market Beckons
/
Stocks Bear Market
Oct 30, 2009 - 02:49 PM GMT

Hauntingly Familiar - In a recent update of our analog chart of the Dow on 10/23/2009, the results show a continued haunting resemblance to the behavior in data points exhibited in the Dow Jones Industrial average of 1930. The muted light-blue price series of daily closes illustrates the point at which the 1930 Dow reached its ultimate momentum failure. Pursuant to the peak achieved at its plateau in 1930, the Dow went on to lose nearly 90% of its value before putting in a final bottom in 1932.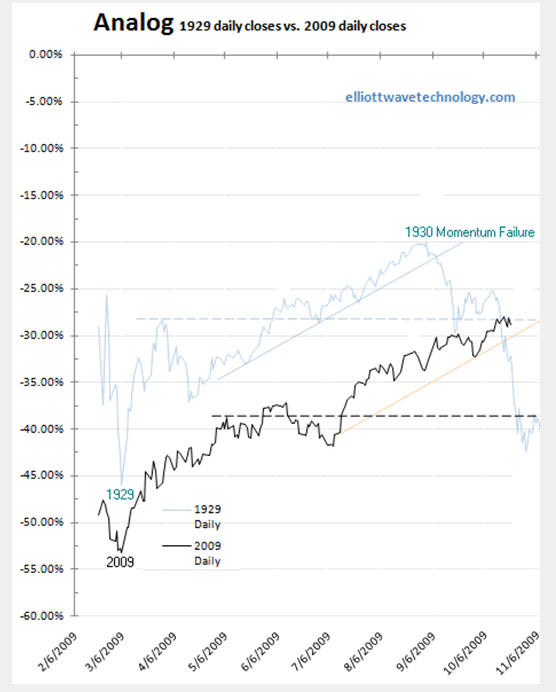 The data series in black plots daily closing price values of todays Dow Jones Industrial average from the 9-March low in 2009. Todays V-Spike recovery in equities is thus far outpacing its 1930 counterpart relative to time spent advancing. The 1930's spike in the Dow lost momentum and reached its plateau after 5-months, while todays Dow is approaching its eighth month of advance. Of late, momentum is waning as a looming plateau threatens to mark its place in modern-day history.
Thought it took 17-months for the Dow to reach its noted 2009 low, it took only three months to establish the initial low that occurred in 1929. Despite the variance in time to reach initial shock lows, both markets have thus far retraced similar percentages of their initial losses.
In addition to complete visual guides to trading indices and forecasting markets, subscribers to any of our premium advisory services listed below will soon receive fresh updates to this and other fascinating analogs, which include wave-labels, degrees of trend, proprietary wave counts, and alternates, along with specific turn periods on the horizon.
Irreparable "system as a whole" insists upon Flirting with Disaster Whether or not history repeats itself for better or worse, it most certainly appears that it often tends to rhyme rather well. The efficacy of such tendencies is one of the hallmarks of technical analysis. The one incontestable element of certainty amid the ball of confusion spun by current events is that "the system" as we know it remains on the brink of structural failure as far as the eye can see. Despite the hope of monetary architects, beneficiaries, and proponents in ceaseless pursuit of ad-hoc legislative efforts to revive it, they may inevitably conclude that the system as a whole they are trying to save may simply not be worth saving at all. Be it by the blood of revolution or by the hand of sweeping radical change, evolution of a new sustainable paradigm is nearing critical mass.
What is the State of the American Union/Financial Sphere & Politics In brief, F.U.B.A.R, which is a (military acronym) "******* Up Beyond All Recognition", "beyond all repair", or any number of similar constructions. The acronym originated in the United States armed forces, but its usage has spread to colloquial use.
In our view, F.U.B.A.R most succinctly describes the current state of the American Union for as far as the eye can see. Until true patriotic leaders of the highest integrity step out of their comfort zones, resist temptation, and impose sweeping radical changes toward breaking up the fascist and political duopolies inherent in the current (failed) "system as a whole", toxic conditions shall worsen exponentially.
Welcome to America, 2.0 To expand further, rather than seizing last fall's golden opportunity of imminent systemic failure to prudentially reground itself in principle, our Union has instead further mired itself in the false paradigms responsible for creating mass insolvencies and thereby cementing the states with an irreparably corrupt political structure, which overtly and covertly conspires with large elite corporate interests (Fascism). As if such a state were not bad enough, current leadership appears to be in process of adding a layer of Socialism on top of this utterly perverse Fascist structure of deceptive (perfect crime) Crony- Capitalism. If no one big and bad enough steps up to the plate to reinstate the will and discipline to redirect the nation toward prudence and sanity, the result and outcome of such folly is a "system as a whole" that either will implode on its own perverse malfeasance, or be overthrown by the majority of its victimized citizenry.
Voices of prudential reason Relative to the rescue of our "system as a whole," there are few on the planet more fit in speaking truth to power than William Black, former bank regulator, and associate professor of Economics and Law at the University of Missouri. His arguments are concise, empirically validated, and downright impossible to refute. You will be shocked and duly impressed after viewing his one-on-one interview with Bill Moyers in the link below. http://www.pbs.org/moyers/journal/04032009/watch.html
Also a Must-View: C-Span Hearing; October 28, 2009 Executive Pay and Tarp-Funded Companies – Nailing It Cold in Panel-II is William Black associate professor of Economics and Law at the University of Missouri, and Russell Roberts, professor of Economics at George Mason University. The testimony from both witnesses on the second panel are spot-on, compelling, and incontestable. Despite their collective lucidity, it is likely that mainstream media and the relevant legislative authorities will discard their straightforward, no-nonsense testimony as though it were coming from an enemy within. The integrity of testimony from both of these men gives us hope, and makes each of us whom concur, proud of being American. http://www.c-spanarchives.org/program/id/214540
Are you adequately equipped to invest or trade amid such a potentially volatile and disastrous long-term market environment? Rest assured that we are, so join us in our ongoing quest to journal, forecast, and trade the greatest events in financial history yet to unfold.
For those who wish to obtain a visually graphic, easy to understand actionable guide to the various disciplines and real-time actions needed to achieve a broad array of objectives at every level of market engagement, look no further than Elliott Wave Technology's PLATINUM publication. Those with a more narrow focus may select from the below list of PLATINUM'S three subsidiary sister publications.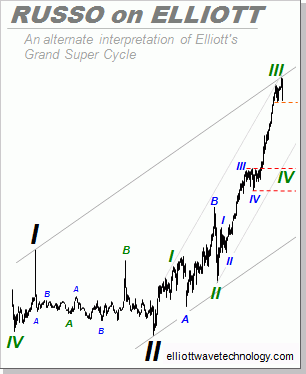 Three More Options: GET ONE TODAY
1. The express focus of Elliott Wave Technology's Near Term Outlook is to provide equity index traders with actionable guidance over the near and medium term.
2. Our Position Traders Perspective provides actionable guidance for longer-term time horizons.
3. EWT's Day Traders Perspective assists short-term traders in executing proprietary methodology for capturing price moves of shorter duration.
Elliott Wave Technology's PLATINUM 500 CHALLENGE:
In our effort to serve and empower as many individuals to trade profitably amid the sharks on the street, we will soon be announcing the availability of $500 PLATINUM service coupons. We shall award these incredibly generous service coupons to select individuals who apply and qualify for entry. We will let those interested know when entry applications for the challenge become available, and shall announce further details of the PLATINUM 500 CHALLENGE as they develop, so stay tuned. If you are interested in pre-qualifying, send us an email containing "PLATINUM 500 CHALLENGE" somewhere in the subject line or body of the email. We will place your email address on our secure list of PLATINUM-500 applicants, and keep you apprised of further developments and qualification criteria.
Until then,
Trade Better / Invest Smarter...
By Joseph Russo
Chief Editor and Technical Analyst
Elliott Wave Technology
Email Author
Copyright © 2009 Elliott Wave Technology. All Rights Reserved.
Joseph Russo, presently the Publisher and Chief Market analyst for Elliott Wave Technology, has been studying Elliott Wave Theory, and the Technical Analysis of Financial Markets since 1991 and currently maintains active member status in the "Market Technicians Association." Joe continues to expand his body of knowledge through the MTA's accredited CMT program.
© 2005-2019 http://www.MarketOracle.co.uk - The Market Oracle is a FREE Daily Financial Markets Analysis & Forecasting online publication.

Only logged in users are allowed to post comments.
Register/ Log in