NHS Bankrupts Britain
Economics
/
Government Spending
Apr 11, 2010 - 07:02 PM GMT


The government is set to spend an estimated £677 billion this financial year on the public sector (2009-10), that is currently running an ANNUAL £167 billion deficit, i.e. the government spends £167 billion a YEAR more than it earns in revenue which is contributing to towards igniting Britains inflationary debt spiral, that risks accelerating trend towards an hyper inflationary bust leaving savers with worthless paper and the economy in ruins, i.e. bankrupt.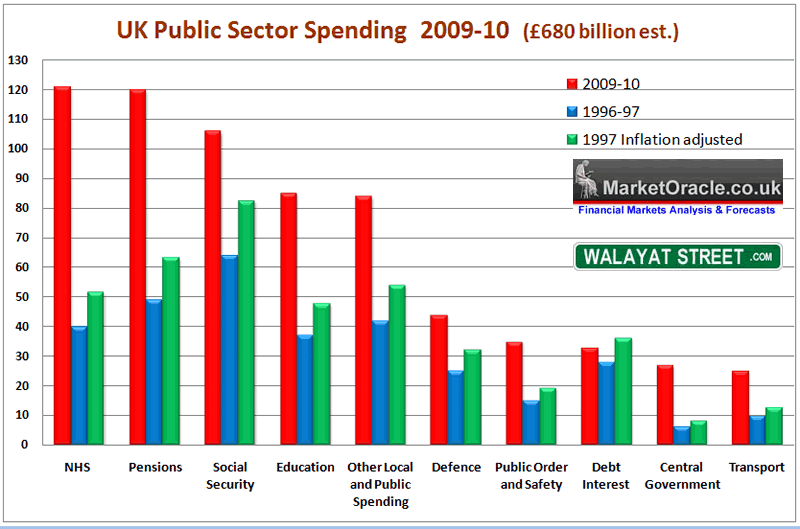 The NHS budget under Labour has grown from £40 billion in 1997 to £121 billion for the current financial year. NHS budgets increasing in line with inflation (CPI) would have seen the budget under a Conservative regime rise to stand at £51.6 billion, and probably nearer £60 billion to allow for an ageing population. So the Labour government is in effect spending an extra £60 billion a year, more than double that which the Conservative would be spending on the NHS.
Against this extra spending instead of Britain's experiencing the impact from effectively paying for TWO NHS's, the NHS is experiencing year in year out loss in productivity, i.e. the more the government spends on the NHS the LESS output the NHS delivers as more tax payer funds disappear into the NHS black hole. In theory this suggests that the NHS budget could in-effect be halved to £60 billion and still deliver a functional health service that the the country can afford. Off course that is not going to happen, but still a mere 10% cut in the NHS budget would contribute some £12 billion of annual savings from this out of control spending black hole that like a cancer is pushing the country towards bankruptcy.
The government's annual budget deficit is running at £167 billion a year or at 25% of the total budget i.e. the the governments total revenues are £510 billion against estimated expenditure of £677 billion, hence a deficit of £167 billion added to the national debt known as the Public Sector Net Debt (PSND) currently standing at about £809 billion, though excluding the hidden tax payer liabilities that extend to several more trillions of pounds. Nevertheless £809 billion of debt would cost about £33 billion in interest per year to service this debt, as the debt grows so does the cost of servicing the debt, more so as the supply of government bonds increases then so will the market demand ever higher interest rates to buy this flood of debt which illustrates why running anywhere near an £167 billion annual budget deficit is NOT sustainable, as it would ignite the earlier mentioned inflationary debt spiral as interest payments soar which therefore requires urgent action to CUT the deficit to BELOW 6% of GDP / £75 billion, with £102 billion necessary to be cut comprising of tax increases, economic growth and spending cuts in the region of £60 billion.
However, both major political parties have announced that they are not only not going to cut spending on the largest spending departments of Education or the NHS but GROW these budgets over the coming years. Similarly both parties have pledged to grow pensions and neither can I see how welfare can be significantly cut as unemployed will remain unemployed until they get a job. Furthermore debt interest at £33 billion per year is expected to continue to grow inline with each month the government racks up another large deficit (upto £18 billion per month), which therefore suggests that of the total £677 billion spending budget, the maximum that both parties are only making available to be cut from is £215 billion.
Whilst both parties continue to lie the electorate as to the amount of public spending cuts needed to fill the £167 black hole. However maximum measure of 10% cut of the available budget heads of £215 billion, which even if achievable would only result in a cut of £21.5 billion, which would not make the necessary dent in the annual deficit in order to prevent the inflationary debt spiral from taking hold and all of the consequences of loss of confidence in sterling.
Government spending at approx 25% more than revenue is not only unsustainable but represents out of control spending that is risking severe consequences, including state bankruptcy i.e. debt default. In response to the urgent need to cuts the politicians repeatedly fail to identify where and how this deficit will be reduced, instead repeatedly stating for purely electioneering purposes that they will ring fence and not cut the big budget spending heads of NHS and education, which is an impossible outcome as I explained in early January (03 Jan 2010 - British Politicians Lying to the Electorate, NHS Budget 4% Cut (Minimum), that this amounts to politicians lying to the electorate.
Whilst both political parties profess to not only not cut the NHS budget but to increase spending over the coming years. The fact is that the NHS budget under the Labour government has grown to a level that risks bankrupting the country. In nominal terms the budget has increased from £37 billion in 1997 to approx £120 billion for 2009, a more than tripling of the budget.
However a more accurate measure of the increase of the budget is as a percentage of Gross Domestic Product (GDP), in this regard the NHS has grown from 6% of GDP in 1997 to 10% of GDP now, therefore Britain is paying 66% more in NHS spending as a proportion of the economy will little improvement in service delivery due to a near continuous fall in productivity. This and other rampant out of control public spending under the Labour government risks bankrupting Britain as the ANNUAL budget deficit now exceeds 14% of GDP (£180 billion) which requires urgent action to prevent igniting an inflationary debt interest spiral i.e. where the interest paid on accrued debt results in a mushrooming of the countries total debt burden that tips the economy towards an hyperinflationary price spiral economic collapse as the following graphic illustrates.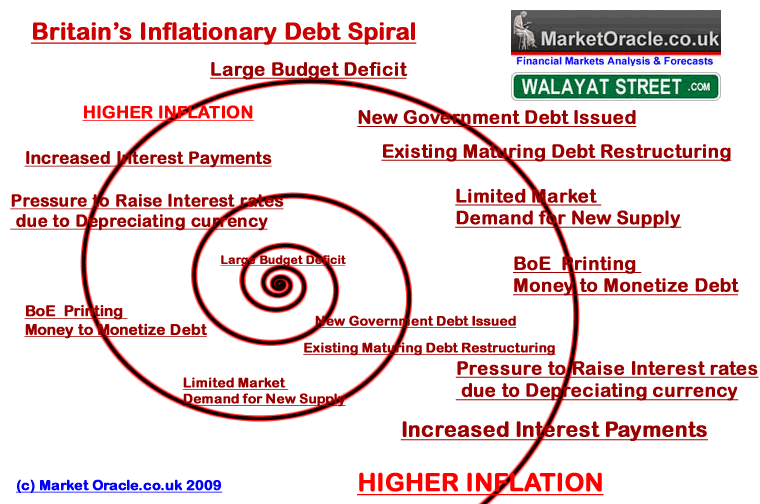 Therefore both major political parties are lying to the electorate when they state that the NHS budget will not only not be cut but increase spending over the coming years. So far only Labour has actually released their NHS spending plans which show an increase of £3.7 billion / 3% per year for the next 3 years, whilst the Conservatives have pledged to match Labour NHS spending plans.
The next government will have NO CHOICE but to cut NHS spending, as the Labour party current plan for cutting the annual budget deficit by £23 billion a year just do not stand up to scrutiny as it would still result in the budget deficit expanding by £510 billion over the next 5 years, i.e. to more than 114% of Public Sector Net Debt which the financial markets would NOT tolerate, i.e. it would result in a series of bond market auction failures, which would be countered with accelerating money printing to monetize the debt which would culminate in an Iceland style currency collapse as foreign investors panic to preserve the value of their capital by selling out of sterling in favour of other currencies.
NHS Spending Out of Control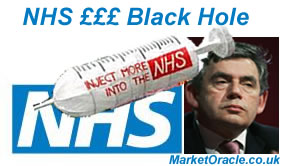 The Labour government despite tripling the NHS budget / GP Pay over the past 10 years to £120 billion ($198 billion) has resulted in a continuous fall in productivity over the past 6 years or so, and is only now in the final few months of its government for electioneering making announcements to implement reforms necessary to drag the NHS into the 21st century with a view to putting the patient first for the first time since its creation.
The NHS in its present form is a funding black hole with falling productivity that is sucking in ever increasing amounts of cash in real terms. Real reforms are urgently required otherwise Britain will be heading for a health service crisis as the GDP share of health spending continues to expand from 3.5% in 1948 to 10% today to above 13% by 2020, all without any real improvement in patient healthcare.
Politicians Scared of NHS Voter Army
The reason why politicians are lying about cuts to the NHS budget of at least 4% is because over 1.2 million Brit's ride the NHS gravy train and hence have a vested interest in the continuance of this sacred cow funding black hole that continues to exert a sizeable political force that political parties have little choice but to pander towards to ensure electoral success.
NHS GP Pay Illustrates Out of Control Spending
British MP's were humiliated during May and June across all parties as public outrage and indignation oat the abuse of the MP expenses system with MP's responding with how MP pay has failed to keep pace with that of NHS GP's which is one of the key reasons as to why they had resorted to what amounts to legalised theft from the electorate.
MP - NHS GP Pay Comparison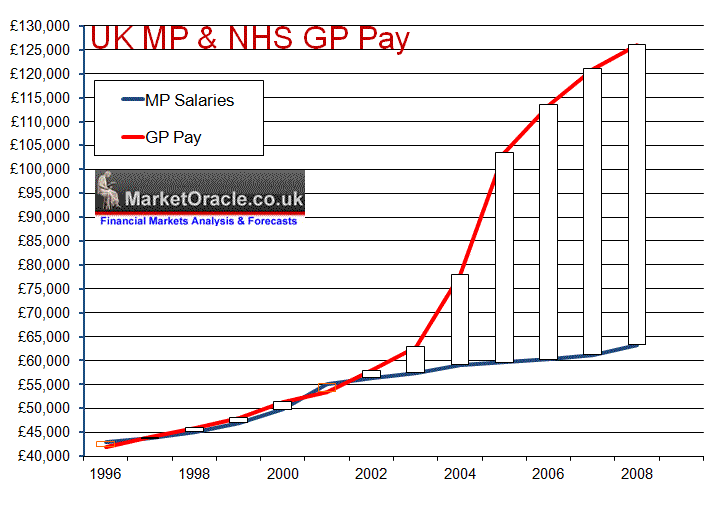 When Labour came to power in 1997 average MP pay was £43,722 against average NHS GP pay of £44,000, so both were inline with one another at that time. However as the above graph clearly illustrates in 2003 something started to go seriously wrong with GP Pay which took off into the stratosphere as GP's decided to award themselves pay hikes of more than 30% per annum at tax payers expense that has lifted average GP pay to £126,000 per annum against £64,000 for MP's.
How could this happen, unfortunately this was as a consequence of the now infamous GP contracts where to be blunt greedy GP's hoodwinked gullible incompetent Labour government health ministers into signing upto contracts which were meant to deliver greater value for money for the tax payer but were designed to do the opposite and resulted in GP's pay doubling whilst at the same time cutting back on hours worked. This was not only a total fiasco for the nations health and finances but also ignited jealousy amongst MP's that directly led to the adoption of the policy of claiming expenses to the maximum so as to fill the ever widening gap between MP's and NHS GP's, as MP's could NOT get away with awarding themselves pay hikes of 30% per annum without losing their seats at the next general election in response to voter outcry, therefore across the board systematic abuse of expenses started to take place which basically means real average MP pay is currently approx £98,000 per annum.
Spending Cut would Have Little Impact on an Uncompetitive NHS
The NHS has become so unproductive, that a cut of 4% would be have little cut on the actual performance of the NHS as all that is required is competent management of the NHS so that those employed by the NHS performed more efficiently.
The cut in the NHS budget could be coupled with market reforms such as those already announced for GP practices that proposes to allow patients real choice of GP for the first time. If money walked with the patient then that would ensure that the patient receives competent healthcare, as under the current system there exists little if no incentive to put the patient first which is borne out time and time again in analysis, reports and polling amongst NHS frontline staff. The current system is designed to to yield the most money for the least amount of work as we have witnessed with the GP contracts.
Therefore a form of health insurance / credit card system MUST be implemented where the Patient CHOOSES which hospital or GP surgery to PURCHASE healthcare from regardless of whether it be a government run NHS institution or a privately run hospital as analysis consistently suggests there exists a huge discrepancy in the quality of GP services between affluent areas of the country and deprived areas which has contributed to a 20 year gap in life expectancy (UK Swine Flu Pandemic NHS Online Service to Bypass Inept GP Surgeries), only then will the patient come first and receive the treatment that they deserve rather than the current half way house that costs more and repeatedly fails to deliver the price of which is unnecessary illness and early deaths.
NHS Hospitals of Death Pumping Out Phony Data
A recent lengthy report into the REAL performance of one of Britians top ranked hospitals placed The Mid Staffordshire NHS Foundation Trust as a killing field for patients that walk through its doors, this is set against NHS phony statistics on hospitals and GP surgeries that relentlessly paints a picture of everything is great, against the facts of actual patient experience as reported by the Telegraph -
Up to 1,200 patients are thought to have died unnecessarily at the trust between 2005 and 2008.
A damning report on the deaths found chronic staff shortages, receptionists in casualty departments assessing the urgency of cases and nurses switching off equipment that did not know how to use.
Both trusts are "Foundation Trusts" a status supposedly awarded to only the best in the NHS.
We were told by the Department of Health that Mid-staffordshire NHS Trust was a one off, an aberration. Now barely a few days later we find that it is barely the tip of the ice-berg with now another 24 Hospitals with the similar problem of engaged in the process of reducing their waiting lists by unnecessarily killing off patients, all according to the NHS produced phony data are doing well as reported by the Daily Mail -
Twenty five hospital trusts should be urgently investigated over fears that thousands of patients may have died unnecessarily, an expert said last night.
Excessive death rates at the trusts could be down to serious failings in the way patients were treated, according to Professor Sir Brian Jarman.
He said a total of 4,600 more patients had died at the 25 trusts than would be expected between 2007 and 2008
Remember these are are NHS trusts that are ranked by the NHS as the BEST hospitals in Britain ? Why ? because as with the rest of the NHS, they self certify their OWN performance data. Which means a hospital such as the Mid Staffordshire can hide 1,200 unnecessary deaths, where's the Police investigation?
In total there are 381 top ranked, best of Britain NHS Trust hospitals, I would not be surprised to find out over the election campaign that most trusts scrape the bottom of the barrel when it comes to the ACTUAL treatment of patients as opposed to what is implied by self certified phony data.
Whilst many americans have been busy celebrating the passing of Obama's healthcare bill, the last thing American's need is their own version of Britain's NHS that routinely kills patients masked by fictitious official data that disintegrates in the face scrutiny under public inquiries and that politicians are too scared to seriously reform due to the army of workers / voters that ride the NHS gravy train.
Given the actual performance of the NHS, I would imagine that closing 20% of the worst performing NHS Hospitals and GP Surgeries would result in IMPROVED life expectancy for Britain's as well as contribute £24 billion of annual savings to help bring the unsustainable £167 billion annual budget deficit under control. Unfortunately most MP's, including Labour Ministers are far too busily engaged in trying to sell their services to Lobbying firms at between £3,000 to £5,000 per day than concern themselves with the real problems of the country.
Source: http://www.marketoracle.co.uk/Article18562.html
By Nadeem Walayat
Copyright © 2005-10 Marketoracle.co.uk (Market Oracle Ltd). All rights reserved.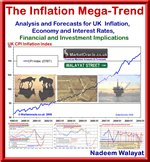 Nadeem Walayat has over 20 years experience of trading derivatives, portfolio management and analysing the financial markets, including one of few who both anticipated and Beat the 1987 Crash. Nadeem's forward looking analysis specialises on UK inflation, economy, interest rates and the housing market and he is the author of the NEW Inflation Mega-Trend ebook that can be downloaded for Free. Nadeem is the Editor of The Market Oracle, a FREE Daily Financial Markets Analysis & Forecasting online publication. We present in-depth analysis from over 500 experienced analysts on a range of views of the probable direction of the financial markets. Thus enabling our readers to arrive at an informed opinion on future market direction. http://www.marketoracle.co.uk
Disclaimer: The above is a matter of opinion provided for general information purposes only and is not intended as investment advice. Information and analysis above are derived from sources and utilising methods believed to be reliable, but we cannot accept responsibility for any trading losses you may incur as a result of this analysis. Individuals should consult with their personal financial advisors before engaging in any trading activities.
© 2005-2022 http://www.MarketOracle.co.uk - The Market Oracle is a FREE Daily Financial Markets Analysis & Forecasting online publication.

Only logged in users are allowed to post comments.
Register/ Log in