Gold and the Subprime Cancer
Commodities
/
Subprime Mortgage Risks
Aug 27, 2007 - 09:58 AM GMT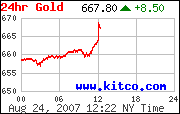 Gold is slowly moving back to its previous equilibrium. A lot of buying and selling went on in the markets last week
And why did the price of gold momentarily drop a little in price during this perilous time?
"Several major subprime lenders filed for bankruptcy, and then troubled hedge funds were forced to sell off high-quality assets such as gold so they could make their bank payments. The mass selloff in turn drove down gold prices, Mr. Tal explained." Click
But make no mistake because even in this act of selling gold proved its usefulness as an insurance policy as it bailed out many a sinking subprime mortgage payment. Witness through personal observation and you will notice gold prices stabilizing again and rising.
"Subprime Borrowers Defined" "A subprime borrower is one who cannot qualify for prime financing terms but can qualify for subprime financing terms. The failure to qualify for prime financing is due primarily to low credit scores." Click
Well, are you scared? Have you wet your pants yet? Yes, the whole world is coming crashing down as this subprime mortgage scandal gets deeper and deeper. As the crisis develops households are being asked to give up and to sacrifice their first born sons.
"What's a subprime mortgage?" "Generally speaking, these are home loans made to borrowers with poor credit ratings…" Click
In the mass panic investors are selling everything. Their cars, their stocks and bonds, their houses they can't sell, but whatever is not nailed down is a candidate for a sale including the family cat and obstinate mother in law. While I make a little fun of the process happening today it is very serious and is still in only its early phases of destruction.
"The Subprime Mess: "It's Just Going To Get Worse" "Many more borrowers could default when ARM rates rise" "The subprime storm isn't blowing over." "…there's still a lot the ratings agencies don't--and can't--know. That's because, from September through next June, a huge number of borrowers, many with subprime mortgages, will see their adjustable interest rates reset at higher levels. Many will default on their loans; the gnawing question is how many." Click
But in a severe panic like we have been witnessing investors will sell the sacred cow and even their own children if they can find a buyer. Until the panic subsides expect for all markets to be in a state of crisis.
"About $900 billion of subprime adjustable-rate mortgages will reset at higher interest rates by the end of 2008, according to Bank of America Corp. analysts." Click
Now as things begin to settle down you will see a resurgence of sanity and investors will pull their money out from under the mattress and look for real assets to invest in again. While precious metals stocks and particularly gold have also been whacked don't worry as this sector will readjust rather quickly and play catch up mighty fast.
"What the hullabaloo means for you" "How subprime mess and other recent news may affect your personal finances" "Not only the subprime market?" "While optimists want to say that the problems with the mortgage market are mostly due to the subprime crisis, there's definitely some evidence that credit problems have spread to a higher grade of borrower." Click
And this mess will also affect higher quality borrowers as the text below explains.
"Countrywide Financial, for example, recently published a report which showed that higher-quality borrowers are starting to suffer. Several big issuers of "Alt-A" loans - mortgages for people whose credit is strong enough so that they don't require income verification - are starting to report increases in non-performing assets. That's bad news and will make mortgage issuers antsy." "The year ahead" "Put all of the events together and you are looking at a very interesting fall. More than $50 billion in adjustable-rate mortgages are due for a re-set in October, and the re-set level will remain above $30 billion per month through September of 2008." Click
This is a cancer spreading throughout every sector of our society.
"Could the subprime mortgage market's misery infect others" "In a worst case scenario, the wave of anticipated defaults on subprime mortgages and tighter lending standards could combine to drive down home values. That could make all homeowners feel a little less wealthy, contributing to a gradual decline in their spending. Less consumer spending eventually weakens the economy, prompting companies to start laying off workers in a vicious cycle that causes households to become even more frugal." Click
How much longer do we have before this mess pans out?
"It traditionally takes 20 to 25 months before the peak in subprime delinquencies occurs." Click
So the bad news really is far from over?
"The bad news is likely far from over" "U.S. mortgage default rate [is] expected to soar as higher borrowing costs kick in" "Asked how thousands of Americans with bad credit histories who defaulted on their debts ended up roiling the global international financial markets, Benjamin Tal, a senior economist with CIBC, explains it this way: Borrowers with a murky financial history in the U.S., who were rejected by traditional sources of credit such as banks, turned to other companies that engage in so-called "subprime" or second-chance lending." Click
Below is a good summary of what all this crap is really about.
"Subprime lenders made too many loans to borrowers who didn't make enough money to make the monthly payments. Click
So you are still worried over the gold price? Long term the price of gold has to go up just to reflect the US dollar sliding downhill. I continue to receive emails of desperation like the following one below.
Dave, "If China dumps US dollars the global repercussions, of which China would be included, would be horrendous. I cannot see that China would want to shoot themselves in the foot because they might have to amputate the whole leg. Regards," Dale T.
Will the cat get indigestion after eating whole the field mouse? If China redeems her US dollars is it guaranteed she will lose in the larger economic picture?
I always like to study the comparison between ancient Carthage and ancient Rome . Carthage for hundreds of years was the undisputed leader of the Great Sea ( Mediterranean ). And when this small growing upstart and new power called Rome came a knockin' through heavy competition mighty Carthage laughed.
And the end of the story is that Rome eventually totally conquered almighty Carthage and destroyed the city by plowing salt in the ground after ravaging the land and selling the Carthaginians into slavery. Moral of the story? Pride comes before a fall. And that's all I have to say about that.
Gold Letter, Inc. reviews gold, silver, uranium and other resource stocks under valued and poised to rise in this time of increased demand for all resources. Natural resources and related contrarian stocks will only escalate in value as the world continues to experience unprecedented population growth. Gold Letter's 10 best performing stocks are up over 2,000% and GL's top 55 performing stocks are up over 500%. Close to 90% of all Gold Letter's recommendations since inception in January, 2003 are up over 250%. GL charts are computer generated and updated every hour while markets are open.
Click here to order Gold Letter
"The Worldwatch Institute, an organization that focuses on environmental, social and economic trends, says the current rate of global demand for resources is unsustainable." Click
Send me an email! Tell me what you personally feel about this subprime mess.
By David Vaughn
Gold Letter, Inc.
David4054@charter.net
The publisher and its affiliates, officers, directors and owner may actively trade in investments discussed in this newsletter. They may have positions in the securities recommended and may increase or decrease such positions without notice. The publisher is not a registered investment advisor. Subscribers should not view this publication as offering personalized legal, tax, accounting or investment-related advice. The news and editorial viewpoints, and other information on the investments discussed herein are obtained from sources deemed reliable, but their accuracy is not guaranteed. © Copyright 2007, Gold Letter Inc.
© 2005-2019 http://www.MarketOracle.co.uk - The Market Oracle is a FREE Daily Financial Markets Analysis & Forecasting online publication.

Only logged in users are allowed to post comments.
Register/ Log in