It's THE Most Profitable Oil in North America
Commodities
/
Crude Oil
Jun 24, 2010 - 12:13 PM GMT


Few investors realize that one sector of the heavy oil market is the most profitable oil in all of North America – it's called cold flow heavy oil. Think of it as light heavy oil, thick and gooey enough that it needs a pump to get out of the ground, but no so thick that it needs expensive heating to make it flow – hence the name cold flow.
And the recent BP disaster in the Gulf of Mexico will only help Canadian heavy oil prices. If production from the Gulf is slowly curtailed, US refineries will look to Canada even more for supply.
When I say cold flow heavy oil is the most profitable, I mean that producers get more dollars of profit out for every dollar they put in to get the oil, than from other types of oil. For every dollar producers put in the ground to get the oil, they get anywhere from $3-$7 back (or more) – compared to $2-$4 for most light oil, generally speaking.
(This is called the Recycle Ratio – the netback over the finding and development costs. Investors should always ask the management teams what their recycle ratio is on their production!)
This profitability is due to two factors:
1.The heavy oil in Canada is shallow so it doesn't cost much to get out
2.US refineries love Canadian crude as Mexico and Venezuela heavy oil production declines, and that strong demand – even before BP's disaster – is keeping heavy oil prices in Canada strong
And Canada has more of this oil than anyone else in the world. There is thought to be enough heavy oil and bitumen in North America to rival Saudi Arabia – estimated at more than three Trillion barrels1. Now, cold flow oil is only a small part of this number, but the graphic below gives investors a sense of the immense value in the ground…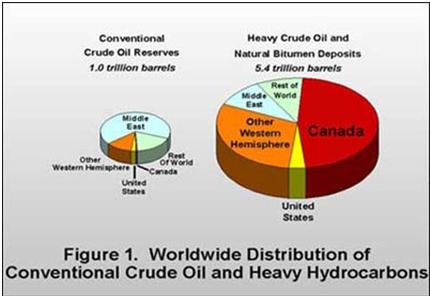 Chart reference: http://www.petroleumequities.com/HeavyOilReport.htm
Yet only a few junior and intermediate producers focus on cold flow heavy oil. I think that will change.
My subscribers just received a 12 page report detailing the opportunity, along with three junior producers who are growing their profitable heavy oil production quickly.
Like liquid rich or wet gas stocks I wrote about earlier this month, this sector of the energy market is not well understood or recognized by retail investors. But unlike those stocks, heavy oil stocks are not unloved. The analysts and funds have discovered their high profitability, and these stocks are rarely cheap on a valuation basis. But they do get rewarded quickly for their growth.
As well, new technology is continually lowering costs and increasing profit margins; even a small per barrel savings will leverage into huge profits because of the colossal size of these deposits.
Investors will see many new opportunities for profit for many years as this massive Canadian resource gets developed.

About Oil & Gas Investments Bulletin
Keith Schaefer, Editor and Publisher of Oil & Gas Investments Bulletin, writes on oil and natural gas markets - and stocks - in a simple, easy to read manner. He uses research reports and trade magazines, interviews industry experts and executives to identify trends in the oil and gas industry - and writes about them in a public blog. He then finds investments that make money based on that information. Company information is shared only with Oil & Gas Investments subscribers in the Bulletin - they see what he's buying, when he buys it, and why.
The Oil & Gas Investments Bulletin subscription service finds, researches and profiles growing oil and gas companies. The Oil and Gas Investments Bulletin is a completely independent service, written to build subscriber loyalty. Companies do not pay in any way to be profiled. For more information about the Bulletin or to subscribe, please visit: www.oilandgas-investments.com.
Legal Disclaimer: Under no circumstances should any Oil and Gas Investments Bulletin material be construed as an offering of securities or investment advice. Readers should consult with his/her professional investment advisor regarding investments in securities referred to herein. It is our opinion that junior public oil and gas companies should be evaluated as speculative investments. The companies on which we focus are typically smaller, early stage, oil and gas producers. Such companies by nature carry a high level of risk. Keith Schaefer is not a registered investment dealer or advisor. No statement or expression of opinion, or any other matter herein, directly or indirectly, is an offer to buy or sell the securities mentioned, or the giving of investment advice. Oil and Gas Investments is a commercial enterprise whose revenue is solely derived from subscription fees. It has been designed to serve as a research portal for subscribers, who must rely on themselves or their investment advisors in determining the suitability of any investment decisions they wish to make. Keith Schaefer does not receive fees directly or indirectly in connection with any comments or opinions expressed in his reports. He bases his investment decisions based on his research, and will state in each instance the shares held by him in each company. The copyright in all material on this site is held or used by permission by us. The contents of this site are provided for informational purposes only and may not, in any form or by any means, be copied or reproduced, summarized, distributed, modified, transmitted, revised or commercially exploited without our prior written permission.
© 2010, Oil & Gas Investments Bulletin
Contact Us:
Email: nichola@oilandgas-investments.com
Customer Service: 1-877-844-8606
www.oilandgas-investments.com
© 2005-2019 http://www.MarketOracle.co.uk - The Market Oracle is a FREE Daily Financial Markets Analysis & Forecasting online publication.

Only logged in users are allowed to post comments.
Register/ Log in