Hong Kong Stock Market Moon Shots!
Stock-Markets
/
Hong Kong
Oct 02, 2007 - 10:24 AM GMT


Tony Sagami Writes: Every year when the moon reaches its brightest stage, the Chinese celebrate the Moon Festival ( Zhong Qiu Jie ), which dates back more than 3,000 years.
The festival happens on the fifteenth day of the eighth month of the lunar calendar, and is a celebration of the abundance of the summer harvest. This year's event happened last week.
The Chinese celebrate the Moon Festival with dances, feasting, moon gazing … and mooncakes.
Of course, the Moon Festival wasn't the only celebration going on in China in September. A very different one, with far less fanfare and no mooncakes, also happened last week. But it has massive implications for investors. I'm talking about …
What Are Mooncakes?
Traditionally, these sweet baked pastries have a thin tender skin and a sweet filling of lotus paste and salted egg yolks, which are meant to symbolize the full moon. Nowadays, there is an array of variations, including mooncakes filled with everything from ice cream to pineapples.
Mooncakes played an interesting part in China's history. Mongolians controlled the country around the 13th Century, turning the Chinese into slaves.
The Chinese secretly launched a revolution against the Mongols during the August Moon Festival of 1368. And one of the ways the revolutionaries coordinated their attack was by inserting secret messages into mooncakes!
The Official Launch of the China Investment Corporation
The China Investment Corporation (CIC) is the new $200-billion sovereign investment arm of the Chinese government.
Yes, $200 BILLION! That's approximately one-sixth of China's war chest of foreign reserves, and it's still five times the size of the famous Fidelity Magellan fund!
The CIC, led by the former deputy secretary general of the State Council, said it will focus on investing in foreign stocks and bonds.
Now, if you could figure out where those billions were headed, you could make a bundle by getting in ahead of the CIC.
I don't have any inside information, but I'm convinced that a huge chunk of the money is headed for the Hong Kong stock market.
And the CIC will be just one more catalyst for Hong Kong's stocks. As I've told you before, two other factors are also now at work …
First, back in May, the Chinese government loosened limitations on the country's institutional investors (QDIIs). As I said when the changes took place ,
"The most important impact of these new rules is that QDIIs are going to pour billions of dollars into the Hong Kong stock market."
Second, Beijing followed up the QDII announcement by relaxing its investment restrictions on China's individual investors . Previously, individuals could not invest directly in overseas markets. Mutual fund-like vehicles were their only option.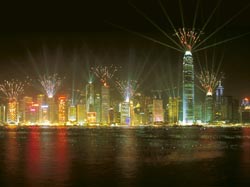 Hong Kong has a lot of reasons to celebrate …
Together, these changes have the potential to pump billions and billions of dollars in Hong Kong stocks. And the amount of money available will probably just keep growing!
I say that because China Southern Fund Management, the first QDII fund to include only stocks in its portfolio, just raised US$40 billion in its September launch. That, in turn, is prompting a flood of copycat funds from major Chinese banks.
All this new money is going to add even more fuel to the already red-hot China markets. According to Lipper Analytical Services, China-focused funds surged by 28% in the third quarter. Not year-to-date … just in the third quarter alone!
So …
If You See the Same Potential I Do, Here Are Three Ways to Play It …
#1. The "H" shares of mainland-China-listed companies. There are huge gaps between Hong Kong-listed stocks and their mainland-listed counterparts, often 20% or more. In other words, you can buy the same company's shares on Hong Kong's exchange at much cheaper prices … for now. I think those gaps are going to close and send Hong Kong shares higher over time.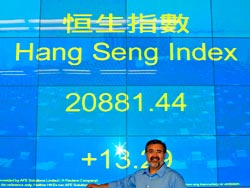 Just a few months ago, Hong Kong's Hang Seng index was less than 21,000. Now, it's well over 27,000!
#2. Chinese companies that were never listed in China. Up until now, mainland China's investors were completely frozen out of some of China's fastest-growing companies. China Mobile … China Telecom … China Shenhua Energy Company … PetroChina … and CNOOC are simply not listed on the Shanghai or Shenzhen stock exchanges. Now that Chinese investors can buy them, you can bet your boots that's just what they'll do.
#3. An exchange-traded fund like the iShares MSCI Hong Kong Index (EWH). This ETF holds a diversified basket of Hong Kong companies, with a current emphasis on banking, financial services, and real estate firms.
If you want a quick, diversified way to get a stake in Hong Kong's stocks, the EWH is a good way to go.
Look, here's the way I see it. You have two choices right now:
You can keep all your money in the U.S. markets, where we're struggling with a collapsing real estate market, skyrocketing commodity prices, massive budget and trade deficits, the war in Iraq, and a slowing economy.
You can invest some of your money in a region that has some of the best economic fundamentals I've ever seen in my life.
In other words, you can have the wind in your face or at your back.
You know my choice …
Best wishes,
By Tony Sagami
This investment news is brought to you by Money and Markets . Money and Markets is a free daily investment newsletter from Martin D. Weiss and Weiss Research analysts offering the latest investing news and financial insights for the stock market, including tips and advice on investing in gold, energy and oil. Dr. Weiss is a leader in the fields of investing, interest rates, financial safety and economic forecasting. To view archives or subscribe, visit http://www.moneyandmarkets.com .
© 2005-2019 http://www.MarketOracle.co.uk - The Market Oracle is a FREE Daily Financial Markets Analysis & Forecasting online publication.

Only logged in users are allowed to post comments.
Register/ Log in