Mike Shedlock Deflation Proponents Rebuttal of John WIlliams Hyperinflation Call
Economics
/
Deflation
Dec 12, 2010 - 03:28 PM GMT


Those looking for Sunday entertainment can pull out the popcorn and watch this video of John Williams calling for the "Great Hyperinflationary Great Depression", coming your way soon.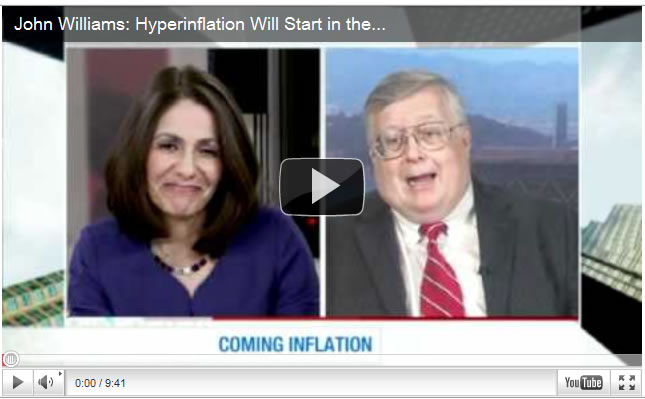 I have rebutted such thinking a hundreds of times, so I do not even have to write a rebuttal. It's been prepared in advance. Here is a 5 point summary of where Williams goes wrong.
1. Williams focuses on money supply, ignoring credit although credit is far more important
2. William ignores numerous global interconnections. Calling for hyperinflation in the US alone ignores happenings in Europe, Japan, and China. I remain amazed at how US-centric hyperinflationists in general are. Monetary printing in China far exceeds that in the US, and it is the Euro and the Yen most at risk now, not the US dollar.
3. Williams ignores relatively small changes in Social Security that can keep that system afloat for another decade or longer. Regardless, SS is a huge future problem that will matter at some point, just not now. Currently, collapsing consumer credit in the US is soaking up all the Fed's printing.
4. Williams ignores numerous constraints on the Fed and Congress
5. Williams ignores US gold holdings, the largest in the world
6. Williams ignores the massive influence of consumer attitudes and bank attitudes towards lending.
For a look at constraints, please see Failure to Consider Constraints - My Response to
"Has Mish Deflated the Inflationistas?"
For a look at global interconnections including a discussion of rampant inflation in China and why hyperinflation is more likely in Japan than the US, please see
Multiple Simultaneous Games of "Chicken"; Price Controls on Walmart; China Declares Shift to "Prudent" Monetary Policy
For a look at currency issues including a lengthy discussion of credit and why it is important please consider
Fiat World Mathematical Model
Finally, Williams seems to ignore that hyperinflation is primarily a political event not a monetary event. The idea the world is going to flat out abandon dollars anytime soon is quite simply preposterous.
For further discussion of inflation, deflation, and what causes hyperinflation, please see
"Straight Talk" with Economic Bloggers
, an interview with Chris Martenson.
My call does not change. The US will go in and out of deflation for a considerable period of time, just as Japan did. The determining factor is mark-to market valuation of credit and money supply.
Right now, the Fed has temporarily overcome massive deflationary forces. For how long remains to be seen.
For the "hyperinflationary great depression", all we have to do now is wait a year to see.
By Mike "Mish" Shedlock
http://globaleconomicanalysis.blogspot.com

Click Here To Scroll Thru My Recent Post List
Mike Shedlock / Mish is a registered investment advisor representative for SitkaPacific Capital Management . Sitka Pacific is an asset management firm whose goal is strong performance and low volatility, regardless of market direction.

Visit Sitka Pacific's Account Management Page to learn more about wealth management and capital preservation strategies of Sitka Pacific.
I do weekly podcasts every Thursday on HoweStreet and a brief 7 minute segment on Saturday on CKNW AM 980 in Vancouver.

When not writing about stocks or the economy I spends a great deal of time on photography and in the garden. I have over 80 magazine and book cover credits. Some of my Wisconsin and gardening images can be seen at MichaelShedlock.com .
© 2009 Mike Shedlock, All Rights Reserved.
© 2005-2019 http://www.MarketOracle.co.uk - The Market Oracle is a FREE Daily Financial Markets Analysis & Forecasting online publication.
Comments
Liam
12 Dec 10, 17:55
Shedlock and Williams


Flip sides of a losing coin



Raymond
19 Dec 10, 08:11
both shedlock and williams are lost


Liam said it best as I interpret it. Both Shedlock and Williams are lost in the dark. There will be neither deflation nor hyperinflation, but most likely a good deal of inflation.

When Shedlock uses as part of his support an article from two "economic bloggers," (himself and Martenson) you know he is stretching things. Economic bloggers? Martenson is a nobody as is Shedlock. Neither one has any expertise other than blogging for ad dollars.

It's strange how the same guys run in the same circles, always mentioning each other...Shedlock, Zero Hedge, Martenson, Mauldin, and others. That should tell you something. They are in a promotion ring. They cannot be relied on.




Only logged in users are allowed to post comments.
Register/ Log in