Bill Gross of PIMCO on U.S. Debt Downgrade
Interest-Rates
/
Credit Crisis 2011
Aug 08, 2011 - 06:16 AM GMT


Bill Gross, who runs the world's biggest bond mutual fund at Pacific Investment Management Co., appeared on Bloomberg Television's "Downgrade: A Special Report" live Sunday night special with Bloomberg's Tom Keene. Gross said the U.S. has "enormous" problems and that the dollar is vulnerable. He also said "his hat is off" to S&P for "demonstrating some spin."
Gross on the ECB bond purchasing program: "What Trichet has spoken to tonight and on Friday was that they would implement a significant bond purchase program for Spain and Italy…We're expecting $2 billion to $3 billion a day in terms of ECB bond purchase. How many days and weeks that continues, I am not sure. They might eventually have an actual interest rate target in mind. We are not sure of that either and they probably won't divulge it."
On the response in Asia and Europe to the U.S. debt downgrade: "I think overall the most important impact will be from a currency standpoint. We're not seeing that tremendously tonight in terms of the dollar, but when you put the pieces together, the ECB action in terms of supporting euro land, when you look forward to the next few days in terms of the Fed and what they might do to ease interest rates to a certain extent, those in combination – in addition to S&P's downgrade that speaks to the longer-term vulnerability of the United States – Put all that in a package and it's the dollar more than anything that is vulnerable on the downside."
On the super committee concept to tackle the deficit: "I think the committee concept is a kick-the-can type of action. What we saw over the past week in terms of the resolution of the debt crisis, perhaps a $25 billion reduction over the next 12 months in terms of the deficit and perhaps over the next several years of $500 billion to $1 trillion. Not much."
"We have talked about the total liabilities of the United States being $12 trillion in terms of actually printed treasuries, and as much as $60 trillion in terms of people walking, 'debt men' walking. That's Medicare, Social Security, Medicaid all in combination. So this country has an enormous problem. It is not just $25 billion. It is not a $1-$2 trillion problem."
On when the Chinese, as the largest buyers of U.S. debt, will have enough: "[The Chinese] will not show up when it does not serve their best interests. They're beginning to sense, and I'm sure they've sense for a number of years, that the U.S. has a number of weapons to use against them in terms of their purchasing of treasuries. That would be low interest rates relative to the rate of inflation — in other words, financial repression.
"To the extent the U.S. continues to employ that, it becomes an increasing cost for the Chinese. Their number one priority has been to put their people to work. In effect, the whole world is trying to put their people to work, but the Chinese especially. So what they have done is to fix their currency on a relative basis to the dollar, to buy U.S. treasuries and doing so to put their people to work. When those treasuries yield them nothing and become vulnerable from the standpoint of the dollar currency-wise, then that there might be something in the works. That is the most significant rebalancing effort. The ECB can buy bonds. The U.S. can do another QE 2.5. IF and when the Chinese basically revalue their currency significantly, that is a rebalancing effort that might ultimately put a foundation under the global economy."
On whether other countries will be downgraded after the U.S.: "To the extent that France or some of the inner core of Euroland become vulnerable with their AAA, then it becomes a successive waterfall on the way down…To the extent that the U.S. and other liquid AAA countries such as Japan, France, Germany, Canada, Australia, to the extent that some of those are vulnerable, then there's little room to maneuver.""The U.S. at AA+, does it make a difference? Perhaps 10-15 to 25 basis points immediately."
Gross on whether he blames S&P: "I have been criticizing them and Moody's and Fitch for a long time. Moody's and Fitch are on the "S" list. I think S&P finally demonstrated some spin. S&P finally got it right. They spoke to a dysfunctional political system and deficits as far as the eye can see. They are enforcing some discipline. My hat is off to them. "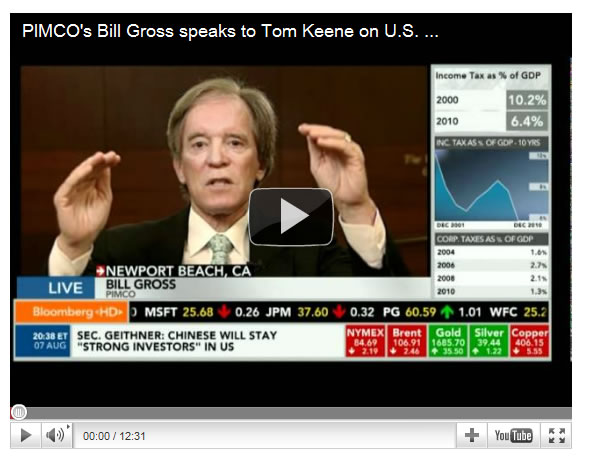 Copyright © 2011 Bloomberg - All Rights Reserved Disclaimer: The above is a matter of opinion provided for general information purposes only and is not intended as investment advice. Information and analysis above are derived from sources and utilising methods believed to be reliable, but we cannot accept responsibility for any losses you may incur as a result of this analysis. Individuals should consult with their personal financial advisors.
© 2005-2019 http://www.MarketOracle.co.uk - The Market Oracle is a FREE Daily Financial Markets Analysis & Forecasting online publication.
Comments
JohnnyRebel
08 Aug 11, 15:37
Moron Named Gross Runs Pimpco


Bill Gross is a frick'en idiot!!!!! These scumballs at the S & P are these same fools who rated the bundled toxic crap derivatives as being AAA. So much for their integrity! Someone should give Mr. Gross a "spin" right out the front door and onto the curb where he belongs!




Only logged in users are allowed to post comments.
Register/ Log in