The Economic and Financial System Is Coming Unglued, Living in a Degraded Democracy
Economics
/
US Debt
Sep 08, 2011 - 05:58 PM GMT

Our video host Stefan Molyneux speaks with Casey Research Managing Director David Galland about the debt situation in the US and whether the federal government can do anything about it… assuming they'd even want to.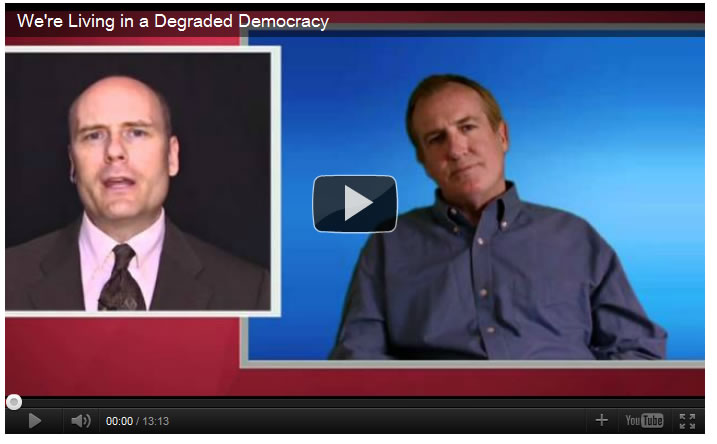 [Are you prepared to face the coming debt storm? Learn more about it, including how to protect yourself and your assets, by joining us for a free online event. The American Debt Crisis will be held September 14 at 2 p.m. EDT. Sign up today.]
TRANSCRIPT
David Galland - We're Living in a Degraded Democracy
Stefan: Hi everybody, it's Stefan Molyneux, host of Conversations with Casey. I have on the line David Galland. Thank you so much, David, for taking the time to chat today.
David: Nice to be here.
Stefan: So, we are seven-tenths of the way towards fascism in the United States. I wonder if you could expand upon that. I sort of get a sense that that's probably true, but you have a little bit more than my gut instinct – you actually have some pretty professional opinions to work with on that.
David: Well, all the elements for fascism are in place. We have a monetary system that is accountable to no one and that's a very good start. If you think about it, the way that the monetary system is structured, the government at this point can literally spend money on anything. They talk about capping the federal deficits and all that, but they'll get past that in no time at all. Probably by the time the viewers are watching this they will have announced a big deal, you know, that they have raised the debt cap. And you know, once you have – if you pin your money to nothing, if you have a monetary system that is based on nothing, then you can afford anything. You can afford all the wars you want, you can afford all the bureaucracy you want; and so they have. That's a first step.
I mean, we've – just as an example, here in the little town in New England where Casey Research is located, they have a – they've just finished building a massive new Homeland Security center. This is a town of roughly 4,000 permanent residents; it's a tourist town. It's the kind of place where the worst crime you'll ever see is somebody stealing skis from a ski slope, and yet we have something like 36 policemen. We've got this huge, brand-new Homeland Security center. Why? Well, because after 9/11 and the overreaction of 9/11 the government made this money available because it could make the money available, because there is nothing stopping it from doing that. And there's all these local police departments, which should have an "Andy of Mayberry" type police force, took the money and they spent it, and now we've got a semi-militarized local operation. So this has gone on and this is multiplied right across the country… and the world.
Stefan: And of course, the decisions that people make in expanding the public sector have immediate implications in payroll, but I think what America is really facing are the long term implications of unfunded pensions that just run into the hundreds of billions of dollars. It's a lot of the stuff that is not really counted in the public calculation of the debt, which is more immediate obligations, but the unfunded liabilities run $75 to $100 trillion according to many estimates. That's not something that you see, which makes the whole conversation about should we have two trillion here or there ridiculous to anybody in the know.
David: Oh, absolutely. Again, on the point about whether we're sort of on the way to a fascist state – and I – this isn't just the US – it's important that, you know, people understand this is all over the world. At this point, none of these governments is operating on anything that remotely resembles sound principles. They're operating on a number of different priorities and a number of different interests – self-interests, because politicians after all are just people. So whatever it takes to kick the can down the road, they're going to do. You mentioned $75 trillion in unfunded liabilities, absolutely. Because at this point, this is essentially sort of a rising tide of bureaucracy over the last hundred years that is cresting at this point. And they have done this because there are no real operating principles other than buying the votes that they need to get re-elected and to stay in office for as long as they can, and then they pass the baton to the next bureaucrat and the system continues. But it's reaching the point where, I think, within a relatively short period of time it's got to come to an end.
Stefan: Now you've written an article recently which I found very interesting – I just shared it through my Facebook as well – it's called The Greater Depression. So you have the Great Depression and now we're looking at the Greater Depression. I wonder if you could talk about the mechanics and the future as you see it as we go into this abyss.
David: Ultimately, what we're faced with right now and this is, I think, just some fundamental principles – because there are so many aspects of what's going on in the economy today that it makes it for most people – for virtually all people – it makes it very hard to really understand what's going on. So sometimes you just have to sort of step back and ask a few questions to try to get some sort of a compass, if you will. And first and foremost the crisis we're in right now is caused by debt, too much debt. As you mentioned before $75 trillion in government obligations – everybody knows that money is never going to get paid. So we've been brought to this point of extreme government borrowing. Who would have thought we'd see $1.5-trillion deficits? I mean, nobody – five, six years ago if you would have asked anybody on this planet if the US government could run a $1.5-trillion deficit they would have said no way. Well, here we are. So all of the conditions of what this – you can call it a debt-induced depression, all of the conditions that sort of brought us to this place have not improved since the beginning of this crisis; they've only gotten worse.
So what's the ultimate outcome of this? Well, what's the one thing that a heavily indebted person or an entity like the government can't handle? And it's rising interest rates. You can't afford for the bank to bump your payments up to, you know, 20% because you've missed a payment. Well, the same thing's true of the government and we are now – we are still – the US interest rates are still bouncing around, you know, all-time lows. It's completely – it's a complete aberration. And it can't last. So why things are going to get worse is because interest rates have to go up. Even if they return to sort of a more normal five to six percent range, from a historical standpoint it would be devastating to the US economy. So the government is doing everything it can to try to get out of this trouble but there really is no way. They have very limited impact on long-term interest rates and if it wasn't for the fact that Europe was such a basket case and that Japan was such a basket case right now, interest rates in the US would already be taking off but I don't think we're going to have to wait long for that and then things are going to get interesting.
Stefan: Let's take a tour as you have done in a recent article around the world in eighty seconds, or so, because I think you have correctly identified that – I mean obviously North America is a basket case economically; South America has always had its problems economically; Europe is facing catastrophic debt situations; China is in pretty artificial command of the economy, Japan has had a twenty year recession/depression and now it is facing all of the problems that have come out of the nuclear power plant meltdowns. It really seems like it's a perfect storm in a way, that there are not a lot of safe havens to go to even for good news, let alone for investor security. What are your thoughts about how all of this stuff is coming together at the same time?
David: Well, it's scary. I mean, I didn't coin the phrase "Greater Depression," that was Doug Casey, my partner; and I think Doug had it exactly right. I think, you know, there has been so much of a, as I've said, this sort of rising tide of bad policy and extreme spending and a takeover of the economy – and not just the US economy, but all of the economies by these governments, the nation-states – that things have reached the point, people tend to think that things are going to stay the same and continue as they are, but they don't. Sooner or later, history shows over and over again, things break, systems break, and I think we are very close to that.
I think it is important for people to understand that in – they look for the politicians to solve the problems, but to solve the current problem in America would require draconian efforts that would immediately cost the politicians their jobs. It would be, for a politician to stand up there as everybody watching this knows, and advocate deep slashes to Social Security or Medicare – and I am not talking about the stuff that they are talking about now, where modest little rearranging of the deck chairs over the next ten or twenty years, but real fundamental changes in the amount of government services being provided because all of these government services have grown and grown and grown over years now – and so to start cutting them back, every one of these government services has a constituency, people that depend upon it. You know, you start looking for cuts, and you say, okay, we have got to cut school lunches. You know, government didn't used to give away school lunches. Well, now everybody is up in arms because you can't cut the lunches of people because then they will have malnutrition and so on and so forth. Every single government bureaucracy has got a constituency. But the reality is that you can't keep kicking the can down the road indefinitely.
Or put it another way: There is never a good time to fix this kind of a problem. So politicians will always make the choice to not actually address the problem, but rather to leave it to the next person's watch. This isn't – this would be a horrible time, absolutely a horrible time to fix the problems that face the American economy. Slashing the deficit, slashing the debt, slashing the government spending at this point would have catastrophic consequences to the average person. There would be riots in the street; but if you don't fix it now, when do you fix it? Okay, well, do you fix it in the next year? No. Do you fix it the year after? The government will do whatever it can to keep pushing this down the road, but they can't push it down the road much further.
Stefan: Well, it's because fundamentally – and there are lots of reasons why politicians will not tell the truth to the population as a whole and say, "Look, we are not slashing spending if we go back five years in our deficits. You know, America and the world was not a rubble-strewn anarchic wasteland in 1995, and if all we do is cut spending back to that we will have made massive progress," and people aren't willing to just tell the truth and say, "Look, you people have become lazy and entitled and you have lost track of reality, we have lost track of reality, we have encouraged you to lose track of reality, so we really need to make decisions before reality makes those decisions for us in a much more brutal way," but it seems hard to imagine anyone could get elected without sort of chanting, "USA Number One," and actually telling the truth to the population, so it is almost like the market of the delusional population is driving politics in a way.
David: Oh, completely, because again – and this is nothing new, the people watching this know this – you know, you can point the finger at the politicians, but the people behind the politicians, the fact that, I think, Congress's approval rating now is something like six percent, I mean it's ridiculous, but come next election, most of those guys, most of the incumbents will be re-elected. And anybody who is elected to replace anybody who gets voted out will be just as bad as the people that they are replacing.
So you know, you have got a system, you've got a situation here where we live in a degrading democracy, you have to just face that fact. It is degrading, people have been trained – just like they were in the Soviet Union leading up to that collapse – they were trained to look to the state for virtually everything, and once you have stopped relying on yourself, once you start relying on the nation-state to take care of all the things that you think it needs to take care of, or that you would like it to take care of, you know, the whole thing comes crumbling down and we have absolutely reached that point. If you look at it – and again, very few people, I would say it's sort of the fringe, if you will – people like yourself, Doug and the editors at Casey Research, and you know, the people that might be considered, you know, outside the mainstream, will talk about things like the $75 trillion of federal obligations, and – but it's there, it's a reality, it's a fact, yet the mainstream media pretends that it's not there and they do their calculations about the government covering its costs and debts and all that stuff based upon, you know, really falsified information. I mean, so if you can't even acknowledge the scale of the problem – you can't acknowledge the actual reality of the problem – how can you begin to come up with a solution? You can't. And fortunately for the US, we had a great economy, and it's still better than most. We've managed to get to this point although it goes far down the path of corruption, if you will, as we have, but the monetary system, at this point, is absolutely coming unglued, and I don't think we are going to have to wait much longer. I mean, I think we might have a year before this thing really starts to break down, but I don't think we have got much more than that.
[No one can afford bailout fatigue, since the question regarding US debt is no longer "if," but rather "when" the financial collapse will come. Truth be told, the process is already under way… but there's still time to prepare. You can protect yourself, your family, and your investments – and even profit. Learn how big the problem is and how you can prepare by attending a free, online event. The American Debt Crisis will be held on September 14 at 2 p.m. EDT. Register today!]
© 2011 Copyright Casey Research - All Rights Reserved

Disclaimer: The above is a matter of opinion provided for general information purposes only and is not intended as investment advice. Information and analysis above are derived from sources and utilising methods believed to be reliable, but we cannot accept responsibility for any losses you may incur as a result of this analysis. Individuals should consult with their personal financial advisors.
© 2005-2022 http://www.MarketOracle.co.uk - The Market Oracle is a FREE Daily Financial Markets Analysis & Forecasting online publication.

Only logged in users are allowed to post comments.
Register/ Log in