UK House Prices Fall by 0.5% During December
Housing-Market
/
UK Housing
Dec 28, 2007 - 09:40 AM GMT

House prices fell by 0.5% in December, the second consecutive monthly decline
The average price of a UK property is £8,334 higher than a year ago
Rate cuts will help but are unlikely to re-ignite the housing market as in 2005
| Headlines | December 2007 | November 2007 |
| --- | --- | --- |
| Monthly index * Q1 '93 = 100 | 366.4 | 368.2 |
| Monthly change* | -0.5% | -0.8% |
| Annual change | 4.8% | 6.9% |
| Average price | £182,080 | £184,099 |
* seasonally adjusted
Commenting on the figures Fionnuala Earley, Nationwide's Chief Economist, said: "UK house prices fell by a seasonally adjusted 0.5% in December, recording their second consecutive month-on-month fall. The annual rate of house price inflation fell to 4.8%, compared to 6.9% in November and 10.5% in December 2006. The average price of a UK property rose by £8,334 over the last 12 months, leaving it at £182,080 at the end of 2007. The three-month on three-month rate of growth – a smoother indicator of house price trends – fell from 1.4% in November to 0.9% in December, the lowest since November 2005."
Money market conditions worsened towards the year end, though central bank action has helped
"The housing market has weakened significantly in the closing months of 2007 after holding up more strongly than expected in the earlier part of the year. While we finish the year with house prices broadly in the range we had expected, the path to this point has been quite different to our expectations. Most indicators now show that demand is responding to the pressures of weak affordability, past increases in interest rates and the lower house price expectations that we had expected to take hold earlier in the year. However, the turmoil in the financial markets resulting from the US sub-prime mortgage issue and the problems experienced by a UK mortgage bank have swiftly added to the pace of changing sentiment in latter months.
"As funding conditions have tightened and risk aversion has risen amongst banks, there has been a decline in the availability of mortgages at the riskier end of the borrowing spectrum and an increase in their price. This will undoubtedly choke off new sub-prime lending in 2008, but may also make it more difficult and expensive for existing sub-prime borrowers to re-mortgage. By contrast, credit supply in the prime lending sector has still been largely unaffected. Nonetheless, a return of more normal trading conditions in the money markets will be important for the health of both the housing market and the wider economy in 2008.
The co-ordinated response by the world's central banks has been a welcome development in this respect, helping to bring inter-bank rates down significantly from the peaks reached earlier in December. However, it is likely to take more clarity about the extent of losses in the US sub-prime mortgage sector for conditions to fully return to normal. The speed an extent of this normalisation process will be one of the main factors to watch in 2008. d
Bank of England delivers early Christmas present in response to slower growth…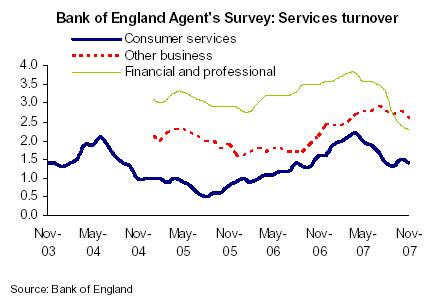 The MPC voted unanimously to reduce Bank of England Consumer services Other business Financial and professional interest rates to 5.5% at the December meeting. It judged that the downside risk economic activity and inflation from financial market turmoil for now outweighed the upside risks to inflation from short-run cost pressures in the energy and food sectors. Indeed, there are now clearer signs that the economy is slowing noticeably. Although activity in the manufacturing sector still appears to be holding up relatively well, a significant pu has been observed in the more importa services sector. The biggest slowdown ha been in financial and professional servic major contributor to economic growt last two years. This sector is certainly feeling the effects of recent market events and is unlikely to make as big a contribution to econo ic growth in 2008.
but this is unlikely to re-ignite the housing market in 2008 …
s the economy slows below its trend rate in 2008 and demand pressures ease, the MPC appears likely to cut h "A rates by another 50 basis points, but possibly more. However, the response of the housing market is unlikely to mirror that of August 2005. It is true that lower interest rates will probably help market activity recover somewhat later in 2008, as lower house price growth restores some affordability and allows pent-up demand from first-time buyers to be released. However, it seems unlikely that there will be a big recovery in activity and prices mirroring the 2005 experience. This is mainly because housing affordability is starting from a muc worse position than in 2005, while interest rate cuts have started from a higher and more restrictive level. Therefore, this time around lower interest rates are more likely to stabilise market activity rather than reignite it.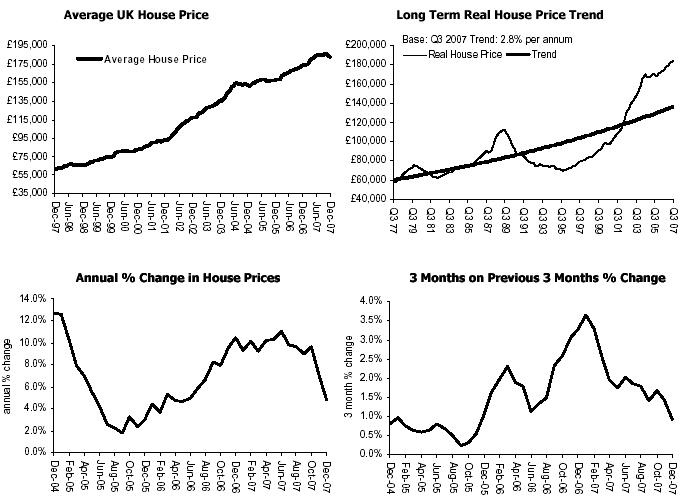 Fionnuala Earley
Chief Economist
Tel: 01793 656370
Mobile: 07985 928029
fionnuala.earley@nationwide.co.uk
Kate Cremin
Press Officer
Tel: 01793 656517
kate.cremin@nationwide.co.uk
© 2005-2019 http://www.MarketOracle.co.uk - The Market Oracle is a FREE Daily Financial Markets Analysis & Forecasting online publication.

Only logged in users are allowed to post comments.
Register/ Log in