Is Crude Oil About to Crash the Markets?
Commodities
/
Crude Oil
Feb 26, 2012 - 10:08 AM GMT


Do I or Don't I?
I decided not to bother, what you ask? writing more of the same about the US stock markets, It don't need a genius to write that the US stock markets are in a coma and stuck in the ICU room waiting to come back into the real world. Although nothing has really changed from the current ideas I am reluctant to post more of the same stuff when nothing really has happened.
The readers that have subscribed to the trial newsletter are keep update, if your still interested details are here: http://www.wavepatterntraders.com/...
Its currently free and a chance to see some of my other work.
I can write some interesting articles when the markets actually move. So I personally would rather write about something that might be of interest to readers.
Oil
How will oil, or should I say how can oil crash the markets? And I might add the economy.
I started looking into this idea a few days back and it sort of clicked as to why oil has rallied back in sync with stocks again.
There appears to be a point with oil, that when price pushes back about that area things start to crumble, I think it's the $100-110 area.
I don't think the world can support oil at $100-110, much less the US economy.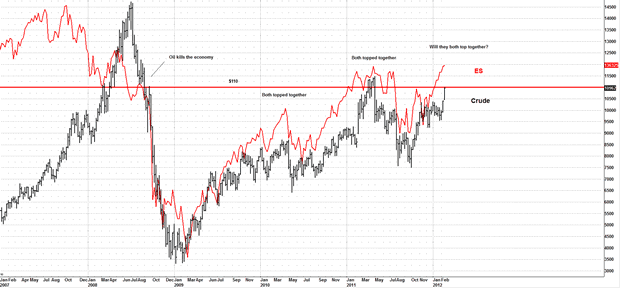 If you look at the chart, you will see the 2 times it did that, it had a dramatic effect on stocks, suffice to say the markets are trying for a 3rd time.
I actually think we are setting up for something like Jul 2008 or May 2011, oil at these levels is bad news when you see it above $110 it has a bad affect on stocks. As shown on the 2 previous occasions it's been above $110.
As oil is an integral part of everyday life, the knock on affect is alarming, in that less money is being spent in the economy as its being taken by higher fuel costs.
People from using their cars to go to work, will spend less on groceries and luxuries and even daily transport of food and goods will increase, so as the price of oil goes up so does food and consumer goods, which again places importance on the price of oil as it kills the economy.
You saw that back in Jul 2008 and May 2011 and I suspect we are setting up for the very same thing again.
What was it that Einstein said? Insanity: Doing the same thing over and over again and expecting different results.
Simply put the world can't sustain oil at above $100-110 as it takes $$$ away from the GDP as the cost of everyday items goes up. I am not an economist I don't possess one of the spangling shining certificates from Yale or Harvard, but I live in the real world where I use fuel for driving.
If you pay more on fuel costs you spend less on other items, that is just simple basic maths.
Especially fuel and everyday items we buy, oil has a big knock on affect in the economy.
Look at what happened when oil started pushing above $100 for the 1st time around Dec 2007-Mar 2008, stocks started pushing lower.
Now look what happened at the May 2011 highs.
Coincidence? I don't think so.
Will history repeat? Is this time any different? Can the US economy really sustain oil above $110 and see the markets continue higher?
History says no.
I know one thing, oil going to the moon isn't positive for stocks, the 2 previous times it's been above $110 area the markets crashed.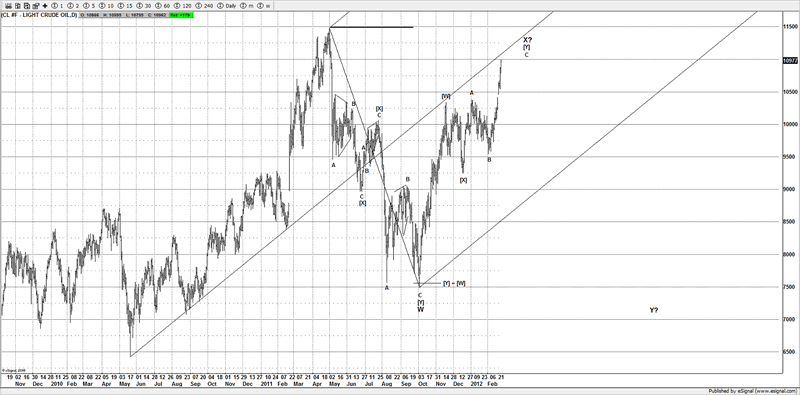 If working an X wave on this current advance, then it should near to its conclusion as the recent moves count well as an impulsive move.
Although you can label it as a triangle, but the ideas are still the same and potentially finding a high with stocks and probably the metals gold, silver etc and even alignment with EUR/USD into the 136 area.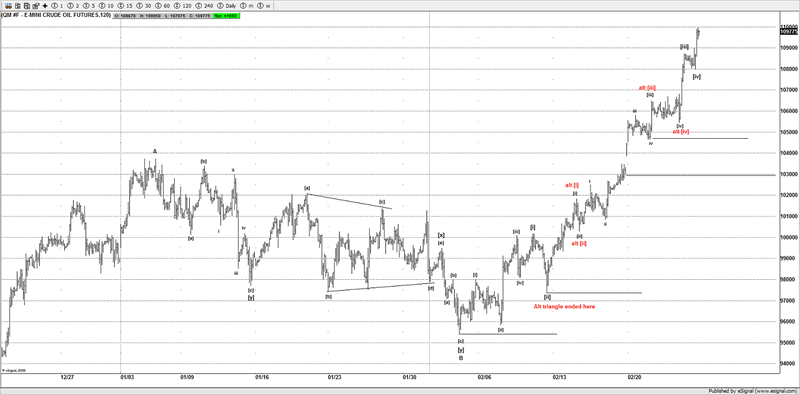 There are enough gyrations to suggest this is completed, although I will give the benefit to the trend above $106, as we could pullback in a 4th wave i.e. wave [iv] and push towards $112-115 area.
A strong break lower is a caution, it reminds me of the moves into the last high at $115 last May. What a trade that turned out to be, we were all over that and made some terrific gains.
A great trade is coming for oil. Suffice to say, oil could be one of those trades of the year, where you can make a serious amount of $$.
If you recall back to the May 2011 highs, it was oil that broke 1st, then stocks and virtually everything else followed, even gold and silver finally puked, when in a liquation type event, things get sold good or bad as margin calls are called in and $$ needs to be found.
With potentially 5 wave advances from the Dec 2011 lows in gold and silver, to finish potentially bearish ideas, with oil into areas where it puts serious pressure on stocks and the US economy, I am not sure this can continue much longer.
There are many pieces of the puzzle appearing to converge and align.
I now think oil is probably the most important chart that traders need to follow going forward and its one I am going to be glued going into next week.
MUB
I wrote about municipal bonds a few weeks back, and potentially it's now cracking, that's a big loss if you bought the highs, 30 days worth of gains lost in 2 days!!!! Yes 2 Days!!
It shows you what happens when the boat is so far to one side. Is the Titanic starting to sink? What about Oct 2007? Stocks will never go down, but they did. It always goes up don't it??? It can never go down, or can it? Now think about that for a bit, remember back in May 2011, same thing there on US stocks, stocks are never going to go down.
But they did, fast forward to present day, stocks will never go down!
The rest is up to history to decide.
Apple going up forever as well, isn't it?? hmmm we will see about that, bag holders never really realize they just bought the highs till it finally hit their pain threshold.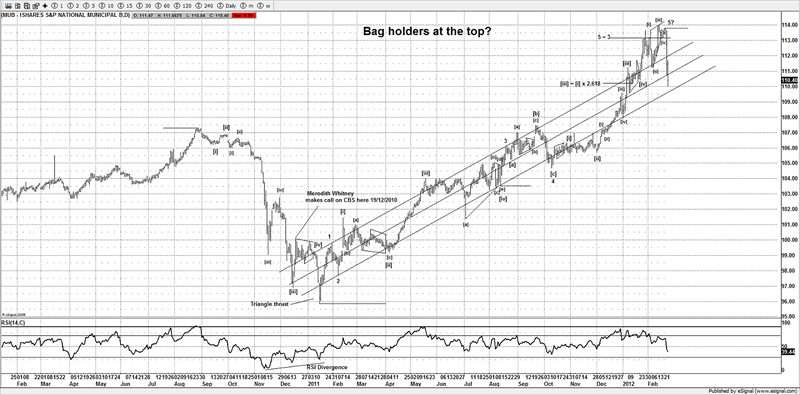 If this crashes will they blame Meredith Whitney again? What excuse will they find?
Conclusion
I am seeing some alarming signals from other markets, the one that sticks out is oil, I am still working the same ideas on stocks and think we are setting up a for a large reversal, oil at these levels is not a healthy sign as seen above, the facts speak for themselves, and I don't argue with history.
Unless of course you believe stocks can power higher along with oil above $110 then I suggest a strong caution if traders are still long stocks and other risk assets.
Until next time.
Have a profitable week ahead.
Click here to become a member

You can also follow us on twitter

What do we offer?

Short and long term analysis on US and European markets, various major FX pairs, commodities from Gold and silver to markets like natural gas.

Daily analysis on where I think the market is going with key support and resistance areas, we move and adjust as the market adjusts.

A chat room where members can discuss ideas with me or other members.

Members get to know who is moving the markets in the S&P pits*

*I have permission to post comments from the audio I hear from the S&P pits.

If you looking for quality analysis from someone that actually looks at multiple charts and works hard at providing members information to stay on the right side of the trends and making $$$, why not give the site a trial.

If any of the readers want to see this article in a PDF format.

Please send an e-mail to Enquires@wavepatterntraders.com

Please put in the header PDF, or make it known that you want to be added to the mailing list for any future articles.

Or if you have any questions about becoming a member, please use the email address above.

If you like what you see, or want to see more of my work, then please sign up for the 4 week trial.

This article is just a small portion of the markets I follow.

I cover many markets, from FX to US equities, right the way through to commodities.

If I have the data I am more than willing to offer requests to members.

Currently new members can sign up for a 4 week free trial to test drive the site, and see if my work can help in your trading and if it meets your requirements.

If you don't like what you see, then drop me an email within the 1st 4 weeks from when you join, and ask for a no questions refund.

You simply have nothing to lose.

By Jason Soni AKA Nouf
© 2012 Copyright Jason Soni AKA Nouf - All Rights Reserved

Disclaimer: The above is a matter of opinion provided for general information purposes only and is not intended as investment advice. Information and analysis above are derived from sources and utilising methods believed to be reliable, but we cannot accept responsibility for any losses you may incur as a result of this analysis. Individuals should consult with their personal financial advisors.
© 2005-2019 http://www.MarketOracle.co.uk - The Market Oracle is a FREE Daily Financial Markets Analysis & Forecasting online publication.

Only logged in users are allowed to post comments.
Register/ Log in