Bank of England Losing Control of Mortgage Interest Rates, Perversely Bullish for UK Housing Market?
Housing-Market
/
UK Housing
Mar 12, 2012 - 02:38 PM GMT


The Bank of England last week kept the UK Base interest rate on hold for a third year at 0.5%. The tax payer bailed out and supported banks answered by again announcing a series of mortgage interest rate hikes to take place over the coming months towards 5%, or ten times the official base interest rate.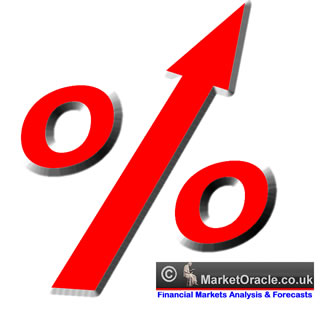 The Bank of England over the past 4 years has effectively stuffed every bankster orifice with tax payer cash through a multitude of measures that include insuring toxic assets, direct capital injections, loans, transference of bad assets off bank balance sheets (such as Northern Rock) and QE money printing to buy assets owned by banks all as a consequence of the Fear of Financial Armageddon as I touched upon in depth in the Interest Rate Mega-trend ebook of March 2011 (FREE DOWNLOAD).
In total the value of tax payer supported banker bailout liabilities extend to approx £4 trillion, which is about four times total UK public debt that the mainstream press and academics continuously obsess over.
The banks continue to hold the country to ransom in a system that is in many ways just as corrupt as that which delivered Czar Putin another term in office in Russia or the Chinese revolving Communist Party Emperors. The banks dictate that they will continue to generate fraudulent tax payer funded profits so that they can continue to pay out bonuses. In fact as the recent announcements out of the likes of RBS have illustrated that even where losses are made after tax payer support the banks are still going to pay out bonuses any way, whilst the Bank of England watches on in silence as it stuffs the bankster's with ever more cash at every opportunity whilst continually pumping out deflation threat propaganda whilst all the while its real objective is for continuing high real inflation so as to achieve its objective of transferring wealth from workers, savers and bond holders onto bank balance sheets so as to prevent a chain reaction collapse of the financial system as well as financing of the government deficit and eroding the value of all debt (private and public).
This is why the banks today are getting away with charging interest rates that are many multiples of the base interest rate and set to rise even further. The UK base rate is at 0.5% and the short interbank rates are around 1%. Instead credit worthy borrowers are being offered rates of 4%+ with savers typically less than 2% unless they opt to fix for multiple years.
On face value the recent surge in UK interest rates could be taken as being disastrous for an already weak UK economy and housing market, which is the line that academic economists and the mainstream financial press have been following. Instead my analysis of the past 6 months has increasingly been acknowledging a slow drift towards normalisation of the financial system, despite having to endure stress as a consequence of the risk of financial armageddon emanating out of the euro-zone that still persists, and which in fact has intensified over the past 12months. So the picture is very complex and cannot be easily broken down into its component parts that would literally take a 100 page ebook to explain the tug of war processes's at work.
However, as I mentioned earlier, rising interest rates are a NET positive for the UK economy which is despite a high probability of a recession this year for the UK (2 consecutive quarters of GDP contraction), which illustrates a messy big picture where it is very easy to push and paint a heavily doom laden scenario that I just don't see as being the most probable outcome.
It has been a while since I last performed an in-depth analysis of the UK housing market which I last deemed to be in a continuing depression that would extend into to early 2012 following the crash of 2007-2009.
Last forecast (03 Sep 2010 - UK House Prices and GDP Growth Trends Analysis) concluded in a continuing depression in the UK housing market for the next 3-4 years, with the most probable outcome being for a gradual shallow drift lower in prices over the next 1-2 years (6-12%), followed by a further 1-2 years of base building.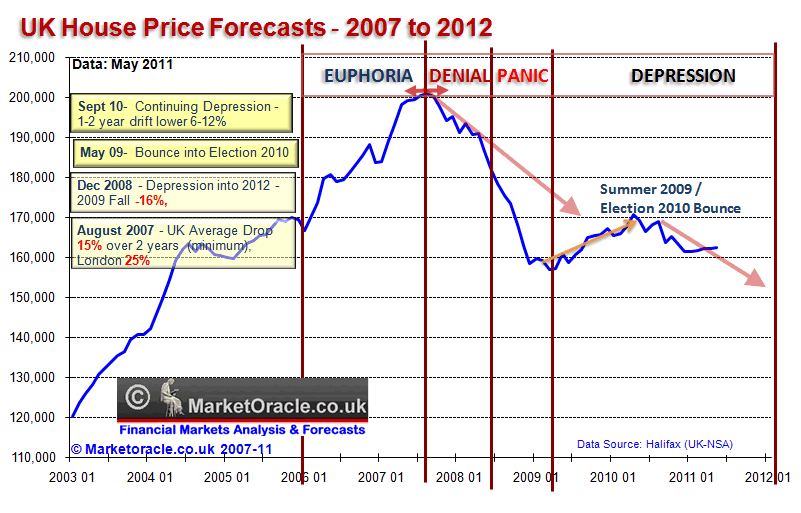 Therefore both my original analysis and emerging positive signs of the past 6 months are suggesting that I should now start to focus my attentions towards in-depth analysis of the UK housing market, which could perhaps converge towards a title such as " Stealth UK Housing Bull Market of 2012 to...", much as I wrote of the start of a Stealth bull market in Stocks in March 2009. This will require detailed and lengthy analysis so as to enable me to generate high probability trend trajectories, but again I am continuing to see increasingly positive signs which the mortgage rate hikes are just another step on the path towards a multi-year bull market, so I am giving you a head start on an emerging probable multi-year bull market in UK housing.
Ensure you are subscribed to my always free newsletter to get my detailed analysis and precise trend forecasts in your email in box.
Source and Comments: http://www.marketoracle.co.uk/Article33567.html
By Nadeem Walayat
Copyright © 2005-2012 Marketoracle.co.uk (Market Oracle Ltd). All rights reserved.
Nadeem Walayat has over 25 years experience of trading derivatives, portfolio management and analysing the financial markets, including one of few who both anticipated and Beat the 1987 Crash. Nadeem's forward looking analysis focuses on UK inflation, economy, interest rates and housing market. He is the author of three ebook's - The Inflation Mega-Trend; The Interest Rate Mega-Trend and The Stocks Stealth Bull Market Update 2011 that can be downloaded for Free.
Nadeem is the Editor of The Market Oracle, a FREE Daily Financial Markets Analysis & Forecasting online publication that presents in-depth analysis from over 600 experienced analysts on a range of views of the probable direction of the financial markets, thus enabling our readers to arrive at an informed opinion on future market direction. http://www.marketoracle.co.uk
Disclaimer: The above is a matter of opinion provided for general information purposes only and is not intended as investment advice. Information and analysis above are derived from sources and utilising methods believed to be reliable, but we cannot accept responsibility for any trading losses you may incur as a result of this analysis. Individuals should consult with their personal financial advisors before engaging in any trading activities.
© 2005-2022 http://www.MarketOracle.co.uk - The Market Oracle is a FREE Daily Financial Markets Analysis & Forecasting online publication.
Comments
Simon B
13 Mar 12, 06:14
UK House Prices going up????


Just don't get it Nadeem

If interest rates rise (more expensive repayments) yet average wages are stagnant or below inflation doesn't that put downward pressure on house prices?

Look forward to more indepth analysis.



Ben
13 Mar 12, 06:26
Expectations


Hi Nadeem,

Firstly, thank you for your article.

May I ask:

A) How long do you think the BofE will keep i rates at 0.5% for and;

B) How long do you expect this stocks stealth bull market to last for? Is this a secular bull market or just a cyclical 3-5 year bull? Do you still forsee a correction in April/May 2012 or something a little bigger?

Regards,

Ben



Nadeem_Walayat
13 Mar 12, 08:01
Bull markets and interest rates


Hi

Simon B - the reasons will become clear in hindsight after the bull market has run for several years, which is why bull markets are missed for several years.

Ben - The base interest rate is irrelvant to the retail market, the market is alreay operating as if the base interest rate was at least 3%. Which means it won't make any difference to the market when rates rise INFACT I would not be suprised if market rates fell when the base rate rises.

Stocks Bull - No such thing as secular or cyclical, its either a bull market or a bear market or a trading range (approx 30% of the time) ... I will do analyse on stocks late April to know what will probably transpire during May etc.



R.E.B
13 Mar 12, 09:21
House Prices


With the average house prices around 6 times average income surely the only way house prices can move up from here, in the absence of large deposits, is if the banks start lending 7 or 8 times income which I just cannot see happening. Here in Lincolnshire, the housing market seems at an impasse as sellers do not want to drop prices and wannabe buyers cannot secure the credit and cannot afford to save large deposits. Do you think this stalemate will be resolved via inflation? Many thanks for the articles!



Nadeem_Walayat
13 Mar 12, 11:12
New Bull markets


At the start of every bull market there are always plenty of logical reasons why it cannot rise, the real reason will not become clear to most for many years.

Luckily, I already have good idea what the real reasosns 'probably' are and will write at length over the coming weeks.

Best

NW



manny
13 Mar 12, 15:04
housebuilders shares


Hi Nadeem i've noticed that many of the homebuilders have completed base patterns, and in america the iyr an real estate index is completing a masive reverse head and shoulders pattern,have you noticed this?



Nadeem_Walayat
14 Mar 12, 23:20
UK housing


Hi Manny

The pieces of the puzzle are falling into place and are supportive of a trend towards real term rises in house prices, my best indicaton is that 2013 will see real term rises in house prices, but more on this after Ive done some 20 seperate and often conflicting pieces of puzzle analysis.

Best

NW



Gary
16 Mar 12, 08:23
Bull market in 'nominal' term but Bear in 'real' term.


Do you mean there will be a 'Bull market' on the basis that our currency will continue to debase?

However, if we are to measure our house prices in Gold and perhaps Oil, this is going to be a 'Bear market'.



jonnysingapore
16 Mar 12, 12:16
Housing bull


Hi Nadeem.

Do you see money supply being pushed up (hence loan rates rising) which is bullish for asset/house prices?



The Watcher
22 Mar 12, 16:22
Que ?


What has the base rate got to do with anything ? Banks are being encouraged to lend money to keep the debt-ponzi economy ticking over as the alternative is debts defaulted on, and the 0.5% is part of the BoE's encouragement to lend.

The SLS is finished, remember.

House prices will erode (because immigration / demand is still there but available credit - and unlimited housing benefit that underwrote the BTL game - is not) until Labour demagogues get back in power in 3 years time, as people will be sick of the Coalition and their cuts by then.

Rates will subsequently shoot up as the market bricks itself and the long overdue property 'correction / crash' will come.

This is fairly obvious to anyone that isn't a property ramper.



Nadeem_Walayat
23 Mar 12, 02:33
Property ramper ?
How can I be a property ramper when Ive been bearish from August 2007 to August 2011.


22 Aug 2007 - UK Housing Market Crash of 2007 - 2008 and Steps to Protect Your Wealth (



Probability is increasingly favouring rising prices, yes it will be missed by most for many years as is usually the case.

Best.

NW

Urban Myth
08 Apr 12, 05:47
House Price Rise


New Bull markets

I quote:

''At the start of every bull market there are always plenty of logical reasons why it cannot rise, the real reason will not become clear to most for many years.

Luckily, I already have good idea what the real reasosns 'probably' are and will write at length over the coming weeks.''

Do you care to share with us what are the real reasons behind your thinking.



Nadeem_Walayat
08 Apr 12, 13:57
UK Housing


Hi UM

My aim is to do a series of articles to arrive at a probable trend for many years.

My indicators say rising prices, but not to what degree, which is what detailed analysis will conclude towards.

But first I need to get the NHS which is bankrupting Britain out of my system.

Best

NW



Urban Myth
08 Apr 12, 17:41
financial reality versus political acceptance


NW

A good response that has me pondering my own line of thinking. The financial reality versus political acceptance.

The downside is the game is closing in and to strip the UK of such generous benefits causes the masses to rise against the hand that feeds them. That is the concern that the Powers that be are really concerned about, and has always been throughout history.



Michael
23 Apr 12, 16:27
Irish House prices


Hi Nadeem,

The top of the Irish property market was around the same time as the UK market. Do you think the Irish property market will also turn positive during 2012_

thanks

Michael



JonR
29 Apr 12, 16:24
trade what you see not what you think


im afraid im with nadeem on this one. The immigration issue is a major matter, the world is not the one we lived in 25 years ago and a lot of wealth will find its way into London from not just Asia's rich but Asia's expanding middle class. Im not confident this is good for the country ie if you are employed and from say NW England you are being taxed to the hilte to subsidise an anti crash standoff to avoid something that no politician wants on their watch.

When you compare how attractive London is to people from overseas (and not just as investors) then you can see why the population will rise to 75m+ within less than a generation. When I say that, think how much of a welcome you get in other parts of the world if you are foreign, France being a very good example. There is employment for allcomers in London and everything else that is attractive for them - except housing.

Jon, Dusseldorf




Only logged in users are allowed to post comments.
Register/ Log in