Why Has the American Economic System Failed?
Economics
/
US Economy
Apr 16, 2012 - 10:26 AM GMT


"We always want to keep in mind what the function, the purpose, of the economy is. The purpose of an economy is not producing GDP. It is increasing the welfare of citizens, and it is increasing the welfare of most citizens. And the American economic system has failed, and failed very badly. Most Americans today are worse off, most American households have lower real income adjusted for inflation than they had fifteen years ago."
Joe Stiglitz made an aside about half way through his talk about mercantilism at INET Berlin this month that is worth noting. I like the way he frames the problems and his fresh look on the situation but do not favor many of his suggested cures, especially the notion of something that sounds dangerously like central planning by a financial elite. I think that is something that needs much more work, but that is a discussion too often impeded by denial, misdirection, and diversion.
Although he initially addresses his talk to America, he goes on to include other countries, especially Germany. I would add the UK, among others including China, which is a disaster in the making.
I start the tape of his talk at 13:25, so you can hear the basic question and the simple truth that so many have overlooked. The American economic system has failed the public, and that failure has its roots in the 1990's, accelerating at the turn of the century into the financial collapse. It is a story of deceit, corruption, and betrayal.

And the majority of the people, who have suffered the most from this injustice, are being asked to suffer even more for a system that does not benefit them and actually works against them. And they are asking, 'is it worthy of our support?'
And history indicates that they will provide an answer that may be unpalatable for those who benefit the most from the current unsustainable arrangement, who are enriched by the misery of others.
I cannot say it more simply or more emphatically, that the gaming of the system by the monied interests, marked by but not wholly due to the repeal of Glass-Steagall, the trade agreement with China without a floating exchange rate, and the Bush tax cuts for the wealthy while initiating aggressive war on multiple fronts, have set the American economy on a spiral of demise and eventual self-destruction.
What has institutionalized this demise and made it pernicious is the corruption of American power and distortion of thought by big money, and the short term selfishness and self-interest of the status quo. That is what I call the credibility trap.
The point must be made, that the system did not fail because our economic models were no good, that our financial leaders were simply mistaken, that the political powers were pursuing the right path but that things went wrong in ways that no one could have foreseen, and that even now, the thought leaders and spokesmodels for the monied interests are hard at work concealing and deceiving and misleading, feeding the rotten system that has brought us to where we are today.
It was never a mistake. They knew, but it was easier to go along or do nothing, being either craven or compromised. It was always about easy money, and the fraud.
Giving even more money to the Banks, and asking the people to pay for it, in the hope that it will eventually trickle down to the people from whom it has been stolen is not a policy, and not even a policy failure. It is an obscenity.
I sense we are in the negotiation phase, in which the powerful monied interests want to be let off with a wrist slap, and no admission of guilt. And of course for change to come slowly, maximizing their returns.
The powerful think that they are the system, the economy and the government, and that it exists to serve them. And so any change must suit their needs, first and above all. But a prideful greed and will to power can never really contain itself, as it can never be truly satiated. It always craves just a little more.
The existing US dollar trade regime dominated by global corporations and banks, backed by widely deployed military power, is not sustainable. We are entering the next phase of this unfolding crisis, and some countries are already there, in which we will see growing domestic unrest and repression, and regional trade wars and alliances, in the evolution of the ongoing currency war.
Reform will come, one way or the other. The writing is on the wall.

For in that universal call,
Few bankers will to heaven be mounters;
They'll cry, "Ye shops, upon us fall!
Conceal and cover us, ye counters!
When other hands the scales shall hold,
And they, in men's and angels' sight
Produced with all their bills and gold,
'Weigh'd in the balance and found light!'
Jonathan Swift, The Run on the Bankers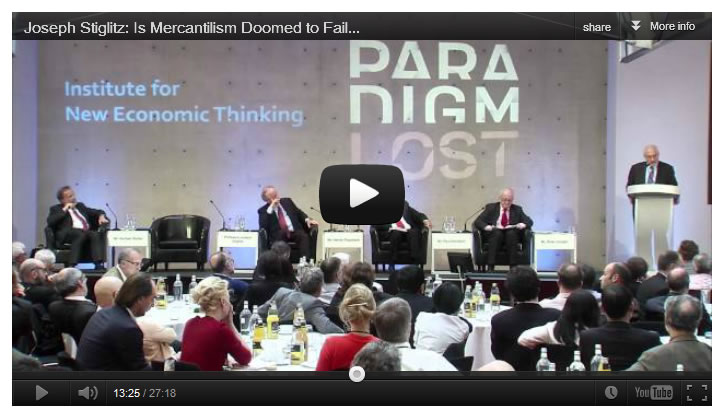 By Jesse
http://jessescrossroadscafe.blogspot.com
Welcome to Jesse's Café Américain - These are personal observations about the economy and the markets. In providing information, we hope this allows you to make your own decisions in an informed manner, even if it is from learning by our mistakes, which are many.
© 2012 Copyright Jesse's Café Américain - All Rights Reserved
Disclaimer: The above is a matter of opinion provided for general information purposes only and is not intended as investment advice. Information and analysis above are derived from sources and utilising methods believed to be reliable, but we cannot accept responsibility for any losses you may incur as a result of this analysis. Individuals should consult with their personal financial advisors.
© 2005-2019 http://www.MarketOracle.co.uk - The Market Oracle is a FREE Daily Financial Markets Analysis & Forecasting online publication.
Comments
Simon Says
20 Apr 12, 19:32
Dont quit your day job


Jesse is a complete hack and follower. He has become part of the Max Keiser clowns as a way to get exposure.




Only logged in users are allowed to post comments.
Register/ Log in