UK Home Extension Planning Rules Relaxed to Boost Economy, Trigger Housing Bull Market
Housing-Market
/
UK Housing
Sep 08, 2012 - 03:55 AM GMT


The Coalition government in panic has realised that it is destined to lose the next general election unless it kick starts the UK ecocnomy so has announced proposals for a whole host of initiatives that will seek to provide billions in funding and cut through red tape that is hindering infrastructure and new homes construction with the aim of triggering a mini building boom and thus help the economy to recovery in the run up to the next general election.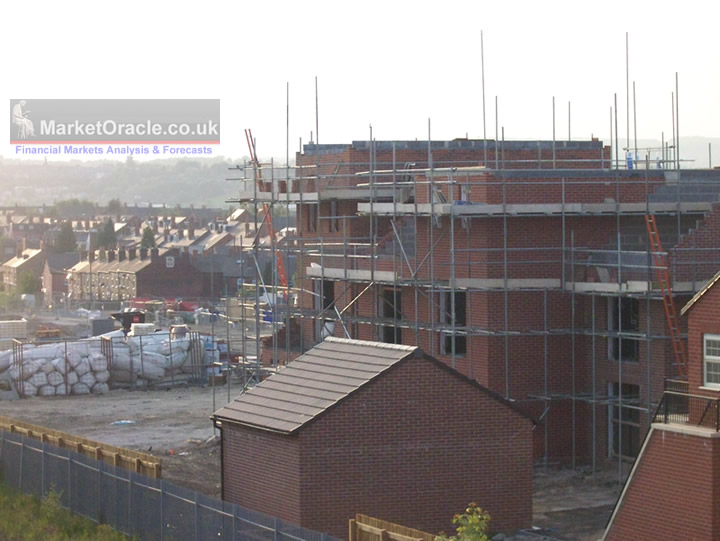 Permitted Developments
The current system requires planning permission to be sought for significant improvements to properties which can result in delays of as much as 12 months and with no guarantee that planning permission will be granted. Which leaves most home owners only with the options of under taking permitted developments that significantly restrict what can be done to mainly building -
Conservatories
Loft Conversions
Garage conversions
Basement conversion
Extensions - under strict rules that limit the length of a one storey extension usually at the back of properties to no more than 4 metres for detached properties and 3 metres for semi-detached / terraced houses. With 2 story extensions capped at a 3m length.
The key proposals that most home owners will be interested in is in the expansion of what home owners are allowed to construct under permitted developments without the need for formal planning permission. Once finalised the planning changes are expected to double these limits to 8/6 metres for detached and 6 metres for semi/terraced houses for works under taken during the next three years to make extending ones properties without planning permission a far more viable option.
The complete details of all the rule changes will follow by the end of this year and therefore are expected to cover into the end of 2015.
Impact on the Economy
The proposals once implemented will have strong positive impact on the construction industry and that money will trickle down to the rest of the economy, so in my opinion these measures will significantly boost the economy going into the next general election of May 2015.
My own personal view is that my own property as is the case for most home owners has already had the usual extensions of loft conversion and a conservatory added which does not leave much scope for further developments without formal time consuming planning permission applications.
However the possibility of extending by 8 / 6 metres without planning permission does make this now a very interesting proposal especially as moving house involves large additional costs amounting to tens of thousands of pounds such as stamp duty.
So I am sure that there are many other home owners who will now been surveying the back of their houses with a view to extending by taking advantage of this 3 year opportunity.
However home owners will still need to abide by building regulations and other factors that will need to be taken into consideration such as the Right of Light, and off course double the extension size means double the cost to finance during a debt crisis.
Impact on the Housing Market
Initially for the first 2 years these proposals will make home moves less likely as those home owners who were considering moving will now instead look at extending options, therefore this will put a dampener on the housing market in terms of transactions over the next 2 years, unless there is a huge surge in new home building which is a possibility as the government is desperate to boost the economy so may also relax green belt rules. However as the propsals stand it should still result in mild upward pressure on house prices due to the increase in value of the property stock following home improvements. This will also increasingly spark interest in the housing market especially during 2014-2015 as buyers increasingly view purchases with the aim of immediately starting works on extensions ahead of the end of end 2015 deadline.
Therefore this confirms my existing view of the birth of a embryonic UK housing bull market taking place this year which follows on from the crash of 2007 to 2009 (22 Aug 2007 - UK Housing Market Crash of 2007 - 2008 and Steps to Protect Your Wealth ) and the subsequent depression into early 2012 as correctly forecast several years ago.
Last forecast (03 Sep 2010 - UK House Prices and GDP Growth Trends Analysis) concluded in a continuing depression in the UK housing market for the next 3-4 years, with the most probable outcome being for a gradual shallow drift lower in prices over the next 1-2 years (6-12%), followed by a further 1-2 years of base building.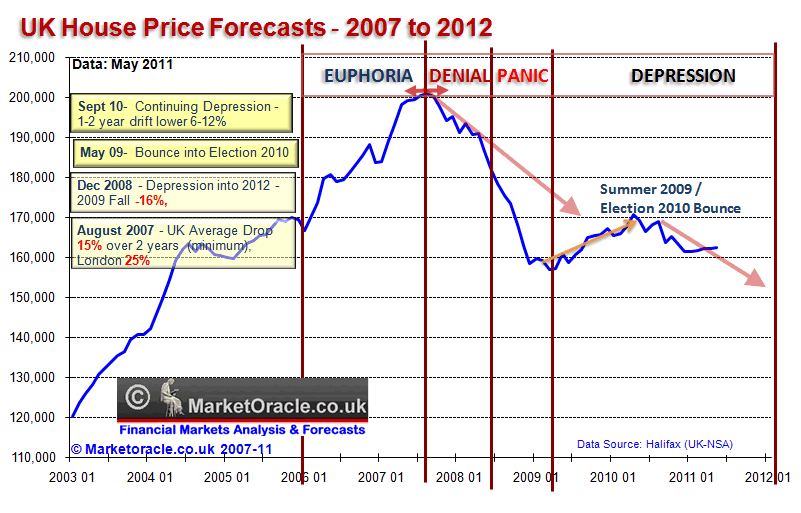 Detailed and lengthy analysis will be required to enable me to generate high probability trend trajectories for the housing market over the next few years, but I am continuing to see positive signs towards a multi-year bull market, so I am giving you another head start on an emerging probable multi-year bull market in UK housing.
Ensure you are subscribed to my always free newsletter to get my detailed analysis and precise trend forecasts in your email in box.
Source and comments - http://www.marketoracle.co.uk/Article36414.html
By Nadeem Walayat
Copyright © 2005-2012 Marketoracle.co.uk (Market Oracle Ltd). All rights reserved.
Nadeem Walayat has over 25 years experience of trading derivatives, portfolio management and analysing the financial markets, including one of few who both anticipated and Beat the 1987 Crash. Nadeem's forward looking analysis focuses on UK inflation, economy, interest rates and housing market. He is the author of three ebook's - The Inflation Mega-Trend; The Interest Rate Mega-Trend and The Stocks Stealth Bull Market Update 2011 that can be downloaded for Free.
Nadeem is the Editor of The Market Oracle, a FREE Daily Financial Markets Analysis & Forecasting online publication that presents in-depth analysis from over 600 experienced analysts on a range of views of the probable direction of the financial markets, thus enabling our readers to arrive at an informed opinion on future market direction. http://www.marketoracle.co.uk
Disclaimer: The above is a matter of opinion provided for general information purposes only and is not intended as investment advice. Information and analysis above are derived from sources and utilising methods believed to be reliable, but we cannot accept responsibility for any trading losses you may incur as a result of this analysis. Individuals should consult with their personal financial advisors before engaging in any trading activities.
© 2005-2022 http://www.MarketOracle.co.uk - The Market Oracle is a FREE Daily Financial Markets Analysis & Forecasting online publication.
Comments
Raj
08 Sep 12, 17:52
Uk or just london


Hi Nadeem

Do you think that a housing upward trend will be all over the uk for example in and around the other major uk cities - manchester, bmingham, Liverpool, Newcastle etc or just in London.

Thanks

Raj



Nadeem_Walayat
08 Sep 12, 18:58
Housing Market Ripple


Hi

I expect it will ripple out of the best / affluent area's of each city, London has the most affluent areas so it will have greater concentration there.

Best

NW



bbull26
14 Sep 12, 06:17
Housing / Inflation


Hi Nadeem,

I always enjoy and appreciate your articles.

I have been waiting in anticipation since last year for your latest UK housing forecast, I hope you can finish your analysis soon.

With the constant quantative easing and higher inflation being guaranteed do you really expect people to even be able to afford extensions let alone moving house, as their disposable income is squeezed and credit is not as easily available.

And, like you said if people are adding extensions instead of moving then prices will fall even more.

I am struggling to see how and why there will be a bull market in UK housing.

Thanks,

Neil



Nadeem_Walayat
14 Sep 12, 08:18
UK Housing


This IS your buying opportunity, miss it and you will regret it. I have already taken advantage of it.

Whilst I have yet to convert my analysis into articles, but my message on housing for the whole of 2012 has been clear and consistent, I could give strong pointers why but without without depth they will just trigger questions, especially for new trends.

Best

NW



theftbyprinting
15 Sep 12, 09:59
UK index linked bonds


Hi Nadeem

Thank-you so much for the wise words over the years, I have read your articles for many years and this is the first time I posted a comment ;) I have a work pension that gives me very limited options, but at least I have options.

All stocks gilt index

Over 5 year index linked gilts

Money market (cash)

UK property fund (this is mainly retail property)

Uk equity

World Equity

50:50 (between global and UK)

I can basically split it up anyway I want percentage wise, what I find is they take ages to make the changes and they not exactly gonna like it if I make changes every month so in away I'm forced to be a passive investor. (I can probably get away with changes every 6 months)

I didn't know what I was doing but got spooked by the impending doom everyone goes on about so I pulled all equity and split it between 40% cash and the rest index linked gilts. I kinda got lucky because caught most of the 23% upswing in the gilts from 2011/12

Everyone is now saying bonds are gonna crash and after reading your articles I'm now convinced that the deflationists ARE DELUSIONAL (I read Robert Pretcher books) and that the 40% I got in money is losing value.

I wanted to put some of that in the property fund because of your article, but does your bull in property also include retail (office, warehouse, retail parks etc) and should I pull money from the bonds.

Keep up the good work



Nadeem_Walayat
15 Sep 12, 19:53
Uk property bull and investing.


Hi

My focus is on UK housing not retail (I may look at retail at some point but have little incentive to do so), and funds are far more volatile and risky, as many who invested in property funds found out when they were not allowed to exit, because property is inherently less liquid than the stock market and bonds.

Index linked bonds should do ok over the long-run.

Portfolio breakdown depends on how far away retirement is, my own portfolio is now 60% property, 17% stocks & commodities (boosted by the recent rally) and the rest bonds and cash.

And when I invest I tend to do it for several years, so you don't really want to dip in and out of long-term investment every few months, that's a reciepe for disaster.



jonnySingapore
17 Sep 12, 20:55
Investing trends


Hi Nadeem. always enjoy your work.

talking about China's slow down/rebalancing and total over supply of commodities/inventory overhang in today and in the future, do you think we're at the end of the hard commodities super cycle now with falling prices in our forseeable future?

Importantly, will this not give a massive boom to consumer countries and what will happen to oil and gold in this context?

I wonder if this is an inflexion point and surely the west cannot continue to money printing if we boom under falling commodity prices.

Can you comment? I read Michael Pettis on ftalphaville blog's further reading section.



Kuli
21 Sep 12, 10:32
Universal Credit


Hi Nadeem,

I don't know how much you know about the new universal credit system that are going to launched, but i think it will have a material effect on house prices.

The main crux (house prices related) is that there will be a capital limit of 16K applied (this will include any capital you have in your home). So those people receiving Working Tax Credit including the child care element and Child Tax Credit who have more than 16K in savings or equity in their home will no longer be eligible to get the credit.

I deal with clients that due to the current times (recession and lost jobs) can only work part time or part/full time in self employment. And due to there being no capital limit, receive the above credits (especially the child care element as up to 70% of kids nurseries costs reimbursed) which have helped them out greatly and enabled them to stay in their homes. These people have had a lot more than the 16K limit in equity in their homes.

The amounts that you could earn before Tax credits was effected have come down drastically in the last three years (so as to limit the paying out of the above credit) and now it looks like the capital limit will do a lot of harm.

Just wanted to inform you of this as I'm sure that most people will not be aware of this.

Kind Regards

Mr Kevin B

Accountant



Nadeem_Walayat
21 Sep 12, 13:00
UNiversal Credit and Property


Hi Kevin

Thanks for that, but I can't see how it will be so.

I very , very much doubt that UC will include home equity i.e. the house where the claimaint resides.

Capital in ones home has always been outside the scope of tax and benefits.

So, please point me towards a credible link that states that UC changes this.

Though, I know tax credits exludes Cash ISA's , It is possible that UC will include this.

Best

NW



Kuli
23 Sep 12, 17:53
Universal Credit and Property


Hi Nadeem,

I read the draft white paper some time back which included the element about one house equity and the 16K capital limit and went in to quite a bit of detail. The draft white paper was freely/instantly available when I read it but NOW you have to request The White paper from the DWP from the below link (at the bottom of the page).

http://www.dwp.gov.uk/policy/welfare-reform/legislation-and-key-documents/universal-credit/

The information readily available about UC is that its a fantastic better system that will support people to work, give more to the people that deserve it and clamp down on fraud and bring cost savings in the future.

All i can pick up relating to detail regarding capital is;

"Applying a capital limit for people with capital of more than £16,000. There is a capital limit in the current out of work benefits and Housing Benefit which is set at £16,000 but tax credits currently treat capital differently. Under tax credits there is no limit on eligibility as a result of capital but the investment income from capital is taken into account after a small annual disregard."

And i have found this;

Universal Credit will have the same capital rules as currently apply to Income Support. There will be an upper capital limit above which there is no entitlement and a lower limit below which capital is fully disregarded. An income will be assumed for capital between the lower and upper limits.

Income support Capital Rules

If you have more than £16,000 in capital, you cannot get Income Support.

Capital means things like savings, property and land. However, some capital is ignored, for example, your personal possessions and the home you own and live in. Certain other types of property are also ignored. For full details of other property which is ignored, you should get advice.

Now i don't know if this below is relevant to determining the lower capital limit (but most likely is):

Capital of more than £6,000 will affect how much Income Support you get. You will be treated as getting £1 a week in income for every £250 of capital (or part of £250) above the £6,000 limit. This is regardless of how much money you actually receive from your capital, if any.

So You are right Nadeem, They have changed there stance as in the Draft white paper they were looking to count the equity in ones home but now they are not going to.

But still if they use the capital rules from income support where benefit is affect after 6K up to 16k and then your not entitled to it (this will include child care element for nursery cost). People who have saved will be penalized and this will add to their struggle.

Regards

Mr K B

Accountant



Nadeem_Walayat
23 Sep 12, 18:22
UC and UK housing market


Hi Kevin B

If it discouranges savings and does not penalise capital in ones home then is it not logical it will encourage people to invest excess capital into their own home either by buying or extending.

Best

NW



BNW172
25 Sep 12, 05:16
ponzi funding of the mortgage markets


Hi Nadeem,

A long awaited follow up on the UK Housing Market, so thank you.

Always interested in your semi bullish perspective.

Just wanted to get your thoughts on how you think the loss in ponzi funding of the mortgage markets will be overcome by weakened home build planning regs?

Surely the issue is more with the loss of the illusionary credit (the 100% mortgages) that fuelled the UK housing bubble.

The market is being kept a ticking over by ZIRP (although commercial rates are becoming more dislocated to BOE base) and somewhat desperate measures like this and Clegg's recent pensions for mortages spiel.

With entrenched wages and job secuirty, increasing commodity inflation eroding personal spend; the principle hangman's issues (record defecits - this August for eg, a Trillion plus debt (on sheet!), a bond market propped up by printed money with QE and of course the mother of all debts in Euroland still totally unresolved........where is the long term sutainability for the UK's disconnected and dangerously costly housing market.

Even Joe Public is starting to cotton on to the impact of high house prices relative to salary so i really fail to see how this type of policy jenga is going to impact on the above issues and lead to a a bull market.

Cheers for your time Nadeem.



Nadeem_Walayat
25 Sep 12, 11:33
Accumulative Housing market bullishness


Hi

The trend towards me turning bullish on the housing market is a year long now, first less bearish, then neutral then by year start seeing bullish signs emerging and well by now strongly bullish so far so that I have committed most of my portfolio to housing.

The latest news is just that one small piece of the jig saw that is falling into place, but the primary driver will be the consquences of the EXPONENTIAL Inflation Mega-trend because basically the government cannot print houses.

Far more depth and explanations of the intricacies involved for this emerging trend will follow over the coming months, it is afterall still an embroynic bull market.

Best

NW



nickemm
26 Sep 12, 08:59
House Price Boom


Hello Nadeem,

Its interesting reading your thoughts on a future house price boom starting soon. I noticed J P Powers the money making machine are funding a shared equity mortgage scheme in the UK through Castle Trust launching next week. They to also see house prices about to go up...

I'm am about to buy a house as I can finally afford one, 4.8 X joint salary, we would be at risk if mortgage interest rates were 7+ in 5 years, is this a high probability ??



Nadeem_Walayat
26 Sep 12, 10:51
House Price Boom Interest Rates


Hi

To be clear, we are in an embroynic bull market, the boom phase is several years away.

A house price boom would be accompanied with at least normal mortgage interest rates which on our current inflation rates suggests at least 6% and probably around 7%.

The current situation is ARTIFICIAL, not a market but government subsidy to the tune of at least £120 billion per year, that is NOT sustainable even with QQE.

Best.

NW



upwarddog
27 Sep 12, 09:56
US Housing


Nadeem,

Would you classify US residential real estate to be in the same embryonic bull market as well? I own property in California and Arizona that have 3.5% fixed rates for 30 years, and the inflationary mega-trend will lift asset valuations everywhere of course - but your insight to the US specifically, would be appreciated.

On a side note, I still see many sales that are only a fraction of their replacement cost. This tells me it's embryonic indeed.

Best regards,

CB



Nadeem_Walayat
27 Sep 12, 10:26
US Housing Market Forecast


Hi CB

It has been a long time since I last looked at US housing, in fact over 4 years when I forecast a continuing bear market into the end of 2010.

I will seek to update what has transpired since and what it means as I did formulate a BUY / SELL trigger mechanism specifically for the US housing market, so it will be interesting to see if it has now triggered a bull market or not -

29 Jun 2008 - US House Prices Forecast 2008-2010

Best

NW



RM
14 Nov 12, 14:48
Housing Price during inflation and recession


Hi Nadeem,

Thanks for your awesome site.

I would greatly appreciate if you could answer a question that I have.

When the economy is healthy and inflation increases then house prices go up. If the economy slips into a recession accompanied with inflation(money printing. which seems to be the path we are headed) wouldn't house prices drop? since people would lose jobs and might not be able to pay mortgage and this could put downward pressure on house prices.

Best Regards,

RM



Nadeem_Walayat
14 Nov 12, 18:15
Housing Market Probability


Hi

The primary purpose of my analysis is to arrive at the most probable outcome for a market. Therefore I attempt to peel away as many layers as necessary to arrive at such an conclusion and many times it leads me down a path which is contrary to econcomic doctrine, which is why we have had inflation instead of deflation for the past 4 years of more than 15% despite Bank of England propaganda that a weak economy 'should' result in deflation.

One such recent examaple was my July article on the Quantom of Quantitative Easing and its implications that will next seek to update.

I aim to arrive at a probable trend for UK house prices for several years before the end of this year.

Best

NW



RM
19 Nov 12, 09:58
Housing Price during inflation and recession


Hi Nadeem,

Thanks for your response.

Would you be kind enough to share your analysis which would help me understand this probable outcome.

Best Regards,

RM




Only logged in users are allowed to post comments.
Register/ Log in