Facebook Crash Illustrates the Investment Opportunity Scam, Nadeem Walayat's Investing Lesson
InvestorEducation
/
Learning to Invest
Oct 23, 2012 - 12:46 AM GMT


With the Facebook stock price trading about 50% below the IPO price, read on if want to know why so many investors were zuckerberged into investing in Facebook and how such costly mistakes can be avoided in the future.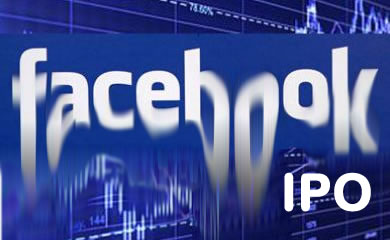 The Facebook Investment Opportunity
Many investors fell prey to the Investment Opportunity of the year if not decade as many small investors were lined up by the likes of Goldman Sachs to be fleeced of their wealth as the Facebook share offer sought to offload shares held by insiders including the russian mafia at a fraction of the offer price of $38, as the Facebook media machine took full advantage of Zuckerberg's billion or so friends to build up the sale into a frenzy that was regurgitated at length in the Blogosphere and the mainstream press when the facts if anyone cared to look suggested the complete opposite, forget the stock price doubling to $80, Investors were lucky if a few months down the road their holdings would be trading at above $20!
For instance back on IPO day, the Telegraph was pushing a story out as to why the Facebook stock price would climb a lot higher.
The Telegraph's Katherine Rushton predicts that the share price will rise.
As Facebook began trading on the stock market, the Telegraph's Media, Telecoms and Technology Editor describes how the initial excitement of the flotation might pan out.
"I would expect that the share price is going to climb quite substantially and probably stay at quite a good level for a few years," she said.
And what's worse is apparently the Telegraph's Media editor made the statement AFTER the stock rose to $45 and started its fall back to the $38 IPO price! Investors who consistently put their own money on the line would fully understand that the close of $38.23 and low of $38 were highly suspect that stank of artificial support of the stock price to prevent a negative IPO close, a huge warning for the stock price's future prospects.
"We can't judge [Facebook's] success in these early days and early hours," Ms Rushton added.
And what about less than 2 weeks later? What did the Telegraph's Katherine Rushton say about Facebook, is it still "going to climb quite substantially and probably stay at quite a good level for a few years," ?
30th May 2012 - Telegraph - Facebook crashes below $30 in 'worst IPO in a decade'
The social network has lost more than a fifth of its value since its faltering Wall Street debut on May 18, while its 28-year-old founder Mark Zuckerberg has been honeymooning in Rome. It is now unlikely to recover in the short term, analysts claimed.
After placing at $38, Facebook's shares briefly peaked at $45 before sinking back to $38.25 on their first day of trading. They have fallen every day since then, and today plummeted nearly 10pc to a low of $28.84 at the close in New York.
And then dear reader you wonder why 90% of investors are destined to lose, they LOSE because 99% of what they are exposed to is WORTHLESS. Those with the loudest voices (mainstream press) are constantly clouding your judgement with clueless gibberish. Your literally better off by flipping a coin ! At least you will have a 50/50 chance rather than less than 10%.
The Reason Why Investors Lose Money
In my opinion the real reason why investors consistently get scammed Gangnam Facebook style is because they are investing in sectors they know nothing about. In my experience the more one knows about a sector than the LESS likely one is going to be to INVEST in that sector! Because one is fully aware of all of the pitfalls that turn an Investment Opportunity of the Year into the biggest Dog of the year.
Hours prior to the IPO of Friday 18th May 2012, I made my informed opinion crystal clear on the Facebook IPO (FaceBook $100 Billion Internet IPO Emperor Has No Clothes, Investors Could Lose 85% ) that it was ridiculously priced and probability favoured an ultimate 85% price crash by virtue of the fact that its valuation at over X100 earnings were just as crazy as anything seen at the very peak of the last dot com mania, especially as its revenue growth was already flat lining.
The reality is even worse for subsequently digging into the Facebook figures reveals that the IPO was priced at more than X150 earnings!, This and other subsequent revelations is prompting legal action by investors who having realised they have bought into pure media hype, who have gone crying to their lawyers. The only problem is that the facts were already apparent for many months PRIOR to the IPO, so I doubt legal action will get far and the only thing that investors can learn is a valuable lesson.
INVESTING LESSON - Only Invest in Sectors that you have significant knowledge of, and preferably practical knowledge of.
First invest in industries that you are employed in or operate a business in yourself.
Secondly invest in industries that you have been exposed to a significant extent in a practical manner i.e. experienced programmer for investing in software companies.
Thirdly invest in sectors that you have spent several years researching.
Know this, the less you know of a sector then the greater will be the probability that you will invest and the greater will be the probability that you will suffer a loss.
So the next time you hear the phrase Investment Opportunity you should run in a mile in the OPPOSITE direction, because there is a 90% probability of significant loss as you are probably not knowledgeable enough of the sector to recognise the potential 10% of actual investment opportunities.
Facebook Spiraling Down to UNDER $10 bucks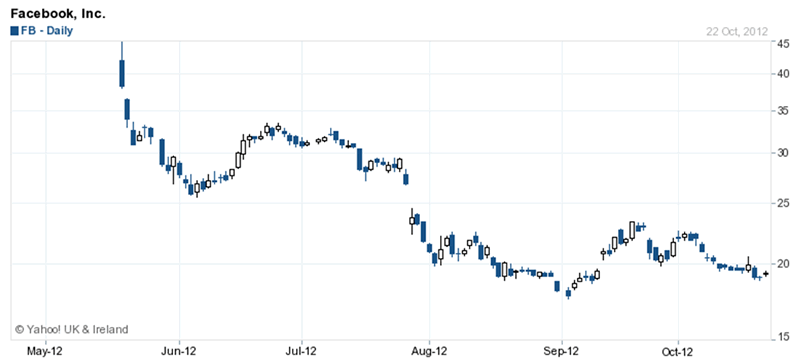 Facebook's stock price is currently trading about 50% lower at $19.32. Battered and bruised holders of the stock are hoping that the low of $17.50 will hold and that the stock may recover back towards the IPO price. Unfortunately my expectations remain for Facebook's downward spiral to continue towards a target of about $6 a share as I stated on 18th May 2012 - FaceBook $100 Billion Internet IPO Emperor Has No Clothes, Investors Could Lose 85% -
Facebook in my opinion is a re-run of the lastminute dot com bubble IPO, that saw the value of initial investments all but wiped out. Facebook is probably being priced at X6 its value therefore investors have the potential to sufferer as much as a 85% loss on the IPO before the stock hits bottom.
The expected slump in the Facebook stock price could start as early as today when the stock starts trading.
Hedging Opportunity - Buy Google and Short Facebook
Bottom line - If you want to invest in Facebook, then you will be able to pick up the stock at a fraction of its IPO price in the not too distant future.
Future Forecast - Facebook is a re-run of Lastminute.com, and just like last minute, all of the media hype surrounding Facebook will soon evaporate and many people in hindsight will start to write how it was always obvious that the numbers never stacked up. Facebook as an investment was always destined to fail because it was not even equal to half a Google despite being valued as 5 Google's. I would not go as far as saying Facebook is the next MySpace, but its not that far off from following a similar path towards oblivion, in fact if Facebook accrues a mountain of debt then at some point it will be taken over by a cash rich company such as Google, Apple or Ebay to gobble it up at a fraction of its IPO price.
So I don't think that the $17.50 low is going to hold for long, regardless of the flood of press stories about monetizing the 1 billion users hype. Facebook investors need to realise this, that it's stock issuance resembles that of a ponzi scheme, the companies results are bogus because the real costs are hidden off balance sheet. Where ? Employee stock options that's where!
This stock is heading for $6 a share by which time takeover rumours could spark a speculative doubling in the stock price to $12? So look out for my next Facebook stock update around mid December when it's trading at about $6 a share, so wait to ask me then whether it is a buy or not.
By Nadeem Walayat
Copyright © 2005-2012 Marketoracle.co.uk (Market Oracle Ltd). All rights reserved.
Nadeem Walayat has over 25 years experience of trading derivatives, portfolio management and analysing the financial markets, including one of few who both anticipated and Beat the 1987 Crash. Nadeem's forward looking analysis focuses on UK inflation, economy, interest rates and housing market. He is the author of three ebook's - The Inflation Mega-Trend; The Interest Rate Mega-Trend and The Stocks Stealth Bull Market Update 2011 that can be downloaded for Free.
Nadeem is the Editor of The Market Oracle, a FREE Daily Financial Markets Analysis & Forecasting online publication that presents in-depth analysis from over 600 experienced analysts on a range of views of the probable direction of the financial markets, thus enabling our readers to arrive at an informed opinion on future market direction. http://www.marketoracle.co.uk
Disclaimer: The above is a matter of opinion provided for general information purposes only and is not intended as investment advice. Information and analysis above are derived from sources and utilising methods believed to be reliable, but we cannot accept responsibility for any trading losses you may incur as a result of this analysis. Individuals should consult with their personal financial advisors before engaging in any trading activities.
© 2005-2022 http://www.MarketOracle.co.uk - The Market Oracle is a FREE Daily Financial Markets Analysis & Forecasting online publication.
Comments
theftbyprinting
23 Oct 12, 14:23
how to short a stock


Hi Nadeem, I know this may sound like a noobie question, but how do us mere mortals short a stock. I know the big guns have access to borrow stock and short it that way, but what if we are beginners, what platforms can you use to do such activities.

I've burnt my fingers on 2x 3x inverse levergaed ETFs (I learnt how you can lose money even if ITS GOING UP lol with all the maths behind that and that you must only use those for day trading)



Nadeem_Walayat
23 Oct 12, 15:00
Shorting stocks


Hi

In the UK, I use IG Index, City Index, CMC to short stocks.

You need to understand risk management before you even think of shorting stocks. The best way to cut the risk is to hedge i.e. short the weaker stock and go long a stronger stock, that way if your wrong and the general market pulls everything higher than the long stock will outperform the short stock and thus you will still make a profit even though you got the direction wrong.

Ofcourse the best outcome is for the short stock to collapse and the long stock to rise in price, so a greater profit at a far lower risk then if one had just shorted facebook on its own.

Trading is not rocket science, it is not knowing technical analysis or gann or elliott waves it is risk and money management.

Best

NW



Nat
24 Oct 12, 05:57
Trading/Investing


Hi Nadeem,

Thank you for posting some trading articles. It is great to get some tips on trading and by the way I did guess earlier that your reference to Merlin was about the elusive "holy grail".

It seems we all go through this search when we first start trading until a light goes off and we realise trading is all about our own utility theory and risk. Many people (I am sure) will not understand (at first) how wise some of your comments are, until they have gone through what most of us must learn in order to become successful. I wonder how many times one has to "die" financially before one sits up and discovers that their first loss is their very best loss. I take my losses willingly to the point now where I just say to myself "next" and move on. Trading is about truth (there is no hiding...you are either right or worng) which I know you understand, so hats off to you for telling it how it is.

As an adjunct to the above, how do you see the mining stocks playing out over the next year or so (e.g. BHP, RIO, VED etc.)? Do you think they have finally made their bottoms?

Also, are you basically saying we are/will be experiencing a similar situation (perhaps worse?) than the 1970's....i.e. stagflation?

Many thanks,

Nat



Nadeem_Walayat
25 Oct 12, 07:27
Investing Trading and Inflation


Hi Nat

Not looked at the miners recently, my focus this year has been to shift into Tek and Bio-Tek, which I will write up when I get the time.

I don't expect 1970's Inflation for UK / US because we are living in a different world. I.e. the exponential trend in Technological advancement, imagine the productivity offered by a device that has more information processing power than the whole of the United States today! That is where we will roughly be in 30 years time.

Such technological advancement ofsets government money printing to large extent which implies LESS inflation.

Therefore I don't see Inflation going above 10% per annum.

Best

NW



GBS
14 Nov 12, 13:11
Facebook


Hi Nadeem,

What's your take on today's events; 804 million Facebook shares, locked up since the float, were eligible to hit the market for sale and yet the stock price is currently (as I write) over 10%!! Market manipulation?

Articles in the media are all talking about increased confidence in the company etc... but there hasn't been any specific company news today. I can't find any reason why the stock should rise today, let alone by such a large margin.

I'm interested to hear your take and whether you think the price might be artificially supported in the near term.

Many Thanks,

GBS



Nadeem_Walayat
14 Nov 12, 18:29
Facebook price rise


Hi

It's probably because of short covering, i.e. if the expected sell off did not materialise then short sellers would cover.

Best

NW



despe906
15 Nov 12, 01:18
Facebook downside potential


As I watch and trade FB now, I don't see an immediate downside potential. I've shorted it twice when the 1h price went below 100ma (5th Oct and 7th Nov). On both occasions downside momentum was sloppy and on low volume, overall price staying in Z type range; I covered before it reached 19. Then the massive gap on 24th of Oct on high volume, and yesterday's move also on high volume. I would say that 30 is more probable before end of December than 10.

Manipulation : price has been almost every day manipulated up on NYSE open and often on market close.

However I don't see signs that shareholders want to get rid of their stocks at the moment. Shares get unloaded and money made on the way down, after the price has been manipulated up on relatively lower volume (the cost for spinning a movement up must be covered by selling on a higher level). This volume is not suggesting it. Short sellers alone won't generate a trend down! Shareholders still believe in higher prices or simply don't want to sell at those levels.




Only logged in users are allowed to post comments.
Register/ Log in