China Factor on US Economics and Politics - The Adverse Feedback Loop, Part One
Politics
/
China
Feb 26, 2008 - 11:19 AM GMT


My wife begins by offering a disclaimer. She is, she tells me, not a watcher of The View but tunes in only for the first five minutes. I, as a disclaimer, never watch the program nor do I consider myself much more than common couch critic of what television has to offer. The reason she brings this up to me over cocktails one night hinges on China. Why, she asks me, does Whoopi Goldberg seem so fixated on the country?


Evidently, they begin the program with some chitchat about the candidates. Whoopi keeps asking, even as she is interrupted by someone my wife simply calls "the Hasselbeck", do the candidates not tell us what their stance is on China ? Unlike Rosie, who upon being baited by "the Hasselbeck" would engage in verbal exchange, Whoopi maturely waits until the interruption has passed, acting like someone who, according to my wife, tolerates a friend's yelping Chihuahua.
So what is it about China? Mr. Bush knows the answer. He received it on a recent visit with Ghana's president J ohn Agyekum Kufuor. Our president was rebuffed by the African leader, albeit gently but firmly when he suggested a military presence in Africa would be good for the continent. This type of intrusion, Mr. Kufuor suggested would disrupt the global village that Ghana and Africa so desperately want to become a part of as the continent continues to grow and develop.
The suggestion by Mr. Bush was a veiled attempt at confronting the growing influence that China has on Africa. Mr. Kufuor addressed the topic after the two met recently on Mr. Bush's first trip to the continent: "China is not coming as a colonial master. I can assure you that our nations are not succumbing to dictates and imposition, not from China or elsewhere. If there is something Africa wants to buy and it is economical, no matter wherever it is, that is where Africa will buy it from."
This is an excellent example of an adverse feedback loop. Even as they agreed to agree on several topics, including how the country was spending US (taxpayer) aid to the developing nation, Mr. Kufuor simply stated that his country would gravitate towards the better deal, regardless of who the seller might be.
If not that, then perhaps Ms. Goldberg's concern lies with Chinese increasing involvement in our own economic affairs. Concerns over national security prompted the multi-agency federal panel, the Committee on Foreign Investment in the United States or CFIUS to deny a Chinese company from gaining a stake in 3Com. In 2007, CFIUS inspected just below 8% of the applicants attempting to merge or invest in US-based companies.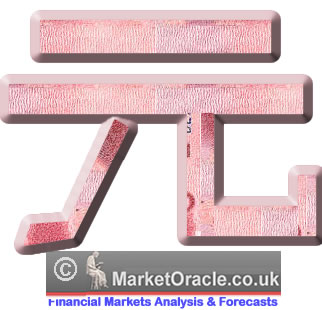 The anti-hacking software that 3Com sells to the military is not as important as the financial stake China has taken in the US financial services industry. The strength of our financial markets is vital to the country's investments here and abroad. When you consider how much the Chinese lose every month they hold our debt – almost triple what we spend fighting the wars in Iraq and Afghanistan each month – based in dollars, you have to wonder how long they intend to allow it to happen.
Even as Mr. Bush was suggesting that American companies would be better suited to the needs that Africa was developing, he is allowing the Chinese access to a similar type of influence here in the US. The Chinese have discovered that they do not need a military presence in an emerging marketplace. With the Chinese now in possession of the largest economic footprint in the world (17.9% of the GDP), no one is speaking about how this tenuous debtor/borrower relationship will continue into the next decade. It is barely even being discussed.
Will we be global or not? Will our economy allow itself to be consumed by those that control our debt? And what if they decided to cash it in? No one wants to entertain the possibilities and I am even a little squeamish about bringing the topic up. We still believe we need each other. At least until the Chinese pull off their grand entrance onto the world stage with the August Olympics, any speculation about China's intentions is carefully being avoided by both countries.
Another adverse feedback loop. The information is clearly distorting the situation. We need the Chinese far more than they need us and should we slip much further in the global marketplace, we will not be able to react with much more than rhetoric. CFIUS knows that by simply spinning off the division, as 3Com wanted to do, it would have alleviated most of the investigator's concerns. If it is not this, then what is Whoopi concerned about?
By Paul Petillo
Managing Editor
http://bluecollardollar.com
Paul Petillo is the Managing Editor of the http://bluecollardollar.com and the author of several books on personal finance including "Building Wealth in a Paycheck-to-Paycheck World" (McGraw-Hill 2004) and "Investing for the Utterly Confused (McGraw-Hill 2007). He can be reached for comment via: editor@bluecollardollar.com
© 2005-2019 http://www.MarketOracle.co.uk - The Market Oracle is a FREE Daily Financial Markets Analysis & Forecasting online publication.

Only logged in users are allowed to post comments.
Register/ Log in