Falling World Population And The New Economic Prosperity
Economics
/
Demographics
May 01, 2013 - 03:29 PM GMT


TWO PARADIGMS
The so-called Trente Glorieuse years (1948-1975) of fast economic growth, low annual budget deficits, almost zero unemployment, cheap oil, small or zero national trade deficits, innovation and liberty in the Western countries - was also a period of population growth. Ever since, political thinking confused this result - population growth - with its causes which included fast economic growth. Still today, nearly all western countries have "natalist" policies trying to grow the national population, despite the reality of slow or no economic growth, sky high unemployment, and all the diseconomies of high population.
Talking about population decline is "defeatist". Government aids and incitation, even under austerity conditions, are still channelled to an attempt at stopping population decline by forcing or cajoling the national society to have more babies - even if they don't have a job or any prospect of it.
National politicians who claim that "the market will decide" when it concerns finding a job for their citizens use nonmarket means to incite those same citizens to have more babies. Youth unemployment in several EU countries is now more than 50%, and averages 27% across the EU27 bloc, but parents are incited to have another baby and young couples to have a first baby. The natalist quest is blind faith.
The other paradigm is simple. Natalist policies do not work. Not only in Europe, Japan and all other developed East Asian countries, and the US, but also in unexpected countries like Iran, Egypt, Saudi Arabia, Bangladesh and India, families have fewer children. In a rising noumber of cases like Iran, the birth rate has fallen like a stone, far below the "replacement rate" of about 2.2 children per woman during her reproductive life. With no signs of any rebound coming, the result of this mega-trend is simple. National populations are ageing, have fewer children and outright decline of population is already in place in a rising number of countries.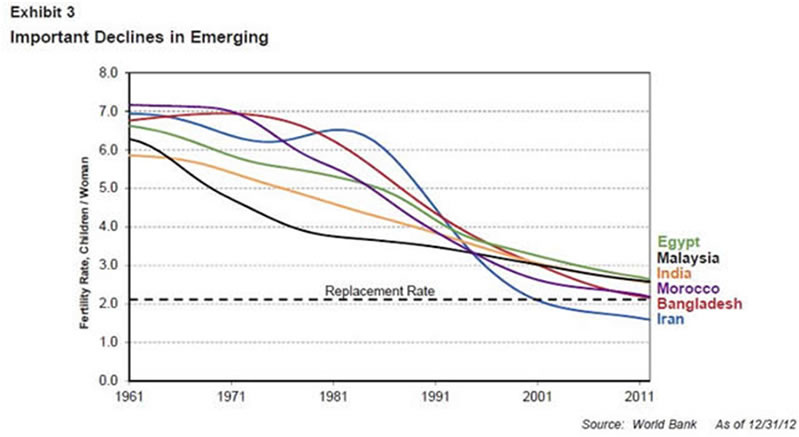 NATALISM AND THE BABY BOOMERS
Natalists pretend that Collapse of Civilization and fewer babies are tantamount to the same thing - but their only real interest is finding future working age persons to pay the national pension payment fixes needed to keep still-able-to-vote Baby Boomers from the last population bulge, onside and consuming, voting and thinking the right way. Generational envy and strife, between have-not younger persons, and the "entitled" Boomers is rising.
The last population bulge, creating today's Baby Boomers and the yawning gap of national pension plan funding, came with the Trente Glorieuse. The peak growth rates of world population measured as an annual percentage figure, were in the 1962-1972 decade, at more than 2% per year. In slow decline ever since the 1980s, this year, 2013, the rate of 1% growth will likely not be attained. Unfortunately the mass media, anxious to serve the political elite, often continues to equate population decline with the Collapse of Civilization - a gripping topic, raked over by pulp fiction historians and journalistic would-be Nostradamus'.
Falling rates of population growth, followed by zero population growth, and then by slow rates of national population decline, year on year are the reality in Germany, Russia, Japan, Spain, Italy and this trend will be followed in a widening range of other countries, like Korea, China, Malaysia, Egypt, Brazil and Iran.
Population decline was in fact almost never even a secondary or minor cause of civilization collapse in past history. Serious studies of civilization collapse examine resource management, the use of animal and botanic resources, including forest resources, soil and water resources, local energy resources, and how these civilizations responded and reacted to droughts, epidemics and famines - which always happen - as well as to the wars which theoretically "should never have happened" but always did. What happened was that a mix of criteria defining the limit on "sustainability" at that historical moment in time, for that civilization, was exceeded. The tipping point was attained.
Drilling down into the historical-social causes of collapse finds little which helps the "natalists" case, anxious to put a baby in every pram - but not a job or a meaningful life within every citizen's reach.
Civilization collapse is caused by failures of moral spirit, a loss of momentum in pioneering and innovation. We find causes like cultural collapse and degeneracy, nihilism and cynicism, lost empires which previously had never been a performing asset but boosted morale, crony capitalism and the degenerate politics of oligarchies and tyrannies - sometimes calling themselves "democratic" - and the loss of learning as a prized value. A mix called the "centripetal society" by some historians - the society which flies apart like Humpty Dumpty. Above all we find the hubris and arrogance of the ruling elite, totally unrelated to the populace they predate and feed off: their last ploy is exactly that. Their last.
BABY BOOMS AND BOOM-BOOM
The 19th century German imperialist Karl von Clausewitz said with approval, about the French Revolution, that is was especially bloody, especially ferocious because: "War had suddenly become a matter for the people. . . . the entire population with their (population) weight entered into the
scales. War, then, by becoming a matter for the entire population...freed from all conventional barriers, had broken loose with all its natural force". (From: "Lenin's Notebook on Clausewitz" by Donald E. Davis and Walter S.G. Kohn, 1967).
Large and growing populations are good for one thing - war.
To be sure, Clausewitz is better known for his one-liner that "God is with the big battalions" - those with the most cannon fodder of expendable human beings, but the last real examples of Clausewitz-style warfare were in the 1914-1918 war, during which certain "setpiece battles" resulted in over 5000 dead-per-hour, for the 8-hour days and 6-day weeks (with Sundays off!) that the "setpiece battles" were organized around. At Christmas times, the troops of each side were allowed to pray in sight of each other.
This was of course long before nuclear weapons, and anything but the most primitive chemical and biological weapons. No setpiece battle to mop up and use the Baby Boomers is possibly any longer. The role of runaway population growth and economic change driving the urbanization of society also make it hard to organize World War 1-style setpeice battles - with the direct result that war will necessarily be urban focused and produce more and more civilian casualties.
Demographers can list a range of reasons for why populations decline, but when and how they trigger is unknown. Certainly for the past 15 years, probably 25 years in western society, the erosive factors reducing population growth rates, then shifting entire nations into population decline shows this is a mega-trend. In the 1980s, world population growth reached its ultimate peak growth measured by yearly increment, at about 105 million more human beings each year, but the annual percentage growth rate was already declining.
THE LAGGARDS
The step down in annual increments of world population has been constant since the 1980s, and coming decrements will be as large as current, or larger, due to so few countries still exhibiting the former paradigm of low income-fast population growth. These last hope countries for the natalists include small but still fast growing Somalia, Zambia, Congo DR, Uganda and Rwanda.
These are all societies of extreme poverty, high illiteracy, unemancipated female populations and short life expectancy. They do not represent the future, but the past.
Although the reasons why the demographic decline process triggers at a certain moment in history are unknown or uncertain - the positive results of population decline are very well known to historians, and to some political leaders especially in East Asia, but do not appear in the Western mass media which only touts the "natalist" case. Population correct is like Global warming correct.
But after what we can call the New Dark Ages of runaway population growth in the 20th century, civilization is ready again to rear its head - with a declining population. Smaller populations are a tribute to human good sense, a reduction in arrogance, less hubris, more humility - a better use of natural resources, more respect for the environment and other living things. The sustainability movement and the use of renewable energy can be seen as advance signals that the constant race to produce more babies has been abandoned by Humanity. The natalists have lost.
The bogey of Malthusianism can be put back in the closet. To be sure, Malthus correctly diagnosed what can happen to countres like Somalia or Rwanda (with high population pressure on limited food production resources) if they go on producing more babies in Trente Glorieuse style. But Malthus was totally wrong on global food supply and its relation to global population and population growth. His prediction of mass famine has not come true. Cheap fossil energy and science-technology development were certainly two reasons Malthus was wrong. With David Ricardo in the 1820s he had forecast a worldwide total collapse of populations, the economy and civilization by 1860, when world population, their calculations showed, would breach the symbolic and terrifying-to-them 1 billion mark.
But Malthus completely missed out on declining fertility. He would not have been able to understand that Iran of 2013, and Iran of 1970, are the same country - with a total change in fertility. Likewise, he would have problems understanding what has happened in countries as far-flung as Singapore, Japan, China, Russia, Brazil, Germany. Italy and Spain where population growth is either close to zero, or the national population is already in net annual decline.
AN UNEXPECTED CHANGE
Malthus should however not be criticized because in our Western societies of today, still governed by natalist-minded politicians, nobody was expecting this decline. Neither Malthus nor anyone else before about 1960, in the Western societies, and the 1980s outside the West, ever dreamed that voluntarily or spontaneous demographic decline, or policy-decided decline in a very few cases, would be possible and would happen worldwide.
In Malthus' day and until the early twentieth century, having too many babies was a sign of wealth, as well as stupidity, in Western society. Rich families like poor, routinely had eight or ten children, even if a half of them died before the age of 5. Victorian attitudes to children - especially to their health and ability to survive - was what is politely called "robust". The Victorian attitude to children has become a thing of the past, but to some politicians, like Britain's Mrs Thatcher, the Victorian era was a fabled period of the poor respecting the rich, and the growth of The Empire preceded by setpiece battles.
We now know a lot better that the blind instinct which brings too many babies does not create the conditions for sustained economic growth, but does bring us the problem of excessive consumption and unnecessarily rapid resource depletion, stress on the biosphere and natural living systems, the growth of regimented conformism, and the rejection of innovation. We now have the cultural phenomenon of thinking that too many children is inconvenient, unproductive and desperately expensive.
This is culture change. At least at first this change was neither wanted or programmed by governments and elites in Europe, the US and East Asia, with a few but large exceptions of national anti-natalist policy, as in China and Singapore. Improved medical services that previously enabled populations to explode now allows us the confidence of having small families of wanted children. Drivers of lower birth rates such as improved education and income-equality for women have run alongside advances in birth control methods. The net effect would have startled Malthus out of his fashionable pessimism and doom forecasting - which at the time was equal to that of any Global Warming prophet of today, peddling their junk science.
Today, especially in Africa south of the Sahara we have the paradigm of failed states, poverty, civil war, endemic malnutrition and life expectancy of under 50 years - and rapid population growth. Economic growth is not delivered by uncontrolled population growth, in fact the exact opposite. In the rest of the world, outside the remaining regions of runaway population growth and its linked poverty and civil wars, there is substantial and still growing affluence, forming a single market for resources and global trade. Also linked with the globalized economy, globalized decline in population growth has run alongside the economic convergence caused by globalization.
As recently as year 2000, forecasts by UN agencies for world population in year 2050 were typically in the range 10 to 12 billion. By 2100, the same forecasts projected world population at 15 billion or more. Today, even the more "natalist" UN projections and forecasts say that world population will be peaking at around 8 billion in 2050, then declining to about 6 billion by 2100, the population of 1998. Today's population is about 7.1 billion.
To be sure, these forecasts may be too "anti-natalist" but they show the intensity of global demographic change. Added to the well known and sometimes flagrant over-reporting of national populations, especially for aid receiving countries whose aid inflows are tied to their population number, the New Demographic Revolution is a major hope for the future, completely marginalising the previous and menacing "15 billion by 2100" forecasts.
By Andrew McKillop
Contact: xtran9@gmail.com
Former chief policy analyst, Division A Policy, DG XVII Energy, European Commission. Andrew McKillop Biographic Highlights
Co-author 'The Doomsday Machine', Palgrave Macmillan USA, 2012
Andrew McKillop has more than 30 years experience in the energy, economic and finance domains. Trained at London UK's University College, he has had specially long experience of energy policy, project administration and the development and financing of alternate energy. This included his role of in-house Expert on Policy and Programming at the DG XVII-Energy of the European Commission, Director of Information of the OAPEC technology transfer subsidiary, AREC and researcher for UN agencies including the ILO.
© 2013 Copyright Andrew McKillop - All Rights Reserved Disclaimer: The above is a matter of opinion provided for general information purposes only and is not intended as investment advice. Information and analysis above are derived from sources and utilising methods believed to be reliable, but we cannot accept responsibility for any losses you may incur as a result of this analysis. Individuals should consult with their personal financial advisor.
© 2005-2019 http://www.MarketOracle.co.uk - The Market Oracle is a FREE Daily Financial Markets Analysis & Forecasting online publication.

Only logged in users are allowed to post comments.
Register/ Log in