France, America's New French Poodle, Who Used Chemical Weapons in Syria Attack?
Politics
/
US Politics
Aug 31, 2013 - 04:25 AM GMT

Most unexpectedly the British Poodle snapped at its Master's hand. It may have taken a decade of death, destruction and chaos that followed the doggy dossiers and bare faced lies that spewed from the mouths of Tony Bliar and George Bush as to why Iraq should be destroyed, and over 100,000 killed, all in the pursuit of non existant WMD stock piles that were said to target UK cities within 45 minutes from launch to strike. Virtually all Labour MP's and even some Tories were just not able to suffer the shame a second time of lying to the public in pursuit of an imperialist agenda.
So the American empire has implemented its 'Plan B' by calling on its back up French Poodle on the UN Security Council permanent members to rubber stamp it's pre-planned attack.
"Our oldest ally, the French, said the regime, quote, 'committed this vile action, and it is an outrage to use weapons that the community has banned for the last 90 years in all international conventions' " - John Kerry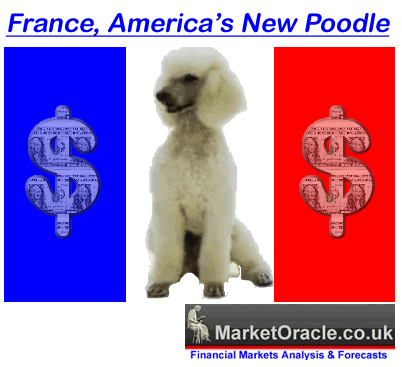 President Hollande of France said that the vote by the UK Parliament would not affect France's will to act.
He supported "firm" punitive action over an attack which had caused "irreparable" harm to the Syrian people. When asked if France could act against Syria without Britain he said: "Yes. Each country is sovereign to participate or not."
However, France would be wise to remember the path Britain was put on for more than a decade, with much blood and treasure lost for nothing. The U.S. Master will give its new French Poodle many pats on the head as it expects it to jump through ever higher hoops over the coming years, until the French reach their British moment, when the light bulb goes on that like fools they are fighting and dieing for an U.S. imperialist agenda.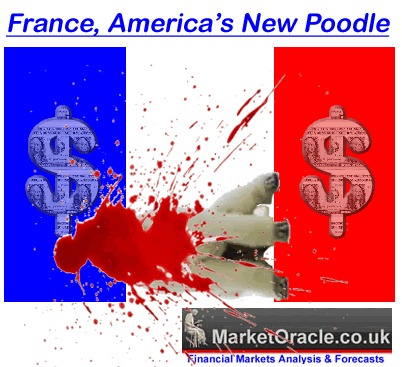 Meanwhile the British press has gone into overdrive in its mourning of the the death of the Special Relationship, when the truth is that it never existed instead more accurately it should have been termed as the "Special Needs Relationship" between that of a Poodle that constantly sought to please and seek reassuring pats ont he head from its Master.
John Kerry the New Colin Powell?
Infamously Colin Powell lied to the UN.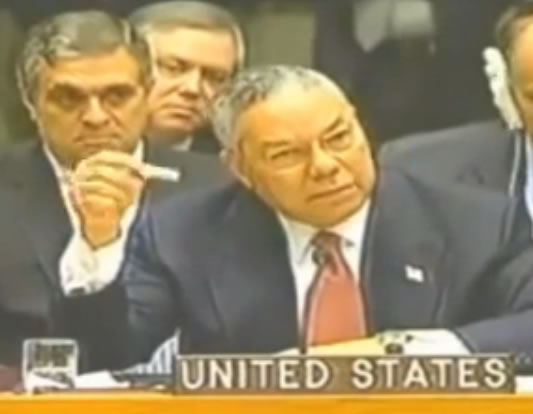 "Facts and Iraq's behaviour show that Saddam Hussein and his regime are concealing their efforts to produce more weapons of mass destruction,"

"Every statement I make today is backed up by sources, solid sources. These are not assertions. What we're giving you are the facts and conclusions based on solid intelligence."

"The gravity of this moment is matched by the gravity of the threat that Iraq's weapons of mass destruction pose to the world."
He LIED, the intelligence agencies fabricated the evidence, which is their primary role, to create the conditions that allow the elite to implement their agenda.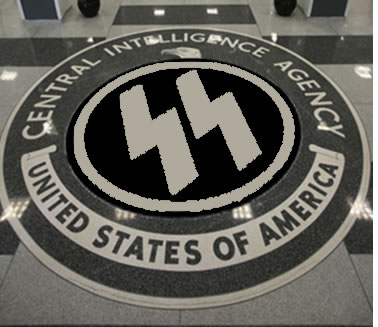 John Kerry - Obama's Colin Powell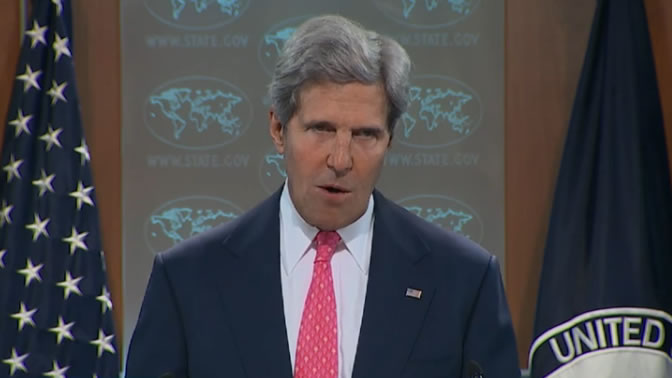 "We know that the Syrian regime maintains custody of these chemical weapons. We know that the Syrian regime has the capacity to do this with rockets."
"We know that the regime has been determined to clear the opposition from those very places where the attacks took place. And with our own eyes, we have all of us become witnesses."
etc... etc... etc.......
Shock, horror that chemical weapons have been used by some group in Syria killing upto 1000 people, never mind that 100,000 have already been killed as a consequence of conventional weapons! It is not as though the US and the UK have never used chemical weapons, far from it. Let's put aside US use of nukes during WWII despite nuclear weapons being infinitely more destructive than chemical weapons for many generations afterwards. The US has overtly used chemical weapons on many occasions such as Napalm and agent orange in Vietnam and more recently chemical weapons used in Iraq that resulted in the emergence of hundreds of thousands of birth defects throughout Iraq. Then there are the covert supply of chemical weapons such as the US supply of chemical weapons to Saddam's Iraq that he used in the 8 year long war against Iran, resulting in hundreds of thousands of deaths along the battle fields, as it became a matter of routine for both sides to routinely gas one another's soldiers.
US Use of Chemical weapons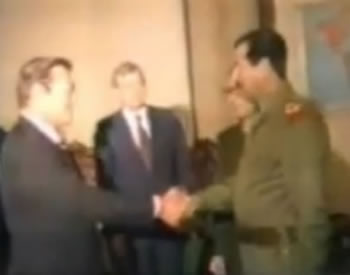 Vietnam War - 400,000 killed, effected hundreds of thousands in future generations.
Iraq War - White Phosphorous and Depleted Uranium - 50,000 killed, wide spread genetic damage.
Iraq - Iran War - Rumsfeld shaking hands with Saddam whilst he gassed the Iranians with US supplied chemicals.
So the US and the UK do not have ANY moral high ground when it comes to chemical weapons.
Who Used Chemical Weapons in Syria ?
There is no black or white but differing shades of grey because what armies such as the Syrian army are capable of so are the US and UK armies under SIMILAR conditions i.e. amidst a civil war that even engulfs the capital city.
And as illustrated earlier the intelligence agencies are experts in the black art of manipulating the mirror neurons of the masses towards an elitist agenda, through utilisation of mainstream press propaganda to show video footage of many dead children that they know that the mass of humans being exposed to will mirror the sadness and outrage of such events as a consequence of the neurological mechanisms (mirror neurons) that play a large part in forming that which constitutes human consciousness.
So nothing is certain, all we can do is to attach Probabilities based on the facts as can best be ascertained.
That on Wednesday a rebel controlled area of Damascus was exposed to significant use of chemical weapons, that resulted in many hundreds if not as many as 1000 deaths.
That these attacks took place during a visit by UN chemical weapons inspectors who had recently arrived in the city.
That the rebels have been losing the war over the past few months.
Those are the facts, therefore in weighing probabilities one needs to consider motives involved such as anti-regime forces such as the rebels, Israel, the CIA seeking an advantage to even the odds for the rebels against a regime that has been winning back ground.
Probabilities for Responsibility for recent widespread Chemical Attacks
CIA - 10%
Israel - 25%
Rebels - 50%
Assad Regime - 50%
Why 50/50 ?
It is possible that the rebels not being competently trained to handle conventional weapons let alone in handling of chemical weapons, thus could have accidentally released them in their strong holds. Now I am not saying that this is what happened, I am saying it is just as probable as the Assad regime having used chemical weapons, as we just cannot trust anything that spouts out of the intelligence agencies such as the CIA, or Colin Powell Mk II.
The truth may lie in a mixture of Regime limited use of chemical weapons and the Rebels botched attempt at deploying their own captured chemical weapons, which they prematurely released by accident in their own area, that is probably nearer the truth than the certainty that the likes of Colin Powell Mk II has been spouting.
So whilst the start for a series of US strikes on Syria appears imminent, the only question therefore is at which stage will the U.S. start using chemical weapons such as White Phosphorous and Depleted Uranium weapons.
The hypocrisy.
After Killing Al-Qeeda for a decade, the U.S. is now supporting Al-Qeeda in Syria.
The hypocrisy.
Meanwhile the Master plays with his new French Poodle.
Source and Comments: http://www.marketoracle.co.uk/Article42084.html
Nadeem Walayat
Copyright © 2005-2013 Marketoracle.co.uk (Market Oracle Ltd). All rights reserved.
Nadeem Walayat has over 25 years experience of trading derivatives, portfolio management and analysing the financial markets, including one of few who both anticipated and Beat the 1987 Crash. Nadeem's forward looking analysis focuses on UK inflation, economy, interest rates and housing market. He is the author of four ebook's in the The Inflation Mega-Trend and Stocks Stealth Bull Market series.that can be downloaded for Free.

Nadeem is the Editor of The Market Oracle, a FREE Daily Financial Markets Analysis & Forecasting online publication that presents in-depth analysis from over 600 experienced analysts on a range of views of the probable direction of the financial markets, thus enabling our readers to arrive at an informed opinion on future market direction. http://www.marketoracle.co.uk
Disclaimer: The above is a matter of opinion provided for general information purposes only and is not intended as investment advice. Information and analysis above are derived from sources and utilising methods believed to be reliable, but we cannot accept responsibility for any trading losses you may incur as a result of this analysis. Individuals should consult with their personal financial advisors before engaging in any trading activities.
© 2005-2022 http://www.MarketOracle.co.uk - The Market Oracle is a FREE Daily Financial Markets Analysis & Forecasting online publication.
Comments
Parviz
31 Aug 13, 11:53
France, America's new French Poodle


Why did the oh-so-holier-than-thou, self-proclaimed beacons of principle, the Greatest Nation on Earth (yada-yada-yada) choose to totally ignore the massive use of White Phosphorous (a U.N. Banned WMD) by the Israeli 'Defence' Force (what a misnomer!?!) during its Blitzkrieg on Gaza civilians in 2008-9??? The resulting pictures and videos were even worse than the images coming out of Damascus.

The stench of U.S. (and French) hypocrisy is so extreme that there should be a global round of collective vomiting whenever the Americans or the French mention the word 'principle'.

Britain was only spared from my verbal lashing by dint of a few parliamentarians worried about a constituent backlash! Otherwise they would have been going "Jolly-Ho" as well.



Parviz
31 Aug 13, 12:02
France, America's new poodle


In the end, they're all serving the Israelis.

As the Chief Rabbi of Israel once famously stated in 2001: In calling for the annihilation of Arabs he instructed his followers that "It is forbidden to be merciful to them. You must send missiles to them and annihilate them. They are evil and damnable."

Regarding all non-Jews he stated:

"The sole purpose of non-Jews is to serve Jews".

http://www.jta.org/2010/10/18/news-opinion/israel-middle-east/sephardi-leader-yosef-non-jews-exist-to-serve-jews

What is truly amazing is the Un-Holy alliance formed between Evangelical Christians and Zionists who despise and insult Christ throughout the Babylonian Talmud!!!

There's a sucker born every minute, and most of them seem to be in the U.S. Government.




Only logged in users are allowed to post comments.
Register/ Log in