Commodities 2008: Record Year in the Making
Commodities
/
CRB Index
Apr 05, 2008 - 07:35 PM GMT

KEY POINTS:
• Declining U.S. dollar set for sub-$0.70 prices by mid-year; this is fuel for commodities
• Short-term pullback expected for most raw material prices in April and May
• Up too far, too fast within bull market for CRB index; support at 370


• Oil retreats to support level of $95 to $100 ahead of the driving season; target remains at $115
• Copper expected to move above $4.00 by late May
• Natural gas prices strengthen, with support at $8.50; demand remains firm
• Profit-taking at $1,000 for gold; long-term trend still higher
Smart investing is all about recognizing where the real strengths lie within the different markets and moving toward them. And 2008 will be one of the great years for investing.
Stay with the real bull market
Although many will likely be confused by this brash statement – while bandaging their wounds from pounded-down stock portfolios – the simple fact is that commodities, thanks in part to the mismanagement of the U.S. dollar (see cartoon), are enjoying one of the best returns in years. Oil has cracked through the $100 level, gold has reached my target of $1,000, and silver is hitting $20. Couple this with natural gas breaking out of a trading range ($10 and climbing) and copper being back near $4.00, and natural-resources investors have much to celebrate. Those investors who are still wedded to the beliefs that their paper-based stocks are going higher soon and the bull market will return any day, may not be so jubilant. Both the bear market and the commodity bull market have considerably more travel time ahead. I will talk more on the current bear market and ways to profit from this movement in the "Equities" section of this issue.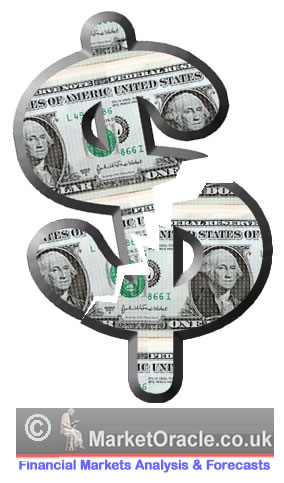 Powering up
I have mentioned in many past issues of the Technical Speculator that the 360 peak of the last business cycle (2002 to 2006) was important to cross, because it showed that the expected global demand for commodities was (and is) still intact. After some brief consolidation between November and January, that barrier of 360 has been breached. The Commodity Research Bureau (CRB) Index is now powering upward, to new record levels. The target level has been revised to 475 by year-end. Where is the strength coming from? Growth has come from several areas. First is energy. With oil climbing from just $60 in mid-2007 to above $100, this commodity has helped propel the CRB skyward. Second has been gold. With the continued decline of the world's reserve currency, the U.S. dollar has made many investors turn toward the yellow metal for protection. Gold began its journey from a humble $245 in 2002, when the U.S. dollar was at $1.20 (see Chart 1 on page 2). Now, with the greenback expected to fall below $0.70 by mid-year, gold's upward track is still firmly in place. The impact of agricultural grains has also helped push the
Here is the first page of the April issue. Go to www.technicalspeculator.com and click on member login to download the full 13 page newsletter.

By Donald W. Dony, FCSI, MFTA
www.technicalspeculator.com
COPYRIGHT © 2008 Donald W. Dony
Donald W. Dony, FCSI, MFTA has been in the investment profession for over 20 years, first as a stock broker in the mid 1980's and then as the principal of D. W. Dony and Associates Inc., a financial consulting firm to present. He is the editor and publisher of the Technical Speculator, a monthly international investment newsletter, which specializes in major world equity markets, currencies, bonds and interest rates as well as the precious metals markets.

Donald is also an instructor for the Canadian Securities Institute (CSI). He is often called upon to design technical analysis training programs and to provide teaching to industry professionals on technical analysis at many of Canada's leading brokerage firms. He is a respected specialist in the area of intermarket and cycle analysis and a frequent speaker at investment conferences.

Mr. Dony is a member of the Canadian Society of Technical Analysts (CSTA) and the International Federation of Technical Analysts (IFTA).
© 2005-2019 http://www.MarketOracle.co.uk - The Market Oracle is a FREE Daily Financial Markets Analysis & Forecasting online publication.

Only logged in users are allowed to post comments.
Register/ Log in